| | |
| --- | --- |
| | EELS4PEELS's Recent Blog Entries |


Wednesday, December 04, 2013
Be Jealous.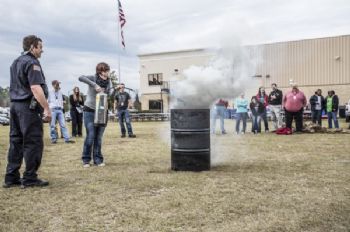 Monday, December 02, 2013
It's been so long since I've blogged it's ridiculous. It's official. I've got the Holiday Blahs. Now don't get me wrong. I love the Holidays! I love giving gifts and baking and spreading Joy and Cheer and what have you. My Holidays Blahs have actually nothing to do with the Holidays...more the way I feel about my health at the moment.

I think I may be the only person in the world that can gain 5 pounds in a week. Thank You Thanksgiving Food and Sweets for making me forget any notion that moderation is the key to success during the Holiday season. But hey you live and you learn...and learn...and learn again until it's beaten in your head and second nature.

I started feeling blah when I looked back and realized another year has past and I'm right where I started in the beginning of January. Which isn't totally a bad thing, but I am slightly depressed that I never got more than a 2 day taste of the 160s.

So I have a new strategy for the upcoming year. I'm trying to be really excited about it. I'm trying to get back into the groove. I'm trying to be the person that I was when I first discovered SparkPeople and view the site as something enjoyable instead of work. Here's the plan thus far.

1. I'm breaking up with numbers. All of them. I'm done counting, tracking, weighing constantly, everything. It plays with my head too much. It must be the accountant in me. I deal with numbers all day, it's not fun to have to deal with them in my off time as well. I don't need numbers to tell me I'm strong, that I know about what I should eat in a day, and what weight will put me in a "normal" BMI. I mean I ran a Mud Run, completed all the obstacles, lift the heaviest weights of anyone in my classes, can run a 5K in around 30 minutes (probably less if I really pushed myself). I cook almost always from scratch. I know that processed foods are crap, and that I need to stop eating before I'm so full I can't move. And as far as BMI, that sh*t is for the birds. I weigh nearly 17 pounds more than my sister and we're in the same size. She never exercises and I exercise at least 3 times a week for 2 hours or more.

2. I'm doing a Whole30 in January. Of course. Who isn't right? I've been doing tiny Whole30 stints for 3 to 4 days at the time to make sure that I can handle the actual 30 days and that I can so I'm pretty excited about that. I have been reading It Starts With Food and hopefully this is the push in the right direction that I truly need. Cory has decided to do it with me, not to lose weight or anything, but to see if it makes a difference with his acne. That and he's there for moral support and the best boyfriend ever. I also plan on blogging a lot during this so keep an eye out for those "I'm dying from not having Sugar" blogs.

3. My gym's closing at the end of December. So needless to say I was at a loss of what to do. So I stumbled upon a lovely Groupon for Crossfit. Now I did a ton of research on Crossfit before I purchased it. It's for a month of beginner classes with no obligation to keep going after the month is over so I figured why not. I know this might sound strange but I want to go somewhere new and workout with people who don't know that I've already lost so much weight in the past. I want to start being congratulated for things I'm getting better at in the present and not just what I've accomplished in the past. Does that make sense?

4. I just plan on enjoying life and NOT freaking out about food. Food should not play such a large part in my emotional state. I shouldn't wake up and weigh and see numbers that some how affect every decision I make for the rest of that day. It shouldn't be like that and it's not going to anymore. I want to live my life without constant worry that one day I'm going to be 300 pounds again. That's not fun, it's not what I wanted when I started and it's not going to be how I live. I'm going to be my happy, crazy, over the top self and I'm going to love it!

Like I said I'm still Alive. Just Busy and Blah much like everyone else. Things are going to change soon and I can't wait.








Monday, September 16, 2013
Hi Guys,

I had a mini essay I was asked to write for my Fitness Studio's blog. I thought I would share it with you. It's nothing special, but I thought it was sweet and straight to the point! Enjoy.


One Year, One Girl, 120 Pounds
I was an obese girl, now Iím not. Itís that simple.

I made a decision in my mind that I wanted a change for the better. I wanted a healthy outlook on life. I wanted to love myself and have the confidence that I knew I deserved. I wanted to be proud. I wanted others to be proud. But most of all I wanted to prove every person that said I couldnít lose weight dead wrong. It started with a modest decision. Thatís all it takes.
A little history about myselfÖI was born large. Iíve always been large. Born 9 pounds 11 ounces, size 16 by the 3rd grade, size 24 by the 6th grade, and 300 pounds by high school. I never knew what a calorie was until I graduated. I seldom exercised. I was in terrible shape.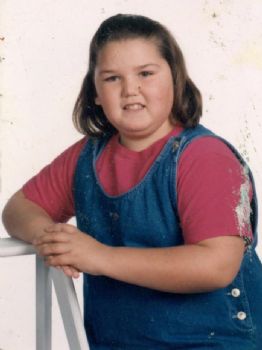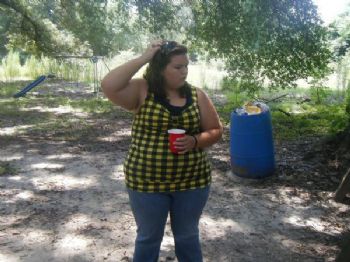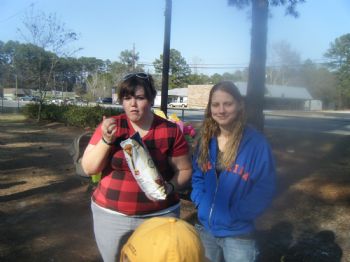 Yep. That was me. So how did I do it? Diet Pills? Stomach Staples? Wired Jaw? Cabbage Soup? Jenny Craig? None of the above. Although the math for losing weight and becoming a strong and fit individual may seem like a difficult equation, in reality itís just a simple calculation.

Diet + Exercise + Dedication = Success

I found a website called Sparkpeople.com and started there. I spent hours researching and learning about calories, macro and micronutrients, cardio, strength training, and found a virtual support where others like myself where starting, progressing, or succeeding in their weightloss journey.

I revamped my diet and ate clean whole foods while tracking everything I ate everyday. I gave up soda and introduced myself to a little beverage named H20. I began cooking all my meals instead of eating out so much. I cut out fatty meats, sugar, and ice cream. I stopped eating ALL the time and found some new hobbies, like exercise.

I spent the first 3 months on an elliptical in my apartment for 30 minutes a day. It was a great start, but I grew bored and uninterested in stationary equipment. I wanted to do fun exercises that I would read about in my friendsí blogs. Things like Kickboxing, Yoga, and Zumba. My quest for fun exercise landed me at Fitness Witness Studio. I was unsure exactly what the classes would entail. I was even more unsure whether I would fit in with what I assumed was a class full of overly fit women who were ready to put me to shame. I was terrified.

To my utter amazement Fitness Classes turned out to be exactly what I needed. There were no Fitness Models in Jane Fonda Leotards pouncing around constantly showing me up. Just real people. A variety of all shapes and sizes sweating and breathing heavily for the same reasons as I was. To be healthy and enjoy exercising. To succeed.

So the pounds began to melt off. Literally. For 365 days straight I tracked my food religiously. I exercised 5 days a week. I would do any class. Boot Camp, Kick Boxing, Spin, Yoga, Circuit and WeightsÖBring It. I felt invincible.

I began at over 300 pounds and stand at 168 today. Iíve maintained for nearly 2 years. I still exercise regularly. I have a very good diet as well. Iím not perfect. I splurge on indulgences just like the next person. I can rarely say no to chocolate and peanut butter. But I practice moderation. I believe thatís a prime key to making this a lifestyle change.

So itís that simple. Easy? Absolutely not. But it is simple. The biggest point is that if I can do it anyone can. You just have to make that decision with yourself, stay committed, and enjoy life.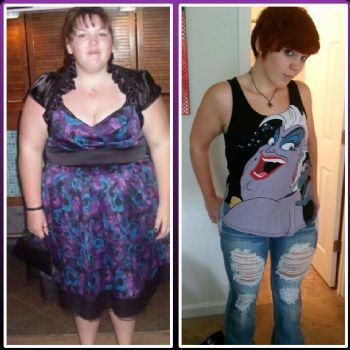 Friday, September 13, 2013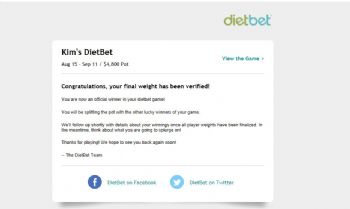 My E-mail saying that I won my first Diet Bet! That is all!





Thursday, August 22, 2013
My brother had a baby.

Well HE didn't have a baby of course, but his wife did. Their first child, my 6th niece. Christmas just keeps getting more expensive as the years go on. She was a cutie though. Didn't look like a wrinkled old man at all, which is what all new born babies look like. She had fat cheeks and long feet. Her hair was like black fuzz. She didn't at all when I held her, which was wonderful. She just looked around. It's times like that when I wonder why the thought of birthing a child turns my stomach off. I mean it's so natural. It's what your body was made to do. But I just don't see the need in having children. My family doesn't understand it, but at least Cory does!

Anyways I'm going on a tangent. Madylin Grace was born August 14 and was 6 pounds 14 ounces and 19 inches long.

Here's a close up.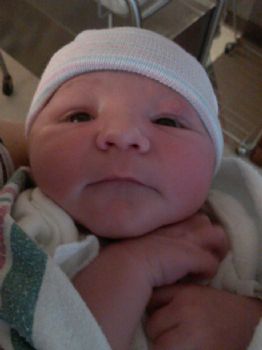 And one of me holding her.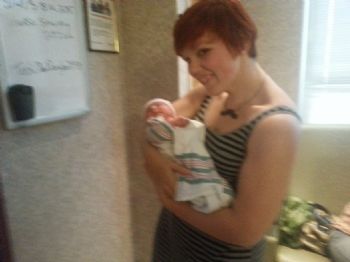 And one more for good measure!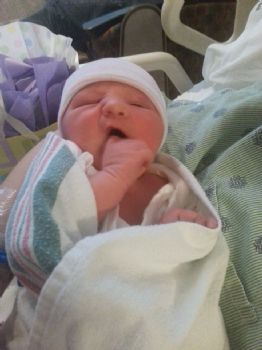 Not only did I have a new niece last week I also had the pleasure of attending the 3rd birthday party of my other niece Davin. This girl is something else. She's just adorable. I would cuddle her for years if I could. Her party theme was of course Dora the Explorer. Not my favorite. I went to several stores trying to find the ultimate Dora present. I ended up with a Dora Doll that "sleeps" Basically you lay her down and her big creepy eyes roll in the back of her head. I also got her Dora Bracelet and Earrings and A HUGE unicorn birthday card. I draw the line at birthday cards. They have to be unicorn related. It's kind of my thing.

It was funny because a few days before Davin's party I was holding little Maddie Cakes and wondering why I was so opposed to have children. Then there was a party of about 20 kids running around and I remembered why. I nearly had a panic attack. Here are a few pictures of Davin. I warn you though...the cuteness may have a permanent effect on you. Be jealous of my cute genes!

Her Dora Party.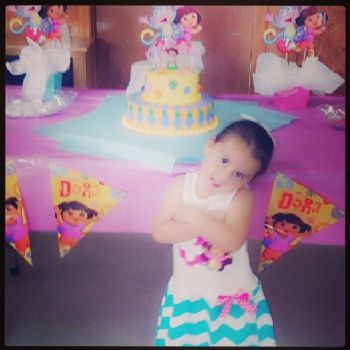 Her Old Baby...Now Replaced with Creepy Sleepy Dora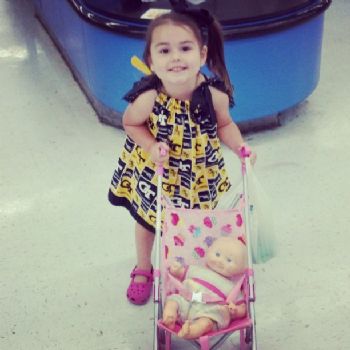 And Random Silly Headed Business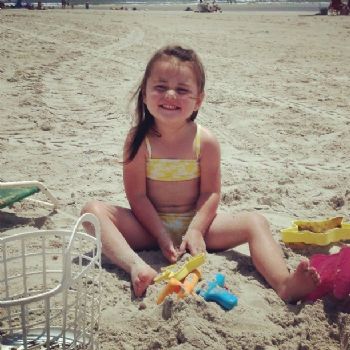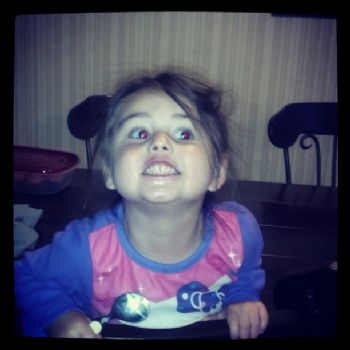 And I had to throw all her sisters in there so they wouldn't somehow find out that their Auntie is giving one more attention than the other.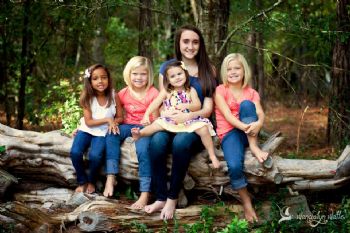 So that's enough about children. Now about me. I have been doing well. As you know or not I had gained 10 pounds in the month of July. Yep 10 pounds in 1 month. I never thought that it would be possible to gain that much, but it is. Believe me. I got backup to 177, which I had not been since sometime last year. After a quick Juice cleanse and an active game on Diet Bet I have managed to get back to 170. I have to make it to 167.2 before September 11th to win my Diet Bet. It's funny how ore devoted I am now that money is on the line. I will not lose $50 dollars!

I've done really well this week so far. I tracked all my food, stayed within my ranges, worked out every day so far, and have seen progress. You see I know I can do it. But I have to want to do it. I know I can lose 3 more pounds for Diet Bet and then another 7 pounds and finally reach my goal after 2 years. I had it in my mind that my body wouldn't allow me to be 160, but in reality I wouldn't allow myself. The ice cream stopped me. The cakes stopped me. The 5 rolls of sushi stopped me. The vanilla wafers, tater tots, and wine stopped me.

But I'm still eating most of that stuff. Last night I had ice cream and wine. Just not enough to go out of my range.

MODERATION.

What is this word? I feel like a caveman that has just discovered fire. I've never been good with not stuffing myself until I wanted to die. But I've been practicing this art and it's been working.

Thank God for Mayfield Low Fat Ice Cream Sandwiches. 130 Calories of awesome goodness that satisfies me and is pre portioned so I don't have the chance to eat out of the container.

So that's what I've been up to. New Niece, Older Niece, Exercise, Wine, and Ice Cream. Be Jealous.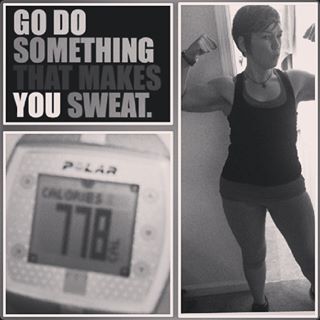 1 2 3 4 5 6 7 8 9 10 11 12 13 14 Last Page

Get An Email Alert Each Time EELS4PEELS Posts