| | |
| --- | --- |
| | EDWARDS1411's Recent Blog Entries |


Sunday, September 21, 2014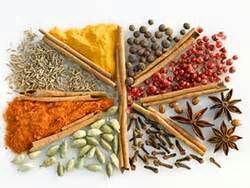 www.prevention.com/food/food-remedie
s/7-super-spices-healthier-food?cid=so
cHE_20140902_30887166 tells us that a touch of spice might be just what we need to minimize the damage of aging—and even offset the impact of diabetes. Research from the University of Georgia finds that antioxidant-rich herbs and spices can block the formation of harmful compounds that are associated with aging and may inhibit tissue damage caused by high levels of blood sugar. A little spice goes quite a long way, as the antioxidants are extremely concentrated, says study coauthor James Hargrove, PhD.

#3 - Sage

Try it in your favorite tomato sauce recipe.

www.nutrition-and-you.com/sage-herb.
html tells us that

- Sharply flavored, sage herb or garden sage is one of the popular pot herbs known since ancient Roman times.
- This legendary herb with numerous virtues, long held to be the guardian over all other herbs, has been in use in various traditional European and Chinese medicines for its health promoting and disease preventing properties.
- Herb sage is an evergreen perennial shrub commonly seen all over the Mediterranean and south-eastern Europe (Balkan) regions. Botanically, the plant belongs to the family of Lamiaceae, of the genus: Salvia.
- Scientific name: Salvia officinalis.
- Several cultivars of sage are grown either for medicinal or for culinary purposes.
• Three-lobed sage (S. fruiticosa or S. triloba): Large perennial with lobed leaves, grown in Mediterranean countries for making popular sage tea.
• Pineapple sage (S. rutilans): Fresh leaves add flavor to desserts and drinks.
• Clary sage (S. sclarea): Strongly aromatic leaves generally used as throat gargle infusions and in perfumeries.
• Azure sage (S. azurea): The plant is large with blue flowers, used in Mexico as an herbal panacea.

Health benefits:
- Sage herb parts have many notable plant-derived chemical compounds, essential oils, minerals, vitamins that are known to have disease preventing and health promoting properties.
- The primary biologically active component of common sage appears to be its essential oil, which chiefly contain ketones; á-thujone, and â-thujone. In addition, sage leaf contains numerous other compounds, including cineol, borneol, tannic acid; bitter substances like cornsole and cornsolic acid; fumaric, chlorogenic, caffeic and nicotinic acids; nicotinamide; flavones; flavone glycosides and estrogenic substances. These compounds are known to have counter-irritant, rubefacient, anti-inflammatory, anti-allergic, anti-fungal and anti-septic properties.
- Thujone is GABA and Serotonin (5-HT3) receptor antagonist. It enhances concentration, attention span and quickens the senses; hence sage infusion has long been recognized as "thinker's tea." Its effects help deal with grief and depression.
- Three lobe sage (S. triloba) composes flavone called salvigenin. Research studies found that vascular relaxant effect of salvigenin may offer benefits in the prevention of cardiovascular diseases.
- This herb is exceptionally very rich source of several B-complex groups of vitamins, such as folic acid, thiamin, pyridoxine and riboflavin many times higher than the recommended daily levels.
- The herb contains very good amounts of vitamin A and beta-carotene levels. 100 g dry ground herb provides 5900 IU; about 196% of RDA. Vitamin A is a powerful natural antioxidant and is essential for eye-sight. It is also required for maintaining healthy mucus membranes and skin. Consumption of natural foods rich in vitamin A known to help the body protect from lung and oral cavity cancers.
- Fresh sage leaves are a good source of antioxidant vitamin, vitamin C; contain 32.4 or 54% of RDA. Vitamin C helps in the synthesis of structural proteins like collagen. Adequate levels in the body help maintain integrity of blood vessels, skin, organs, and bones. Regular consumption of foods rich in vitamin-C helps the body protect from scurvy; develop resistance against infectious agents (boosts immunity) and scavenge harmful, pro-inflammatory free radicals from the body.
- Sage herb parts, whether fresh or dried, are rich sources of minerals like potassium, zinc, calcium, iron, manganese, copper, and magnesium. Potassium is an important component of cell and body fluids, which helps control heart rate and blood pressure. Manganese is used by the body as a co-factor for the antioxidant enzyme, superoxide dismutase.

Selection and storage:
- Fresh leaves are most sought after in cooking for their aromatic, subtle flavor than dried sage. If you have one in your home garden, fresh-herb can be obtained from the garden as and when required. However, in the herb store; look for farm-fresh, culinary sage leaves that are featuring either plain narrow leafy or non-flowering broad-leaf types as they preferred particularly in cooking.
- Dried, as well as ground (powder) sage herb can also be available in the markets. Look for authentic sources from organically grown herb. Fresh leaves used in marinades should be flavorful and devoid of blemishes, mold and wilt.
- Store fresh herb in plastic bags placed inside refrigerator. Dried sage should be kept in an air-tight container and placed in a cool, dark and dry place where it will keep afresh for several months.


Culinary uses:
- Sage leaves, in general, are harvested just before flowering for culinary purposes. Discard tough stems and fibers before use in recipes. Wash in cold water to remove soil and sand. Gently pat dry using soft cloth.
- Sage herb is one of the common ingredients in Greek, Italian, and Balkan cuisine.

Some serving tips:
- Fresh leaves can be used in stuffing in season sausages, poultry and fish.
- The herb is also used in many vegetable dishes, especially with beans.
- It is also used as a garnish in herb salads.
- Roast pork and mushrooms with sage, marjoram and celery leaves.

Medicinal uses:
- The essential oil obtained from sage has been found to have acetylcholinesterase (Ach) enzyme inhibition activities. This help rose Ach levels in the brain. Ach enzyme improves concentration and may play a role in the treatment methods for memory loss associated with the disease like Alzheimer's.
- Sage oil, distilled from the flowering tops, contains volatile essential oil such as camphene, cineol, borneol, bornyl acetate and other esters. These compounds are known to have tonic, astringent, diaphoretic and stimulant properties.
- Sage herb oil is also being used externally as a rubefacient to soothe painful ailments like muscle stiffness, rheumatism, and neuralgic conditions.
- Further, its oil is used as blended massage oil and in the aromatic therapy. It helps to relieve nervousness, anxiety, headaches, stress, and fatigue.

IMPORTANT TO NOTE:
- Sage herb when used in large amounts causes nervous irritation, convulsions and death. Hence its use is prohibited in known epileptic conditions.
- The herb should not be used in pregnancy as chemical compounds like thujone in it may cause uterine stimulation resulting in abortion.

www.food.com/recipe/low-carb-baked-s
paghetti-squash-with-garlic-sage-cream
-99361 shares this 4 1/2 star rated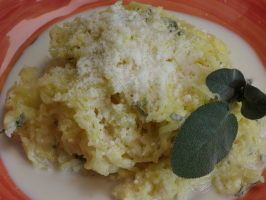 Low Carb Baked Spaghetti Squash with Garlic Sage Cream

(Only 2 grams of carbs per serving. Great dish to beat back the pasta craving - tastes a lot like spaghetti alfredo. Good served as a side dish with grilled chicken.)

Servings: 6

Ingredients:
2 1/2 lbs. spaghetti squash
3/4 cup heavy cream
1 garlic clove, pushed through a press
3 teaspoons finely chopped fresh sage or 1/2 teaspoon dried sage
1/4 cup parmesan cheese
salt and pepper

Directions:
1. Pre-heat oven to 400°F.
2. Prick squash in several places and bake 45 min until tender.
3. Allow to cool slightly, cut in 1/2 and scoop out seeds.
4. Pull out squash strands from each side with a fork.
5. Transfer to a warm bowl.
6. While squash is baking: Heat cream, garlic and sage in pan over med. heat.
7. Cook 10 min until cream is thick enough to coat the back of a spoon.
8. Pour sauce over squash, toss lightly until combined.
9. Add salt and pepper to taste, sprinkle with parmesan cheese.

Nutritional info per serving (223 g):
Calories - 181.0
Total Fat - 13.3 g
Saturated Fat - 7.8 g
Cholesterol - 44.4 mg
Sodium - 107.3 mg
Total Carbohydrate - 14.4 g
Dietary Fibre - 0.1 g
Sugars - 0.0 g
Protein - 3.4 g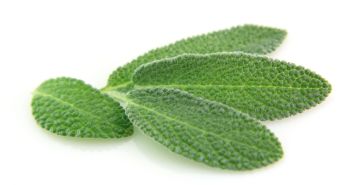 Saturday, September 13, 2014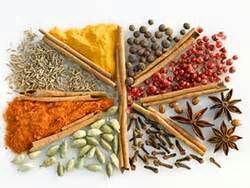 www.prevention.com/food/food-remedie
s/7-super-spices-healthier-food?cid=so
cHE_20140902_30887166 tells us that a touch of spice might be just what we need to minimize the damage of aging—and even offset the impact of diabetes. Research from the University of Georgia finds that antioxidant-rich herbs and spices can block the formation of harmful compounds that are associated with aging and may inhibit tissue damage caused by high levels of blood sugar. A little spice goes quite a long way, as the antioxidants are extremely concentrated, says study coauthor James Hargrove, PhD.

#2 - Ground Jamaican Allspice

Try it in lean ground beef to add an unexpected twist to hamburgers or meatloaf.

www.nutrition-and-you.com/allspice.h
tml tells us that

- Allspice, also known popularly as Jamaican pepper or pimento, is one of the widely used spice ingredients in the Mexican and other Central American cuisines. The spice corn is a dried "unripe" fruit obtained from the evergreen tropical shrub belonging to the family of Myrtaceae of the genus of pimento. Scientific name: Pimenta dioica.
- The pimento tree is native to tropical evergreen rain forest of Central American region and Caribbean islands. Generally, the plant starts bearing fruits after about five years of implantation.
- Unripe green berries, generally, picked up when they reach full size and then subjected to sun light drying thoroughly. Thus, shriveled berries appear similar to brown peppercorns, measuring about 6 mm in diameter but contain two seeds unlike peppercorns, which have only one centrally placed seed.
- Ground allspice has strong spicy taste and aroma that closely resemble a mixture of black-pepper, nutmeg, cloves, and cinnamon.

Health benefits:
• The active principles in the allspice found to have been anti-inflammatory, rubefacient (warming and soothing), carminative and anti-flatulent properties.
• Allspice contains health benefiting essential oils such as eugenol, a phenylpropanoids class of chemical compound, which gives pleasant, sweet aromatic fragrances to this spice. It also contains caryophyllene, methyleugenol, glycosides, tannins, quercetin, resin, and sesquiterpenes. At the processing units, these volatile essential oils are obtained through distillation process using this spice corn. The outer coat of the allspice-berries is believed to have the greatest concentration of some of the compounds of medicinal activities.
• As in black peppercorns, the active principles in the allspice may increase the motility of the gastro-intestinal tract as well as augment the digestion power by increasing enzyme secretions inside the stomach and intestines.
• Eugenol, has local anesthetic and antiseptic properties, hence; useful in gum and dental treatment procedures. Recent research studies have shown that preparation made from allspice oil mixed with extractions from garlic, and oregano can work against E.coli, Salmonella and L.monocytogenes infections.
• The spice is enriched with the good amount of minerals like potassium, manganese, iron, copper, selenium, and magnesium. Iron is an important co-factor for cytochrome-oxidase enzymes during cellular metabolism. It is also required for red blood cell production in the bone marrow. Being an important component of cell and body fluids, potassium helps control heart rate and blood pressure. Manganese is used by the body as a co-factor for the powerful antioxidant enzyme, superoxide dismutase.
◾ Further, the spice also contains very good amounts of vitamin A, vitamin B-6 (pyridoxine), riboflavin, niacin and vitamin-C. Vitamin C is a powerful natural antioxidant; regular consumption of foods rich in vitamin C helps the body develop resistance against infectious agents and scavenge harmful, pro-inflammatory free radicals.

Culinary uses:
- In order to keep the fragrance and flavor intact, allspice generally ground just before preparing dishes and added to the cooking recipes at final stages. This is because prolonged cooking results in evaporation of essential oils.
- Here are some serving methods:
◾ Pimento corns are widely used in Caribbean cuisines. In Jamaica, the corn, along with the scotch bonnet peppers, is one of the two main ingredients in famous Jamaican jerk spice. Along with other spices, its mixture (paste) is used to rub, and to marinate chicken, fish, and meats.
◾ Some Indian vegetarian and chicken curries contain this spice; and in the Middle East, it is used in meat and rice dishes.
◾ The spice has also been used in the preparation of soups, barbecue sauces, pickling and as a main ingredient in variety of curry powders.
◾ It also used in liquors in many Caribbean countries. A local drink known as Jamaican dram is made from allspice.

Medicinal uses:
◾ The essential oil, eugenol derived from the allspice berry has been in therapeutic use in dentistry as a local-anesthetic and antiseptic for teeth and gum.
◾ The decoction obtained from this spice sometimes used in treating flatulence and indigestion in traditional medicine, but there is little or no data to support these claims.
◾ essential volatile oils in the pimento spice functions as a rubefacient, meaning that it irritates the skin and expands the blood vessels, increasing the flow of blood to make the skin feel warmer. Its oil is a popular home remedy for arthritis and sore muscles, used either as a poultice or in hot baths

IMPORTANT TO NOTE:
- Allspice may cause serious allergic reactions in hypersensitive individuals and, therefore, should be avoided whenever warranted. Consumption of dishes prepared with excess spice can cause gastrointestinal irritation, central nervous system depression, seizures (in toxic doses).
- Furthermore, recipes prepared with using this spice should be avoided in individuals suffering from stomach ulcers, ulcerative colitis, and diverticulitis conditions.

www.food.com/recipe/jamaican-style-c
hicken-367536 shares this 5 star rated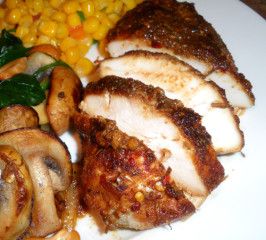 Jamican Style Chicken

Serves 4 - 6

Ingredients:
1 tablespoon onion, finely chopped
3 tablespoons light brown sugar
4 tablespoons soy sauce
4 tablespoons orange juice, frozen concentrate, undiluted
2 teaspoons thyme
3 teaspoons rosemary
2 tablespoons olive oil
3 garlic cloves, chopped fine
1/2 teaspoon allspice
1 tablespoon jalapeno pepper, chopped fine
6 pieces chicken, cut-up

Directions:
1. Combine all ingredients, except the chicken in a bowl (food processor works best).
2. Mix well, until smooth.
3. Place chicken pieces in zip-lock bag.
4. Pour sauce mixture over chicken & close the bag.
5. Lay flat on a plate or whatever you have.
6. Refridgerate for AT LEAST 4hours -- overnight is preferred, for best flavor.
7. Turn bag over, every couple hours if possible.
8. Preheat oven to 350°.
9. Lightly coat a 9 X 13 pan with cooking spray.
10. Place chicken in a single layer in the pan.
11. Pour remaining sauce over all.
12. Bake, uncovered, 1 to 1½ hours.

Nutritional information per serving (138 g) based on 4 servings per recipe:
Calories - 122.7
Total Fat - 6.8 g
Cholesterol - 0.0 mg
Sodium - 1009.5 mg (yikes!-use low sodium soy sauce to lower this)
Total Carbohydrates - 14.1 g
Dietary Fibre - 0.4 g
Sugars - 11.7 g
Protein - 2.2 g







Monday, September 08, 2014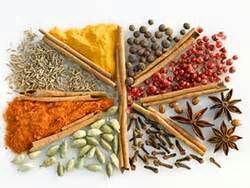 www.prevention.com/food/food-remedie
s/7-super-spices-healthier-food?cid=so
cHE_20140902_30887166 tells us that a touch of spice might be just what we need to minimize the damage of aging—and even offset the impact of diabetes. Research from the University of Georgia finds that antioxidant-rich herbs and spices can block the formation of harmful compounds that are associated with aging and may inhibit tissue damage caused by high levels of blood sugar. A little spice goes quite a long way, as the antioxidants are extremely concentrated, says study coauthor James Hargrove, PhD.

Here are seven super spices to add to your diet today!

#1 - Ground Cloves

Try it in cake or biscuit dough for an added layer of spicy sweetness.

www.nutrition-and-you.com/cloves.htm
l tells us that

- Cloves are one of the highly prized spices, widely recognized all over the world for their medicinal and culinary qualities. They are the "flower buds" from evergreen rain-forest trees native to Indonesia.
- Botanically, the spice belongs to the family of Myrtaceae of the genus; Sygyzium, and scientifically named as Sygizium aromaticum.
- The flower buds are initially pale in color, gradually turn to green, and, finally develop into bright-red clove buds by the time of harvesting. Buds are generally picked up when they reach 1.5-2 cm in length.
- Structurally, each bud consists of long calyx; terminating in four spreading sepals, and four unopened petals, which form a small ball (dome) at the center. The sweet aroma of cloves is due to eugenol, an essential oil in them.

Medicinal properties and health benefits of cloves

• The active principles in the clove are known to have antioxidant, anti-septic, local anesthetic, anti-inflammatory, rubefacient (warming and soothing), carminative and anti-flatulent properties.
• The spice contains health benefiting essential oils such as eugenol. It is a phenyl-propanoids class of chemical compound, which gives pleasant, sweet aromatic fragrances to the clove-bud. Eugenol has local anesthetic and antiseptic properties, hence; useful in dental care essentials as well as in treatment procedures.
• The other important constituents in this spice include:
- essential oils: acetyl eugenol, beta-caryophyllene and vanillin, crategolic acid;
- tannins: gallotannic acid, methyl salicylate (painkiller);
- the flavonoids: eugenin, kaempferol, rhamnetin, and eugenitin;
- triterpenoids: such as oleanolic acid, stigmasterol and campesterol
and several sesquiterpenes.
• The active principles in the clove may increase gut motility as well as improve the digestion power by increasing gastro-intestinal enzyme secretions. Thus, helps relieve indigestion and constipation problems.
• The spice also contains a good amount of minerals like potassium, manganese, iron, selenium and magnesium. Potassium is an important electrolyte of cell and body fluids that helps control heart rate and blood pressure. Manganese is used by the body as a co-factor for the antioxidant enzyme, superoxide dismutase.
• Further, the spice buds contain very good amounts of vitamin A and beta-carotene levels. These compounds are known to have antioxidant properties. Vitamin A is also required by the body for maintaining healthy mucus membranes and skin in addition to essential for vision. Consumption of natural foods rich in flavonoids helps to protect the body from lung and oral cavity cancers.
• Additionally, this spice is a good source of vitamin-K, vitamin-B6 (pyridoxine), thiamin (vitamin B-1), vitamin-C and riboflavin. Consumption of foods rich in vitamin C helps the body develop resistance against infectious agents and scavenge harmful oxygen-free radicals.

Selection and storage:
- Clove buds are readily available year around in the spice markets. Good quality buds release sweet fragrance when squeezed between the thumb and index fingers. In the store, buy whole buds instead of powder since, oftentimes it may contain adulterated spicy powders. The buds should be wholesome with stem and sepals, and compact.
- Whole cloves should be stored in cool dark place, in close containers for many months and can be milled using "hand mill" as and when required. Ground/powder clove should be stored inside the refrigerator in airtight containers and should be used as early as possible since it loses its flavor quickly.

Medicinal uses:
• The essential oil, eugenol in this spice has been in therapeutic use in dentistry as a local-anesthetic and antiseptic for teeth and gum.
• Eugenol also has been found to reduce blood sugar levels in diabetics, but further detailed studies required to establish its benefits.
• The decoction is sometimes used in treating flatulence and indigestion in traditional medicine preparations.
• It is also thought to have natural anti-parasite (kills intestinal worms) function.
• The essential volatile oils functions as a rubefacient, meaning that it irritates the skin and expands the blood vessels, increasing the flow of blood to make the skin feel warmer, making it a popular home remedy for arthritis and sore muscles, used either as a poultice or in hot baths.
• Clove oil is also used in aromatherapy.

Culinary uses:
- In order to keep the fragrance and flavor intact, clove is generally grounded just before preparing dishes and added at the last moment in the cooking recipes. This is because prolonged cooking results in evaporation of its essential oils.
• This popular spice has been used in preparation of many regular dishes in Asian and Chinese cuisine since ancient times. Along with other spices like pepper, turmeric, ginger etc. is being used in marinating chicken, fish, and meat.
• Some of Indian vegetarian, chicken and rice dishes (biriyani) contain cloves and in the Middle East, it is used in meat and rice dishes.
• The spice also features in the preparation of soups, barbecue sauces, pickling and as one of the ingredients in curry powders.

Important to Note:
- Consumption of dishes prepared with large quantity of clove can cause gastrointestinal irritation, central nervous system disorders.
- Recipes prepared with this spice should be avoided in individuals with stomach ulcers, ulcerative colitis, and diverticulitis conditions.
- Eating cloves is also avoided during pregnancy.

allrecipes.com/Recipe/Pumpkin-Spice-
Protein-Drink/Detail.aspx?event8=1&pro
p24=SR_Title&e11=cloves&e8=Quick%20Sea
rch&event10=1&soid=sr_results_p1i16 shares this 5-star rated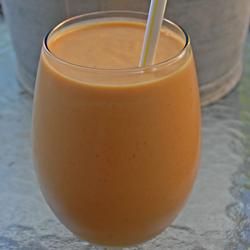 Pumpkin Spice Protein Drink

2 Servings

Ingredients:
1 cup unsweetened almond milk
2 bananas, sliced and frozen
1/2 cup canned pumpkin
2 dates, pitted
1 scoop vanilla protein powder
1/2 teaspoon vanilla extract
1 pinch ground nutmeg
1 pinch ground cinnamon
1 pinch ground cloves
1 pinch ground ginger

Directions:
Blend almond milk, bananas, pumpkin, dates, protein powder, vanilla extract, nutmeg, cinnamon, cloves, and ginger together in a blender until smooth.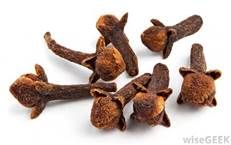 Sunday, August 31, 2014
www.redbookmag.com/health-wellness/s
ummer-weight-loss-foods#slide-1 points out that summer is the season to skimp on clothing, not flavour, and that the following fourteen light and refreshing summer foods will not only tingle our tastebuds, but will help us shed pounds too.

#14 Pitted Fruits

Save apples and oranges for the colder months—summer is the prime time to take advantage of sweet and juicy pitted fruits. Not only are they delicious, Glassman explains that pitted fruits like nectarines are loaded with potassium, while the fiber in plums promotes better digestion.

ezinearticles.com/?Healthy-Eating---
Seeds-Inside---Common-Stone-Fruit-(Dru
pe)&id=4498337 tells us that

- Stone Fruit (or Drupes as they are sometimes referred) usually have a single seed in the centre of a fleshy (fruit) outer protective covering. Stone fruit are nutritious and typically rich in antioxidant vitamins particularly Vitamin C.
- The flesh of stone fruit is designed to protect the seed as it develops, it also acts as an attracting agent for birds and animals who eat the fruit and pass the seed out in their feces.
- Stone fruit of the Prunus species are apricot, cherry, nectarine, peach, and plum. Plants of the Prunus genus are members of the Rosaceae family.

APRICOT (Prunus armeniaca)
- Apricots are rich in carbohydrates and fibre. They are low in fat and a good source of protein. Apricots provide an excellent source of Vitamin A and Vitamin C and are a good source of Iron.
- Apricots are a seasonal fruit and can be purchased in cans or as dried apricots. Apricots are commonly found it health bars and slices and make an excellent fresh snack or can be mixed through puddings and deserts.

CHERRY (Prunus avium)
- Nutritionally, Cherries are a good source of Vitamin C, Iron and Carbohydrates.
- Cherries are delicious off the tree and can be added to many slices and flavouring in other dishes. Traditional Christmas pudding would not be the same without cherries.

NECTARINE & PEACH (Prunus persica)
- Nectarines are very similar to the peach. There is also a cross, called a peacharine.
- Nectarines and peaches are high in carbohydrates and are a good source of dietary fibre. They are low fat and low protein. They are a good source of Vitamin A, Vitamin C and Potassium.

PLUM (Prunus Sp.)
- Plums are a soft flesh fruit with a thin skin. There are several species and varieties ranging from cherry size plums to large plums the size of an apricot. Dried plus are typically sold as prunes and are well known for their high fibre content and related digestive system maintenance.
- Plums are an excellent source of Vitamin A, Vitamin C, Phosphorous and Potassium.

Some Interesting Facts about Drupes:
- Traditional stone fruit is popular in many countries around the world.
- It is interesting to note that many fruits not normally considered a stone fruit in fact are. The coconut, walnuts, coffee, olives and mango are all recognised as Drupes.
- Aggregate Fruit such as blackberry and raspberry are a collection of multiple drupes, which form a singular fruit.
- Most drupe fruits can be dried and sold all year round. Dried apricots, prunes, coconut (desiccated), coffee, walnuts, cherries and others. This is ideal for export fruit as most fruit begins to decay quickly when picked.

www.foodnetwork.com/recipes/giada-de
-laurentiis/grilled-summer-fruit-recip
e2.html shares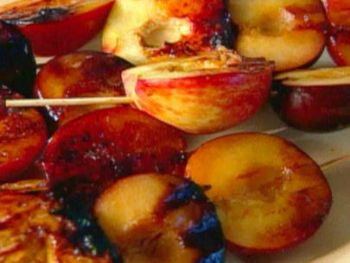 Grilled Summer Fruit

Serves 6

Ingredients:
Nonstick spray
3 firm but ripe nectarines, halved, pitted
3 firm but ripe purple/black plums, halved, pitted
3 firm but ripe red plums, halved, pitted
6 metal skewers or thick wooden skewers soaked in water 30 minutes
3 tablespoons sugar
*Other fruit substitutions can be apricots and peaches

Directions:
1. Spray the grill rack with nonstick spray and prepare the barbecue (medium-high heat).
2. Thread 1 piece of each fruit on each of 6 skewers so that the cut sides line up and lay flat.
3. Sprinkle the sugar over the cut sides of the fruit. Let stand until the sugar dissolves, about 10 minutes.
4. Place the fruit skewers on the grill cut side down. Grill the fruit until it is heated through and caramelized, about 5 minutes. Transfer 1 fruit skewer to each plate and serve.

Nutritional info per serving:
Calories - 86
Total Fat - 0g
Saturated Fat - 0g
Total Carbohydrates - 21g
Sugar - 18g
Protein - 1g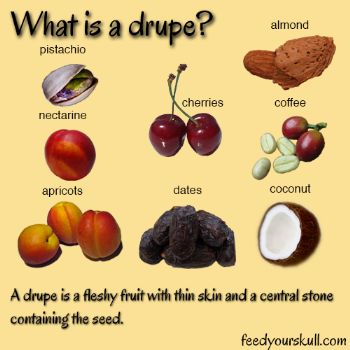 Watched the neighbourhood "end of summer holidays" fireworks for all the kids who are returning to school on Tuesday. Unlike summer which still has three wonderful weeks left of the season, this "summer" blog series is indeed finished!






Wednesday, August 27, 2014
www.redbookmag.com/health-wellness/s
ummer-weight-loss-foods#slide-1 points out that summer is the season to skimp on clothing, not flavour, and that the following fourteen light and refreshing summer foods will not only tingle our tastebuds, but will help us shed pounds too.

#13 Whole Grain Salads

We know, salads are the standard summer weight-loss meal. But lettuce eventually gets boring, right? Get out of the mixed greens rut and toss around the idea of a whole grain salad like wheatberry or tabouli. Moore also suggests flavoring your salads with herbs from the garden, so you can go light on the dressing.

www.diabetes.org/mfa-recipes/tips/20
14-03/whole-grain-salads-a-quick.html tells us How To Make A Basic Grain Salad:

1. To start, choose a whole grain for the base of your salad.

Keep your pantry stocked with your favorite whole grains. Some ideas are brown rice, barley, quinoa, bulgur, whole grain cous cous, and farro. Many dried grains come in quick-cooking varieties, which can be ready in 10-15 minutes. These are a great option for people with limited time to cook. Prepare dried grains with water, and omit any added salt or fat.

You could also use a combination of whole grains and beans or whole grains with starchy vegetables. For example, you could try:
- Brown rice + black beans
- Quinoa + roasted butternut squash
- Bulgur + lentils

2. Add non-starchy vegetables.

A good goal is to fill half of your plate with non-starchy vegetables. Make sure you add plenty of these to your grain salad. Think shredded carrots, diced celery, tomatoes, diced red onion, sauteed spinach, and the like. You can add fresh or cooked veggies to your salad. Feel free to get creative! If cooking, prepare your vegetables with salt-free herbs or spices to add extra flavor. For a list of non-starchy vegetables, check out Non-Starchy Vegetables on diabetes.org.

Adding to the examples from above, here are just a few ideas:
- Brown rice + black beans + pico de gallo, shredded romaine lettuce, and fresh bell pepper slices
- Quinoa + roasted butternut squash + roasted Brussels sprouts and onions
- Bulgur + lentils + steamed green beans and cauliflower

3. Choose a source of lean protein to round out your meal.

If you already chose to add beans or lentils to your dish, they will provide some protein. You could also try some tuna, grilled chicken, hard-boiled egg, sautéed tofu, or another nutritious protien option.

Adding to the examples above, here are some ideas:
- Brown rice + black beans + fresh pico de gallo, shredded romaine lettuce, and bell pepper slices + grilled chicken seasoned with cumin and chili powder
- Quinoa + roasted butternut squash + roasted Brussels sprouts and onions + lean turkey bacon, chopped
- Bulgur + lentils + steamed green beans and cauliflower + sautéed tofu

4. Add some healthy extras for more flavor.

There's nothing wrong with making some healthy additions to your grain salad! If adding nuts, seeds, avocado, dressings, or another source of healthy fat, keep portions small. Just a tablespoon or two will do most of the time. Other ways to add extra flavor are to add fresh herbs, citrus juices, or a sprinkle of cheese.

Some ideas are shown below:
- Brown rice + black beans + fresh pico de gallo, shredded romaine lettuce, and bell pepper slices + grilled chicken seasoned with cumin and chili powder + guacamole and chopped cilantro
- Quinoa + roasted butternut squash + roasted Brussels sprouts and onions + lean turkey bacon + small drizzle homemade balsamic vinaigrette
- Bulgur + lentils + steamed green beans and cauliflower + sautéed tofu + chopped cashews

www.myrecipes.com/recipe/black-bean-
quinoa-salad-with-basil-lemon-dressing
-10000001160577/ shares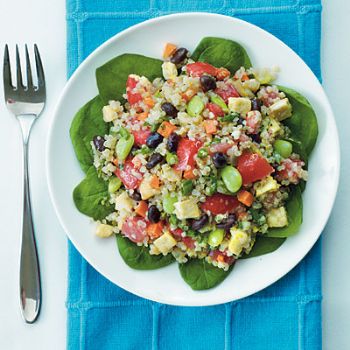 Black Bean-Quinoa Salad with Basil-Lemon Dressing

Makes 10 1-cup servings.

Ingredients:
1 1/2 cups uncooked quinoa
3 cups organic vegetable broth (such as Swanson Certified Organic)
1 (14-ounce) package reduced-fat firm tofu, cut into 1/4-inch cubes
3 tablespoons olive oil, divided
1 1/4 teaspoons salt, divided
1 cup chopped fresh basil
3 tablespoons fresh lemon juice
2 tablespoons Dijon mustard
1 teaspoon sugar
2 teaspoons grated lemon rind
1/2 teaspoon freshly ground black pepper
3 garlic cloves, minced
1 (10-ounce) package frozen baby lima beans
4 cups chopped tomato (about 3 medium)
1/2 cup sliced green onions
1/2 cup chopped carrot
1 (15-ounce) can black beans, rinsed and drained

Preparation:
1. Combine quinoa and vegetable broth in a saucepan; bring to a boil over medium-high heat. Cover, reduce heat, and simmer 15 minutes or until broth is absorbed and quinoa is tender. Remove from heat.
2. Place tofu on several layers of paper towels; cover with additional paper towels. Let stand 5 minutes. Heat 1 tablespoon oil in a large nonstick skillet over medium-high heat. Add tofu; sprinkle with 1/4 teaspoon salt. Sauté tofu 9 minutes or until lightly browned. Remove from heat; cool completely.
3. Combine remaining 2 tablespoons oil, remaining 1 teaspoon salt, basil, and next 6 ingredients (through garlic) in a large bowl; stir with a whisk until blended. Stir in quinoa.
4. Cook lima beans according to package directions, omitting salt and fat. Cool completely. Add the lima beans, tofu, chopped tomato, green onions, chopped carrot, and black beans to quinoa mixture; stir gently to combine. Store, covered, in refrigerator until ready to serve.

Notes: Quinoa contains more protein than any other grain. Edamame makes a tasty substitute for lima beans in this recipe. For an attractive presentation, serve the salad on a bed of baby greens or spinach.

Nutritional info per 1 cup serving:
Calories: 232
Calories from fat: 24%
Fat: 6.2g
Saturated fat: 0.6g
Monounsaturated fat: 3.7g
Polyunsaturated fat: 1.2g
Protein: 9.8g
Carbohydrate: 35.1g
Fiber: 6.7g
Cholesterol: 0.0mg
Iron: 3.8mg
Sodium: 722mg
Calcium: 68mg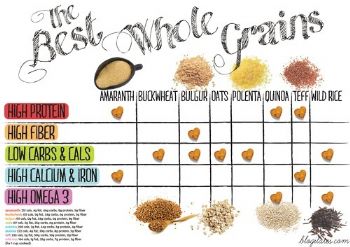 1 2 3 4 5 6 7 8 9 10 11 12 13 14 15 16 17 18 19 20 21 22 23 24 25 26 27 28 29 30 31 32 33 34 35 36 37 38 39 40 41 42 43 44 45 46 47 48 49 50 51 52 53 54 55 56 57 58 59 60 61 62 63 64 65 66 67 68 69 70 71 72 73 74 75 76 77 78 79 80 81 82 83 84 85 86 87 88 89 90 91 92 93 94 95 96 97 98 99 100 101 102 103 104 105 106 107 108 109 110 111 112 113 114 115 116 117 118 119 120 121 122 123 124 125 126 127 128 129 130 131 132 133 134 135 136 137 138 139 140 141 142 143 144 145 146 147 148 149 150 151 152 153 154 155 156 157 158 159 160 161 162 163 164 165 166 167 168 169 170 171 172 173 174 175 176 177 178 179 180 181 182 183 184 185 186 187 Last Page

Get An Email Alert Each Time EDWARDS1411 Posts