| | |
| --- | --- |
| | EBRAINK's Recent Blog Entries |


Wednesday, July 23, 2014
[chuckling to myself - how many of us Sparkbloggers have the classic, "it's been a while since I've blogged" post? Everyone, I bet!]

It has been a while since I've blogged - I've been busy, dealing with home improvement projects and work and travel to see family and refresh my baby holding/feeding/giggling skills. Probably most important on this trip was the "don't freak out at the vast quantities of upchuck this kid produces" skill. (And patience, by not critiquing his parents' tendency to speed feed the little dude...sigh...I will NOT be that person who give unsolicited advice about baby rearing.)

One of the projects, related to home improvement, required cleaning out every closet (since those are also carpeted, and the carpet was replaced). I went further and cleaned out all the dresser drawers, too...and so got acquainted with the horde of cute but unwearable clothes I own. I made a commitment to myself that when I put everything back, only clothes that FIT and that LOOK GOOD were going back - everything else would be sent to Goodwill, Dress for Success, to the tailor, or into the ragbag. (Dress for Success www.dressforsuccess.org/ )

I was surprised at how many items ended up in the pile...and that many of the items that stayed were really, really old things that I'd decided to hang onto for when I got back down to this size. So I fit into many of my old clothes...but many of those clothes are dated. (Sigh. I wish women's fashion were more durable...)

I was also surprised at how hard it was to part with some things - I have a gorgeous wool coatdress that is now two sizes (!) too big, and I'm pretty sure it can't be altered, but I'll talk to the tailor anyway because it has been a favorite and I love the way it looks (when it fits). I'll probably have to say goodbye to it, but not without trying.

And now, I get to plan to replenish. This will mean actual planning (I'm not an impulse shopper) and maybe I'll finally get to the point where I have a professional wardrobe that actually works for me - polished, practical, but easy. (Yeah, that's not too hard...)

Busy, busy, busy!




Monday, July 07, 2014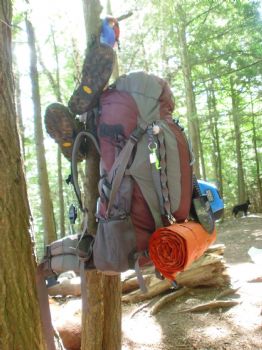 Feeling particularly pleased with the past week, since so much of my hopes and wishes for good health and a fit life are realized when I can see if I can do things I never thought I'd do. Like carrying a load of stuff on my back, into the deep woods, setting up a tent and dealing with the weather and wilderness. I'm no survivalist, not by any stretch - my sleeping pad is self inflating and I'm well cuddled in good down and protected from the dew by decent weatherproofed nylon. But it is something to carry your living quarters on your back, filter water from a lake, and cook a decent meal with fire that doesn't come with a gas canister and temperature gauge. And I can do those things, and love the doing of them. Yay.





Saturday, June 21, 2014
A few years back, I read a good book on weight loss that countered the mythology that people who lose weight are doomed to gain it all back – always. Thin for Life: 10 Keys to Success from People Who Have Lost Weight and Kept It Off , by Anne M. Fletcher M.S. R.D. is a sort of ethnography of successful weight loss. Fletcher interviewed a lot of people who had lost 20+ lbs and categorized and organized their tips. The consensus was that it is certainly possible to lose weight and keep it off, that there are many ways in which people have done that successfully, and different approaches will work for different people for different reasons. This was the first time I'd read such a sensible diet book, based on reality (because it's clear that successful weight loss isn't easy), and which had the core message of "see what works for you, keep trying, and any long-term loss is a positive step – even if you don't ever get 'model-thin'". It's not hysterical, doesn't push a single idea/product/system. She has no aspiration to be a guru, and she isn't. It's a good book, overall – I recommend it.

I was intrigued when I saw that Fletcher had taken the same approach to studying problem drinking – and (consistent with her previous work) we shouldn't assume the only way to get sober is through AA. This is caught my eye: I'm the child of an alcoholic who found AA philosophically intolerable, who told me (20 years into sobriety) that going to AA (even for a short while) was worse than dealing with being drunk. I'm not going to bash AA on the strength of hearsay – I know it works for many people. But there are alternatives, including the path my parent took, which was counseling and individual hard work to stay sober, in the context of a supportive family that worked together to stay on course.

So I've been reading Fletcher's book and I'm seeing parallels between staying sober and staying on course with other goals, like losing weight and getting more fit. Most pertinent, I think, was a section on managing relapses, which I thought I'd share here.
Of course, the book talks about recognizing situations in which a person might be tempted is the first step in avoiding temptation, and that breaking old habits in order to create new habits is really important. And another aspect of managing lapses has to do with recognizing feelings associated with the habit you're trying to ditch. AA has the acronym H.A.L.T. to remind members not to get too hungry, angry, lonely, or tired, since those states make it likely that a person will give in to the urge to drink. Applying this to my relationship with food, I know I'm tempted by food rewards when I'm stressed out (and I feel like I "deserve" a treat). Recognizing that I'm liable to lapse when I feel that way means I can try to avoid feeling that way, or I can deal with my stress differently. Naming the way I feel means I can address the way I feel instead of just using food to feel better. (Of course, if I'm hungry, I do need food. But if I'm angry, lonely, tired, or stressed, I can try something else.)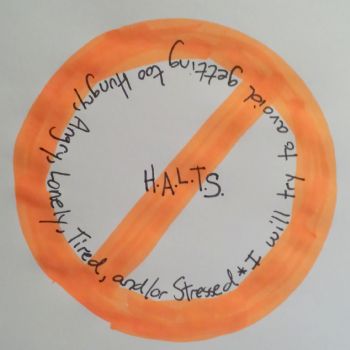 The other thing I learned that will be useful is that lapses are inevitable, but they are not failure, and need not govern the rest of my life. I need to figure it out, deal with it, and move on.

This was most interesting to me, because it's so tempting to take an all or nothing attitude about lapses. "Well, heck; I lapsed! That means I failed, so I might as well admit that and stay here in Failureland and enjoy this box of Thin Mints." And thus the lapse becomes a "relapse". I know this all too well - a few months ago, I was in the Winter doldrums, and chose not to go for a run. The choice I made that day made it easy to make the same choice the next day, and the next…and two months later, I wasn't running.

"Managing the lapse" means recognizing that after that one missed run, I'm still in control of the next decision, the next day, and I can make the same decision or not. That first "lapse" may be a choice made in a moment of weakness – but "relapse" is a series of choices, any one of which offers an opportunity to stop the relapse, and get back on track.

Good to know.





Tuesday, June 17, 2014
So, I'm looking over the pattern of my Spark behavior and reflecting on what has worked.

It's clear that I've been more successful losing weight and exercising regularly in the year I've been in this space, doing this work. (Hey! Happy Anniversary to ME!) Though I've lost weight in the past, on my own, that effort was probably less healthy and less likely to stay. I feel like being here, I'm cultivating good habits and I have a good space in which to ruminate about health building.

Why?

Community, certainly. I really like some of the people I've met here, though I can't say I really know them. But I'm rooting for them to succeed, and I feel like they're rooting for me, too. The positive tone is really wonderful; particularly when I see so many people here who get down on themselves or who are feeling frustrated - someone is always there to tell them to cheer up, to point out their successes, or to tell them - kindly - to pack up the pity party and get back to work because what we're doing isn't easy, but plenty people here have and do succeed. With this many people, it's nice to see so much constructive commentary. (It could just as easily go the other way, this being the internet and all...)

And - an observation from my beloved partner - if I expend my fund of conversation about losing weight and exercising here, he doesn't have to listen to it. He is REALLY supportive, honest - but there are only so many conversations about kale smoothies and whether I like my new Merrills or should I ride on Monday and try to run that night...and, and, and. He finds this focus dull, at times. Imagine that.

What else? Oh, the silly rewards - it's funny how spinning that wheel every day keeps me coming back. I like streaks. I like accumulating points, and leveling up because I've been consistent and I've been doing the work. (And hmmm. What's a habit, but a streak, of sorts?)

I like having a convenient place to log information - I've been frustrated by different apps and notebooks and things. I'm sure there are better systems than this one, but this one is good enough for me.

I like being accountable in a way that's different from going at this alone. (Thanks, guys!)

And what doesn't work? Getting too comfortable before I'm ready to - when I stop logging meals, my weight driiiiiiiiiifts up. When I'm feeling like slacking off on the workout, it's harder to work out the next time.

I learned that the hard way - I thought I could take a break when I was polar vortexed to the max, and stymied by the blues. I shouldn't have slacked off so much. Now, I'm happy to be back into it, because the rewards are showing up again (I'm back to my pre-break weight, and building up still to my pre-break running speed.) And I've learned that when I take a break, it's harder to get back into it. Good to know.

So, I'm still here. Still working, still learning.




Monday, June 09, 2014
I have a friend who likes to run on trails (as, I've learned, I also like to do), and she has organized a regular group of folks who meet up at a location where there are lots of trails and we can all run together or split off so we can run at our own pace. No pressure, no competition - just fun. We have the great fortune to live in a place with a huge central park (The Arboretum) where there are many trails and many route variations; my friend is a great planner who can map runs that accommodate fast runners and slogjoggers (like me), so we can all start together, then go different directions, and end up in the same place at about the same time. Which is cool - some together, some alone.

I've never been much of a "social" exerciser. I can't stand group exercise classes (I get lost and flustered and anxious trying to follow along). I greatly prefer solo efforts - I do yoga tapes, DVDs, bike and run by myself. So this group thing is new to me, and I like the fact that it's only together as much as need be.

But I've discovered that I run more, and my pace is better - more systematic - when I'm with the group.

This makes me go "hmmmm". I begin to wonder whether my solo habits are holding me back.

Not that it's a competition, of course. But I wonder if the reason I'm sort of stalled on the running, that I give up earlier than I think I should, is that I don't have a gauge against which to measure myself. Another person - a model - might help. HMMMMMM.

On a related note, I ran a 6K trail run on Saturday, just to see if I could do it.

I could.

Better still, I had WAY more energy at the end than I expected. I've never run a 6K event before, nor have I run a trail event before. It really was a "I wonder if I could do this?" thing, for which I didn't train specifically. I did a few some trail runs on and since Memorial Day weekend, but most of my time has been on my bike.

BUT: I really loved it - even though the first half mile involved an uphill 250+ foot elevation change, and the downhills were winding and a little scary, and the 7 year old 8K runners blew past me. Oh, and at the end of the run, the organizer said "hey! no broken ankles this year! That's really good!" (Yikes!)

I really liked it.



Mostly because it was a beautiful day, I was on a section of our local National Trail that is particularly beautiful (and which I'd never hiked before), people were happy and having fun.

Carpe diem.



1 2 3 4 5 6 7 8 9 10 11 12 13 Last Page

Get An Email Alert Each Time EBRAINK Posts