| | |
| --- | --- |
| | EBRAINK's Recent Blog Entries |




Sunday, October 26, 2014
I haven't been running much lately.

- I should go for a run. It's not that hard. Get up, get dressed, go out and do it. I should.

I don't feel much like running. It's cold.

- I have running tights, and a thermal, windblocking jacket, and a buff for my ears. Besides, the last time I ran at this temp, I ended up stuffing the buff in my pocket and tying the jacket around my waist. It's only cold at the start of the run. I bet I could figure out just how many layers work for me.

I'm a little scared to run. It's dark.

- I can borrow the dogs' blinkie lights, and my jacket is white and bright, and it and my tights and shoes have all sorts of flares and reflective patches on them. If I'm really worried about it, I'm sure my husband will go out with me some night to give me feedback about whether drivers can see me. (He wants them to be able to see me, too!)

I don't have time to run. I'm working SO hard, putting in an extra hour before I go into the office, and an extra hour after I get home, both on top of a 9-hour day!

- First, I shouldn't have to work that hard to do my job. That is a different problem - whether that problem is time management, an unmanageable workload, systemic inefficiency, or whatever, "not running" is not going to solve that problem. Second, I work more effectively, manage stress better, and generally FEEL better since I've improved my fitness level, and running is an important part of how I'm going to stay fit.

It's been a few weeks, now. It's going to be hard to get back into it.

- It will be even harder if I wait longer. And every time I've come back after a few weeks off, I get back into the swing of things more quickly than before. Yes, it takes time, but less time than when I started from nothing. Stopping the slump today means I'll have less to make up for later.

It's been so long. Maybe this means I really don't like running. If I loved it, I'd want to do it, right?

- Nope, I don't love running the way some people do. But I have discovered that I do like it. Sure, I hate the first ten minutes, when it feels too hot or too cold and my eyes are stinging or I'm whining to myself about how my earbuds aren't perfect (seriously, they are a pain - how can people wear those things and keep em in their ears??!) If, on any particular run, I hate the eleventh and twelfth minutes, I get to turn around and call that a sufficiency of exercise. Most of the time, by the eleventh minute, I'm enjoying the light in the sky and the leaves on the ground, the feeling of checking in with my body and knowing where all the parts are and that they're working pretty well. I'm thinking about that thing that was bothering me (whatever it was) and deciding that maybe it wasn't a thing at all, not worth the bother. I notice, and move on.

Maybe my problem is that I'm not "athletic" - I never did anything other than mandated gym when I was a kid, never liked any of that because I was always "husky"...

- Whether or not I was "athletic" in the past, or would be considered "an athlete" now, I'm on my journey to fitness *today*. Also, though I never did team sports as a kid or young adult, I remember loving long hikes and running in the rain, playing tag with my friends on the playground, and baseball with my family in the back yard. Maybe I wasn't a star athlete - but maybe we shouldn't put so much emphasis on "be a star or don't bother". That's a lot of baggage to load on a kid.

So why haven't I been running lately?

- Doesn't matter. I'll noodle over it while I'm out there.





Sunday, October 12, 2014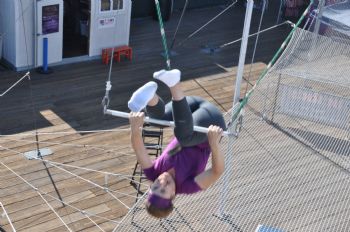 Ever since my niece did a "trapeze school" session while working on a "Fat No Mo Sho" episode, I've been curious about trying it. I've been running regularly and feeling fit - and found myself recently on the Santa Monica Pier with that same niece and a heckuva lot of "why the heck not?" So I did it.

It was a blast! I had a great time (once I got past the initial fear about hopping off of a platform 23' above the pier). It was mentally challenging, to focus only on the commands of the caller (and to actually DO what she said to do). It was physically challenging, to hang on and fold my body in half to get the feet up and hang from the bar. It was exhilarating, to fly through the air and flip off the bar and land in the net.

I was not graceful. But I was determined, and I did it well enough to know that the next time will be better.

I engage in my own journey to better fitness and good health so I can do wacky things like this. Today, my abs and arms are sore (SO SORE!!!) but I did something I never imagined doing. For the fun of it. I loved it.

Update: the sore chest muscles and abs finally went away about ten days later. I'm sure I didn't pull anything, but stressed them more than they'd ever been stressed. I'll be better prepared next time I do this!





Thursday, September 25, 2014
Yeah, it's been a while (insert standard "I should blog more" apologia).

Nevertheless, I'm still on track - figuring out how to maintain my weightloss and exercise habits even though I'm busier than I've ever been (and I feel a little anxious and explodey about that, to tell the truth), and I've never been this far behind in my work, this early in the year. YIKES.

But, as I think back to another time, when I was also busier than ever before and managing similar types of stress (new and more demands, unpredictable and unrealistic expectations, fears about failure and quality of work...the usual anxieties of an overachiever in an impossible position) - I say to myself, Hmmmmm. LAST time this happened, I *gained* weight. LAST time this happened, I developed an ulcer (and no, not the bacterial kind). LAST time this happened, my mood was either low, or angry, or just plain volatile.

And this time, not. My weight is where I want it to be (for now). I'm exercising regularly, and eating well - not consoling myself with junk or going into the "I deserve this" cycle of reward eating. Though I'm anxious, I'm managing the stress and setting limits - saying "no, I can't do that" and "that deadline will need to be extended" and so on.

None of this happened overnight, and none of it happened by chance - it all took work. Last time, I thought the path to feeling better was to cut myself some slack and eat whatever I wanted and skip exercise and avoid hard discussions with my superiors about my workload. Now I know the path to managing this is to continue to eat well, continue to exercise, and to have those hard discussions.

Another item for the "if it were easy, I would have figured this out long ago" pile o' knowledge.



1 2 3 4 5 6 7 8 9 10 11 12 13 14 15 Last Page

Get An Email Alert Each Time EBRAINK Posts