| | |
| --- | --- |
| | EBLOOMING's Recent Blog Entries |


Thursday, August 14, 2008
Knowing God's true purpose for me.

Paul tells us:"What know ye not that your body is the temple of the Holy Ghost which is in you, which ye have of God, and ye are not your own? For ye are bought with a price: therefore glorify God in your body, and in your spirit, which are God's"
I Corinthians 6:19-20

Jordan's Tip of the Day from the author of The Maker's Diet

Three Ways to the Temple
When we respect our bodies, inside and out, we make greater strides toward knowing God's true purpose for us. We take time to celebrate our own temple by getting some excercise, making time for prayer, and eating healthy food.




Saturday, August 09, 2008
Motivational - Begin With Gratitude
A day that begins with gratitude is a day that you'll be able to fill with positive progress. When you're sincerely appreciative of where you are and what you have, you'll greatly expand your own possibilities.
Begin with a thankful thought. And connect yourself with the abundance that is all around you.

There is always something for which you can be sincerely thankful. And the simple act of being thankful ignites a productive momentum in your world.

By focusing your thoughts on the positive aspects of your life, you cause their influence to grow. Be grateful, and your gratitude happily creates even more things in your life for which you can be grateful.

The appreciation for what you have gives more value to all that you are. The blessings you enjoy are blessings precisely because you see them as such.

Tap into the great reservoir of real value that is already available to you. Live with gratitude, and you'll create even more reasons to be thankful.

-- Ralph Marston






Saturday, August 09, 2008
Simple Ways to Curb Overeating!
Need some help getting your appetite under control? We all do sometimes! Try these easy tips from the experts at the Harvard Medical Center for breaking the overeating habit:

Sit down at the table when you eat. Never eat on the run, in the car, while standing up, or in front of the TV or computer. Studies show all of these distractions lead to eating more food but feeling less satisfied!
Use smaller plates. Many overeaters are used to piling their plate high with big portions. So use a salad plate instead of a dinner plate. You'll eat less food, but you'll still have the "visual" cue of a full plate.
Eat slowly. Be sure to devote at least 20 minutes to every meal. It takes that long for the "full" signal from your brain to reach your stomach. So savor those bites!
Keep healthy foods — like fresh fruits and vegetables — at eye level in your fridge, instead of putting them in a drawer. This way you'll be more likely to eat them!
Drink a 12-ounce glass of water before each meal to take the edge off your appetite.
When the urge to snack hits, wait 10 minutes. Often the impulse will pass, especially when you are eating for emotional reasons instead of true hunger.








Sunday, April 27, 2008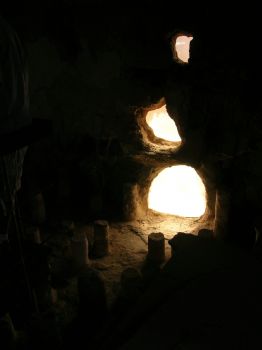 Why did such a major change take place in David's life and attitude?

First, because David hurt enough to admit his need. When you are hurting, you need to declare it to someone, and especially to the Lord. David hurt enough to admit his need.

Second, he was honest enough to ask for help. We have lived under such a veneer for so long in our generation that we hardly know how to ask for help. But God honors such vulnerability. He did then, and He does now.

And third, he was humble enough to learn from God. How tragic it is that we can live in one cave after another and not learn what God wants to teach us. Not David! I love the man's utter humility. If it is to be a cave, then let's not fight it. We'll turn it into a training ground for the future!

Psalm 142, 57, 34






Friday, April 11, 2008
It's been said many times before - sow what you want to reap, do unto others as you would have them do to you -

But it remains eternally true.

We humans are set up in such a way that giving joy to others actually adds dabs of joy - color to our own hearts.

Thomas Kinkade







First Page
1
2
3
4
5
6
7
8
9
10
11
12
13
14
15
16
17
18
19
20
21
22
23
24
25

Get An Email Alert Each Time EBLOOMING Posts