| | |
| --- | --- |
| | EALIHASSAN's Recent Blog Entries |


Monday, June 20, 2011
Worked out 20 days in May!!!


MAY 2011 HEALTHY LIFESTYLE HIGHLIGHTS (HLH): Concentrate on the little things; they're the ones that encourage you to keep on moving to achieve your goals.

5/1/2011 - ran 20 consecutive minutes and lifted weights! haven't run 30 consecutive minutes in years! also ate very healthy!
5/2/2011 - 30 day shred after another extremely stressful day and didn't even take a 10 second break! I felt sooo much stronger than last Sunday when I did it last! I didn't breathe as hard as I did last time as well!
5/3/2011 - I feel GREAT today! Last week, I was in pain for 3 days after I did the 30DS, and after doing it yesterday, I don't hurt at all! I'm getting stronger! Also, hopefully I'm not imagining it, but I feel my work pants fitting slightly better. : ) THIRD consecutive workout day!!!
5/4/2011 - Didn't feel the greatest today, but still ate very well and went for a 30 minute walk! I cooked and didn't overindulge while cooking. Typically I would've ate while I cooked, but I was very good. : )
5/5/2011 - Joined a 12 week stress cycling class and found younger people in the class (not what I expected)! Actually woke up at 5am!!! Never thought I could do this a month ago, but April was a GREAT month!
5/6/2011 - went out for a drink and only had a cup of popcorn, though the whole bowl was full and it was delicious popcorn
5/7/2011 - 35 mile bike ride and burned over 1,500 calories, can't complain. : ) only took one break! did this same bike ride last summer, and I was crying because I was in so much pain. I'M STRONG AGAIN!!! :D Burned over 2,000 calories after going out dancing tonight!!! It was SO much fun!!! LOVE girls' night!
5/8/2011 - First time I've seen the 50s since October last year!!!! Feeling great!!!!
5/9/2011 - Stopped eating when I felt full and didn't clean off my plate. It felt very uncomfortable, but confortable at the same time. Weird feeling. I did end up doing the 30 day shred (late night shred at 11)!
5/10/2011 - Rode my bike to work! Beautiful weather out! 60 degrees! Double workout today, ran in the evening! : )
5/11/2011 - Robbyn and I were both late to the Hip Hop Groove at 6am, but we went on a 40 minute walk still! Took as many walking opportunities as I could today! Met my future roomie!!!
5/12/2011 - Went out for a drink again and did pretty well! Stayed under 1,600! : )
5/13/2011 - Worked out at 6:30am even after a night out the night before! If that doesn't scream dedicated, I don't know what does!
5/14/2011 -
5/15/2011 -
5/16/2011 - Found a place to live that I LOVE! Did the 30 day shred!
5/17/2011 - Rode my bike to work and went for a walk, great weather! I surpassed the number of days I've worked out in April and it's only the middle of May!!!!!!!
5/18/2011 - Tried a new group fitness class: Hip Hop Groove, frustrating that I didn't know the move, but I kept on trying.
5/19/2011 - Morning cycling class
5/20/2011 - Made healthy choices at IHOP and the Greek restaurant Zorbas
5/21/2011 -
5/22/2011 - 30 Day Shred after 2 day break!
5/23/2011 - Woke up early and exercised on the elliptical. Took Mom out for her bday dinner at Carlos o Kelly's and made great healthy decisions!
5/24/2011 - Read my "Habit" blog! : )
5/25/2011 - ate half of my meal for lunch and asked for a box! didn't feel obligated to finish my plate!
5/26/2011 - 4th day in a row waking up early to work out!
5/27/2011 -
5/28/2011 -
5/29/2011 -
5/30/2011 -

****************************************
Total days of working out: 20
Goal days of working out for next month: 20
****************************************




Tuesday, May 24, 2011
I woke up "late" this morning at 5:45am, trying to convince myself out of working out. I have been trying to wake up around 5 or 5:15 each work day to eat breakfast, get ready for my workout, and prepare my bag with clothes and shower supplies. Since I woke up "late" the second day in a row, I attempted to convince myself out of my planned workout. Fail.

That's right, I was unsuccessful at convincing myself not to go to the gym. I can't help but smile when I think about this. Even one month ago, this would have been EASY to do. I came up with every excuse I could think of:

- I could just shower here at home, what's the point of showering at the gym when I have privacy here and I would be able to do my hair (wouldn't have time at the gym)
- I don't have enough time to get a full 30 minute workout, what's the point anyways
- I'm tired
- I'm not in the mood to workout

Then I thought about the positives:

- I already woke up early, what's the point of waking up early if all I'm going to do is facebook a little and shower
- I'm really not that tired. I have more energy that I'm giving myself credit.
- I don't have to be in "the mood" to workout. How many times have I made myself go when I really wasn't in "the mood"? However, I get in "the mood" once I get to the gym.
- The feeling of actually going to the gym and being able to put a circle on my work calendar would be awesome (see pictures below)
- A 20 minute, 15 minute, 10 minute, or even a 5 minute workout would be better than a 0 minute workout.

And would you look at that?! There are more positives than excuses! So what did I do? I went in and walked on the treadmill for 20 minutes while I read a book. I couldn't help but think of the healthy lifetime habit I've been developing. It truly doesn't matter how many calories you burn, how many miles you run, or how long your workout is in the long-term. Yeah, in the short-term, it could help you lose weight, gain muscle, or achieve a goal; however, in the long-term, what you will remember is not the numeric value of the workout, but the true outcome of the consistency and persistence: HABIT.

My entire life I haven't made this lifestyle habit a priority, and I couldn't be more ready now. In one year, I've had to gain 20 pounds, graduate from college, move away from my friends, learn how to adjust to the real life, lose my father, learn how to deal with my bi-polar mother who ends up in the hospital every couple of years (including the last 3 weeks), make completely new friends in a city with what seems like not much to do and few young people, find young female roommates to live with, and learn how to breakup the 5 year relationship with my boyfriend that never felt just quite right. If I haven't had to hit rock bottom, I don't know what other opportunity I would have had to form this healthy lifestyle habit!

Below are two images of my work calendar and my coworker's calendar. My "circling" of the calendar each day I've done something active (at least 15 intense minutes or 20 non-intense minutes) has become a trend. It feels amazing to inspire others around me. : )

My calendar (17 workout days so far this month!):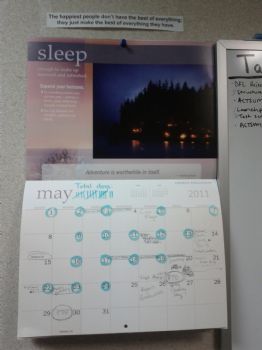 My coworker's calendar!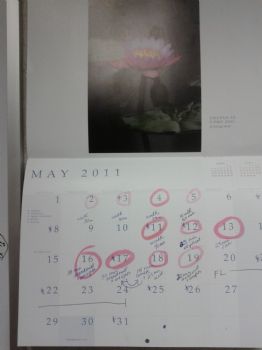 Tuesday, May 10, 2011
Just finished reviewing my healthy positive comments for the month of April. It's crazy and so encouraging to read the little and big improvements I've been making! I finally am feeling strong again (physically and emotionally). My health is starting to come first again. It's just mind boggling when I think about how I've gained 20 POUNDS in the last YEAR because of my reaction to STRESS. Well, I keep reminding myself that it is my choice and is in my control how I respond to the stressors in my life. Honestly, this perspective has gotten me to where I am today, 8 POUNDS LIGHTER! :D I look forward to reading my comments for the month of May! : )



APRIL 2011 HEALTHY LIFESTYLE HIGHLIGHTS (HLH)
(give yourself credit for and concentrate on the little things, they're the ones that encourage you to keep on moving to achieve your goals)

I will give myself off one day a week where I don't have to count my calories. That doesn't mean I can "go all out", but I can consume more than my daily average.

4/1/2011 -
4/2/2011 - went on an outdoor bike ride since it was finally nice out
4/3/2011 -
4/4/2011 -
4/5/2011 - consumed near 1,550 calories, almost under 1,550, worked out!
4/6/2011 -
4/7/2011 - consumed near 1,300 calories, the lowest amount in probably over a year or so
4/8/2011 - first five day streak in a long time attempting to enter all calorie consumption
4/9/2011 - *NO TRACKING DAY* friday night in La Crosse, shared my dinner with my friends (share the wealth/calories!), didn't eat a late night 4 in the morning snack after a long night of partying!
4/10/2011 - planned on just walking on the treadmill and ended up running for 25 minutes straight and walked 10 minutes (warmup and cool-down), probably the longest consistent run in over a year or so, consumed under 1,800 calories, lifted weights which I haven't done in probably a year and a half or two and felt my strength slowly coming back, which was a great feeling!
4/11/2011 - worked out a full 30-minute intense elliptical workout during my lunch at work and ate half of an ice cream drumstick even though it was mint chocolate (my fave!), entered the nutritional information of all the "new" foods I have in the house and separated out the snacks into portion-sized bags as intended by the box serving size
4/12/2011 - ate half of an ice cream drumstick and consumed less than 1,400 calories, day 3 of counting ALL calories I have consumed and not just half the day's calorie consumption
4/13/2011 - weighed in for accountability, started my HLH section on my SparkPage :D. went for a late night workout and lifted weights. Portioned out more snacks; new fave snack is cocoa almonds with dark chocolate flavoring. Ate one portion of the almonds and milk to increase my protein content.
4/14/2011 - Ordered the honey BBQ chicken salad from BWW instead of boneless wings, much healthier and lighter. Consumed less than 1,300 calories, haven't done than in sooo long! : )
4/15/2011 - kids meal at Chipotle and only a half cup of frozen yogurt, i think i'm doing pretty well with my portions! : )
4/16/2011 - *NO TRACKING DAY* still ate pretty well and shared portions with my friends, ate light meats (lobster/crab)
4/17/2011 - chose a small quizno's sub without cheese, great day after my first no tracking day, woohoo!
4/18/2011 - Intense workout today! Burned 380 calories in 30 minutes while on an elliptical. Most I've burned in 30 minutes in who knows how long! : ) Started highlighting the days I've worked out on my work wall calendar, hoping to motivate myself and others!
4/19/2011 - ate under 1,400 calories even though I was tempted to snack on the food I got when grocery shopping; even went before I ate, and I didn't grab "unhealthy" foods.
4/20/2011 - *NO TRACKING DAY* I work up at 5:30am and worked out!!!! If that doesn't scream commitment, I don't know what does. I was running late for work, but instead of throwing the towel, I worked out for 15 minutes and burned close to 200 calories on the elliptical. I even forgot my water bottle, and I was tempted to quit, but I still worked out!
4/21/2011 - Only ate 6 wings, portion control! unfortunately there was also a happy hour involved...
4/22/2011 - Could've eaten more than one brownie or extra hand rolls, but said no. Knew I was full and could not eat anymore. I really need to learn how to say no more often. It feels good to be strong with myself. Went to an Earth Day event, pushed myself to go even though I didn't know anyone...
4/23/2011 - Regardless of the past three "not-so-good" days, I'm going to keep on truckin'. Ate on the low end of the scale under 1,300 calories! Woohoo!
4/24/2011 - Realized I haven't binged in about a month...awesome! Did the entire workout of the 30 Day Shred. The last time I tried this back in January, I gave up after 12 minutes and barely did the pushups. This time, I got a little behind during the pushups, and instead of giving up like I did last time, I rewinded the DVD back to the pushups and finished the workout! :D Made very good choices during my Easter dinner with my Mom, even with her delicious mamoul (Greek date cookies) and ate a small late night snack.
4/25/2011 - Shared a cookie and ended up eating only a quarter of it! Around 1,300 calories for the 3rd day in a row! : )
4/26/2011 - Shared a beef dip (no cheese or sauce) for lunch! Worked out even though my thighs are still in pain from 30DS! My iPod was even uncharged, and I still worked out! In the past, I would've just left the gym. Nope! I even burned 357 calories! : )
4/27/2011 - Went 10 calories over my range today, but honestly it doesn't matter! I made excellent healthy choices today and walked tons at work today! I managed to sneak in a quick unplanned 15 minute workout in my schedule, even after my iPod locking me out and pulling a muscle right before working out! I'm feeling very dedicated to my goal, and I'm loving it!
4/28/2011 - Didn't binge!
4/29/2011 - Worked out for lunch!
4/30/2011 - Walked around Madison and didn't binge

****************************************
Total days of working out: 11
Goal days of working out for next month: 12
****************************************





Saturday, April 23, 2011
FINALLY!

:D

I share an apartment with my boyfriend, and I finally have the apartment to myself! It feels good to have alone time. I don't think I've had the place to myself even for one day since probably June 2010. So if you can imagine, I've been doing a lot of thinking and reflecting, something I haven't done in quite a while.

I'll start out by sharing an update of my journey. A little less than a year ago, I had graduated from the University of Wisconsin - La Crosse with a Bachelor of Science in Management with a double minor in Information Systems and International Business. I had attended my share of career fairs, and the economy was definitely not at its greatest. I had created several backup plans for myself, though restricting myself to the city my boyfriend had a 10 month internship in.

I first applied for an assistent manager position (ETL) at Target, while making it known that location was essential for me. With my technical background, they didn't feel I was a good fit for the position (THANK GOODNESS!). I know I wouldn't have been as happy as I am today if I had gotten an offer. The funny thing is, they strategically seek young candidates early to snatch them off the market, without giving us many other offers to work with. I had interviewed with them in March, while my next interview wasn't until the end of April.

The second company I had interviewed with had extended an offer to me, which definitely boosted my self-confidence after getting rejected from Target, haha. It was a contracting position for Mayo Clinic in Rochester, the exact location I had wanted. Unfortunately, the position wasn't very intriguing (software tester).

Luckily, I had received another interview, actually at Mayo Clinic. Was I shocked... Since I had the other offer, I had used it to my advantage and notified Mayo of my other opportunity. This, of course, had expedited their hiring process, and I received an offer less than a week after interviewing with them the first time (total of two interviews). Without my confidence, I wouldn't have the position I have today. Without my healthy lifestyle change 3 years ago, I wouldn't be as happy with myself.

Today, I work at Mayo Clinic with the best manager, best team, best challenges, and best benefits I could ask for.

Aside from this, I feel like my life has been a complete mess. My boyfriend and I had moved here from La Crosse last May, and I feel like I've been on an emotional roller coaster--specifically on an upside loop. It hasn't been until this month, that I started coming back right-side up from the loop. This past summer, I had spent filling out paperwork for both of my young (early 60s) parents to move into a newly built assisted living apartment complex. My dad had dementia, emphysema, COPD, a few open-heart surgeries, a past stroke, diabetes and the list goes on. My mom is disabled--physically and mentally.

Starting the new job and trying to get them into the new income-based housing occupied my summer. Barely making enough money to pay for moving and living expenses, I made a couple trips to visit my friends in Wisconsin. Also, I had very few opportunities to make close friends at work, since the majority of the people I had worked with were in their late 30s to early 60s with children and grandchildren to take care of with very minimal spare time.

September came, and I was still friendless in Rochester. Fortunately, I was starting to save money, which allowed me to visit my friends out of town more often. My parents got accepted into the new housing, and it was time to move them. And here comes the downfall...my dad got pneumonia again, the second time in 2010. Unlike the last time, he wasn't able to recover. He was hospitalized the day we can packed the moving truck and lost his ability to breathe on his own two days later. My brother and I being very young, 26 and 22, we weren't sure what to do. We decided to put my dad on life support, hoping he would recover.

Well, 6 weeks went by, and he wasn't able to. His mechanical mitral valve caught an infection that antibiotics unsuccessfully removed. We had watched every other part of his body catch an infection, as his feet started to die. We had to say goodbye to our unconscious father three days before Thanksgiving. He never did make it past Milwaukee...

Since then, I've been really struggling. Without the emotional support I very much needed from my mom and boyfriend, who both could not provide me, I gained 15 pounds to bring me to the weight I had started my lifestyle change with over 3 years ago. On top of that, I still haven't made close friends in this city. I've felt very alone these past few months, while distracting myself heavily with working overtime. Work was the only thing that was going well for me. It was the thing I was excelling at.

And here I am today, sick and tired of MY RESPONSE to stress. As I stated earlier, I've done some reflecting. With my day off, I've read all my blog posts hoping to re-inspire myself. I've picked the best quotes and stories from all of my blogs and pasted them below to remind myself of my DEDICATION, DETERMINATION, CONSISTENCY, PERSISTENCE, and CONFIDENCE.

- I ate more than I planned on eating today, but I put the dark chocolate espresso trail mix down. How'd I do that, you ask? Well I kept mindlessly eating them and then I thought, which piece of the mix will "satisfy" me? Will it be...this one? Or how about this one? I don't think the whole mix will satisfy me. Then why do I keep eating them? I put them down. Drank some water (before chewing my gum I desperately wanted) and was done.

- It's time for me to evaluate. After all, a plan won't succeed if it's implemented, but not constantly evaluated.

- Anyways, I walked into Target wanting to buy chocolate, peanut butter, anything sweet to make myself feel better. Then I told myself, I wouldn't feel better, because truly, I wouldn't, neither in the short-term or long-term.

- Follow the detour back to the road, don't turn around and keep driving.

- You are choosing to use the scale. It's not the scale that tells you to run, it's the energy from the food you feed yourself that tells you to run.

- For those of you, like me, who can go weeks without a fluctuation in weight, THERE'S STILL HOPE! We do everything right, but our bodies don't compliment us. Funny thing is, I don't lose weight for a week or two, but then the next week I lose 3 or 4 pounds. Thank you body for the lag! Haha. It works though, and I'm starting to learn how my body works!

Reasons to change my lifestyle:

- To feel better overall
- To control my over-eating habits
- To increase my metabolism
- To exercise more without being so tired
- To keep up with my boyfriend while hiking
- To look good in a bikini
- To appear how amazing I am of a person on the outside
- To avoid health problems
- To give time to myself by exercising
- To not feel so full anymore

And last but not least, something new to take away...

The secrets of anti-binging and the questions that need to be asked:
Will this bite be better than the last? - No
Will this bite satisfy me? - No
Will this bite bring me closer or further from my goals? - Further
Will this bite contribute to my healthy lifestyle? - No
Will I run out of food (is there a local food shortage)? - No, then why act like it?
Will my body burn this extra bite and every extra bite after that one before I go to bed? - No

This is my story for today, and I hope I'm able to re-inspire you too. Life is full of positives and negatives, but when we concentrate on the positives, we will see change, improvement, and happiness. To see how I highlight the positives in my life, check out the HLH (Healthy Lifestyle Highlights) section on the front page.

The sun is always shining, even though you may not always see its rays.





Wednesday, April 13, 2011
Just removing the old (from summer of 2009) and adding the new. See my front page for my new HLH overview. Every month I will update the HLH section and move the old month into a blog and reflect on this overview. This will help me see my daily struggles and improvements rather than just focusing on my pictures where this "back on track" may seem to be easy, but may not necessarily be that way.


AUGUST DAILY FITNESS IMPROVEMENTS:
8/18 - hiked the bluffs
8/24 - 3 mile walk/run @ the Y, 300 calories

****************************************
Total Fitness Days: 2 days
Goal Fitness Days: 5 days
Last Month Fitness Days: 0 days
****************************************

AUGUST DAILY FOOD/COOKING IMPROVEMENTS:
8/24 - bagel, sandwich, jambalaya
8/25 -
8/26 -
8/27 -
8/28 -
8/29 -
8/30 -
8/31 -
****************************************
Total Days under 2,000 Calories*:
Total Days under 1,550 Calories**:
Goal Days under 2,000 Calories*:
Goal Days under 1,550 Calories**:
Last Month under 2,000 Calories*:
Last Month under 1,550 Calories**:
****************************************

2009 WEEKLY WEIGH-INS:
2/5 - 136.8, i guess not as bad as i thought
2/12 - 138.8, gaining my muscle back! lol
2/19 - 138.8
2/26 - 139 :D, went up to 142 this past week!
****************************************
February Gain/Loss: +2.2lbs
****************************************
3/5 - 140.6 because of the extra food I ate last night...
3/12 - 139.6, clearly i went up to 142 early this week. i have it all under control now! : )
3/19 - 142.6, estimated guess, saw too much of 144...
3/26 - 140.2!!!! yay! i'm going down!
****************************************
March Gain/Loss: -0.4lbs!!!
****************************************
4/2 - 139.2
4/9 - missed the weigh-in
4/16 - 138.6
4/23 - 139
4/30 - 141.8 I don't understand...
****************************************
April Gain/Loss: +2.6lbs...
****************************************
5/8 - 141
5/13 - 137.4 -- i don't believe this
5/21 - 140 -- thanks to the week of alcohol after exams
5/28 -
****************************************
May Gain/Loss:
****************************************
6/4 -
6/11 - GOAL = 135
6/18 -
6/25 -
****************************************
June Gain/Loss:
****************************************
7/2 -
7/9 - GOAL = 130
7/16 -
7/23 -
7/30 - GOAL =125
****************************************
July Gain/Loss:
****************************************
8/6 -
8/13 -
8/20 -
8/27 -
****************************************
August Gain/Loss:
****************************************


1 2 3 4 5 6 7 8 9 10 11 12 13 14 Last Page

Get An Email Alert Each Time EALIHASSAN Posts