| | |
| --- | --- |
| | DR8561's Recent Blog Entries |


Saturday, September 08, 2012
Long day today. Got up and rushed Mom into leaving (earlier than usual) for the hour-long drive to the nursing home where my Step-Dad is staying. We got back home in time to take my older son to work. A couple of hours later, took my younger son to work, went back to the mall where older son works, did a little shopping, then took him home from work. On the way home, stopped to pick up some things at the grocery then stopped at the pharmacy for prescriptions. I was really tense because I didn't get a workout yesterday or Thursday because my back has been acting up.

I still didn't feel like it, but made myself do an hour on the exercise bike just now. I feel SO much better! Checked my mileage. I've finished 153 miles of my virtual trip to Maui. My first stop is in Santa Clause, IN at the 218 mile mark. I'm looking for interesting destinations along my route, to keep things interesting. This country has a lot worth seeing!

This is my route, 4,857 miles as the crow flies: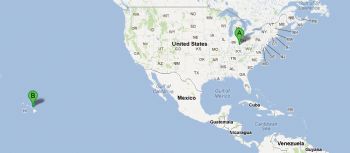 Here is my bicycle route to Santa Clause, IN: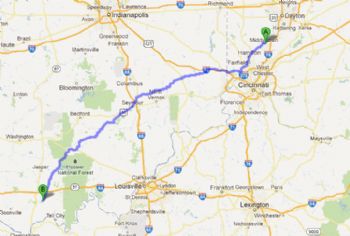 I'll add pictures of each stop as I get there. I expect to log a lot of miles over the winter.






Saturday, September 08, 2012
When I was young, my knee bones grew at a different rate from the sockets they were supposed to fit into. This resulted in dislocated knees when I fell. It happened a lot through elementary school, so often that our doctor taught my parents how to put the knee back in place before they took me to the hospital for x-rays. It was extremely painful until the knee was back in its socket - then it would go numb. Every time this happened, I had to ice the knee and stay off it for about a week. I remember wanting to take dance lessons like some other girls at school. I was told I couldn't because of my knees.

Once I became a teenager, I no longer had to deal with the dislocations but discovered a new experience. If I changed direction suddenly, my kneecap would stand on its side then I would fall. The kneecap popped back into place and I could go on about my business, but it scared me every time. This taught me to move slowly and carefully.

I got a reputation for being clumsy, partly due to the kneecap thing but also because of other injuries along the way: stepping on nails, my big feet slipping on carpeted steps so I bounced down them, sprained ankles. Books and movies became my friends. So did food. As I gained weight, I went from being quiet & introverted to painfully shy and socially awkward. I learned to stay in the background and not say too much.

I tried to stay invisible, but that's a little hard to do when you're a 5'8" woman with a large frame carrying over 200 pounds. I didn't make friends easily. I also wasn't very good at keeping them. It didn't help that I changed schools 6 times in 7 years or that I withdrew into myself when I was hurt or embarrassed.

All of this led to years of yo-yo diets and a measure of self-hatred. After all, even those things I was good at were done better by other people. Somehow, I managed to meet and marry a great guy and have 2 beautiful boys. It has taken another 20 years for me to get a grip, stop comparing myself to other people, and to start ignoring all of those voices that have told me over the years:

"You will hurt yourself if you try that."
"You aren't pretty enough to wear that."
"You don't have anything worthwhile to say, so stay quiet."
"You aren't smart enough to accomplish that."
"He/She can do that better than you can. Leave it to him/her."
"Nobody cares about your opinion."
"You're just going to fail anyway, you might as well quit."
"You aren't worth anything that nice. Don't buy it."
"How can you think about taking time to do that when all of THIS needs to be done?"

There are more, but you get the point. I was paralyzing myself with "stinkin' thinkin' ". The key to getting to a better place is to start with better thinking. I'm more comfortable in my own skin than I've ever been because:

"My needs do matter."
"If I take the time to take care of my mental, physical, and spiritual health, I can do a better job of taking care of those who need me."
"I am beautiful."
"I am lovable."
"I can do more than I think."
"There are ways around, over, or through obstacles. Obstacles are just detours."
"For good or ill, I do influence people around me. I need to set a healthy example."
" I will have bad moments and bad days. It is the quality of the days over time that matter."
"Fear is something to overcome. Fear lies. If my life isn't in immediate danger, I don't need to listen to the voice of fear."
"Failure is a learning experience. Try something different next time. Learn and move on."






Sunday, September 02, 2012
I took a rest day from my workouts yesterday. My legs were feeling uncomfortable from my Friday workout. I had a lot of running to do - taking my mom an hour away to see my step-dad who is in a nursing home, grocery shopping, and I was on-call for work from 8-5.

Mom had an insulin reaction after lunch, even though we had cut back on it a little for her lunch. Sometimes the insulin doesn't seem to work well enough to keep her blood sugar in the normal range and sometimes, like yesterday, she is overly sensitive to it. She felt her sugar drop this time so we caught it before she got too bad, but it is stressful.

I was "done" after that and took a nap. Got up and fixed dinner because I was starting to feel wonky from not eating enough. Stayed up a little too late reading "The Competitor In Me II: Conquer Fear" by Francie Van Wirkus (great book) then tossed & turned all night.

I added Couch-2-5K to my goals for this month because of Francie's books and some very inspiring runners here on SP - LDRICHEL, ON2VICTORY, & ONEKIDSMOM, you rock!! Unfortunately, I can't start today because my back has that loosey-goosey feeling it did last Sunday before it went out on me. I'll stick with the recumbent bike today and work on my core this week to strengthen it up. I DO NOT want to be laid up for a week with a bad back!

For those of you who don't know, Couch-2-5K is a 2 month program designed to help beginners work up to a 5K of non-stop running. You can find it at www.coolrunning.com. I checked out a link on the site for people 200lbs and up. The host is in that category and running. He recommended "Born To Run" by Christopher McDougall. I bought the book to read after I finish Francie's (I get a lot of reading done on the exercise bike). I'll post a review of both books after I finish them for anyone who is interested.

Hope you all have a great day.




Saturday, September 01, 2012
Results for August
---------------------------




1. Exceed 800 fitness minutes for the month - cardio 3 times per week and weight-bearing/toning exercises 2 times per week.

Exceeded the minutes by 15! Exceeded the cardio - 5-6 times per week (except for 1-1/2 weeks where I was sick).




Really need to work on the ST - failed there. Just don't like it as well.




2. Get to the point where I can do 10 jumping jacks and run 100 yards without hurting myself.

Haven't attempted the running yet. My knees are stronger with the bike work I've been doing but my ankle is iffy, so I put this off.



I was able to do the jumping jacks, but my knees were not happy with me. I'll have to keep working on the legs and ankles.

3. Balance the extra fitness with the right number of calories. I have some trouble with this -eat too much & I gain weight, eat too little and my weight stalls then starts creeping up.
Still a work in progress.




4. Find 5 healthy meals the whole family will eat. This is a real challenge!

Mom is good with anything. Got my husband's buy-in with a couple of chicken and vegetable meals. My picky boys - not so much.




5. Build some fun into my schedule (there hasn't been too much of that lately). One fun activity per week!

Still a work in progress. Got my husband to take me bowling.



Dinner & shopping with Mom one night.



My boys are supposed to take me out to play putt-putt for my birthday.





Goals for September
------------------------------




1. 1000 Fitness minutes.



2. Cardio 5-6 days per week for a minimum 30 minutes each time.
Work on my virtual exercise bike trip



and start Couch-2-5k (going gently with the running until I'm sure my knees can take it).




3. Strength training 2-3 days per week for a minimum of 20 minutes each time. Focus on strengthening my core (my back went out last Sunday and is still sore), upper body, legs and ankles (OK, everything).




4. Continue tracking my nutrition and try to find that elusive balance between calories in and calories out.



5. Find excuses for fun! Do something enjoyable every week.









Friday, August 24, 2012
I guess I've had an "Aha!" moment.


It has been building over the past few weeks and I'm almost afraid to put it into words. I don't want to jinx it. I've spent the majority of my adult life on a roller coaster of diet-binge-diet with only brief periods of being "thin". Even when I was at a normal weight, I saw myself as fat.



It was only years later, looking at old pictures of myself, that I could see what I really looked like at the time.

As I've gotten my diet under control, my food cravings are changing. Instead of chips and candy, I'm craving fruit and salads. I feel like my mind is clearer. Before, I was masking my feelings with food, stuffing down unpleasant emotions. Now food is my fuel and I want the high-octane brand, not the watered-down junk.







The biggest change is that I am starting to visualize myself as an athlete.





That has NEVER happened. I was sick for the past week and the biggest thing I missed was my workouts. I was resenting the interruption in my virtual trip! And I'm starting to think about running!






I'm not there yet - there are issues with my knees and an ankle that will have to improve a lot before I can subject them to all that pounding. But I WANT to get there.

One thing that got me thinking is the article on body type at: http://www.sparkpeople.com/resource/fitnes
s_articles.asp?id=1042

Especially this part: "Endomorphs are generally shaped like apples (men, especially) or pears (women, especially), and naturally carry more body fat even at their ideal weight. Their bodies may resist losing weight and body fat even when they are restrictive with their eating. In fact, the more they "diet," the more their metabolisms slow down to resist weight loss. Overweight endomorphs don't necessarily eat more than their slimmer counterparts—they simply tend to store more calories as fat than ectomorphs and mesomorphs. This is a handy trait to have if you have to contend with famines and food shortages—but not so handy otherwise."

Needless to say, this is my type. I could either be depressed about it and whine about how it's unfair that I'll never lose all these hips



OR I can look at it another way:

1. I am genetically configured to be a survivor.

2. I will always have curves. My husband likes that, so it's all good.



3. I don't have to starve myself (it would just be counter-productive anyway, since my body jumps into "famine-mode" so easily).

4. I can be healthy and strong and athletic.



I just finished "Wild (From Lost to Found on the Pacific Coast Trail)" by Cheryl Strayed and am now reading "The Competitor in Me" by Francie Van Wirkus - and getting the urge to do a lot more physically. I may be trading a food addiction to an exercise addiction, but it's a much healthier tradeoff. AND I'm having more fun than I've had in years!





First Page
1
2
3
4
5
6
7
8 9 10 Last Page

Get An Email Alert Each Time DR8561 Posts