Friday, May 16, 2008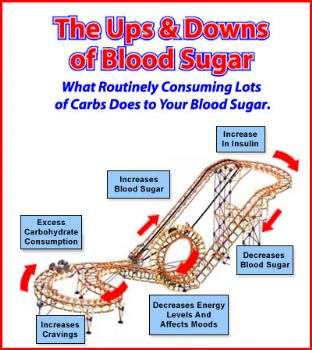 I've been looking for health in all the wrong places. First, being a vegetarian did me no good. Who'd have thunk gluten could do all that to a person? Now it's sugar's turn. Even fruit sugar (sigh). Gluten-free diet doesn't mean it's a healthier diet. A ton of gluten-free manufacturered food is full of high-glycemic replacement grains: rice flour, tapioca flour, potato flour, etc. Granted, we can always turn to quinoa or amaranth, but then again, depends if your body can handle the sugar load. Have you had your insulin tested lately?

I took a look at medical records from 2003 (because I always ask for copies - always) when I started having heart palpitations and SOME iron deficient labs (remember, I was diagnosed with celiac finally 2-06), I see the doc DID check my insulin and glucose. It was fine and dandy back then at 6.2 and 84.

However, since? Well, my insulin has gone up to 10.8 and my glucose was 83. This insulin level is "normal high" or bordering on insulin resistance. I think because I'm absorbing more nutrients, I'm also absorbing more calories and therefore what goes with it: glucose/fructose or the HFCS in my Yoplait. How does a person change their glucose: grains or sugars. Much less an extent with protein, not fat.

I believe this is pervasive in our culture as I'm in good company with about 60% of America. I HAVE medical insurance (no wonder people W/OUT it can't manage ... they're working their butts off, malnourished and don't have time to research!), and because of my undiagnosed celiac symptoms can say that I've visited my share of doctors over the years. I guess I would have wanted a doctor to pick up on this sooner. I really had to work to get to this understanding! I don't have any diabetic friends, but even if I did, I doubt they understand it the way I've come to understand it. I'm trying to prevent diabetes, not "manage" it. Hope. Hope.

I've worn my

to many an appointment, and I guess I wish doctor's would have continued to check my insulin levels before October 07. I've read about the abdominal fat being a precursor for diabetes, but thought because I ate so well, that it didn't apply to me (wishful thinking or denial? No: ignorance). I thought most overweight people were eating lots of unhealthy carbs (well, some are, can't argue that -- and I wonder how many of them are gluten intolerant?). I thought I was healthier. Bah! I didn't recognize that a carb is a carb is a carb (except for carbs that barely raise your blood sugars -



).

After 30 months gluten-free, I find that gluten is only a piece of my puzzle: I should have been looking also to carbohydrates. I've been unknowingly tweeking my way toward lowering them by taking grains out of my diet. For a couple weeks I took out all "white" foods (grains, rice, bananas, dairy, corn), but craved yogurt ... or was it really the HFCS in the yogurt (Yoplait cherry)? I really think food can be drug-like for some people. I believe that on one hand I WAS in need of calcium and vitamin D (being the dead of December and all .. and my blood labs indicated as much in hindsight), but also I craved the sugar from the Yoplait.

Soo, I've given up potato chips (again) and Yoplait cherry, which I


. When I look back on my food journal (yay, I'm always so glad I took the time to capture my day that way ... for different reasons/medical questions, I've researched back months and been so bummed I didn't log that day), I see now that a lot of my carbs come from fruit/fructose. And this is why I don't lose weight despite my "clean whole foods gluten-free" diet. I've tried a week or so now on lower-carb and have responded with weight loss. What a concept! THIS is my answer: CARB/fructose control!

In researching (you know I like to do that), I find that it's no wonder my insulin hasn't been checked. Why are some doctors not preventative in their practice? Do they get in a comfort zone of going through motions? Do they get disappointed with people who don't comply so they manage with drugs? So often they wait for you to have "horizontal disease" about dying on their floor or before crisis-mode before getting to the real diagnosis. Do they get discouraged and don't believe people can be held accountable and follow rules? Do they see every fatty as a weak glutton slob incapable of self-control (see the book, How Doctors Think by Dr. Groopman)? Even thin or normal-weight people get diagnosed with insulin resistance or Type II diabetes ... why IS that? Are they gluttons?

Doctors don't think people with IBS should maybe try a gluten-free diet because it's "too hard". Well, give a person the option! Let us make informed choices. Don't think FOR us, think WITH us! You know what's hard? Living with IBS ... or for me, insulin resistance; the sure-road to diabetes, kidney failure and heart disease? Now I understand why my cardiologist (I never met her, I met the tech who did my echo) is on the Atkins diet herself.

It's a shame. The medical community confuses me. Is it about money and forwarding you on to the next specialist/buddy? I know there are good doctors out there; I'm still looking for a few. (When I brought up alernative subjects with my gastroenterologist, he said I was lucky I got him because he can think outside the box; the others in the practice would drop me as a patient for ASKING!)

tinyurl.com/vrse4
bloodsugar101.com Read it all, but esp YOU DID NOT EAT YOUR WAY TO DIABETES
www.naturalnews.com/Index-Pod
casts.html#31 podcast interviews #21 with Jack Challem, nutrition reporter ( www.nutritionreporter.com ) and #33 with Michael Murray, ND, ( www.doctormurray.com ) about diabetes and diet (he also sells products I have no experience with, but you don't have to buy - the info is relevant regardless if you purchase.)
tinyurl.com/698swl Sugar Blues, by William Dufty
tinyurl.com/5l72do Get the Sugar Out, by Ann Louise Gittleman

For my celiac friends: guess what helps insulin regulation? Vitamin D, your Bs, K, chromium -- listen to Jack Challem! I have no idea about my chromium level, but my Vitamin D3 was 20 in Sept, then 15 by Feb (different labs tho). I'm crazy trying to get it up because I think about all the articles I've read about increased risk for breast and colon cancer. Bring on the sun! Tan, don't burn! Your body can soak in only so much D at a time, so when they say 15 mins. of sun daily, that's why. You want your natural oils to soak it in for another 20 mins (?I think) so don't wash right away. Normal levels are around 50. Lifeguard levels avg 150!