DORIANSMAMA's Recent Blog Entries


Sunday, January 02, 2011
This is the title of a very disturbing documentary on how corporate food industry leaders are enslaving America by addicting them to junk food. It's almost laughable how it's come about: Today, right this minute, it's cheaper and easier to buy junk food from a fast-food place than it is to buy the same amount of food at the grocery store produce section. It's easier and cheaper to buy that burger from McDonald's or Burger King for a dollar than it is to buy the same amount of meat from the local butcher.
A poor family can not eat good, healthful, nutritious food because that stuff is way too expensive. The only way to fill empty tummies is to turn to the cheap crap that passes for food these days. Children are growing up addicted to terrible junk. We are going to become a nation of cancer-ridden young people before very long.
The reason fast food is so cheap is because of the source of the "raw materials". Food animals are inhumanely stuffed into unnatural environments, living out miserable lives as alien to them as martians are to us. The produce supplied to these places are cheaply grown from GMO seed.
And now... we have outbreaks of hepatitis, listeria, e. coli, salmonella, shigella, the list goes on AND on. It can't all be laid at the feet of undocumented workers who don't wash their hands. It's now happening because of the highly infected soil that food in grown in, because food animals are penned in horribly filthy conditions. There are so many antibiotics in the environment now, that they don't work, yet they are still being injected into animals and into the soils because that's the way it's done.
When you eat food that was inhumanely produced, you become that inhumanity. When you buy food knowing that the animal it used to be was kept in inhumane circumstances, you condone the inhumane and cruel treatment of animals.
Christians who eat at fast-food places are practicing an insidious and ignorant form of hypocrisy. If you are a Christian, then your god directed you to take care of the Earth and all the lesser creatures who live upon it, as they too are creations of your god. If you eat food that was from an animal kept in a pen too crowded to lie down in, standing knee deep in manure its entire life, then you are a cruel, inhumane person.
Something to think about and consider in this dawning new year.




Friday, December 31, 2010
... because I lost 7 lbs in the last couple of months. I've been stressed out, under attack, losing sleep. Through it all, I've focused on what I eat, cooking fresh vegetables, whole grain breads, fruit, etc. There have been compulsive days, and there have been sugar craving days, and I thought I was not doing such a hot job on treating my body with respect and honoring the earth.
The last time I thought I was not being kind to myself, I discovered I had lost 5 lbs.
My total weight loss in 2010 is 21 lbs, and since I joined Sparkpeople.com. I resolve to double that amount in 2011, and I give my Self 12 months to lose 42 lbs. I think I can. I think I can. I think I can.




Thursday, December 09, 2010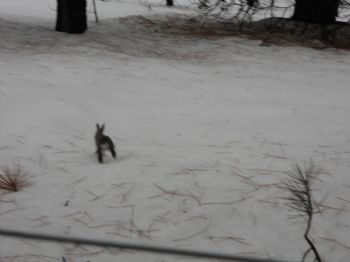 I released the rabbit last Sunday at 0830. None too soon; a wild creature in captivity will go through depression, and eventually die. The rabbit had started spending more and more time quietly in the hiding box, and eating less, and it was time.
I found a spot within 1/2 mile of where I found it, slogged in as far as I could, and then set the box down. The rabbit stayed still for a minute or two, and then hopped out.
That was all it took! I stayed for another 5 minutes, watching the rabbit work its way deeper and deeper into the woods, until I could no longer track its progress, and then came home. Surprisingly, I felt a little lost and a lot sad. I guess you can't take care of anyone without caring for them a wee bit. As much as I tried to keep my domesticity separate from the rabbit's wildness, my sappy human nature wouldn't let the emotional part keep separate.
And I'm not sorry for that.





Thursday, December 02, 2010
The little rabbit is still with me. No broken bones, no internal injuries. It has a great appetite (!), is active, and chomping at the bit to get back to where it belongs - out in the wild. The vet did a thorough exam and what I thought was a misplaced tail was actually a chunk of fur that had been scraped off, so the rabbit has a wee bald spot on its behind.
I was given the numbers of several wildlife rescue groups, and there was a rabbit expert who told me not to release the rabbit until I see fur growing back. If it goes now, the freezing cold can kill it through that bald spot, since (I have now been educated) the fur is an animal's first defense against the elements. A chink in the armor can spell a death sentence. Not only that, but there is a weather front moving in over the next few days, and it would be wiser for me to wait until it blows through and the temps go up a bit. I hope to have this rabbit "home" by Sunday.
Meanwhile, it feasts on oats, spinach, lettuce, apple and sweet potato, and I bought a little tub of wheatgrass that has been all but demolished in two days. A little bit of fat won't hurt, and can help it survive a day or two of reorientation. I set up a dog kennel with a shelter box inside, and while it faces the sliding glass door, I have the slots all covered so that the dogs and the rabbit do not interact. The lady said that it's okay for the rabbit to hear them because it hears predators all the time, but the important thing is to keep everyone separated so it doesn't think that the next dog won't kill it.
My biggest fear was that the rabbit would forget who it is, and I was assured that the wild is in its dna, and I can even show it that humans have the capacity to help, but I'm not really wanting to go that far.

I'm grateful for the positive and loving responses I received to the original blog post. Sometimes, we do things without thinking too much on them, and it comes as a flash of inspiration once in a while that life does indeed parallel life. In its own quiet way, the experience I'm living with this rabbit has shown me a picture of my life, and it's a pretty darned nice picture.




Sunday, November 28, 2010
I was on my way home around midnight last night, after a late callback. I was tired, and it took a few seconds for my brain to process that I had just passed by a creature struggling in the opposite lane. I turned around and inched along until I found it again - a young rabbit that had been knocked silly by a vehicle, and it looked like it had gotten stuck to the ice. I scooped it up and brought it home and tucked it into the laundry basket with a towel, some water, and a cover so it would feel safe.
By morning, it was up and exploring its prison, and I thought it might be okay to take it back to where I found it and release it. At work, one of the nurses suggested that I don't do it for at least another day, just to make sure the rabbit is okay. So naturally I've been noticing things: the cotton-ball tail is not centered in the behind, and one hind leg seems to want to just jut out. I suspect a pelvic fracture. Okay... we'll see the vet tomorrow and see what can be done. It's illegal for me to care for this rabbit but I will do my best to find a licensed wildlife rehab person to adopt this orphan. I have the feeling that bed rest will be the doctor's prescription, and of course this rabbit may never be able to go back to its wild roots.

I think a lot of us are orphaned in some way, even if our biological families may still be living. I think that those of use who suffer from some sort of dysfunctional beginnings are saved by those who go against the rules and scoop us up off that icy road to which we are stuck, and find out how to care for us back to some semblance of health. We may never be able to return to our roots, but then again, we might not want to, and it mightn't be a good idea anyway.
So life will hand us lemons, and we can make lemon bars. Or we can let them rot and complain that they're no good.
This rabbit struggled to live, and I recognized its desire, so I will do what is in my power to do for this small creature.



First Page
1
2
3
4
5
6
7
8
9
10
11
12
13
14 15 16 17 18 19 20 21 22 Last Page

Get An Email Alert Each Time DORIANSMAMA Posts