| | |
| --- | --- |
| | DORAL33178's Recent Blog Entries |



Saturday, October 22, 2011
My blog was inspired by a comment that I left on Sparkguy's (Chris) 10+ minutes blog. This is what I wrote: "I enjoyed your blog. Thank you for sharing. You are sharing how just getting outside and kicking the ball around for a few minutes with your family or a burst of cardio can make a difference. I will try to incorporate 10 minutes of fitness a day, with my children, to help them acknowledge early on the importance of exercise (and I get to play with them)."


"I used to run many many moons ago (in high school and some college), but I had forgotten how much I really enjoyed running until I started reading sparkers blogs about running a 5k or 10k. I went to my local running store got fitted for shoes and I have been running ever since. I did the 5k Turkey Trot, here in Miami, last year and this year I am running the 10k. I will run my 1st half marathon, in March....I just turned 40."

"Your website has given me my life back. I am finally losing the weight after having 2 children and the knowledge I am gaining here from reading the articles and other sparkers blogs about nutrition and exercise is priceless.

Thank you!!!!!!!"

The Turkey Trot, here in Miami last year, was a jump start to my decision to start running again. I had pretty much given up on exercising here because it is so hot most of the year. I was content to just get out there and "walk the pounds away". But then.....seeing all the people, hearing the music and nervously waiting for the gun to start the race brought back happy memories of my old running days. So much that I was already planning my next 5k on the walk back to my car. After feeling confident from running a couple of 5ks, my next quest was to run a 10k. I did that in May. Who knew running was so much fun. I did and also a couple of thousand runners here on Spark who share their good and bad run recaps.

I take the time to read the articles and other sparker's blogs. There is some great information on this website. And so I have found the courage to talk myself into doing something I have NEVER done before....sign up to run a half marathon. That goal will be met in March 2012. And to think it all started with one race.

Daphne in Doral (Miami)









Saturday, August 27, 2011
I started my journey here on Spark on 8/27/10. Some of the reasons that caused me to get serious about my weight loss were: no longer wanting to be in the overweight category on the BMI rating, I was experiencing pain on my ring finger because I was 30 lbs heavier and I did not want to have my wedding ring cut off again (1st time I was pregnant with my first child), I did not want to be dependent on any medication due to the extra weight, I wanted to be able to climb the stairs in my home and not be out of breath, and last but not least, I am sure a lot of people can relate to this, I wanted to be able to get back into some of the cute clothes at the back of my closet.

Although I joined Spark in August, I did not hop on everyday until mid October. My starting weight was 175lbs, in August, and when I decided to get serious my weight had gone up to 184. My clothes were tight, I had no waist and my face was swollen. I did not like to look at myself in the mirror. It was so hard to see my old self of 145 lbs before I had my two children. I could eat anything and not gain. I wanted to be that "girl" again.

After I got over my "I can do this by myself" feeling and acknowledged I did need help, I disconnected myself from Facebook and opened my mailbox and faithfully started reading the emails Spark sent me. From August to October, I had created a folder labeled "Spark" and dropped all my emails there. That folder is now empty because I read the emails as they come into my mailbox.

I did not realize how important drinking 8 cups of water a day was for all of my body. Eating 5 fruit and vegetables a day was not in my meal plan. I rarely bought fresh fruits and vegetables. Today when I go to the supermarket I fill the cart with bananas, carrots, lettuce, tomatoes, grapes, peaches, sweet potatoes, blueberries and strawberries on a weekly basis. And thanks to Spark, I no longer suffer from "portion distortion". See I was eating healthy foods before Spark: I had already cut soda from my diet. Okay I had an occasional soda when I got stressed, but once I read soda caused the belly to bloat from the bubbles I got rid of all soda from my diet. I have been eating wheat bread for years (I only buy Nature's Own). The problem I had with meal planning was I was eating two to three times the recommended portion. Hence my weight gain of 9 lbs before I started to learn the right way to fuel the body for exercise.

At the end of August last year, I saw a commercial on television that talked about walking 30 minutes a day three days a week to lower cholesterol and to maintain a healthy weight. Hmmm, I thought that was just what I needed to do so I set out every morning, after I dropped my son off at school, to head to the park and walk for 30 minutes on Mondays, Wednesdays, and Fridays. Slowly I added a day and then after that I started walking for 45 minutes and then one hour and then up to one and a half hours. I even got a friend to walk with me because she wanted to slim down a little too. With the information I was learning from Spark and seeing the numbers on the scale drop, I knew I had found something I could follow through with and have success.

Finally I am getting to my fitness. I love exercising. I loved walking in the park. My walking buddy had to stop walking because she was taking classes and needed that time to study while the kids were in school. So I was all alone on my walks and not really feeling safe walking alone in the park by myself, I decided to walk my neighborhood. The park was actually one of the safest parks; it was right across the street from a huge military complex, but having lived in big cities for so long I get nervous in them by myself. I love my neighborhood. There are about 20 gated communities and it is so nice to walk or run because everyone is in their car driving from point A to point B so it is really quite peaceful. I love to see how each community has decorated the entrance with flowers and trees.

A good friend of mine reintroduced me to running. She does the Turkey Trot, here in Miami, every year. Her meaning behind it is to burn the calories you eat from your huge Thanksgiving feast. I am so glad she invited me to run with her and her family. I had not run in 18 years. I was SO proud of myself; I finished my 5k in 37 minutes and 23 seconds. Not bad for someone who had not run in 18 years, ran in walking shoes, and I also ran it in blue jean shorts. It was so short notice and I did not want to go out and buy large running shorts. From that moment....I was hooked on running again. I used to run cross country and middle to long distance races in high school. I no longer wanted to walked anymore; I wanted to run. Well I had to walk a little longer because I did not have the money to buy new running shoes and I did not want to hurt myself so I just picked up the pace and imagined I was running.


I have not stopped running. I ran several 5ks during the spring and my first 10k, in May. My next goal is to run a half marathon. I was thinking of running the Halloween 13.1 on Miami Beach, but I am not ready. The ING Miami marathon and half marathon is coming up in January....I am going to have to pass. Too many people are running that race and I would be overwhelmed so I am going to train for the 13.1 Miami Beach half marathon. The weather will be perfect and I will have all winter to train. Right now I am pushing my daughter in the jogging stroller to her school. Her school is a little under 3 miles so if I give myself enough time I can do one lap in the park by my son's school and then keep going to make it a 5k. Big hopes and big dreams....I so want to run a half marathon.


Along the way my journey has not been easy. I have gained and lost the same 5 lbs for the past few months, but I know I am healthier today than I was one year ago. I have fallen off the wagon a couple of times, but I have not given up. The heat does not bother me as much as the humidity. I wanted to get out there and run, run, run; that did not happen as much as I had planned for this summer. I will say that even though I did not exercise as much as I wanted to, I have exercised more this summer than I have any summer in over a decade. So kudos to me for doing that. I am done recapping my 1st year on Spark.

Thank you for stopping by to read my blog.

Daphne in Doral (Miami)






Tuesday, May 10, 2011
while walking. LOL!!!!!

I used to walk and run in a park down the street from my house. My two year old would see me turning into the entrance and start to fuss because she knew we would be there for a while. So I decided it was time for a change of scenery.

At first I would jog while my son rode his bike to school. I would either walk or jog back and call it a day. Each way was about 1.5 miles. Depending on how I felt, I could get in a 3, 4.5 or 6 mile jog for the day. In January I started jogging more because my walking buddy goes to school and I wanted to amp up my fitness as well. Her semester ended two weeks ago so I started to walk with her again a couple days a week. We put in about 5 miles round trip each time we walk and we have a couple of different ways to go. Today as we were walking through my gated community on the way back to my house, a police officer stopped us. Nothing exciting ever happens in my community; it is so quiet that you could hear a pin drop on the floor (in the daytime). He gave us a great compliment. He noticed us walking all over the neighborhood and wanted to let us know he sees us everywhere and to keep walking. That made our day. We could not stop laughing for at least two minutes.

I had to share. People are noticing...even the police!!!!! Lol!!!







Saturday, May 07, 2011
I had a wonderful morning. I finally got to meet (MBSHAZZER- Sharon) in person after chatting with her for many months. The temp in my car read 71 so I was very pleased with the weather. The race took place in Coconut Grove so I had to get there early to find off street parking. This was my first time doing this race so I did not know where I was going; I just followed the group of people and hoped they would take me in the right direction. I finally made it there and met Sharon. Once I got the tag malfunction taken care of (I was only given one safety pin in my packet, thank goodness Sharon had extra )and off to the port o potty, it was time to make it to the starting line.

The race was well organized. There were minute/mile pace markers to organize the runners by their pace and they even had a couple of volunteers running with signs on a long pole to help runners make it across the finish line in 54 minutes, 60 minutes and 70 minutes. I waved good luck to Sharon who is an awesome runner and near the front of the pack and I headed back to the 10 minute/mile pace marker. The race started and it was a nice comfortable pace the entire run since most runners placed themselves by "their" running pace.

The scenery was gorgeous. The race went through a neighborhood in Coconut Grove and the homes and restaurants were nice to look up and gaze at every once in a while. There were a couple of people I used as pace setters and near the end I gave a couple words of encouragement to runners that we were almost there and at this pace due to finish under 70 minutes.

I did not stop. Yay!!!!! Running with the same pack of people kept me focused. It was fun to see the runners younger than me and some older than me making it happen. So I finally saw the finish line and finished my race in 67 minutes even. Yay to me!!!!! Sharon was there to congratulate me at the finish line. As Sharon was congratulating me on my run, a couple of seconds later a man came over and said that he used me as his pacer and every time he would catch up to me, I started to run faster. Lol!!! Well it was a great race, but I had to leave to head home and get back to my family.

One more good thing to mention....my husband is going to buy me a Garmin!!!! We are heading over to our local running store soon.

Happy Mother's Day to all. Even if you do not have children, but you have pets, just remember you are caring for someone else who depends on you.

Daphne






Tuesday, April 19, 2011
So this past Sunday morning I woke up early to head up to Oleta State River Park in North Miami Beach for my first 10k trail run. There were three races that day; the 5k, 10k and 13.1 mile trail run. I have ran quite a few 5k races and one 8k and so I decided it was time to take it to the next level; 10k with an adventure.

I did not know what I was getting myself into so I decided to look at the photos from the last trail run they did one month ago. The first photos were of the runners having the option to use either one or two logs to make it to the other side of the trail and keep running. The next photo showed everyone ducking under a low hanging branch with lots of caution tape to catch your eye. And the finish photos showed the runners coming out of the trail crossing the finish line. Okay so I am thinking what have I gotten myself into??????

I have a warm up ritual for every race; walk or jog to warm up and then off to the port o potties 15 minutes before the race starts. I had the option to walk back to the registration area to use the outhouses (really nice...they had a real toilet that flushed, toilet paper, and a sink) or go in the bush. I chose the first option; I am a city girl. Well I missed the trail instructions but I was given a brief recap by two ladies that I started a conversation with earlier; 5k runners do the trail once, and the 10k runners go twice.

So off we go. The half marathon runners started off first and then my group the 10k runners and last but not least the 5k runners (aka the Ferrari runners of the group by the announcer...lol). Yep they were more like gazelles in the wild. I had no expectations as to what time I would finish because I have never done a trail run before but if I had to guess I would say maybe one hour and a half.

It was an interesting run. First we ran down the road we drove on to make it to the starting line.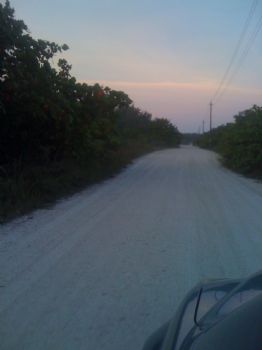 Next we ran in the trail and there we came across the one or two logs get across the trail challenge. This slows down your time because you have to wait for the person in front of you to get across. The lady in front of me decided to sit down when she was halfway across the log and scoot the rest of the way. She apologized and I told her that it was a okay with me however she got across the log. I walked across while holding on to a low hanging branch. Whew, I made it across and kept running for maybe another 50 yards when I came to a stop because there was a small body of water and no logs or way to get across easily. Someone started to walk on the side (we all followed) and then there was a small log in the water where you could take one step on it and then the next step you were across. Whew, I make it across again without getting wet. Yay!!!!! I was not so lucky at the next body of water.

There was a guy standing in the muddy water who I thought was there to help people get in the water safely and onto the next part of the trail. Lol!!!! I'm sorry to laugh ahead of time, but he lost his shoe in the mud and he was trying to find it with his foot. I had no choice but to hop in and keep going. I had on brand new trail shoes that had never seen such filth. I was not alone I heard several groans from others saying the same about their brand new shoes.

Now my feet are soaked with filthy water that I had to wade through up to my knees. Yuck, and I would have to say we were only about half a mile into the race. That was the end of the "challenging" part of the trail run.

I took this photo and it cost me about two minutes off my time trying to get my IPhone back into my arm sleeve. It is so peaceful in there.



It seemed like forever that I was following someone, jumping over tree roots, huge rocks, and man made fixtures for mountain bike trail rides. I finally made it out of the trail to the finish line and boy was I sooooo excited. I grabbed a little water, started chatting with another person and was so elated to have finished my first trail run. Wrong. Remember I am doing the 10k so I had to go back in the trail AGAIN. The only thing that kept me going was the fact that two ladies ahead of me were also running the 10k. One lady just talked, and talked and talked. Her talking got me through the trail one more time.

This race was not as organized as the previous races I have run so I am still waiting for my official time and their photos. According to my IPhone app. I ran 7.3 miles in one hour and thirty five minutes. All in all it was a different race. Maybe I will try this run again in the fall.

I was a chatty person at this race. I had another person take these photos for me after I finished running.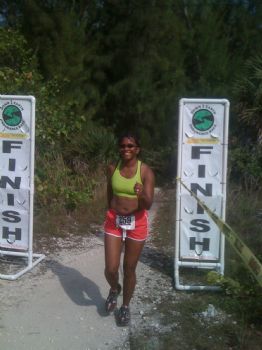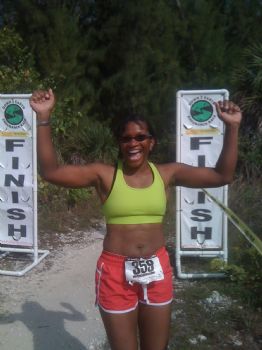 And of course I got the opportunity to spread the spark. I had finished reading my magazine that I received from buying "The Spark" book in January and so I gave it to the two ladies to look over.




First Page
1
2
3
4
5
6
7 8 9 10 11 Last Page

Get An Email Alert Each Time DORAL33178 Posts