| | |
| --- | --- |
| | DLEDBETTER11's Recent Blog Entries |


Friday, March 28, 2014
So, for the last couple of years, I haven't once logged into Spark. I also didn't log into face book. Funny, of the two, it was Spark that I felt the need to return to.

I really have no good excuse for not logging in to Spark. None. Sure, I was busy – moving, relocating, blah blah blah. I know that taking care of me should be a priority and logging in for a few minutes is an easy way to stay motivated to do just that.

There was an even better reason to continue to log in. Support. When I had the 'melt down' after the San Antonio marathon I suffered more than just the ER bills afterwards. I lost my confidence. Participating in endurance sports requires lots of training and the confidence to push through some uncomfortable moments during work outs. Sitting in the ER with monitors and IV tubes crisscrossing my bed scared me. Though I recovered quickly and was released the next day, the fear of repeating the melt down lingered for 18 months. I'm now convinced that the support from Spark friends would have pulled me through that much faster!

As for Facebook, reading about a high school class mate's rant about crazy teen age drivers (or whatever else they feel compelled to post) – I still do not miss. But, it feels good to be back in Spark with people who are trying to make a positive change in their lives and take control of their health. I enjoy and am encouraged by even the shortest post from SparkPeople about making an effort to be healthier.

As for the long term effects of San Antonio - Sunday, I pinned on a race bib and tried again. It was a much slower effort, but I found the courage to try. Five and a half hours later, I finished the Georgia Marathon! Even better, I had recovered enough to get back in the gym training again on Wednesday!





Tuesday, November 15, 2011
I knew going into Sunday's marathon that it was going to be hot. This is a bad thing for me because I sweat a lot. Having lost 10 lbs and more in a single run so I have to protect myself from hot runs/tris. Weather forecast for Sunday in San Antonio was temperatures ranging from the low 60's to mid/upper 80's. If I could have picked the schedule, I would've run before the sun came up...but that's not how it works.

Race start time was 7:30 and the 7th group of runners didn't reach the starting line for almost another 15 minutes. It was already warming up. As a rule, I can typically run 1 - 2 miles with out breaking a sweat...Sunday, I was working up a good lather in the first half mile.

Looking back at the sequence of events, I made some great decisions. I backed out of my pace at mile 6 when I had finished off my first 24 ounces of Gatorade and an additional 8 ounces of the drink on the course. I knew I couldn't continue to sweat/drink this much with out having issues. At mile 13 I decided to start walking/running. This was a crushing blow to my ego but I wanted to finish AND survive. At mile 24 I checked off all of the warning signs of heat exhaustion and decided to slow down to a slow walk and continually dump water on my head.

That last decision was nearly fatal. A better decision would have been to quit there at mile 24. Being a first aid first responder I can list the signs of heat exhaustion in my sleep so I knew that I was there and to continue would be to risk heat stroke. My last conscious thought was to walk to a first aid tent and seek help there - unfortunately the next tent was the finish line.

I lost everything in my stomach at the finish line and the nice lady in charge of the finish line said "you have to keep moving through the finishing chute"...but I could barely stand. Seeing a grassy spot beside the finish line, I plopped down hoping Genny (my wife) and her friend would see me there. The first aid tent was a quarter of a mile away on the other side of the parking lot and I knew I couldn't make it. Having finished so slowly - there was no one around to ask for help...but finally, Genny finished and saw me laying there in the grass.

"Do you need help" - she asked very clinically...she had her business face on. I said yes - I'm about to black out.

Oddly the paramedic was an Ironman - small world! Two minutes after being loaded into the ambulance I had 18 gauge harpoons rammed into my left hand and right arm, blood pressure was 95/65 and I was blacking out again. Nausea set in again almost immediately...I remember thinking I'm getting no where fast!

In the ER, the Dr. gave me something for the nausea and 2 more bags of fluids (the total is now at 3). "Mr. Ledbetter, the blood work came in - it isn't good news. You have enzymes leaking from your heart into your blood indicating heart damage. You also have an Atrial Flutter - you are at high risk of a stroke and will have to stay over night for treatment and observation.

That's enough to shake anyone! Through all of this, Genny was a trooper. She was exhausted (remember - she ran the marathon too) but she handled everything from the hotel to rescheduling flights to talking to Rebel's kennel. When I apologized to her for putting her through all of this, she said "we love this and do it knowing what could happen"...I love her!

When the cardiologist came in the next morning, he smiled and said - "Did you finish?" "I know the blood work looked bad, but by 11:00 last night your heart rate returned to a normal sinus rhythm and your blood work looks like any other marathoner's would. I don't believe there was any damage to the heart and your body is recovering very quickly. I'm releasing you with a suggestion that you take it easy for a day or two.

I could have turned cartwheels! I even get to return to training Friday...only this time with a renewed passion. I will NEVER be in that position again. I will not risk my health - I know when enough is enough. Also, I will be so over prepared for every event that this will NEVER EVER happen again!!! All of this could have been avoided if I had just stopped at mile 24.

Marathons are not overtly dangerous, as a matter of fact, the training is a healthy life style. I was a danger to myself. If you are considering participating in an endurance event, learn the warning signs of heat exhaustion & heat stroke. Do not over estimate your ability to cool off or rehydrate by yourself. I will continue to run marathons - only with out the over confident / cocky and dangerous finish at all cost approach.

Finally - I would like to remember the gentleman who lost his life at the race and offer best wishes to the lady who the paramedics were able to bring back and the 8 others who shared an ER with me after the race. Our families know we love to run






Monday, October 31, 2011
OK - so before I ever lined up for the Half Ironman that the stress was getting crazy. I needed a fun break. I did manage to keep the triathlon fun but there were so many things to remember, time lines for drop offs, check ins, participant meetings...ugh!

During all of this planning I received an email describing a "run" which was actually just an excuse for a Halloween themed pub crawl. I thought...YUP sounds perfect!

I decided to opt out of the whole costume thing (not required) but there were other contest I could try like the burping contest, or the "just here for the beer" contest ...

I really had no ambition for a speedy run. I just wanted to have fun. The rules were:

Step 1 - proceed to the starting line, obtain a beer, toast the starter, drink the beer and take off

Step 2 - proceed to the 2nd check point, grab a beer, drink the beer and continue to check point 3.

Step 3 - check in at check point 3, obtain a beer, drink the beer proceed to proceed to the final check point/finish line.

Step 4 - cross the line, obtain final beer and toast your fellow finishers.

Again, I had no intention of running but every time I looked up, this group (there were three) of participants was standing beside me... ewww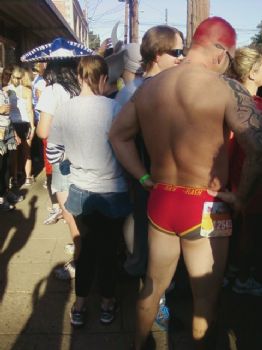 So I decided to run long enough to get AWAY from them. I did but felt so good (it was a beautiful day) that I decided to run to the 2nd check point. I passed this team in route: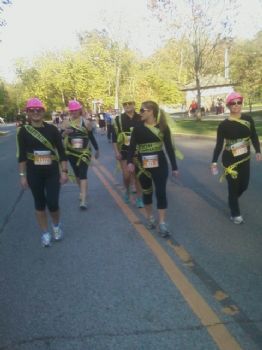 I ran up on this guy and decided I needed to ... had to finish ahead of him!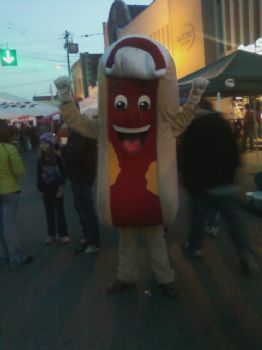 The back of that costume had a small sign that said "I love my weenie" O_0

All in all, it was a really fun event. They are setting up for next year already so check it out. This would be a fun event for a spark team too






Wednesday, October 26, 2011
I thought I posted this yesterday...hmmm...I'll try again!


OK so the nominees for next year's marathons are:

One in Maryland (I've got to research this one a bit...I'm certain there are some fun runs there).
Wine Glass in New York
Cellcom in Green Bay Wisconsin
Wistlestop Marathon in Ashland Wisconsin
Chicago - The big one!
Savannah RnR Marathon
And last but not least is the E.T. marathon in Nevada!

So here's the next step. I would love for you guys to take a long look at these and think about a spot that would be great for a vacation (that's the way Genny and I treat our marathon weekends). I know each of these are close to you but look at all of them - you may like the adventure of running in a new city!

So reply with your choice and lets start planning next year's adventures.






Friday, October 21, 2011
I was thinking...why don't we all run together. We support each other all year long on SP but end up running alone?

So if your up for a run, I need an idea for next year's marathons. I run 2 a year and am trying to run one in every state - these are the states completed so far:

Tennessee*
Virginia
Washington D.C. (I know - not a state)
North Carolina
South Carolina
Florida
Connecticut
Minnesota
Michigan (I will end up running this one again with Genny)
Utah
Seattle
Texas (in November '11)
Alabama
Missouri
Indiana
Kentucky*
Ohio*
Oklahoma
Pennsylvania

The * indicates a state I've run more than once. So if you plan to run a state other than the ones listed above and would like some Spark People company - respond to the blog. I think it would be great to have a "SparkFest" at a marathon!

I have researched but I know there are folks here that know the scoop on the best places to run or the runs with the best swag/scenery/route/...





1 2 3 4 5 6 7 8 9 10 11 Last Page

Get An Email Alert Each Time DLEDBETTER11 Posts