| | |
| --- | --- |
| | DIZZYCOCOA's Recent Blog Entries |


Thursday, August 22, 2013
I have to admit, this challenge is probably easier for me than some because my mind set is already geared that way because of having celiac and other food allergies. For 6 years I've been reading every label before I buy anything in a wrapper to avoid wheat, barley, oats, rye, soy, corn and chicken. Often, I get so frustrated that I literally hit the produce and the meat sections and leave the store, never venturing into other aisles because there is no point to it. If you read the labels on your food you will find that almost everything has one of those ingredients I listed, some hidden beneath the headings of "natural flavor", "starch", "dexrins"...on and on. The list is limitless of things I have learned to avoid. I can't even buy broth, yogurt or cheese. yes...cheese is often coated in corn starch to keep it from sticking to the wrapper.
My downfall is sugar. I L.O.V.E. sugar (and Diet Coke). I could happily chug gallons of koolaid, soda, sweetened iced tea, hot chocolate and munch on chocolate chips and marshmallows all day long.
That has really been the change for me. Not eating sugar or artificial sweeteners.

if you're interested in trying it too - let me know!
Here are my tips and tricks, give it a week even, you might find it is amazing like I did.
1. I get a box of organic produce delivered from my local CSA (Door to door organics). It's a life saver and they pick the variety for me every week so I don't worry about the "rut" factor or missing out on nutrients because I'm only eating apples and spinach. ha ha (seriously did that for a few weeks out of sheer laziness).
2. Buy an entire cooked roast beef, ham, or turkey breast from the deli. yes, it will cost $30-50 depending on the size but it's already cooked and you can cut it up at home to freeze portions that will last weeks. Also, instead of eating it shaved, you feel like a real meal with a nice filet in front of you. Heat it in a skillet or in the microwave. Super time saving too.
3. Grains and Legumes - Get canned and parboiled so you don't have to spend a lot of time on it.
4. Use your crock pot!! I LOVE my Crockpots. I have 3 sizes and they are the ultimate in convenient. You can buy any cheap chunk of meat, toss it in with any cut up veggies (think turnips and beets for variety even), add some salt and pepper and in 4-8 hours there is dinner. If you have a big one, make a double batch to freeze. if you're feeling fancy toss in some dried herbs like basil and thyme which will make everything taste better.

now that I'm over the sugar cravings and happily drinking my iced tea unsweetened every day, I'm actually finding a real sense of peacefulness around food, that I've never had before.
Giving yourself permission to simplify can do that I suppose. Plus, I know that I can eat as much as I want all day long because it's nearly impossible to consume a huge amount of calories munching on fresh fruit and veggies.
Random trivia: you would have to eat 8 FEET of sugar cane to get the same amount of sugar you can drink in a bottle of soda. That sounds physically impossible to me...even if you were somehow motivated to actually chew sugar cane!





Wednesday, August 21, 2013
OK, so I started this 100 days of whole foods challenge Monday and I already went down a notch on my belt! It was absolutely the easiest thing I've ever done.
The rules are that you don't eat anything processed, that's it.

So, I had to replace my Caramel Macchiato with a plain latte, which was surprisingly easy considering I'm practically addicted to them. It is a little hard to figure out what to eat when I'm used to having a frozen meal once a week and protein bars for breakfast every day.
I basically substituted nuts and fruit for breakfast and tuna instead of lunchmeat and it's been pretty easy. Of course, I'm only 4 days in. But, I'm only 4 days in and already my body changed!
It could just be that I lost that bloat or inflammation that comes from eating a lot of sugar and processed whatnots. And I feel good. I haven't felt really good like this in ages.

Honestly, I started this thinking I'd give it a week. Just 7 days and see how it went, because I was afraid it would be a real burden and maybe not very reasonable for the life I live. I'm getting more committed to it now though, seeing how it's actually made meal time much easier. I'm not trying to decide what to eat - it's like, can I peel it? then I eat it. LOL





Thursday, July 25, 2013
As I was driving with the top down today all I could think about was how I looked in my tank top when other drivers could look right in at me...debating whether to throw a loose button down shirt on top, even though it would be so hot. All the sudden I thought, "who cares?" even though I want to get fit and slim down, that doesn't mean I can't enjoy my life along the way.
It was a perfect 80 degrees and partly cloudy and the air felt great on my skin - I let myself just enjoy it and not worry about what other people thought.
When I got home I realized that I can actually love my life, no matter what size I wear or what I eat. I don't have to deny myself the simple pleasures of being out doors in a sleeveless top or going dancing, based on how I look.
Life changing I tell you! Life changing...why didn't this occur to me sooner?





Friday, July 05, 2013
Hi guys!
I just thought I'd post a link here, if you'd like to enter to win a baking set courtesy of Betty Crocker Gluten Free mixes.

cocoasglutenfreeplace.blogspot.com/2
013/06/free-giveaway-betty-crocker-glu
ten-free.html

I hope you all had a fantastic 4th of July (in the US).





Saturday, June 29, 2013
After my insane day yesterday, did I mention that it was 100 degrees and I spent 2 hours running around in it? I was too hyper to go to sleep until about 2 AM when I finally passed out...until 4PM today!
I did get up for a little bit about 7 am - my alarm cat is determined and makes me get up to feed, water and clean up after her but she's more than willing to curl up in bed with me then, and be sure I don't wake up for several hours...
Anyway, I hate when I sleep away a Saturday like that! I had so many plans...but I didn't take care of myself yesterday so the body will crash, like it or not.
I figured it was a little bit heat exhaustion since he A/C was out at work and then I drove in my hot car without A/C for 2 hours at the hottest part of the day...and a little bit not eating and drinking so I was just depleted all around. That doesn't explain the insomnia, does it?
Either way, today I'm sitting in the A/c this afternoon and drinking iced tea and water, eating juicy nectarines and just being really kind to myself. Yoga later to make sure my muscles get some oxygen and movement.
My kitty would be happy to go back to bed though, lol: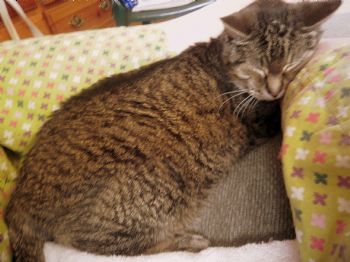 1 2 3 4 5 6 7 8 9 10 Last Page

Get An Email Alert Each Time DIZZYCOCOA Posts