| | |
| --- | --- |
| | DENNISBISHOP's Recent Blog Entries |


Sunday, January 27, 2008
This blog is to record a question presented to me by a fellow sparkie and my response.

Question (by BIKERGIRLJAN):
Welcome back and I bet you will be zooming your 2006 numbers in no time. Being a yo-yo weight loss person myself but never been dedicated to tracking anything, I can see that SP is an incredible deal for anyone who joins. There is so much available here. For me, no matter what the scale showed, I could somehow deny it despite my mirror too. As I review some of the charts on SP (being totally true to everything I eat and do) they are so eye-opening. My question to you is, during 2007 where you still honest in your entries on SP while you continued to gain all your weight back? How is it that you would lose that motivation looking at the charts and other things on SP? I would hope for myself that I can continue to post in good times and bad but hope that actual charts and paper will help me to get back on track or not veer too far from it. I am hoping that i won't get into denial like I have before with a scale.

My answer:
Hey, hang in there gal! As long as you never leave SP, you will be a success. During my 2007 re-gain time I continued to post exercise and nutrition, along with my other cheklist of SP to-do's. I was probably not tracking accurately, letting my mind record portions that were not accurate. Also, I was accepting a 300 to 350 over-run on my upper range of calories - along with that one "party" day a week where I was 800 to 1,000 over - with the simple explanation that I was doing a lot of walking and/or that I would get serious with my nutrition "next week". One thing I skipped was the weekly weigh-in, fooling myself that I was in maintenance mode during my "rest" period between re-newed weight loss. It is funny (actually not funny) how our minds really control and rationalize all the bad stuff that we do to ourselves. Well, I have learned from this big time. I am on a mission and I will not stop till I have reached my goal. If I hit a plateau then I hit it harder the next week, and the next. I need to save my life from the misery of obesity. I am an intelligent person, I can figure this out and succeed. No doubt about it! I have SP, my spark buddies and my plan - what else could I possibly need? Thanks for the question.





Wednesday, January 02, 2008
The holidays are past and I was able to stay on track. Now I need to take advantage of a good finish to help me with a fantastic start - for the new year. I really believe that 2008 is THE year when I reach my health goals and learn how to live a permanent, healthy lifestyle. I know this is so, so, I will make it so!




Sunday, December 09, 2007
I happy with my progress on my re-newed path to better health. I know where I am going and what lies ahead because I have been here before, only one year ago. I am glad that I caught myself before I REALLY went over the deep end. I have lost 9 lbs, I can now fit into the 38 inch waist pants that were too tight, forcing me to buy 4 pair of size 40 pants till I got back into the 38's. They are a little tight, but that is fine, I need it for more motivation. In a couple of weeks they will fit just fine. I look forward to getting into the 220's by the end of the year. My original goal was to be at 230 by New Year's day, but 229 sounds sooooo much better. Anyway, I am (back) on my way!
dennyb




Thursday, November 22, 2007
MY PROGRAM:

NUTRITION:
Track what I put into my mouth, every day; better yet, twice a day if I can. Think about what I am going to eat the day before I eat it. Use nutritional strategy, substitutions, etc. - have a plan!
Control wine, chocolate, baked goods, salty food, and portion size.
Calories: between 1,600 to 1,900 per day

EXERCISE:
Have a plan and track it! Review my plan at the end of each week and make adjustments if necessary.

1. Walk three days a week - no time or distance goal, just get out and move my butt with my legs!
2. Strength training at least one day a week (no, walking is not a substitute!)

I have a disease. It does not take harmful medications to control it..... just my mind. It can be controlled to the extent that I can live a healthy life, much longer than the alternative.




Monday, November 19, 2007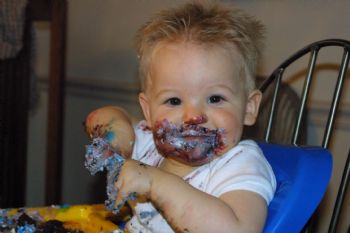 I have learned that I have a problem. I am an emotional eater.

Emotional eating, how kind; rather they should call it mindless eating. Because our minds are not aware of what we are doing! Emotional eating sounds too romantic, too thrilling... almost harmless. Yet we are killing ourselves, one crazy bite at a time and not realizing the damage until it is too late. We are mindless.

Or, we should call it rational eating, because we rationalize that it will all be OK after this treat, this drink, after this binge. Hey, I can fix it later, everything will be better tomorrow, I HAVE TO HAVE THIS NOW (and only now). We are spinners, putting a rationalized spin on our defect, unable to control our emotions, our minds not knowing what we are doing to our bodies, blind to our own true selves, we continue to say everything will be alright ... later. This wrong can be righted. I will pay the piper tomorrow.

Well, for me, later is now, tomorrow is today, every day! It is time for atonement, time to stop the craziness, time to wake up. Our emotions CAN be controlled, our minds CAN be aware of our actions, we CAN stop before we begin to take a hurtful action.

I believe it starts with love, love of one's self. A sense of worth, of value, of inner strength. Find the part of you that is true, kind and strong, for I truly believe that this little piece of one's deep, deep soul will keep you on your path to a permanent recovery, to permanent good health. To success.


First Page
1
2
3
4
5
6
7
8
9
10
11
12
13
14
15
16
17
18
19
20
21
22
23
24
25
26
27
28
29
30
31
32
33
34
35
36
37
38
39
40
41 42 43 44 45 46 47 48 49 50 51 52 53 54 55 56 57 58 59 60 Last Page

Get An Email Alert Each Time DENNISBISHOP Posts