| | |
| --- | --- |
| | DDOORN's Recent Blog Entries |


Friday, March 14, 2014
Thank you everyone for all of your TREMENDOUS support which pushed one of my recent blogs ("A Change in Perspective: Preparing for Maintenance") toward achieving my very first Popular Blog Post award!

It's not only a super day for this reason alone, but have notched down in another couple of ways that have me psyched as well: 1) I've crossed another big number by dropping below 220, which would be 100 pounds below where I started when joining SparkPeople in 2007 and 2) This led me to pulling out a "Large" shirt which I tried on only a few weeks ago and had barely buttoned around my belly yet already fits comfortably today...YES! Soon to kiss all the XLs goodbye and pass on to the Thrift Store!

While I'm lovin' it, I can't help but do a little head-scratching as over the past few weeks the pounds have NOT been flying. It's been a patience game for myself seeing the numbers drib, drab, zig up, zag down and just reminding myself to stay the course: ounce by ounce those pounds are gonna go!

PLUS not only have the pounds been slowing way down but with all this cardiac stuff going on my workouts have been more sparsely populated and less vigorous.

Since being unable to drive last week I have yet to get to the fitness center and relegated myself to mostly walking, jogging...yet look at these rewards I'm reaping! Go me! :-)

Such a wonderful note on which to kick off my weekend!

Thank you again everyone!

Viva la SPARK!

Don





Tuesday, March 11, 2014
Who cares what the calendar sez? Who cares that we're gonna get DUMPED on with another half foot of snow tomorrow?

Today was truly the first day of spring! 50+ degrees and sunshine / blue skies EVERYWHERE! A nice, teensy NSV was to decide instead of pulling my long-sleeved t-shirt down over my jeans I was going to tuck it in! I have forever pulled my shirts down, figuring somehow it hid the fat better? Silly me...! But hey, as I trim I figure I have less and less reason to be self-conscious. Tuck 'er in! :-)

I had a couple hours to myself this afternoon and knew the area I was going to be in so had some ideas before setting out on foot where I wanted to go: UP Reynolds Rd., Johnson City at least as far as the high school. I knew there would be a good, stiff uphill grade to get me pumped and running! Plus I figured the view up there would be worth the climb!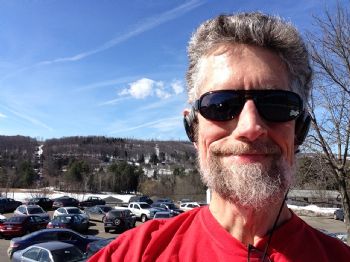 See that awesome sky?!? The hillside?!? I couldn't take in enough of it! I realized the high school was only partially up the hill and was drawn to the challenge of continuing up Reynolds Rd. to the top. When I hit the Indian Village complex I thought it looked like I was near the top so I thought 'enough of this pokey walking, why not jog to the top?'

Silly me...had been a while since I'd traveled this road...! But for some reason it felt better to shift into a jogging gait rather than walking up this hill so I held to my jog all the way up to Deyo Hill Rd. and then enjoyed a leisurely saunter back down past the high school. There was a sign for Finch Hollow Nature Center and I realized for all that I celebrate the outdoors in the 30+ years I have lived in the area I had never gone to this Nature Center. I'm overdue!

Off I went to search for Finch Hollow. Here is the route I traveled today:

www.sparkpeople.com/resource/fitness
_maps_view.asp?rt=762789

Up Oakdale Road I went. I knew by the map that the Nature Center was just north of the Oakdale Mall. So I walked, walked and walked to no avail. Never saw any indication of Finch Hollow anywhere! Finally I saw signs I was leaving the village of Johnson City and figured, enough's enough...gave up and turned around re-tracing my steps back down Oakdale. After a little re-tracing I spied a yellow pipe gate padlocked shut. No sign, no nothing. But I figured it must have been the place. Highly underwhelming. Ah well. Now I knew.

So back I went taking Oakdale to Harry L and to my car. Very weary down the home stretch, having taken in 6 miles...but it was the very best sort of weary!

Now I'm ready: bring on that snow! I'll tap into my reserves of sunshine to blast my way through!

Don

ps...hope it works, as minus the use of one arm due to limited range of motion as my pacemaker heals, snow-shoveling is going to be a challenge! :-)





Saturday, March 08, 2014
Sending a big shout out of appreciation and thanks to everyone for your support on my last blog! Took you all "with" me on my latest medical journey which went very smoothly.

The ablation was completed Thursday, bumping my HR back up to 55-60, however due to my heart still dropping beats it was going to be pacemaker time after all. I was relieved as I figured I'd only likely have to return within the near future to have it done. One twofer special coming right up!

So Friday they wheeled me in for the amazingly quick procedure! Like rolling into an auto shop with all the spare parts lined up along the wall 15-20 mins and back in my room floating on a Fentanyl fog. I got a Medtronic dual chamber MRI compatible pacemaker and then it was off to la-la land...

The intersection of medicine & technology is an amazing thing to behold. I feel a little bit like RoboCop or Ironman, lol. It's one thing to hear about it but quite another to being the recipient of such wizardry!

I was in a limbo room at hospital probably for insurance reasons plus there were no empty beds and the place was filled to gills. So this meant little privacy, curtains for walls and no place to shower. Sink scrubbing time! I am drawing a hot soak in the tub immediately after posting this blog! :-)

One very smart thing I did was to download a most delightful book "Spokesongs" by Willie Weir:

willieweir.com/SpokeSongs.shtml

Reading his humorous, insightful encounters while traveling through amazing places such as India and South Africa on his bicycle really took me away from the hospital so delightfully! I highly recommend him to anyone into cycling and humanity. He has such a way about him! I can relate to some of his style, sorta feels like me, except he is WAY more bold and willing to outside his comfort zone than I ever have been, with SUCH rewards! I'm so envious!

I'll be following up with the arrhythmia center to get hooked up with a box that will "beam me up Scottie" and wirelessly transmit info on my pacemaker functioning to the manufacturer while I sleep to be sure everything's running okay.

Still not hearing what the deal is regarding anti-coagulants and the possibility of discontinuing them later.

One little surprise I found out almost as I was leaving I was informed that I was not to drive for TWO WEEKS! That dropped my jaw! That'll mean no work or private practice. I've got boatloads of time to take, but hate the thought of leaving colleagues in the lurch for so long. Going to see if I can have this "amended"...

I had been spoken to by nobody all day long on Friday after having the pacemaker put in first thing in the morning. Finally I pinned down a nurse who, while she didn't have the answers re: my concerns about lifestyle changes, precautions, etc. living with a pacemaker, she did give me a helpful booklet but what was SO cool was that she introduced me to another hospital employee whom my doctor spotted as having the same problem as I have w/ atrial flutter & he did her pacemaker too. She's been using it for ten years with one replacement which she said wasn't a big deal.

So temporarily I have to be careful about lifting, pushing, pulling with my left arm while the tissue around the pacemaker heals to properly "hold" it in place. After that? Not really too much to worry about: avoid being scanned @ airports and other electronic scanners. Microwaves are no problem. My pacemaker is MRI compatible should I ever need one. I have to be careful to avoid any sudden impact around the pacemaker which is below my left clavicle and if anything DOES impact it to seek help.

This gal was clearly full of energy and buzzing 'round the hospital doing her thing...very friendly and supportive.

So upon getting home on a sorta sunny, mid-40 degree day whatza guy to do? Get those stir-crazy legs out walking and soaking up the outdoors which I'd been walled off from for the past few days! :-)

Although the song "The Waters Of March" didn't pop up on my music while walking, I couldn't help but think of it as an antedote to all the information overload I've been experiencing. Love the lyrics which seem to say "look around you, take in your world, breathe in, breathe out, celebrate life and living!"

A stick, a stone, it's the end of the road
It's the rest of a stump, it's a little alone
It's a sliver of glass, it is life, it's the sun
It is night, it is death, it's a trap, it's a gun

The oak when it blooms, a fox in the brush
The knot in the wood, the song of a thrush
The will of the wind, a cliff, a fall
A scratch, a lump, it is nothing at all

It's the wind blowing free, it's the end of the slope
It's a beam, it's a void, it's a hunch, it's a hope
And the river bank talks of the waters of March
It's the end of the strain, it's the joy in your heart

And although the song, written by maestro Antonio Carlos Jobim is wonderful to hear it performed by himself and so many others, I'll share again my favorite version in honor and memory of the great Oscar Castro-Neves who sadly passed away last year:

www.youtube.com/watch?v=-kKwubZ8B_M

Now this Stevie Wonder song DID pop up while walking and gives me a very similar lift:

www.youtube.com/watch?v=EKTgWozFEyo

as did this one too:

www.youtube.com/watch?v=iU3u5UDjYeY

and fittingly near the end of my 2.5 mile walk came this song reminding me to let everything go and just take in the world and BREATHE:

www.youtube.com/watch?v=SoUqK2mSD18

I'll close with a rare thing: a selfie...just don't DO selfies! But here are a few from the bridge on my walk...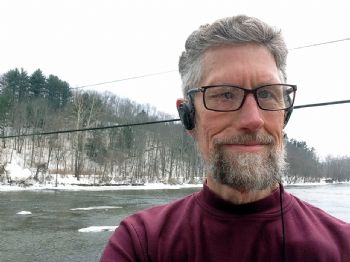 And here's a cock-eyed pic with the fishing access behind me from where our local bike club has met and launched many a glorious ride!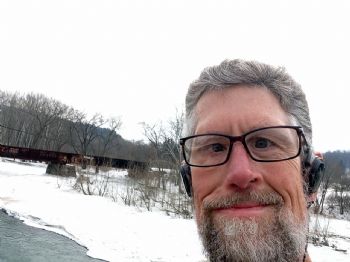 The saga will continue, but for right now I'm checking out. I have a long hot soak in the tub waiting for me! :-)

Don

ps...here's a great pic of a number of our bike club members used in conjunction with some great local news!
www.pressconnects.com/viewart/201403
07/NEWS10/303070010/NY-lawmakers-want-
money-pedestrians-cyclists





Tuesday, March 04, 2014
I've had this absolutely weird, humorous preoccupation with this old "Far Side" cartoon ever since I knew another intervention was going to be necessary to correct my heart rhythm:

jerrytravis.blogspot.com/2011/11/tut
ored.html

So here's how I've twisted that chuckle to "fit" my circumstances: "Hey Biff, I'm going off to the hospital to get my heart "schooled" so it beats right!" :-)

I've been WAY pleased with my weight loss efforts lately. It's so strange how without making any significant changes in my approach how QUICKLY the pounds have accelerated their disappearance! I will have to remember this when it slows down again...lol.

I've passed the big *3*0* so far since January 1st, averaging 15 pounds a month...! I am now only 2 pounds away from breaking 100 pounds lost since joining SparkPeople. And THAT marker (320 pounds when joining SP in 2007) was significantly down from my all-time high of 450 pounds from way back in the late 1980's, early 1990's.

Another motivator for me? Back in 2010 when I previously reached my goal weight of 200 I had the special honor of being one of the guests on Dr. Oz's 100th show featuring 100 people who had lost 100 pounds or more and kept it off.

www.sparkpeople.com/mypage_public_jo
urnal_individual.asp?blog_id=2878056

www.examiner.com/article/richard-sim
mons-and-100-big-losers-helps-celebrat
e-100th-dr-oz-episode

Lots of cool pics in that blog, even one with Richard Simmons who was a special guest and led a round of Sweatin' to the Oldies ("Hit The Road Jack")! Great memories!

Anyhow, I've saved both the skinny-sized 38 jeans and Dr. Oz t-shirt from that occasion and have the jeans hanging up outside my closet just waiting for me to fit back into them and I can't WAIT till THAT happens! :-)

With this week's big batch o' soup I've decided to dip my big toe back into the waters of grain and put some barley in the soup which is just your basic chicken, carrots, celery, onions & garlic. I figure this will have a pretty low risk of triggering any overdoing it and reacclimate my body in a fairly tame manner.

My workouts have dropped off some in anticipation of my ablation, mostly because it just seems weird to pump up a heart that's doing such peculiar things. I'm still heading off to spinning, just not going as "all out" as I might ordinarily.

I'm liking my weight loss before the ablation as I always figure the fewer extra pounds before any medical procedure the better. I continue to give my stomach a pat on the back when it growls and grumbles at me during the morning hours, awaiting my first meal of the day at noon time...telling me I'm on the right track and didn't overdo the calories yesterday. If I DON'T sense my stomach talking to me I figure I must've run a tad high on my intake.

A confession I'll make regarding tracking: thus far I am not pulling out any food scale. I am more-or-less eyeballing my portions either through packaging (you know, those handy Dannon greek yogurt 80 calorie packages and other such conveniences) or 1 cup - 1/2 cup measures. I figure if the pounds get TOO stubborn as I near goal I can always resort to more precise measurements at that time. I am a huge fan of keeping it simple and if what I'm doing works, then so be it!

I'm feeling so READY for this ablation...top of my game with food which is a major, MAJOR big deal for me.

Now let's get this heart "schooled" good & proper and get on with my Spark even MORE fully engaged!

Don

ps...another bonus old favorite "Far Side" for you cat-lovers (or haters...lol):

www.pinterest.com/pin/16395986116931
007/






Friday, February 28, 2014
One of our members of "At Goal and Maintaining" SparkTeam recently expressed worries about relapse and "obsessing" over food. This got me thinking about some of the changes in my thinking since 2014 began.

I once upon a teensy sliver of time reached my goal of 200 only a few years ago in 2010 and am clawing my way back to goal again (SHEESH but the pounds are getting stubborn, but I'm MORE stubborn!) but with a different attitude this time around that I think will pull me through toward greater success in maintenance this time around.

NELLJONES response summed it up to a "T" in her response, basically normalizing what can seem obsessive to others, what once seemed obsessive to ME: the care and precision in tracking our food which is necessary for folks like us to achieve and maintain healthy weight truly is "normal" within the context of own unique realities. It's not "whacked" or a "pre-occupation" or "obsessive" or whatever derogatory label one wants to give it.

It's our reality: we MUST follow these steps if we are going to achieve and maintain a healthy weight and lifestyle.

Research continues to bear this out, thank you to the wonderful folks at the National Weight Control Registry who continue to support, pull together and highlight such efforts:

www.nwcr.ws/Research/

Our fears can be so rooted in our perceptions. If we can shift our "lens" and realize that for folks who have been obese; the steps we must take to achieve and maintain our weight are normal, evidence-based practices; we can pull the plug from viewing ourselves as "weird" or in some way negative and instead champion our efforts by patting ourselves on the back as one of the rare 5% who can successfully lose the weight and keep it off!

Don

PS: NELLJONES' comment in the message thread which resonated: "Food is more than eating. It's deciding what I will cook, making the shopping lists and where I will acquire the ingredients, noting what has to be done in advance (meat out of freezer, soak beans, etc), then the hands on prep and cooking. Eating is just the last piece of it. It's become a hobby like any other hobby. No one questions obsessive quilters or coin collectors."



First Page
1
2
3
4
5
6
7
8
9
10 11 12 13 14 15 16 17 18 19 20 21 22 23 24 25 26 27 28 29 30 31 32 33 34 35 36 37 38 39 40 41 42 43 44 45 46 47 48 49 50 51 52 53 54 55 56 57 58 59 60 61 62 63 64 65 66 67 68 69 70 71 72 73 74 75 76 77 78 79 80 81 82 83 84 85 86 87 88 89 90 91 92 93 94 95 96 97 98 99 100 101 102 103 104 105 106 107 108 109 110 111 112 113 114 115 116 117 Last Page

Get An Email Alert Each Time DDOORN Posts