Monday, November 15, 2010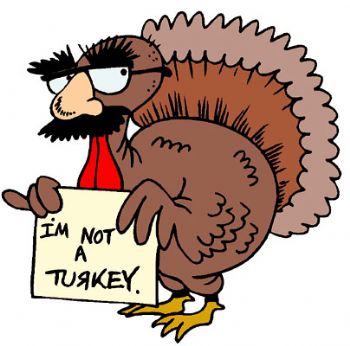 Have been doing a lot of re-assessing of my eating habits. I am and have been for more of my life than I care to admit to - a "gobbler" (hence the reference to being a turkey). Most of my youth it seems I was always in a rush to eat. Whether because I just wanted to get the meal done with so I could get back to playing with my toys (I was skinny when young, not very interested in eating), or in a hurry to catch the bus for school. By the time I was in high school, I literally rolled out of bed minutes before the bus - long enough to jump in shower, dress and fly out the door, wet hair and all. My mother insisted I eat something so I would "gobble" some cereal, toast or Carnation Instant Breakfast within seconds and be out the door. School lunches were always very short also. Especially in high school. By the time we got our lunch we barely had time to sit down, let alone eat, so in order to not waste the food and have a full belly, again - gobble, gobble, gobble!!

Unfortunately, much of that hurry up and eat mindset has followed my into my - gulp - 50's! I gobble up my food so fast that I have little time to savor the flavors, which leads to wanting more food because I am not yet satiated and my body doesn't know it is already full (I believe it takes about 20 minutes for the body to realize it is full). Even though for quite some time now, I eat everything good for me and very little that isn't and exercise (cardio and weight training) regularly I am still gaining weight. Now, when I was younger, and gained a few pounds, it was so very easy to do a few power walks, cut back on the calories and boom! Instant weight loss (for me anyway). However, as I get older, that isn't so true anymore. Add natural slowdown of the bodys metabolism and hypothyroidism together and you get a real inability to burn off the calories like it used to and by continuing to eat like I may never see another meal for weeks, well, it just packs on the pounds! I have been aware of this "condition" of mine for most of my life but never really put a whole lot of effort into slowing down. As elementary as this sounds, a big bite tastes the same as a small bite and if one chews slower, one really gets to "taste" the food! Who knew!!! So, I have slowed down, and wonder of wonders - I find that I am full BEFORE I finish my meal and am not at all interested in having second (or third or fourth) helpings! This works especially well when I want to have something I really shouldn't.