| | |
| --- | --- |
| | DBCLARINET's Recent Blog Entries |




Saturday, September 26, 2009
I love cooking and all, but I'll admit, the one things that pretty much stinks about being on a specific diet that your husband isn't totally on board with is the part where I have to do a lot of the cooking. This means that if I get swamped with anything, well, then it's just another thing for me to worry about. :-(

He has his instructions for tomorrow's dinner. That'll have to do. As for getting breakfasts done for the week... we'll have to see.

In other news, our cats are doing quite well. Almost too well, considering that we had told someone she could come by and see about taking the stray kitten for herself. I had told hubby that she had until Saturday to come by and see her and decide, but she can't come by until Monday. Well, that has resulted in hubby and me becoming a little attached to the kitten, and the kitten developing a lovely little relationship with our own cat.

I thought there was going to be a lot of posturing and territory-staking going on with the two, but it turns out that the kitten mostly just wants approval from our cat. She follows him around EVERYWHERE and does everything he does. it's ridiculously cute. We were a little worried about potentially having to train another cat about scratching the posts and not the furniture, but it turns out that since our cat scratches cat posts, she has started scratching the cat posts. If he's sitting on the couch, she's trying to sit on the couch (if he lets her). When he eats out of his cat bowl, she tries to eat out of his cat bowl (which he definitely won't let her do!). And, when hubby picked up our cat and put him in his lap to pet him, she jumped up next to hubby and let him pet her. She's been skittish when we approach her ourselves, but if our cat is getting pet, she wants to get pet, too. Then, apparently when our cat got up, she jumped in hubby's lap. it's too cute. She's clearly young enough to be adaptable, so I think in the end she'll make a great pet. We've already strongly trained our cat to scratch nothing but posts, and he's excellent about it, so I think we'll have no issue with that at all. And I've already started giving her treats for scratching the posts, just like we did with our cat.

So we have a lot of thinking to do come Monday.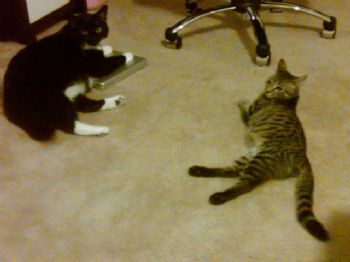 See how much they can't stand each other?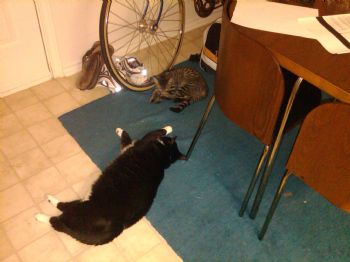 Did I mention that Tikti (our cat) is huge? He's 17 lbs. Cute as pie, but he's easily 3-4 times her size and about 8 times her weight!




Friday, September 25, 2009
And so life goes on. Today I am sore like none other from yesterday's kettlebells and today's sprints. Thank goodness tomorrow is a resting day!

I need to figure out a different eating schedule. Right now I've been packing two mini-frittatas for breakfast in the morning, but it's just not enough since I work out in the morning. The frittatas are actually pretty light, especially when filled with peppers, so basically I've already burned them off with my workout before I ever eat them! I end up eating lunch early and, like I did yesterday, I ate my lunch and my snack at the same time, so then when I went to an Italian movie event from 5-6:30pm, the only thing I could think about when I got out was going home and getting dinner. It really would have been better for me to stay at the school and practice a bit before going home, but I needed to eat.

I think I am going to try making some McGriddles for breakfast, but paleo-style. I'll make a bunch of baby paleo pancakes, bake some eggs in the muffin tins, and fry up some bacon. Lunch meat would probably work well, too. I also read something about eating some more carbs in the morning and working toward less as the day goes on, so I'm going to toss in a handful of berries. The calorie count will go from less than 200 to just about 400. I'm hoping that helps the satiety.

Trixie is doing well, though she wouldn't want you to think so! I went into her bathroom yesterday, and she hissed at me like it was her job. But then I started petting her (reaching behind the toilet, of course), and after about 30 seconds she came out, laid in my lap, and started rolling around so I could scratch all parts of her head again. We're thinking tonight we will open the door and let her roam around the apartment a little bit, making sure to close all the windows so she doesn't get the whole outdoor smell reminding her of anything. But before we do that, she needs a bath. She's pretty dirty. We noticed that the bathroom stinks, and it's not her litterbox! So hubby will take on the always-pleasurable task of giving a cat a bath.

Then she'll be free to roam the apartment, and we'll be able to keep an eye on things like her scratching habits. Should be fun!




Thursday, September 24, 2009
Today we did some more kettlebell training. I am still frustrated that I can't properly log it into the fitness tracker and I get no credit for the two hours a week I spend doing that. Funny, though, SP says I'm supposed to exercise for 150 minutes a week and burn 600 calories. I've burned 527 so far (and that's all cardio because it doesn't keep track of my user-entered strength exercises!), but I've only worked out for 93 minutes. Efficient!

The workout focused on lower body today since we did a lot of upper body on Tuesday. After a warm-up, we did a pyramid. 1 set of 10 squats holding the kettlebell and then 10 kettlebell swings. No break, just right into 9 of each. Then 8. You get the point. My thighs and butt never hurt so much! The teacher requires a very deep squat, so it was definitely more effective than traditional squats with the barbell. Yay! We took a water break, then we did 30 seconds on and 30 seconds off doing the kettlebell snatch. I now have bruises on top of my bruises!

In other news, we took in a stray kitten. We are not planning on keeping her, even though she's the cutest thing under the sun (other than our current cat, who is really pretty darn awesome). We had these neighbors across from us that were keeping her as an indoor/outdoor (heavy emphasis on the outdoor) cat, but then they left and she stayed. She woke us up at, oh, 1am one morning because our cat freaked out at the sight of another one outside the window. We tried to shoo her away, but the next night she came back. So we fed her a little, and she just kept coming back. The sad thing is that she's very friendly. Last night hubby went out, gave her some treats, and started to pet her, and she just purred like a motorboat. We were planning on taking her in until we found her a home, anyway, so I took our cat, locked him in the bedroom, and then hubby just snatched up the kitten and brought her in. We locked her in our second bathroom with some food, water, and a litter box. She hid behind the toilet the whole time and meowed an awful lot, but then I went in and started to pet her. She didn't flinch or anything, and as soon as I touched her, the meowing stopped and the motorboat purring began. She started rolling on the floor so I would get her chin, her ear, her cheek...

So she really needs to be somebody's loved indoor kitten. We named her Trixie for now because at about 3am she actually got out of the bathroom by squishing her way under the door. We didn't even know anything had happened until hubby woke up and saw our cat slinking backward out of the other bedroom. Chicken. Trixie was in there, sitting on the windowsill. Trixie is, at most, half our cat's size. She's beautiful. Gray with black speckling all over. And she loves attention. I almost hope the couple we have lined up for her decide not to take her so that we can consider having another cat. She's so cute it breaks my heart. And she used her litterbox last night!

I should post a picture. Our cat is a beautiful male tuxedo cat, but she's beautiful in the too-damn-cute kind of way. Thank goodness she'll have an indoor home now!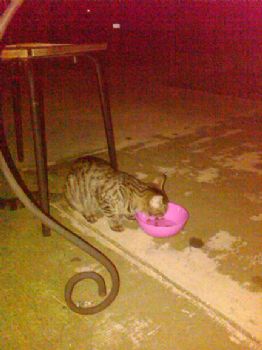 This is Trixie eating outside before we caught her. Like I said, it wasn't hard once we got her trust, which wasn't hard, either!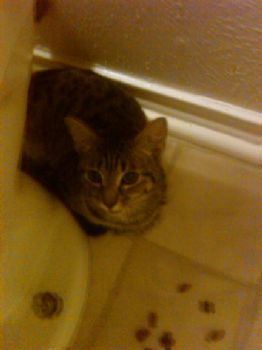 Here's Trixie hiding behind the toilet. Clearly she's scared out of her wits. Not. In the middle of the night, she came out, wriggled her way under the door, and hung out in the window of our extra bedroom. She's not as skittish as she would have you think. Tricksy little girl (hence her name!0



First Page
1
2
3
4
5
6
7
8
9
10
11
12
13
14
15
16
17
18
19
20
21
22
23
24
25
26
27
28
29
30
31
32
33
34
35
36
37
38
39
40
41
42
43
44
45
46
47
48
49
50
51
52
53
54
55
56
57
58
59
60
61
62
63
64
65
66
67
68
69
70
71
72
73
74
75
76
77
78
79
80
81
82
83
84
85
86
87
88
89
90
91
92
93
94
95
96
97
98
99
100 101 102 103 104 105 106 107 108 109 Last Page

Get An Email Alert Each Time DBCLARINET Posts