| | |
| --- | --- |
| | DBCLARINET's Recent Blog Entries |




Tuesday, November 06, 2012
I'm slowly working my way through It Starts With Food, the book that outlines the Whole30 more thoroughly, and I'm learning a lot.

The guidelines aren't just about eating or not eating certain foods, they're also about how we approach food in general. The three meals we eat each day should be consumed at a table, in the company of loved ones, without TV or phones or computers to distract. Fortunately, my husband and I had already decided this was important, so we do it as much as possible. We almost always sit down together at our tiny dining table and eat our dinner together. We usually don't talk much (we're still pretty good at just wolfing it down), but at least dinner is a little bit sacred.

Breakfast isn't quite as formal, but I do manage to convince my husband to drink his morning coffee with me while I eat breakfast in the kitchen. In both cases, it wasn't about trying to make the meal special, it was about having two definitive carved-out periods during the day where we really were just together. It was something our parents and grandparents did, so it had to have merit, right?

I eat lunch in the lounge at lunchtime, and honestly, I'm always disappointed when there isn't someone there to talk to and kind of share lunch with.

So that aspect of Whole30 eating is something I'm already down with. The one that threw me off was psychological attachments to food. Their idea is to create a healthy relationship with food, so if you're really stuck on having dessert after dinner, instead of eating a Whole30 approved dessert or even a piece of fruit, you're better off eating nothing and destroying the notion that you have to eat dessert after dinner.

Crap.

Well, there goes my banana-avocado puddings. I guess it's a good thing, though, because I'm running out of avocado and need to get through my breakfasts this week. Avocado in my omelette is way more important than in my pudding.

The book also talks about certain foods creating cravings that lead to overconsumption. Bacon is one that they talk about. Unfortunately, as soon as I read that, my first thought was "Sunbutter!" Oh, the devil. I know Sunbutter is a great Whole30 food, but every time I buy it, I get through a few days of control, and then I eat the whole jar. Without fail. I got an attachment to it as a comfort food going through boot camp, and now I'm still attached.

Now, in addition to not eating nuts, I'm going to just cut out all nuts, seeds, and related butters. I already know that I have an extremely hard time having a small portion of nuts without eating the whole bag, and now I have come to realize my psychological dependency.

The last of the Sunbutter, a honeycrisp apple, and I had a beautiful farewell-until-we-meet-again date tonight. And that's the end of that, at least until I can return to the relationship with a clearer head on my shoulders.

So long, Sunbutter. It's been lovely.





Monday, November 05, 2012
I'm not sure if I'm really back to SparkPeople like I was in the past or not. I decided that tracking my calories was making me focus on food in a punishment/reward kind of way instead of a "you eat food to live" kind of way. I decided to stop tracking and just eat Primally and work out Primally and see what happened.

I am having a LOT of success! I only have three planned workouts a week: a sprint workout, a time trials workout, and a lifting/metcon workout. Otherwise, I do whatever happens in command physical training, which may or may not happen in a given week and may or may not be hard, I ride my bike to and from work as much as possible (not much these days here in the Northeast), and it's only 3 miles each way anyway. I walk around outside. That's pretty much it.

I discovered that I'm a runner, but not in the "go outside every day and slog out 9834789037 miles." I train for races, and then I run them. I did another Warrior Dash with my husband, and I slooooooooooooooowly jogged a half-marathon with a co-worker. We went so slowly that the very following Friday I raced a 5K on the base and came in 3rd overall female with a time of 22:14. I never knew I could run that fast!

Nowadays, playing around with my diet has been for the sake of figuring out my moodiness. Sure, sometimes life hands you lemons, but it seems like recently I have been getting more down than normal. I decided to do a Whole30, and I was surprised by how much going super-strictly Paleo changed everything.

It wasn't a big step for me to go from eating store-bought organic Spectrum mayonnaise to making my own from a pasture egg and some light olive oil. It wasn't a big step for me to make sure that the salsa I buy has no added sugar or preservatives. It wasn't a big step to remove bacon from my breakfast and just make root veggie hashes. It wasn't a big move to make my own salad dressing to make sure I was eating olive oil instead of soybean oil and adding no sugar or honey. It wasn't a big move to ask my husband to make pasta sauce from tomatoes, basil from my garden, and carrots.

It really wasn't.

But it was a big deal to my body. It was huge. I'm pretty sure after one week I just looked leaner. My measurements didn't really change, I don't think (I didn't check), and I'm not sure if my weight changed, because I didn't check. I just felt better about myself in general. Even if I overate, it didn't seem to affect me, because I only overate Whole30 foods.

The funnier thing is that while that diet is ridiculously super-restrictive, it was actually easy. I focused on all the foods that were an option. I didn't feel deprived when cookies were around, because they just weren't an option. It wasn't punishment, it was just a fact. At restaurants, I ordered meat and veggies and just asked the waiter to make it dairy-free. They obliged. I'm sure once or twice something sneaked into my food that shouldn't have been there, but it didn't matter. I felt pretty good!

When my 30 days were up, I completed a Warrior Dash and then treated myself to a serious cheat dinner. For dessert, I had a chocolate chip cookie banana split ice cream sundae. Yep. I went freaking bat-sh*t crazy. It was delicious, but all that night I was upset about clarinet and my job and my life sucking, and my husband was like, what is going on?! The next morning, I was fine.

For some reason, being off the "diet" made me feel like I could cheat more, so I cheated about once a week, and I started feeling like garbage again. Now I'm back on a Whole30, I'm a week into it, and I'm feeling amazing again. How can I really argue? It's NOT that hard!

So if it's working, why am I back? Because I want to lose 5 pounds. My body seems to be very stable right now, but I'm really enjoying a little bit of modeling on the side and kinda want to lose 5 pounds for that and for my running. I can now officially run a mile in 6 1/2 minutes. I want to be able to maintain that.

I'm just trying to lose it by not overeating my good foods. This time around, I'm focusing on eating only three meals a day and making sure that each meal is satisfying enough that it tides me over to the next one. I seem to have stumbled across a winning breakfast: two pullet eggs (equals about one extra large egg) in an omelette with spinach, onion, shrimp, tomato, and a few tablespoons of Wholly Guacamole. All of that is Whole30 approved and delicious. I had it two days in a row and literally felt HAPPY each time I ate it.

I'm eating anywhere between 1600-2000 calories a day, and that's slightly less than what I was eating. I was probably somewhere in the 2000-2500 range. Just a slow, steady lean-out will make me happy, and I'm not going to do it by increasing my cardio or adding more exercise. I like the Primal program I'm on now.

So yep, that's that. We'll see how often I post.

I just have to share these modeling photos, though. I did my first show the other day, and while I need a lot of help, it was fun!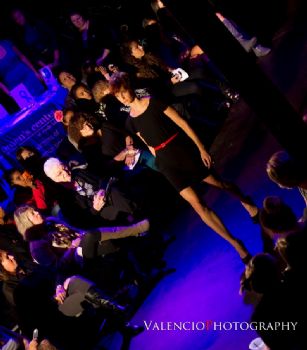 My agent did invite me to a runway class, which thank goodness because I felt like I needed it! These two photos are good, but there are a few that were awkward, and there were models there who took way better photos than I did.

Who knew there was so much performance, art, and thought that needed to go into this? Now I have a little more respect for models in general!






Sunday, June 24, 2012
A friend at work and his wife had their first baby four weeks ago. It occurred to me that they can't get away and hang out because Mom is basically slave to the baby's hunger, and Dad knows that since she has to deal with the "feeding end," he has to deal with the "party end." He's not going to just leave her to deal with the baby on her own, so I asked if they minded if hubby and I came over and made dinner for them one night.

Obviously, they weren't going to say no! So we tried to make something healthy and tasty. I referenced my Primal Blueprint Cookbook for a bacon-broccoli salad. The dressing called for 1 cup of mayo and, yeah, when I was done making the dressing, I think I coated the salad in 1/4 cup of the dressing. At least now I have leftover dressing! We had baked chicken with a guava glaze that I got from Emeril, and paired with sweet potato fries and the broccoli salad, we had a pretty good meal!

I also made a crab dip with a little mayo, tomato paste, lemon, horseradish, and just a touch of hot sauce to serve with carrots, celery, and cucumber while we watched the Pirates game. Finally, for dessert, we had a flourless dark chocolate cake by Aaron McCargo (Big Daddy's House) that, after making it so many times, has slowly morphed into our own creation. We still use butter sometimes, but we subbed out half the sugar for coconut flakes to keep some kind of dry ingredient in it, and then whatever sweetness it still needed we did with natural cane sugar and some stevia. It has a hazelnut ganache on top that we made with coconut milk instead of heavy cream, and as it turns out the coconut milk sets better anyway and turns out a better product. Then we topped that bad boy with tons of blueberries and strawberries. They were happy to keep the other half.

We had a good time even though their little girl cried the WHOLE TIME. I hope that means that shortly after we left, she passed out and the parents got a good night's sleep. The funny thing was that the crying baby didn't really bother me -- sometimes, she got so fired up about whatever was bothering her that we actually laughed at how funny her cry was. I suppose that keeps you sane.

I never told them that their meal was grain- and dairy-free. Honestly, unless you're on that diet yourself, who cares? I'm not trying to preach my dietary habits on them; I was just trying to make a good, nourishing meal for two parents who can't get away for two seconds. We should do it again soon.

I woke up this morning naturally at 7:05am, spent an hour drinking coffee and reading my Kindle (I'm working my way through "The Primal Blueprint" -- for as long as I've followed the dietary advice, I never read the book), and then headed out to the beach to do a workout from Mark's Daily Apple. I was feeling motivated, and I seriously needed that for this workout!

It sounded so easy: sprint 50m, Grok crawl back 25m (basically crawl like a baby but on your hands and feet instead of hands and knees), walk lunge 25m back, and squat down, pick up a weight of some kind, and stand up and throw it back the 50m you came. Repeat that cycle 8 times.

I made the weight by taking sandbags from a weighted vest and sticking them in my bookbag, and I marked off 25m with dumbells that I spaced out with a tape measure. Then I did my workout. By cycle 4 I was cursing myself for doing the workout! Those stupid crawls are HARD! And squatting down to throw a bookbag? I found out that with any real weight in that thing, I can't throw it very far. I can't even remember how many squats I had to do each cycle, but it was more than 10.

My phone wasn't working or the screen was too dark or something, so I couldn't time myself. Boo.

The other thing I cursed was not putting my swimsuit in my backpack so I could change and jump in the water while I was still sweaty and sandy and nasty. Oh, and I cursed that it's a mile walk to the beach, and I was carrying probably 30 lbs. on my back, and then after the workout I had to walk the mile back, grab my husband, change into a swimsuit, walk another mile there so I could go into the water, and then walk another mile back when we were done, oh and we played some Scatch at the edge of the water, too (that beach toy that's like playing catch but with a Velcro baseball and Velcro mitts). We got home, I showered, ate some lunch, cleaned some dishes, sat down to read... and passed out.

I never realized how much "The Primal Blueprint" was an all-around life-makeover instead of a diet. I read "The Paleo Diet" and figured I had it covered. I didn't realize this book covered a lot more. The author makes a comment that speaks to my own problem: if you find that you have a lot of energy from working out less and eating healthfully, don't work out more, make your workouts harder.

Okay, make my sprints harder, make bodyweight training more intense with more reps, less rest, stuff like that, I get it. But then he also relayed a personal story from his days after he retired from professional running. He became a personal trainer and did his workouts with his clients, and they're not professional athletes. So he would run with them, but his heart rate would barely break 100; he would bike with them and swear that if they went any slower they would tip over; he never had time for a workout, so he did sprints in his 20 minutes between clients; and lo and behold, when he started doing triathlons for funsies, he ended up placing fourth in the Ironman. Okay, maybe he has some genetic freak-ism going on there, too, but his point is make the long cardio slow and easy and make the sprints really hard.

My husband and I have been running in the mornings, and he's always bummed about how he's so slow -- basically, I can keep pace with him easily, which means both I've gotten better and he's gotten slower. I said, maybe, since we're working our way up to a lot of running, albeit slowly, we shouldn't worry about speed on every single run every day, only on sprinting days. He seemed okay with that. That also gives me permission to keep my bike rides to work more leisurely, which I've been doing intentionally even though I kept thinking I was being lazy. Nope, I just have to make sure that when I do have a tough workout, I push myself.

I have nothing to really gain or lose from this experiment because I've decided to accept the five pounds I've gained (I think they're still there...) as a necessary part of increased athletic performance. If, by eating less meat because I'm only buying from local farmers and working out more sporadically so I can put all-out effort into the big ones, I end up losing it, great! If I don't lose it but get faster and stronger, well, great too! I get crabby when I get hungry, and I don't like being crabby! So here we go.

Oh, and a shout-out for my eat-less-meat-atarianism. On Friday, hubby announced that we only had one egg left; unfortunately, the farm I bought them only runs their stand on Thursdays from 3-6. So I went to try out another farm just down the street since that farm sold poultry, and they had these things called pullet eggs. I asked the teenage girl who was cheerfully helping me figure out which freezers carried what meats what on earth was a pullet egg (as in, why was it $2 a dozen as opposed to $4.50 a dozen -- $0.50 more expensive than my other farmer), and she said that when young hens first start laying eggs, they lay little eggs. They don't get bigger until they're more mature. Hmmm... well, smaller eggs, but cheaper than the commissary anyway... I'll take it! So now we have plenty of eggs. I'll just have to do my research and see if pullet eggs are available for the whole season or if by the end of the summer, the hens will be laying big, expensive eggs. We will see...



1 2 3 4 5 6 7 8 9 10 11 12 13 14 15 16 17 18 19 20 21 22 23 24 25 26 27 28 29 30 31 32 33 34 35 36 37 38 39 40 41 42 43 44 45 46 47 48 49 50 51 52 53 54 55 56 57 58 59 60 61 62 63 64 65 66 67 68 69 70 71 72 73 74 75 76 77 78 79 80 81 82 83 84 85 86 87 88 89 90 91 92 93 94 95 96 97 98 99 100 101 102 103 104 105 106 107 108 109 Last Page

Get An Email Alert Each Time DBCLARINET Posts