| | |
| --- | --- |
| | DARTHLAURIE's Recent Blog Entries |


Saturday, January 03, 2009
Well....it's a new year and I want to remind myself of a few important things.
My Rights as a Woman at Any Size
I have the right to take up all the space my body needs.
I have the right to love and be loved.
I have the right to move freely and express myself in my own ways.
I have the right to feel sexy.
I have the right to feel beautiful.
I have the right to move with dignity and grace.
I have the right to be treated with dignity.
I have the right to love myself as I am NOW; not as I wish I was or as I was at another time in my life.
I have the right to feel successful and fulfilled in all aspects of my life.
I have the right to live joyfully and fully.
I have the right to be a goddess.

And

So many people get bogged down because they've plateaued or simply aren't losing weight. I am losing weight at a pace so slow it's almost imperceptible. Why am I not depressed about it? Because it's against the rules! Here are the rules. Feel free to share them, steal them, or whatever. Make them work for you.
So here are my rules that you can feel free to adopt:
I have no control over the numbers on the scale. I only control how much physical activity I get and what I choose to ingest.
My progress will be measured by how active I am that day and my food choices. I will not berate myself if my body needs to rest. I will give my body what it needs that day.
I will praise and celebrate my accomplishments a lot and just acknowledge my shortcomings...because I'm not superhuman and I don't need to be perfect.
I will not be unkind to myself. If I wouldn't say it to my best friends, nieces or nephews (or in other people's case, kids), then I am not allowed to say it to myself. It is hypocritical to have a different standard for yourself than others.
I will learn to love myself unconditionally.
I will learn to live passionately and with as much love for myself as I have for others.
I will remember that what makes me a goddess is my passion, heart, and soul, not my physical attributes.





Wednesday, December 31, 2008
IT'S the most delicious news: women are happiest with their lives and the way they look when they are a size 14.
Contentment, it seems, comes with curves. Perhaps that's why Kate Winslet and Nigella Lawson look so pleased with themselves.

In a British poll of 3000 women, size 14s rated their general happiness higher than any other female shape, with a quarter saying they liked their appearance.

Almost half said they were happy with their career, while a third rated their love lives as the best possible.

Second happiest, according to the research, were size 12 women, with almost three-quarters saying they were totally satisfied with their friendships and almost half happy with their careers.

Size eights came third in the happiness poll, closely followed by those who wear a size 16 - the average dress size for British women.

But women who wear a size 24 or above didn't fare so well in the research, carried out for a cereal company.

Of this group, 18 per cent said they were extremely unhappy with their lives. More than one in 10 admitted they were extremely unhappy in their love lives.

Larger women were not alone in their discontent. Size sixes were rated fourth unhappiest.

Winslet, who fluctuates between size 10 to 14, has long been a champion of well-rounded women.

"I feel very strongly that curves are natural, womanly and real," Winslet has said.

TV cook Lawson, thought to be a size 16, said: "I do think that women who spend all their lives on a diet probably have a miserable sex life."
www.news.com.au/story/0,27574,248564
94-401,00.html

I thought this was an interesting news story, and it kind of mirrors what I've seen. I know a lot of size 6 and smaller gals who aren't nearly as happy with their bodies as some of the plus size gals I know. At any rate, work on loving your body as it is and show that love by giving your body the things it needs: movement, joy, and healthy food choices. You don't need to be a size small to be a size beautiful, healthy, or wonderful.





Sunday, December 28, 2008
What is your opinion of New Year Resolutions?
I'm really not a fan of New Year resolutions. My motto is New Year resolutions are meant to be broken.
I think that if there's something you want to do, then you should start doing it as soon as you can rather than waiting for a new year (whether it's the start of the new year or your personal new year, your birthday) because then you'll have the momentum pushing you forward. Maybe the new year is a good time to re-evaluate what you're doing and adjust things accordingly, but that's about it.
I'm not all that goal-oriented and I'm not all that into challenges, either.
I suspect I'm a bit of an oddity because I simply don't get into resolutions. I have one long standing resolution (find another job), but I don't exactly have a whole lot of inertia to go knocking on doors and selling myself and jumping through the hoops to find a job. I apply here and there, but that's about it.
My health "goals" are mostly very flexible; I want to continue working on being physically active consistently and I want to figure out a healthier way of eating that works well for me: quick, easy, delicious and healthy meals for one. I think I'm going to have to start creating menus at least for a while so I can learn to eat healthier. Since my breakfast is healthy and my lunch is a Lean Cuisine (relatively healthy except the sodium, soy, and preservative content), I'll start with creating healthier dinners.
I'm going to continue seeing my personal trainer for a few more months and I'm going to keep working out for a half hour before getting ready for work and getting a bit more physical activity in (shooting for an hour most days) every afternoon. I'm also going to keep working on building up my self esteem since that requires constant work.





Saturday, December 27, 2008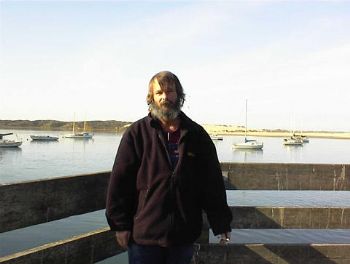 Kim's birthday would have been tomorrow. He would've been 56. I'm kind of celebrating a bit tonight by going to the nude swim that our local nudist group holds twice a month.
As some of you know, I'm an unabashed nudist. I learned about it from Kim, who was probably one of the finest nudists and people who ever lived. Kim, like many wonderful nudists I've met, had a live and let live policy. He believed in living life to the fullest, being passionate, and being kind...and being kind is just a bit easier when everyone is naked and they can't hide their flaws from the world.
Kim eased me into the world of nudists fairly gently. Once I got used to walking around naked, when I realized that Kim wasn't judging my body, then he took me out to some clothing optional hot springs. I can't tell you how hesitant I was to take off my clothes, but I trusted Kim. He wouldn't have taken me somewhere where I'd be humiliated or hurt. I very slowly and reluctantly took off my clothes and darted into the hot water. I sat in the water up to my neck for a bit (until I had to breathe) and I watched people. This was at Cougar Hot Spring in Oregon. It's a magical, beautiful place. It's easily my favorite soak. I realized after a few minutes that everyone was naked and there were a lot of different body shapes and sizes. Kim was chatting with another soaker, probably chatting about The Grateful Dead knowing him, and I just watched...and saw how beautiful everyone was. No, I wasn't smoking pot. Everything was so beautiful in the mottled light streaming through the forest. Droplets of water would roll down curved limbs and backs and the light would catch them and turn them into drops of gold. I love the way light plays on skin and I love the curves of the human body. I learned that love when I went soaking with Kim...perhaps that's where the first nugget of self love was planted; I learned that our skin isn't evil like some religious leaders implied. If skin wasn't evil, there was no need to be ashamed of it, and if other bodies were beautiful, then it stood to reason, my body couldn't be any less beautiful and there was no need to be ashamed of it. Now, that's of course a very abridged version of a very, very long journey towards self love and self esteem. I will say that without learning about nudism, I would not be able to love my body in the least. I would strongly encourage each and every person who reads this blog to find a nudist group in your area and attend one nudist event. Most of the time they'll even let you stay clothed if you simply can't bring yourself to disrobe. The purpose of this exercise is to simply show you that skin is indeed just skin, and that underneath all the clothing, makeup and jewelry, we are all pretty much the same and worthy of loving ourselves as we are...scars, fat, wrinkles, hair and all. If you're in the Salt Lake area, I'm more than happy to pass on the info for the nude swims that I go to. It's the most unintimidating environment you can imagine, and you'll learn a lot about yourself in the process.
Anyways...I'm so thankful Kim laid the groundwork for me. I wouldn't be here without him, and I certainly wouldn't be able to say I like myself if he hadn't taught me about acceptance, love, and nudity.





Saturday, December 27, 2008
Craig and I opened our Wii stuff on Christmas morning. I have to admit that I wasn't sure it was going to live up to the hype and build up, but it has, at least for us. We've used it every day for hours since we got it. I just finished an hour with the Wii Fit and now Craig is messing around with Wii Sports (I am kicking his butt on the baseball stuff...woohoo!).
So here's my analysis of the first few days:
The set up was super easy. Even I could set this up. I'm a bit of a technophobe and I'm not all that good when it comes to putting things together or getting them to turn on; I can't even figure out how to turn the DVD on at Craig's place. But, the Wii is so easy to set up that I've been able to do it on my own without asking Craig what I'm supposed to do to get it to work. It's so easy a caveman can do it!
Let's talk about Wii Fit a bit since that's probably what everyone is interested in. The first day I used it, I did all the exercises that were open and all the ones that I unlocked. Yesterday I was so sore in my upper back and it was the kind of sore you get from working those muscles, not my regular aches, so the exercises are working those muscles.
The first thing you do is a balance test and basic measurements. You stand on the balance board and it detects where you have a tendency to hold yourself; most of us aren't centered with good posture and according to the Wii creators that's one of the reasons why so many of us have aches and pains (I'm not sure I would buy into that completely). Once it does its thing, the Wii Fit gives you a Wii age. I don't think it's all that accurate. The first day my Wii age was 57 and the next day it was 35. There's also no way for the Wii to take into account how much muscle you have, so if you're a muscular guy like one of my pals, you'll show up as obese. He's self conscious of that, but I happen to like my fat little Mii so it doesn't bug me. I'm not sure how or if the exercises change your Wii age. That might explain why my age dropped more than twenty years in a day, but I'm still not convinced.
You get to choose between a male and female personal trainer. I haven't tried the male trainer out. The female trainer is rather generic. The personal trainer says a lot of repetitive things. I might switch to the guy to see if he says different things.
You follow the trainer while doing the workout. On most of the exercises you'll see either a circle or rectangle and there will be a colored area and you want to keep a little red circle in the colored area of the rectangle or circle. This isn't as easy as you might think. Most of the time I think the balancing is fairly accurate, but not always. I opened up some squat exercises this morning and I was standing on the very back of the balance board and I couldn't get my weight back far enough to get the red ball into the shaded area. Definitely not proper form! I'll go back and try it again later today or tomorrow.
My one big gripe is that there are very, very, very few modifications shown for the exercises; the only one I can think of is that you can be on your knees for push ups (it's a pushup to a side arm plank back to push up combination). I think that for people who are mostly couch potatoes this is a big issue. They also don't tell you to use a towel or mat to cushion the knees if your knees are a bit tender. If it doesn't feel right, make modifications that work for you. I think that the modifications are critical to having good form in the yoga and strength training exercises.
A number of the aerobic exercises are more like games. The first one I did was hula hoops. Basically you move your hips in a circle (or just waggle them from side to side) and try to keep the hula hoop spinning. Occasionally another mii will throw a hula hoop that you'll either catch and it'll spin with the other hula hoop or it'll hit you in the head. I've managed to keep four or maybe five hula hoops spinning at once. This is definitely a great aerobic workout. There's a super hula hoop that is similar only you're supposed to spin the hoop in the direction it wants you to spin it in. I'm better going counter clockwise than clockwise.
The jogging games are actually more enjoyable than anticipated. As we all know, I'm not a fan of jogging. You don't jog on the balance board. It detects your movement using the Wiimote. There's a delightful park-like setting where everyone is waving or jogging or both. Kind of weird, but entertaining. There's even a 2 person run so you can run with someone else, but their information isn't saved.
I've unlocked a boxing game and I like it. I also unlocked a more advanced one that requires some fancy footwork. I really suck at footwork, but throwing punches at the bag is kind of fun. It didn't always read the punches I threw using the Wiimote and the nunchuck. That was a bit frustrating.
The most annoying aerobic activity is the step aerobics. It's kind of like Dance Dance Revolution (which I've never played) without the cool music or dancing. You're supposed to step on and off the balance board in time with all the other Miis on this stage. I'm not all that good at keeping time, doing things in sync, or following directions, so I'm really not a fan of this one. Craig is more coordinated and he liked it. He thinks it's a pretty good workout. I don't think it's all that good; I think it moves too slowly to get the blood pumping, but I've been working out a lot longer than Craig has so maybe it's a good beginner workout.
Now for the balance games. For the most part, the games are clever, fun, and entertaining. I just unlocked the last one, so I don't know what will happen next. The tightrope walking game is kind of cool; you can get a bit of vertigo from it. You need to try to keep your feet evenly balanced and take baby steps on the balance board...except when you have to jump. Yes, this is a challenge!
There are two ski related games and a snowboard game. The ski slalom is a big challenge...you shift your weight and try to go through a series of flagged areas as quickly as you can. The ski jumping will really work your thighs because you stay in the squat position and then unbend to jump. Once you figure out where your weight should be, you can get some really good scores. The snowboarding slalom is my least favorite of the three. I just unlocked it last night and I couldn't get the hang of it. I probably won't do it very often, if at all.
There are a couple games that are fairly similar. The first one is a game where you shift your weight to control a platform that tilts in four directions and you try to get balls into a hole in the platform. The second game is your Mii is a penguin on a slab of ice and you tilt the ice when fish pop on to the ice and you try to get your penguin mii to catch the fish. My mii was always landing in the water.
One of the really unique games is a game where you're riding down a river in a bubble and you try to keep the bubble from hitting the river banks. You spend a lot of time on the balls of your feet trying to propel your mii forward. This was a kind of fun game.
I'm forgetting a game, but I really can't think of what it is. The last game is probably my favorite and it's definitely the best way to end your Wii Fit workout. It's a meditation game where you sit on the balance board and you meditate on a candle flame for a couple minutes. I really thought this was beautifully done and it made me feel even more energized after it was over.
At this point I really have to say I like the Wii Fit, but I am still concerned that it might not be all that challenging in a few months. Maybe I'll have to post an update in a few months.
The Wii is a lot of fun even without the Wii Fit. The sports package is entertaining and I bought Craig Mario Cart and that has been a lot of fun as well. I'm really happy to see Craig not lounging on the couch watching some old movie he has seen a half dozen times. Any movement is better than no movement and a little movement will lead to more movement....so I think if we keep playing the Wii and the Wii Fit, we'll both be healthier and stronger. I'll still be doing my other workouts using weights and doing more repetitions... they all have their place.




First Page
1
2
3
4
5
6
7
8
9 10 11 12 13 14 15 16 17 18 19 20 21 22 23 24 25 26 27 28 Last Page

Get An Email Alert Each Time DARTHLAURIE Posts