| | |
| --- | --- |
| | DARA52's Recent Blog Entries |


Tuesday, July 24, 2012
Jedidiah Glenn Austin (my married name)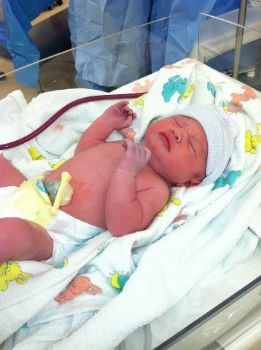 ,

was born on Sunday, 7/22/2012 at 11:23 am, 7lbs, 7oz (anyone in to Numerology?) during a scheduled C-Section. Baby had been breach for awhile so they were prepared. My DH and I were in the waiting room and got to see him about an hour later. So sweet, cute and healthy! 9.9 on the Apgar score.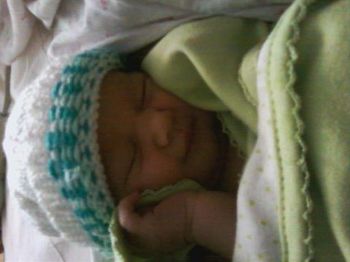 They will be home today so I am still cleaning. Doorknobs, bathroom rugs, etc. Will it ever end??

Missing you all but have been overwhelmed with visitors, nesting and preparations. Baby seems to be a pretty mellow baby so am hoping for some normalcy. :) If that is possible with a newborn. Off to get ready to go to the hospital. Need to drive my son's car home. More pics soon.


Thursday, June 14, 2012
So, not only was I out of town with no internet for 3 days, my PC does not want me to post on my team threads. I get there, read the posts and start my reply and bang! PC shuts down. I am okay logging my food, visiting friend feed and going to people's pages, but no team threads. I will send a note to SP Technical Support and hope they can assist. In the meantime, I am here doing what I can but miss visiting my teams. Will keep working on it.

Have a great week!


Tuesday, May 22, 2012
I gave my DIL a baby shower and I am still recovering. It was outdoors at my girlfriend's house. It is downstairs and I went up and down about 15 times over the course of the day. Whew... my legs still hurt.

But, it went well and DIL was happy and I had fun hanging with my girlfriends who came. Here are some pics:

Annie in front of some gifts. My GFs went in together on the crib. Annie dressed to match my friend's backyard. :)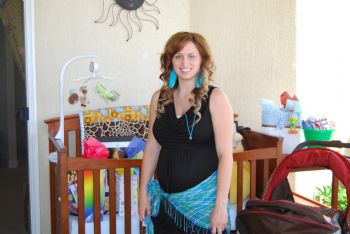 This is the cake. A friend of my DIL's made it. The baby's name is Jedidiah. One of his nicknames is Jedi. Not my idea. :)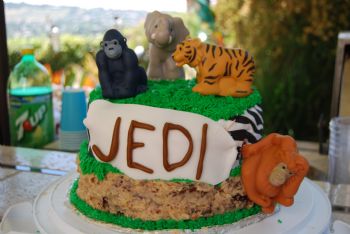 The view from girlfriend's back yard. So nice. I could live there.




Gotta get back to work. But wanted to share. Now for some housework, gardening and getting back to normal.


Thursday, May 10, 2012
When we moved in 4 years ago, we had a family of peacocks in the neighborhood. The papa peacock greeted us by flying onto the roof, and then walking up to the front porch as we inspected the home. The family disappeared after 2 years. We heard the momma hen got taken by a predator and the teenage male was hit by a car. No word on big proud poppa. But, he's back. By himself, but here. This pic was taken at the bottom of our road last night. He was taking a walk up our road this morning but I didn't get the camera in time.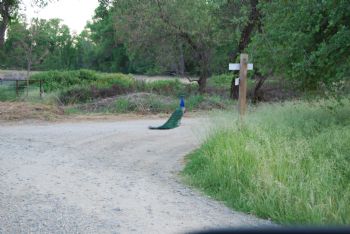 There are not any other peacocks in the area. One of the neighbors thinks that they were pets and someone moved and left them. A number of years ago. But they fly/soar so it would be difficult to keep them. Don't worry. The rumor is that the Senior Mobile Home Park up the road keeps food out for him. :)


Monday, May 07, 2012
So, I went for my annual today. And also to go over lab work from March. It was a new PA, a cute little girl who was very thorough. We talked about my history, etc.

My lab work wasn't great but it wasn't horrible. I already knew that from a phone conversation in March with the receptionist. No meds required. This Dr. office does not believe in excess medication which is why I switched. This PA falls in line with that.

The 3 interesting things. I had lab work done last June. Most of it was the same this time, a little better but not alot. I was disappointed that some of my numbers hadn't improved more except for one she noted. My HDL (the good cholesterol) was 10 pts higher than last year. It was still low, 41, though. But she thought that was phenomenal. She said that most people have difficulty in raising their HDL as it is normally hereditary. ??? She was impressed I did it with diet and a little exercise. I know there is a huge debate out there on how much we can affect our health and how much is hereditary. I don't know. What do you think? I have my thoughts/hopes that if I keep eating the way I have been but up my exercise and lose more weight, I might be able to bring it up more.

The other thing was my Vitamin D deficiency. She says to ignore it if you are eating healthy etc. She doesn't prescribe extra. She said my over the counter 1,000 mg was fine. Maybe 2,000 mg. Otherwise she told me to go on and live my life. That putting more pills in my body was not necessary. ??? Who would have thought to hear that from a Dr.s office.

And last, she said last June my numbers showed that my thyroid level was a bit high. Huh?? Noone mentioned that. She said she will run it again in July this year. I should know more than I do about that but I don't. Off to do my research.

So, that was my Dr. visit. A different one if I have ever had one. Focus, focus, focus! Really want to see some movement in my #s next time around.
1 2 3 4 5 6 7 8 9 10 11 12 13 14 15 16 17 Last Page

Get An Email Alert Each Time DARA52 Posts