| | |
| --- | --- |
| | DANNIELLEFIT's Recent Blog Entries |


Monday, September 22, 2014
During BLC 26, I plan to check in with my team daily and participate in every challenge that is given. I may not be able to get the full points all of the time, but at least I will make an effort. I plan on losing weight each week. I am not aiming for a certain amount, but I plan on losing something and coming close to my weight loss goal for the challenge. I am making it a goal to be sure to get my information posted correctly and on time. I'm planning on this BLC to be the first one where I actually meet my weight loss goal.





Thursday, July 24, 2014
One of the most irritating things that I have come across on my healthy lifestyle journey is the food watchers. You know the people who like to comment about whether or not you can eat that. I know that some may mean well, but others do it just to make you feel bad and so they can gloat about you not sticking to healthy eating.

I have learned to not let their comments get to me. I know that some people donít mean it to be rude, but sometimes we need to learn that asking if you can have that is really not an appropriate question to ask anyone. It doesnít matter if I can or canít have it because the answer will not affect you in any way.

As part of my ever evolving healthy lifestyle journey, I am starting to change myself for the better. I like to use the word diet like its definition, as we all are on a diet as that is what the food we eat is properly referred to as. No longer does it mean a short term period of my life where I starve myself to get to a certain size or weight in a certain amount of time, only for all the weight to come back plus more. My diet is the meals that I prepare for myself each day to keep my body nourished and properly running so that I can get through the day.

I am going to be sure to not let the negative comments make or break my success in changing my life. Itís a lifestyle change. There is no stopping point. When I reach a milestone, it only means that I will set another one to achieve. I will never stop or let others deter me from my goals. I am going to make this change no matter.





Sunday, July 20, 2014
My weight loss journey has really been teaching me things about myself. Iím a perfectionist when it comes to following programs. This can be detrimental especially when you follow a workout program that gives you a schedule for when to do each workout DVD. If I ran out or was short on time, I would either start the whole program again or just stop all together. I would forget that the schedule is just a guide and if you donít follow it exactly, itís not the end of the world. The same would go with diet plans as well. Heavens forbid that I forgot to eat a snack or didnít eat at a certain time of the day. I felt like I had failed and started the program the following Monday.

Well, that was the old me. My focus now is to be sure to attempt the workout and if I find myself not able to follow it as written, I changed things around to suite my situation for that day. Same goes with my eating. As long as I aim at getting in the main meals, Iím doing better then what I was doing in the past. This journey is more than being perfect, its learning what will work best for me to last for the rest of my life. Iím developing a healthier lifestyle, not a short term fix.

June was my turning point. I have been doing the workout program, Les Mills Combat, and I have yet to miss a workout. I am proud of myself because usually I would have missed a few days or had started with day 1 again. What has changed for me you may ask? I have finally found a workout that I donít want to miss. I find it fun, even the 60 minute workout. It helps that I am getting results and others are starting to notice as well. I am also working towards getting a free t-shirt for entering my results.

Starting today, I will start my transitioning of removing wheat from my diet and eventually changing to a paleo diet. I am taking it slowly so that I will be able to adapt to the diet change. In the past when I did cold turkey, I failed and ended up going back to old habits. I have learned that I need to take the change one day at a time and eventually I will be doing it without having to think twice. Thatís a journey in itself.

Now that I have admitted that Iím not perfect, I feel the weight lift off of my shoulders. Perfectionism kills the learning curve of the journey and makes you judgmental of yourself. You will eventually find yourself resenting your attempts to changing your lifestyle and getting stuck in your destructive bad habits. I am grateful for not letting this get the best of me and that I am starting to live and not just exist.







Monday, June 09, 2014
Today is the first day that I will get back to working out. I took some time off because I let my laziness take control of my life. Yes, even those that want to promote a healthier lifestyle falls off course sometimes. This time I want to achieve a goal that has evaded me so much. I want to finish a full round of TurboFire.

This goal seems to always get away from, at least that is until now. I am taking it one day at a time instead of thinking about it in the full 12 weeks period. I am going to change my eating as well so that I can be successful. What good is exercising if I donít work on cleaning up my eating as well?

Now that itís summer vacation for my daughter, I can now focus on getting in my exercise and eating healthy as well. I am getting a schedule in place as I will have to take into consideration that I will be going back to school in the fall (yeah!). I make one for the rest of this month and then starting in July, I will change things to fit what I will be doing in fall so that I can get use to the schedule a month in advance. I know I am and I know this should help me with the excuses that I know I will make.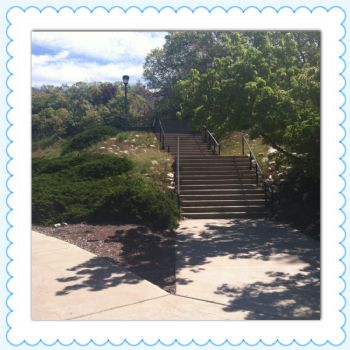 Starting back to school has me revisiting a goal that I have been wanting to achieve since the early beginnings of my weight loss. There are some stairs at my university that I have always wanted to walk up. The picture above doesnít do them justice. There are A LOT of stairs and I know that if I were to try them now, I would only make it up to the part where there is a bench. I want to get in better shape and attempted them when I finally graduate. I hope to try them next summer.

Okay, now that I have some attainable goals set for myself, now itís time for me to keep myself on target in reaching them. What good is making goals if I donít work to achieve it? Time to get focused as this for sure will be the LAST time I will start again. No starting over anymore, time to keep on the course no matter what.






Wednesday, February 26, 2014
I can't believe how fast February went. I guess when you have plans to look forward to, the month flies by. Anyways it's time to set some goals for March. My goals are:



Do a full round of Turbo Jam


Do one round of Super Shred Diet

I need to get my butt into gear, so next month is all about kicking things up a notch. I know that the combination of Turbo Jam and Super Shred I will do just that. I will also make it a goal to post everyday as way to keep myself accountable.



1 2 3 4 5 6 7 8 9 10 11 12 13 14 15 16 17 18 19 20 21 22 23 24 25 26 27 28 29 30 31 32 33 34 35 36 37 38 39 40 41 42 43 44 45 46 47 48 49 50 51 52 53 54 55 56 57 58 Last Page

Get An Email Alert Each Time DANNIELLEFIT Posts