| | |
| --- | --- |
| | DANIELLESAUTUMN's Recent Blog Entries |


Friday, January 21, 2011
AHHHHHH!!! I am almost there, my first personal goal of 255lbs. This was supposed to happen by February 10th. Feb 10th is when i will see people I haven't in about a year! Some 2 years. My best friend's family has taken me in and every year they get together with neighbors for a Ski trip. The first few years I went we stayed at this beautiful condo on Whitecap Ski hill- literally on the hill, so ski out the back door to the lifts. Wicked awesome.

Well last year my friend and I were too large to go ski/snowboard (her/me) and many other people didn't go either because they just don't ski. We've got a group of 15 and maybe 5/6 went. So the price was going up also, and we all decided to take a "Non-Ski Trip" to a cabin in Door County instead. It was different... a little boring without the amazing hill out the window, but fun. We have "2-hour feedings" where food is just out on the counter all the time. Katie and I are the biggest people there and she has always gotten comments and concerns about her weight from some people. Jerks. Theses trips are all about drinking and eating- get off it!

But together we have lost 95 lbs and we both are looking WAY better than the last time we saw the family and neighbors. So it's going to be exciting for them to see us, hopefully they will be able to tell and be excited for us! I look foreword to this every year, and it is such a great time. The people that go are pretty wealthy, so this is their time to cut loose and have a nice time. It's funny because I don't know them outside these trips and get togethers- it would be funny to run into them at work or something.

I REALLY want to go snowboarding before this winter is done, maybe that will be a nice present to myself if I get below 250 by the trip. I will just take a random day off work and get up to a ski hill. I owe it to myself to try it again, plus, I am not as heavy, so it might work out. I keep remembering 4 years ago when I put on that board at pine mountain, used the step=in bindings and just glided down the hill- no problems. I felt invincible! Even tried a little jump. OOOO.

So this week I am really going to watch what I put in my mouth and keep the random snacks to a minimum (it's super hard in an office with a "Treat Room") But if I want to get the 2.7 lbs off I need to focus. I don't think I have really TRIED to lose a specific amount of weight. Im kind of scared that it won't happen. Then I will be very discouraged. BUT even if I lost 2.5 lbs or 2, that's better than nothing.

BRING IT ON!! Send me some love and support! Can I do it??!









Wednesday, January 19, 2011
Now i'm like.....4. I woke up this morning, I felt good. Ate some waffles, drank some coffee and made it to work right on time!

Then the crap with work started, and I am so overloaded it sucks. Next I open my bank account to find it $17 in the hole because I totally forgot about annual membership fees at Gold's Gym. And my next payday is the 28th.. awesome, im so screwed. Plus I have a trip coming up soon that I need money for, and it's going to be late, just like me paying my cable bill. Money really blows, and I hate it.

Happy Wednesday.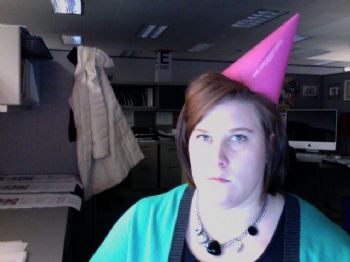 Then I ate a small brownie (one of those grocery store made ones with frosting) and immediately felt barfaliscious. I feel better now, but I think all that sugar/fat made my body tweak out.

THEN I get all excited because President Obama is going to be in Manitowoc (like 45 minutes away) next Wednesday. I tell the people I sit with and this one lady scoffs at me. Apparently I sit with all republicans. She said she didn't think the "Don't Ask, Don't Tell" rule shouldn't have been repealed. I IMMEDIATELY wanted to hurt her, but stuck with ignoring her argument and typing an email. Some people, man! Obama is great in my opinion and I agree with everything he is doing. This is my blog and I can express my opinion, so don't bother arguing with me. But if you support my Democratic views, support all the way!

Yesterday i felt like a fat turd and had a crappy workout. My energy took a vacation or something because I just was NOT up to running. So I opted for 20 on the elliptical and walk/ run for two 5 min segments.

Hopefully today I am feeling up for it because I think I need to expel some of this anger i've got going on. Plus stress is starting to affect me with my finances. Ill just sweat out all that blackness in my aura.

My dad, the lumberjack, always tells me to cleanse my aura... what a nerd! He's probably the manliest man you'll meet, but he tells me to meditate and cleanse my aura. Also he can write like friggin Poe... I inherited that from him. Thanks Dad!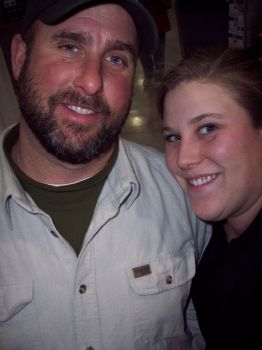 Monday, January 17, 2011
This weekend was a bit of good and bad. Saturday was AMAZING as I had the best Zumba class ever. The Zumba lady threw in 3 new dances and songs which totally kept me going. I was getting a little sick of the same dances and songs over and over. But it was a hard a$$ workout and I felt great after!

My friend and I decided to just wear ourselves out totally and do some intervals on the treadmills after. I ran for about a quarter mile and walked another quarter. I was so excited because I got her to run. She is a bit heavier than I and has a bad knee and ankles, but I told her she could do it. And she ran for just a minute, then another after some walking. But she has been getting frustrated with not seeing the results she wanted on the scale. So I told her to try to change it up a bit, maybe try running for a small distance. She totally dismissed me, saying she doesn't run and won't. But since she's so frustrated I think she finally caved. I was glad to see how proud of herself she was after. A new motivation to reach for.

As for myself, I am going to just keep trying to run. Either faster, further, or harder. I am still worn out from Saturday that I will just go Tuesday-Thursday this week.

Saturday was an epic game with the Packers KICKING Atlanta's Facon-BUTTS! I don't usually cheer my home team on (I live 2 blocks from the stadium though!) but this was a big game. So I drank entirely too many beers (11 to be exact) and ate some Chinese before bed. I wasn't drunk either- no hangover whatsoever! Not sure what was going on, but whatever. I just drank 24 weight watcher points for nothing!

I am going grocery shopping tonight so I will have a fresh supply of food to curb my eating out need. Whenever I get low on food, I look to eating out. I had taco bell last night, but I stayed within my points and got somewhat healthy stuff.

I need to get back into the gym and work it. I feel lazy today- and I hope it's just a case of the Mondays. I don't want to get into another funk where I don't care what I eat and don't feel like working out. I have 3 pounds to lose this week- I can do it!! I WILL work myself out tomorrow- hardcore!!!









Friday, January 14, 2011
I cannot believe it. I am in the 250's! I started at 300 lbs and am down to 259.9- JUST in there. But I am feeling great and my workouts are going amazingly.

Last night I ran .75 mile non-stop, then ran another .25 mile after a walking rest. So I ran a mile last night- that's something I could only dream of doing when I started! My ultimate goal for this year was to be able to run a mile without stopping. I am confident I will get there. Last night proved that.

I am only 1/4 of the way into my goal loss of 150 lbs, but hey this is a great milestone for me and I am so proud of myself. The holidays were really difficult- I only lost 7 lbs in December! And in the past two weeks i've lost 9.5!

I don't know what made my body suddenly start working hard and losing weight, but I LOVE it! Probably because I stopped living in Chocolateville from Christmas and ate healthy fruits and veggies daily.

40 down.... 110 to go! Haha. But thinking that this will take at least another year to do, helps me stay focused and work on little goals. Big picture can be daunting- but day by day is all anyone can do.

Here is a before and present picture that I take at work every week- you can't tell a whole whole lot, since it's only top half of my body, but its kind of neat to see a change.

June 22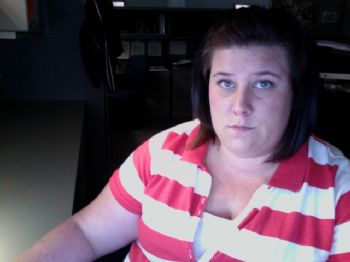 January 14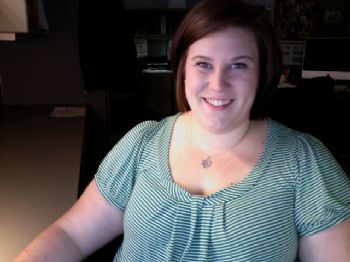 Thursday, January 13, 2011
I just had to share with yall how awesome my food charts were for yesterday. I was in my ranges for everything. It was exciting. And I think I are fairly healthy yesterday too.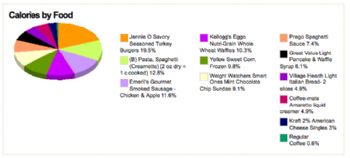 And here is today's charts- also pretty good. Not enough fat though :P



I love my new healthy lifestyle! Fruits and veggies are friendly to me lately!



First Page
1
2
3
4
5
6
7
8
9
10
11
12
13
14
15
16
17
18
19
20
21
22
23
24
25
26
27
28
29
30
31
32
33
34
35
36
37
38
39
40
41 42 43 44 45 46 47 48 Last Page

Get An Email Alert Each Time DANIELLESAUTUMN Posts