| | |
| --- | --- |
| | D710DANCE's Recent Blog Entries |


Sunday, September 27, 2009
Okay, so here are the rest of the pictures that I wanted to share from the convention, there are seven more instead of five :)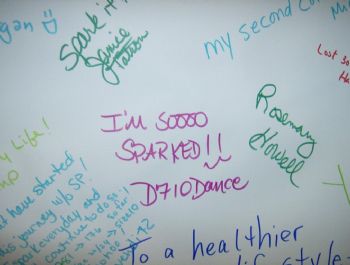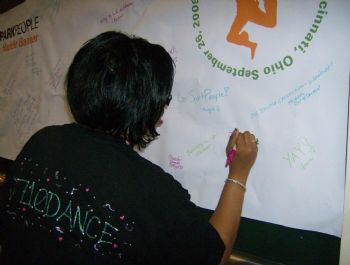 Me Huddling!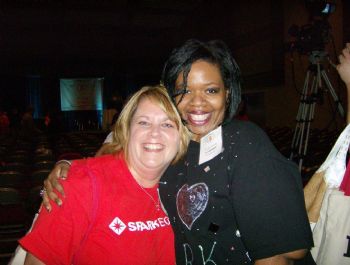 Me and STEPHAM1 (I think I gave her about 1,000 SPARK Hugs), I LOVE the BAHAMA MAMAS!!!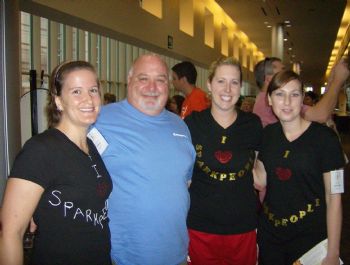 Some of my new SP Friends and members of the Louisville Losers Team. They invited me to join the team and they will be making plans for a SPARK Rally in Louisville. Can I get a Woo-hoo???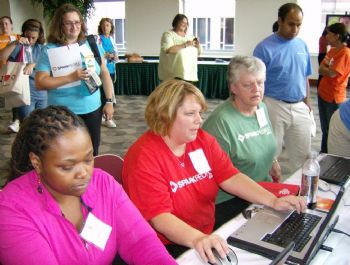 NEWBEIN, STEPHAM1 and CATHYJO57 (STEPHAM1's Mom) pre-ordering their copies of THE SPARK.
As of 9/26, the book was #77 on Amazon.com...WOO-HOO!



Member (~INDYGIRL) of the SparkPeople Secret of Successes Panel Discussion (she's lost about 100 lbs.). She's also a fellow DONE GIRL!

She was previously confined to her bed and started out exercising 2 mins. a day with 2 lb. weights. I loved her quote when she said, "If you get a traffic ticket, you don't go out and break every traffic law for the rest of the day. So if you eat a slice of pizza, you don't need to go out and eat an entire pizza. If you have to say to yourself I might as well...think I might as well not...instead."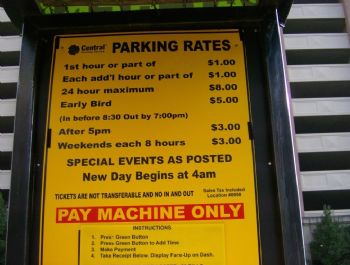 Mmmm and speaking of tickets, this is the evidence that I will be using to dispute my parking ticket. Anyway, the Devil is a liar...nothing could've ruined the "awesomeness" of the day!















Sunday, September 27, 2009
I have been a member of SPARK for over two years now and I am unashamedly a huge SPARK Fan. Sparkpeople is way more than a weight loss informational website, it is truly a community, and to me the friends that I have met on SPARK are just like family. So it goes without saying that I was soooooooo looking forward to attending the SPARK Convention in Cincinnati.

Being the avid SPARKer and Event Planner that I am, my expectations for the convention were really high and I am proud to report that my expectations were exceeded. You could tell that the SPARK staff meticulously planned every detail and not only that you can tell that they have a sincere passion for what they do.

Well as a result of hanging out with NEWBEIN, meeting some of my longstanding SPARK friends like GRANTM, 2008LYNN (fellow CARDIO CONNOISSEUR) and STEPHAM1 (fellow Bahama Mama), making new SP Friends, hearing the testimonials, listening to the highly informative workshops, the 500 SPARK Points that I racked up throughout the day, talking to the SPARK Coaches and Staff not to mention meeting Mr. SPARK GUY himself Mr. Chris Downie (SparkPeople Founder and CEO) I have been RE-SPARKED! Not just about achieving my final weight loss goal of 190 lbs. but I've been RE-SPARKED about life in general.

Now more than ever I am determined to make my life an adventure and encouraging EVERYONE that I come in contact to do the same.

Can I get a WOO-HOO???





So without further delay, here are the pictures from the highlights of the Spark Your Life Convention.

If you are on FB, you can access this link to my photo album of the convention to see all 73 pictures.
www.facebook.com/photo.php?pid=30221
314&id=1535315055&comments=&alert=#/al
bum.php?aid=2014338&id=1535315055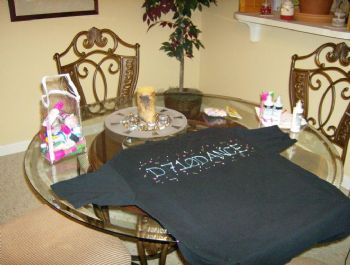 The making of my homemade SPARK shirt. Like Mama always says, "take what you have and make what you want."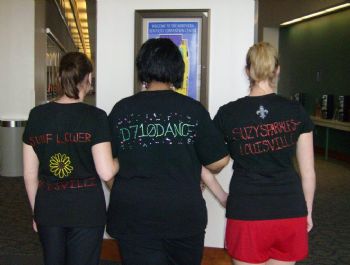 The Louisville SPARKers representing the homemade shirts!!!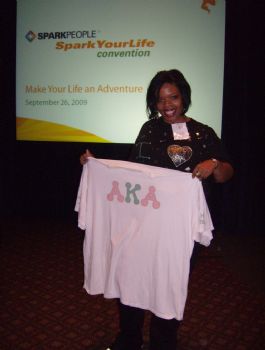 "This was the Lord's doing, and it is marvellous in our eyes..." Mark 12:11 KJV
My old 5X t-shirt...SKEE WEE!!!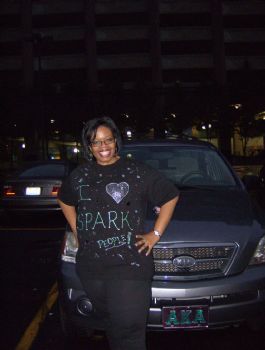 Just arrived after a 2-hour drive in the fog, on a curvy road, with parts undergoing construction. At times we felt like we were a part of Pee Wee's Big Adventure!!! LOL =D



Me and Coach Becky. During her workshop on "What Type of Eater are You?" She reminded me that food is not evil, you just need to have balance. ["Do not call anything impure that God has made clean." Acts 11:9B NIV]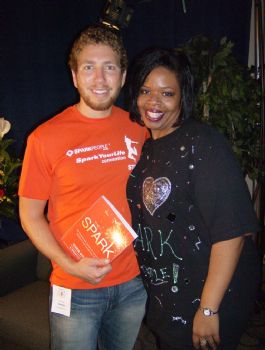 Me and Grant one of my good SP Friends



The Interview (deep in thought)...don't cry...don't cry all of the M.A.C. is at home!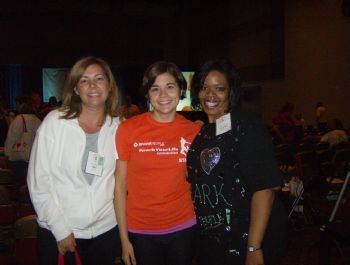 Me, Coach Nicole and her Mom...Moms are sooo cool!
I wish that Mama (DDROSE) could have rolled with us...and yes, Mama is a fellow SPARKer...I know I know...she is too COOL!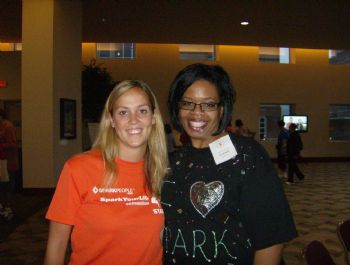 Me and Jennie U. (SPARK Staff Member)...she's a sweetheart!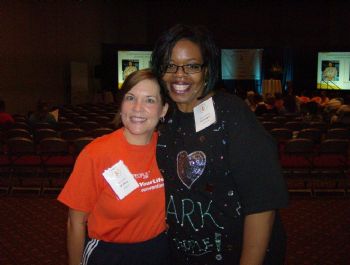 Me and Coach Nancy...she almost caused me to ruin my make-up! She has lost over 70 lbs. and will be running in the upcoming Chicago Marathon. She truly has a heart for keeping all of us SPARKers motivated. Her articles on motivation have been a blessing to me and helped to get me back on track after 5/7/08...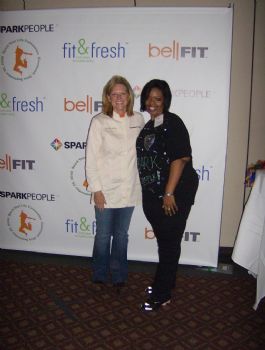 Me and Chef Meg, the new addition to the SPARK staff. She is going to be an excellent asset to SparkRecipes.com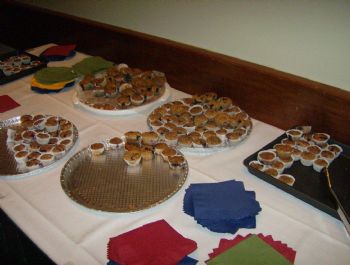 Chef Meg's Blueberry Flax Seed Muffins....DEE-LISH!!!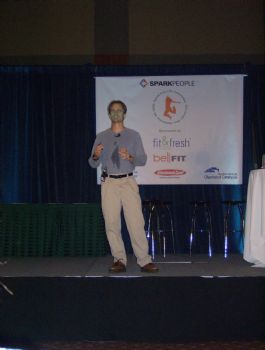 THE SPARK Guy's Presentation-Make Your Life an Adventure!!
Chris Downie, SparkPeople Founder and CEO
He spilled some water on his shirt during his speech, but he used that as an example as to not allow minor setbacks to get you off track.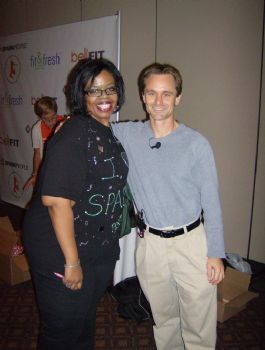 I almost passed out when he said, "You're Deondra...I know your story."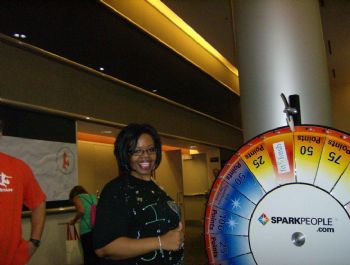 That's the most SPARK points that I have received in a LONG while...WOO-HOO!!!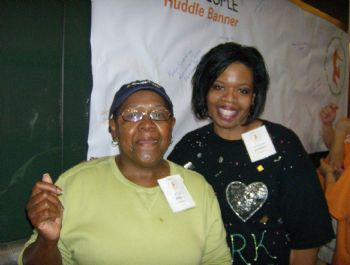 Me and 2008LYNN (fellow CARDIO CONNOISSEUR) we've been SPARK Friends for about 2 years and this was our first time meeting each other. She had just finished the 2 mile Spark People Morning Walk...keep in mind this is someone who "claims" that she doesn't like cardio...I can't tell. To date she has lost 60 lbs. and has an amazing story to share!!! WORK IT LYNN!



Representing the CARDIO CONNOISSEURS!

Okay...so I have five (5) more pictures that I absolutely must share, but I'm getting an error message each time I attempt to post them. Perhaps, I have exceeded my limit, so this blog is to be continued...







Monday, August 31, 2009
There are four areas in my life where I need a supernatural breakthrough, not just for me but for my loved ones as well (this includes my family, friends, co-workers, neighbors/the Louisville community, Dr. Cosby and the St. Stephen Church Family--all campuses, workout partners, SPARK Friends and Facebook Friends). When I say supernatural breakthrough, I'm not talking about magic, chance or hocus pocus, I'm talking about I need God to move and for His will to be done.

So with that being said, I am planning to start a 100-Day Corporate Fast beginning on 9/1/09 and concluding on 12/9/09.

Since my recent status updates I have had several inquiries as to what fasting is all about. According to Donald S. Whitney in his book "Spiritual Disciplines for Christian Life", he defines fasting as "A Christian's voluntary abstinence from food for spiritual purposes; the voluntary denial of a normal function for the sake of intense spiritual activity; fasting does not always deal with abstinence from food--sometimes we may need to fast from involvement with people, or from the media, from the telephone, from talking, television, soft drinks, shopping [have mercy], and etc., in order to become more absorbed in a time of spiritual activity.

Whitney defines a Congregational or Corporate Fast as an assembly or group fasting together (refer to Joel 2: 12-32 and Acts 13:2-3 for Biblical examples of Corporate fasting).

***NOTE: I am not planning nor am I encouraging anyone to abstain from food for 100 days.***

For several reasons, one if I were to do something that intense it would be considered an Absolute Fast (Ezra 10:6, Esther 4:16 and Acts 9:9). Secondly, I would do it privately--because it's Biblical (Matthew 6: 16-18). Thirdly because I would not want to adversely influence people with medical conditions that are not permitted to abstain from food for any period of time and last but not least I DO NOT want SPARK to shut my page down (the Spark Police are no joke...LOL!).

Anyway, so during this fast at 6:30am and 10pm I will be praying about FOUR different areas and will be specifically applying God's WORD to those areas (hence the play on words in the title of this blog "Fast Four-WORD"). Those categories and corresponding scriptures are:

FAITH - There are certain aspects in life where I need to trust GOD more and exercise faith. So I will be praying the following scriptures for myself and for my loved ones:

"The father instantly replied, 'I do believe, but help me not to doubt!' " Mark 9:24 NLT

"Trust in the LORD with all your heart; do not depend on your own understanding. Seek His will in all you do, and He will direct your paths. Don't be impressed with your own wisdom. Instead, fear the LORD and turn your back on evil." Proverbs 3:5-6 NLT

FAMILY/LOVED ONES - In the past few weeks I have had a number of conversations (online and offline) with people who are facing all types of challenges and really need direction as to what to do about decisions that they need to make and obstacles that they need to overcome. In other words, they/we need a breakthrough!!!

So I will be praying the following scripture for myself and for my loved ones:

"The LORD is close to all who call on Him, yes, to all who call on Him sincerely. He fulfills the desires of those who fear Him; He hears their cries for help and rescues them." (THAT'S GOOD NEWS!!!) Psalms 145: 18-19 NLT

FINANCE - In this economy, I believe it's self-explanatory why this will be an area of concentrated prayer.

I will be praying the following scriptures for myself as a member of management, my loved ones and specifically for my place of employment:

"Give me wisdom and knowledge, that I may lead this people" 2 Chronicles 1:10a NIV

"And my God will meet all your needs according to His glorious riches in Christ Jesus." Philippians 4: 19 NIV

then last but certainly not least....

FITNESS - For this category, I will be praying for willpower for myself and my SPARK friends to resist the Fat Devil with his varying forms of temptation and Kryptonite.

Along with praying I am planning to do a modified fast and not eat after 10 pm EST. During these 100 days it is my goal to log a minimum of 300 fitness minutes weekly, drink a minimum of 10 C. of water a day and consistently update my Spark Nutrition Tracker.

I will be praying the following scripture for myself and my SPARK Friends (specifically the members of the CARDIO CONNOISSEURS, the DONE Girls and of course the Bahama Mamas):

"Dear friend, I am praying that all is well with you and that your body is as healthy as I know your soul is. " 3 John 1:2 NLT

In closing, if you're reading this blog and would like to join me in this Corporate Fast please feel free to do so...no pressure! If there is something in particular that you would like prayer for, feel free to confidentially send me a SPARK Mail.

I'm not trying to be preachy nor is it my intent to sound "Holier than Thou", all I know is that *DAILY* I see people who are STRUGGLING, STRESSING and SUFFERING. We keep trying to do this thing called life on our own and we just need to let God be God and let His will be done!

Furthermore in my 38 years I have witnessed God do some awesome things firsthand and I know that there is power in prayer. So I am ready to Fast Four-WORD, claim His promises and see what He has in store!!!

"For every one that asketh receiveth; and he that seeketh findeth; and to him that knocketh it shall be opened." Matthew 7:8 KJV

"And all things, whatsoever ye shall ask in prayer, believing, ye shall receive." Matthew 21:22 KJV

"Now glory be to God! By his mighty power at work within us, He is able to accomplish infinitely more than we would ever dare to ask or hope. May He be given glory in the church and in Christ Jesus forever and ever through endless ages. Amen." Ephesians 3: 2-21 NLT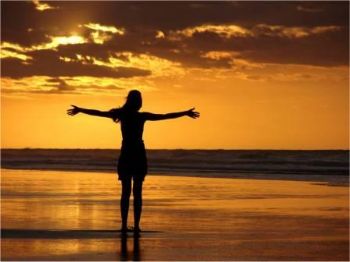 Saturday, August 22, 2009
Last week while doing a CR workout, I was admiring the abs of Jaana (one of the CR instructors). Although I don't believe my waistline has the capacity to be as tight as hers, I do want to achieve my ABSolute Best...it can happen! (Big Smile)

Well this week the Bahama Mamas will be helping me to get a little closer to my goal as we enter the challenge for week ten...it's all about the Core...woo hoo! Listed below are the directions and tracker for this week's challenge. It is my goal to help the Bahama Mamas rack up the points while I whittle down my waistline...SHAKE IT BABY!!!!










*************************************
WEEK TEN CHALLENGE

Work those cores ladies!! We need strong abdominal muscles to power us through all of the movements we are demanding of our bodies. This week, you get one point for every core exercise you do this week. If you do 100 crunches, you get 100 points. Same goes for 100 planks, bicycle crunches, oblique twists, or anything else you fancy. Everyone looking to move their team up in the ranks has a chance at some serious points this week....just don't forget to stretch!

Template:

*************************************
WEEK TEN CHALLENGE
Core Challenge

A. Work your core. For every crunch, twist, bend, etc that you complete this week you will earn one point. The sky is the limit, there is no scale or cap on points this week!

Crunch Tracker
8/22 Saturday: Rest Day #1

8/23 Sunday: Rest Day #2

8/24 Monday: 1752 (Secret to Sexy Abs)

8/25 Tuesday: 295 (250 Abs in a Hurry & 45 Cardioke)

8/26 Wednesday: Rest Day #3

8/27 Thursday: 2386 (Salsa Blast [this number is low, Jaana and Julia were moving so fast I couldn't keep up with the count...LOL!])

8/28 Friday: 2500 (Merengue Mania [this too is a low-ball number, they were just moving too fast); 70 Oblique Twists on the Ball with Weights

Total Points for Week 10: 7,003
*************************************






Saturday, August 08, 2009
Hi All,
I have been so behind on responding to and checking on all of my SPARK Family until I have grown ashamed of myself.

I know it may appear to be lazy by sending out a mass email and posting this blog, but I didn't want another moment to pass without my closest SPARK Friends knowing that just because I may not have *talked* to you in a while or been as active on the boards does not mean that you're not in my constant thoughts. It is partly because of your postings on the team threads, comments on my blogs/page/status updates, and SP goodies that I have been able to keep my final goal in sight.

It is my hope and prayer that you are still on this journey with me and that you're staying focused.

FOCUSED on...your daily water intake
FOCUSED on...getting your cardio on
FOCUSED on...making healthy selections
FOCUSED on...getting your rest
FOCUSED on...taking time to meditate and pray
FOCUSED on...becoming the best you that you can be!!!

Enjoy your weekend and know that I love ya' more than my costume jewelry collection!!!

Hugs,
Deondra :)




"I constantly remember you in my prayers." 2 Timothy 1:3

"I thank my God upon every remembrance of you." Phillippians 1:3



First Page
1
2
3
4
5
6
7
8
9
10 11 12 13 14 15 16 17 18 19 20 21 22 23 24 25 26 27 28 29 30 31 32 33 34 35 Last Page

Get An Email Alert Each Time D710DANCE Posts