| | |
| --- | --- |
| | CYCOIVAN's Recent Blog Entries |


Monday, November 19, 2012
As I mentioned last entry, my wife and I celebrated our 10th anniversary this weekend by vacationing in the Portage / Baraboo / Wisconsin Dells, WI area (where we were married). Saturday and Sunday were just as great as Friday was.

We slept in a bit and then went to the Broadway Diner in Baraboo where I may have had a slightly unhealthy choice in the Reuben sandwich, I paired that with a black bean/corn salad that was excellent.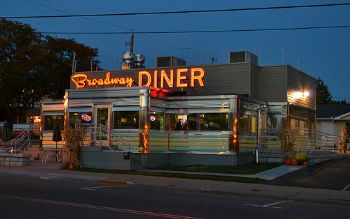 Good thing that I did eat something a little more hearty because we went hiking at Devil's Lake State Park after that. I was a beautiful day and we decided to be adventurous and hike up the bluffs.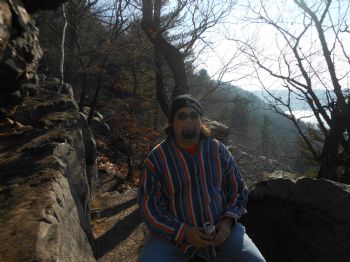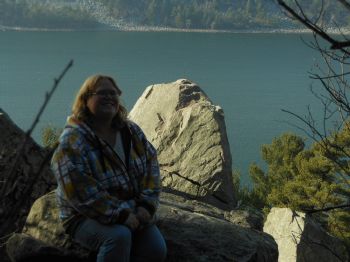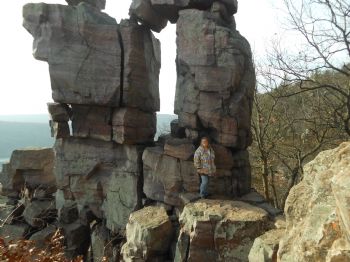 The Devil's Doorway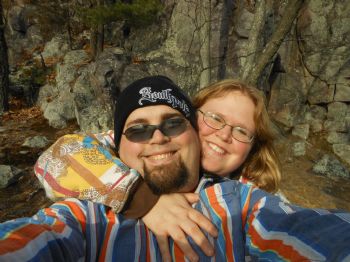 So getting up there was a chore but getting down? That's the fun part, you either turn around and take the long way or you take one of the 3 trails that go straight down the cliff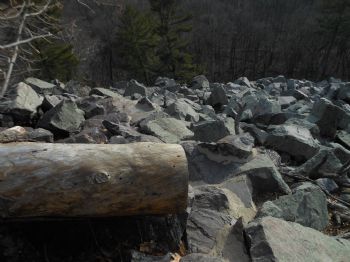 Yes, this is on the trail....You can tell by the small patches of concrete to hold the stones together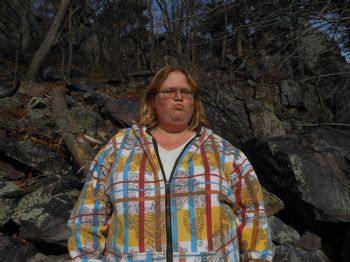 The Mrs. was not pleased with this trail :)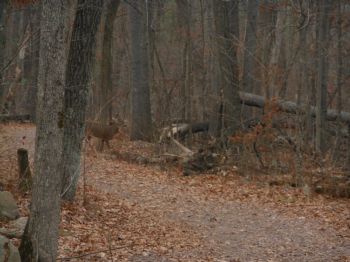 It was worth it at the bottom because we had a group of 5 deer pass right in front of us. Too bad I didn't have a gun or a hunting license.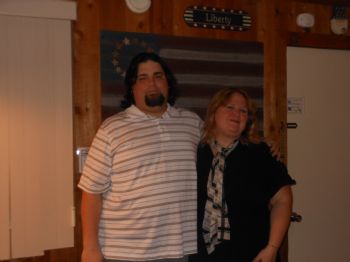 Good news is that no one died and we made it back to get dressed up for a night on the town

That night we went out to a place one of our friends recommended, the High Rock Cafe. It was probably the best meal we had all weekend, we started with the Gilly Goat (feta cheese dip with olive oil, roasted garlic and red peppers with sourdough bread), then shared the Pork Brisket w/ mashed sweet potatoes. The highlight of the night was a slice of cheesecake with Pop Rocks on it. It sounds really dumb but it was awesome.

We then went to go see Skyfall. It's definitely the best Bond movie of the Daniel Craig era and I would put it up in the top 5 w/ Goldfinger, Goldeneye, Man with the Golden Gun, and Casino Royale (I like gooooold). There were a lot of brilliant action sequences, an actual plot, no jittercam, and Javier Bardem is creepy as hell. It certainly finishes the reboot of the franchise and I look forward to future movies.

You can definitely tell that my wife and I are committed to being healthy because on Sunday we spent the morning hiking again and then spent 2 hours at a grocery store

For anyone in Wisconsin who's been to a Woodman's you'll understand why we took so long, they're probably as big as any Sam's club or Super Walmart but all food. We found so many good deals on healthy food, we stocked up on quinoa, flaxseed, and steel cut oats among others. I had the steel cut oats today for breakfast and I think I like them more than the rolled version.

Even with all that good food, I and my wife still managed to lose a pound over the weekend each. I'm really proud of us for being able to maintain the balancing act with diet and exercise when away from home and I'm looking forward to year 11 of our marriage




Saturday, November 17, 2012
I'm having too much fun this weekend to track my food. My wife and I are celebrating our 10th anniversary and we've been running all over today. I'm pretty proud of ourselves though, we ate out for lunch and dinner and for lunch we shared a Seafood molcajete (fish, shrimp, scallions, zucchini, nopales catcus, and more in a traditional cast iron molcajete). Even then we had maybe half the basket of free chips and half the molcajete and now have the other half for when we return Sunday.

We ate dinner at my favorite restaurant, The Barn (named as such because, holy crap, it's actually in a barn

) It's known for it's extensive beer list, and while I did knock back a couple I kept my entree carb free so my blood sugar shouldn't get all wacky on me. I had Mediterranean Chicken (grilled chicken breast, kalamata olives, feta cheese, spinach, and tomatoes) btw which was the bomb and definitely something I think I can pull off at home. Also for any beer connoisseurs out there, I highly recommend the New Holland Brewery Dragon's Milk, but not so much Furthermore Brewery's Fatty Boombalatty. The former is a full body dark roasted beer that went down real nice with the chicken. The latter will only pique the interest of those looking for the bitterness of an IPA. I myself am not big on IPA's or any heavy hopped beer, mostly because I get wicked heartburn from it.

All the food talk is well and good, but I am running into a bit of a problem, because these restaurants are small buisnesses, it's not like they have nutrition info readily available, so I have no idea exactly how much of what I ate. I suppose I shouldn't worry so much but I do have a tendancy to put weight back on when I let up for even a day. I'm not looking forward to stepping on the scale Monday morning. I'm hoping to burn off all these calories when me and the missus go hiking in Wisconsin's Devil's Lake State Park. Assuming we don't kill ourselves on the bluffs, it should be a pretty strenuous hike. Hopefully I should have pics of it all tomorrow.

Good night to all my fellow Sparkers

EDIT: OK, I felt guilty about not tracking at all and kind of half assed it. Final Verdict: I probably went over on calories, but it wasn't from too many carbs or even fat surprisingly, I ate too much protein....that can't be too bad right? Obviously something you don't want to do on a daily basis but it could be worse





Wednesday, November 14, 2012
Since I've blogged, over 18 months actually. So much has changed which I'll try to get into in more detail down the road. The short of it is that I was going to restart the diet and exercise routine again because I had put on all the weight I lost the 1st time, but because of many, many other issues, I just couldn't find the motivation. Turns out Diabetes is a hell of a motivator.

I was diagnosed almost a month ago and have dropped about 20 pounds, which added to the 30 I lost while my blood sugar was out of whack means I've dropped about 50 in 3-4 months. The way I feel now, I feel so dumb for not doing this sooner. I'm way less depressed, I have more energy, and I think my Sleep Apnea is going away too (thank Jeebus!)

Things as far as my health are looking up now....just have to work on the rest of my life :) But like the Beastie Boys, I can't, I won't, and I don't stop (unless someone dies, then that kind of puts a damper on things) RIP MCA





Wednesday, February 23, 2011
I'm inventing a new diet:

Step 1 - Take your normally balanced diet and eat a ton of sweets
Step 2 - Panic
Step 3 - Plan on cutting back on fats and absolutely no sugar. There will be no compromises on this step.
Step 4 - When you think that's a load of crap and eat sugar anyways, I come over and cut off a leg while screaming "SEE WHAT YOU'VE MADE ME DO!!!!!"

I call it the Scott Walker diet



OK, so it's a little hyperbolic, but what the government is doing to Wisconsin is just sickening. I don't want to get into it too much, but the only good thing about all the worrying about whether I'll have insurance or a job at all in next month is that I'm too depressed to eat. I just want to know, because I may have been sleeping for the past 12 years, but when the hell did public unions become the sole reason why states can't balance they're damned budgets? When did working in a union make you a tool of the devil as far as the gov't is concerned. This economy has been crap for 10+ years now, and it's only right now that we need to dissolve the public workers' unions to save our state from a budget crisis?

Seriously? Really? What a load of crap.





Saturday, January 22, 2011
It's been a while since I've blogged or have done anything on Sparkpeople. A lot of it has been due to a hell of a lot going on (new baby, kid #1 starting 1st grade, deaths, depression, cats and dogs living together). However, I've decided to make a new years resolution and stick to it for a change. Technically it's several resolutions, but they all point to the #1 resolution and that is to turn my life around. To that effect, I have enacted the following decrees:

1) Lose 50 pounds by the end of the year.
2) Keep a budget and stick to it
3) Put $1000 away in savings this year
4) Cut the credit card balances by half
5) Brush my teeth daily
6) Try not to be such a lump at work

Results so far have been promising:
1) So far I've lost about 10 pounds since 1/1/11 and have been active on Sparkpeople everyday.

2) I was going to use Mint.com for my budgeting, but it doesn't work very well with my small bank so I have purchased MS Office for my budgeting and bill reminders. I wanted to use OpenOffice, but it work with the Excel spreadsheet I set up. Speaking of, if anyone wants a copy let me know. With the tools I have now at my disposal, I now know where all the money is going and why and can plan ahead much better for future expenses. It also helps that I got rid of cable this month and will be dropping AT&T mobile like a bad habit in April.

3)After 4 weeks (I started this one a little early) we've put away $105 into our savings, and another $60 toward next Xmas.

4) We've also paid almost $300 towards the cards (of a combined $5250 balance)

5) My teeth are getting pretty white and they don't smell like a dead hooker anymore.





6) I've been making myself so busy at work that I don't have time to read all the news stories about how (Scott) Walker, Budget Ranger, wants to screw up everything with the state agency I work at. Because THAT would be depressing.

The upshot is that the depression I was experiencing has abated....mostly. I still have some bad days, but not many and I'm hoping that by Spring things will be going even better and I won't have anything to be bummed out about

I am The Dude and I approve this message.



First Page
1
2 3 Last Page

Get An Email Alert Each Time CYCOIVAN Posts