Sunday, April 14, 2013
Last week, I had my well-woman exam, and when I stepped on the scale at the doctor's office I was utterly shocked.

205 pounds!

I was right back up to the weight that I'd been at when I came home from the hospital after having my son. But more importantly, this weight is sitting differently, because I gained it differently.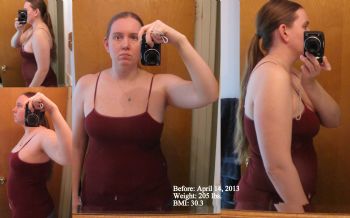 I've made this before collage so that I have a benchmark of where I'm coming from. I've never done this before and I hope it helps. Except for pregnancy recovery (which was super quick), my BMI has never been into the obese range. I'm so baffled and a little ashamed.

Here's some thoughts on how I got here:

I'm currently a third year PhD student, my son is 20 months old, and my husband works full-time while going to school part-time. Due to finances, we acquired a roommate in the fall (she works three jobs, and takes classes part-time), and we have two cats and a dog with an anxiety disordered. We live in tight quarters, and we're all extremely busy. Due to a number of reasons, I've ended up being the one who does most of the cooking and cleaning. Also, our diet has taken a sharp downturn since my husband was laid off of his last job in 2010. This is mostly due to money.

I also haven't worked out regularly, truly regularly, since before my son was born. Last semester, for four weeks, I went to the gym twice a week and the bike trail on a third day. This quickly got thrown out when I was no longer able to keep up with my work.

This is all a long way to say it's time reprioritize. Here are my weight goals. I'm going to try to work out what this looks like practically over this week.

1) 200: 5 pounds lost
2) 195: 10 pounds lost
3) 190: 15 pounds lost
4) 185: 20 pounds lost, 10% bodyweight
5) 180: 25 pounds lost, half-way there!
6) 175: 30 pounds lost
7) 170: 35 pounds lost
8) 165: 40 pounds lost
9) 160: 45 pounds lost
10) 155: Goal weight

Which means for this week, I have baby step goals: 1) Drink more water, 2) Begin phasing soda out of my diet, 3) track what I'm eating, and 4) go for a walk 3 times.

I figure these are small things that will get me moving in the right direction, as I try to figure out how I can phase self-care back into my routine.

Just to end on a happy note, here's a picture of one of the guys I do it all for: