Friday, May 25, 2012
I am going to my grandmother's for a cook out tomorrow, and I volunteered to make a desert to bring along. Obviously, my choices for deserts are very limited, so I wanted to make something that everyone (including myself) can enjoy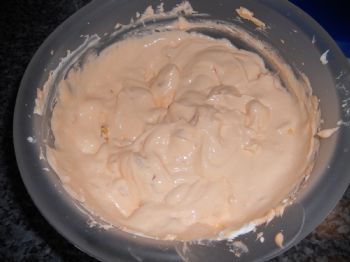 1 16oz container of 2% cottage cheese
1 box of sugar free jello (orange - but you can use any flavor you like)
1/2 a container of sugar free cool whip thawed
1 can of mandrin oranges

blend cottage cheese in food processor until smooth, then transfer to bowl. Add jello powder and mix together using electric mixer. Once it is mixed, add the cool whip and continue to mix until everything is mixed well. Drain oranges and fold them in.

I am not sure of the exact calories or anything since my serving size is very small. My taste buds (and more importantly my little pouch) enjoy this desert. Since it is made with cottage cheese, it helps get in some extra protein.