| | |
| --- | --- |
| | CORTNEY-LEE's Recent Blog Entries |


Sunday, May 27, 2012
Today turned out to be a productive day. After a yummy breakfast of an egg, 1/2 piece of whole wheat toast and 1/4 cup of mango (sorry, I didn't take a picture of it) I went to the gym. I did 60 mins of cardio. 30 of it I spent on the bike working through a weight loss setting, which varies resistance. Then I did 10 mins on the elliptical. I was very pleased with myself for that. It has been a long time since I have been on it, and I was happy that I could do 10 mins. Then I upped my game on the treadmill, taking my 22 min mile down to a 20 min mile. I was also very pleased with that.

After my workout, I was totally craving/jonesing an iced coffee. Since the nearest Starbucks is about 15 miles away, I decided to get one from Sheetz. I had to stop at Sheetz anyway because I was out of milk. I was hoping they had a quart of skim since I just threw almost an entire 1/2 gallon out, but they didn't so I ended up buying a 1/2 gallon, which I am sure will get wasted.




I took a nice sip of it, and it tasted very sweet to me. I had it made with skim milk (decaf espresso of course) but didn't really think much about it. My taste buds are a little off anyway since surgery. When I came home, I needed to look up the stats online so I could record it in my tracker. The small that I got was 184 calories. That was pretty puzzling to me since skim milk has about 80 calories a cup and espresso has none... I did the breakdown of nutrition by ingredient and came to find out that they used "espresso extract" which was 90 calories and 20g of sugar. No wonder it tasted so sweet to me!!! Needless to say, I tracked what I drank (about 1/2 of it) and threw out the rest. It didn't adversely affect me, but I still don't want to be drinking all of those empty calories and sugar. Next time I will either make mine at home, or just wait until I can go to Starbucks where they use straight up brewed espresso and skim milk.

For lunch I had a wonderful salad. I am so happy I can eat salad again.
1/2c of greens
1 oz of chicken
1 tablespoon reduced fat blue cheese
1 tablespoon of dried cranberries
1 tablespoon of Strawberry Balsamic dressing




I also made a salad for Monday and Tuesday for work

I then decided I wanted Turkey Meatloaf, so I made one. Holy crap! It was HUGE! I got 12 servings of 2oz each out of it. I am having 1/4 cup of carrots and 2 tablespoons of mashed sweet potatoes with it.
Dinner for the next 3 days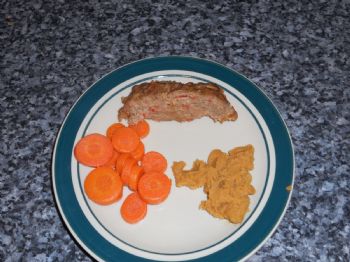 and of course... who could forget snack? Greek yogurt and fruit cocktail!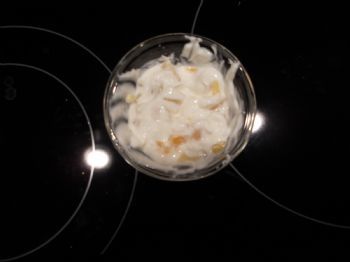 I am going to spend the rest of the night relaxing after I finish cleaning the kitchen and putting away the laundry.

I think that is all.




Saturday, May 26, 2012
I got a new mini herb garden at Lowe's tonight. I really hope it grows! I am a little worried because I can't keep it anywhere in direct sunlight... there really isn't anywhere in my house that gets it, and I am not sure about outside... I guess we will see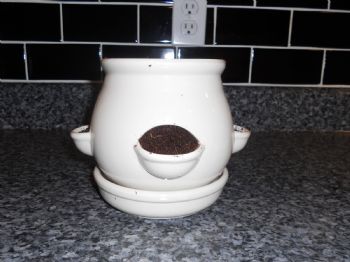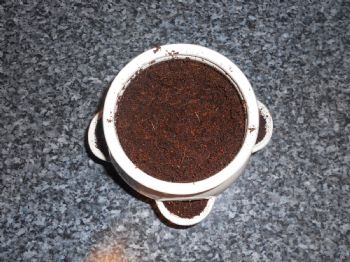 Ohhh, and why can't I live in a country where women don't shave? Seriously... I hate shaving. Of course, when I was a hippie chick in high school, I didn't shave.... but you know...





Friday, May 25, 2012
I am going to my grandmother's for a cook out tomorrow, and I volunteered to make a desert to bring along. Obviously, my choices for deserts are very limited, so I wanted to make something that everyone (including myself) can enjoy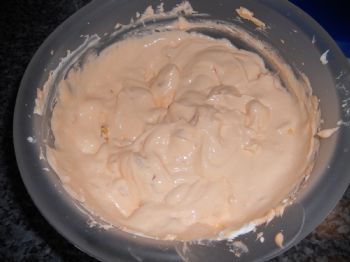 1 16oz container of 2% cottage cheese
1 box of sugar free jello (orange - but you can use any flavor you like)
1/2 a container of sugar free cool whip thawed
1 can of mandrin oranges

blend cottage cheese in food processor until smooth, then transfer to bowl. Add jello powder and mix together using electric mixer. Once it is mixed, add the cool whip and continue to mix until everything is mixed well. Drain oranges and fold them in.

I am not sure of the exact calories or anything since my serving size is very small. My taste buds (and more importantly my little pouch) enjoy this desert. Since it is made with cottage cheese, it helps get in some extra protein.








Thursday, May 24, 2012
Remember when you were in school, and there was always that one kid who brought a "weird" lunch? Either their parents were old hippies, or in my case, since I lived in middle of nowhere Pennsylvania, they were old farmers.

There was one girl who used to bring her lunch on homemade bread, and instead of a hostess cake, she always had some weird muffin her mother made. Looking back on it now, I wish my lunch had been on homemade bread and not store bought white... I wish I would have had a delicious homemade muffin instead of a twinkie... but I guess as kids, you don't think about that. Of course, I wasn't always the kid with the cool lunch either. My mom used to pack me a thermos with cream of mushroom soup in it... apparently, cream of mushroom isn't as cool as chicken noodle...

Anyway, now that I am older, I find myself being the kid with the weird lunch. I take my lunch to work in little containers, in a nifty little box.




This is my "lunch" - Actually, it is my lunch, dinner and snack... I work a 12 hour shift, so, I eat 2 meals a day at my desk.

This is what I had yesterday and will have tomorrow. Tonight, we are "ordering out". Since I have been released to my final stage on my diet, I am DYING for a chicken salad. We are ordering from a mom and pop pizza shop, and I know the owner very well. He will prepare my food to my specifications. I also figure his small salad will be enough to last me for several meals. He will also make me a special dressing out of red wine vinegar. He makes mine extra tart because he knows that is how I prefer it.

Anyway, the magic lunch box contains...

1oz of shredded chicken w/ 1/2 of an egg white and 1 tablespoon of light mayo
1 serving of whole wheat crackers (last time I only ate 3, but I take an entire serving in case. If I don't eat them, I give them to my desk buddy)

1/2 cup of chicken corn chowder (Healthy Request - low fat. My little pouch LOVES soup. My little pouch wants soup all of the time!)

1 tablespoon of Greek Ranch Dip (made w/nonfat greek yogurt and ranch seasoning)
baby carrots

Then my yummy cottage cheese fluff. Basically, I blended cottage cheese, fruit and sugar free jello powder. Viola... It is high in protein, has a nice desert feel, and helps me get in a serving of fruit.
If anyone who reads this wants the recipe, drop me a line!

Like I said, I have been cleared to eat "anything I want" - but we all know what that means... of course it isn't anything I want, but I can have things like salad, and raw veggies, and most importantly... fruit. I had 1/2 of a banana this morning w/ 1 tablespoon of peanut butter and it was heaven!! I also bought some apples, which I am going to use as snacks as well. She also told me I could have whole wheat pretzels (must be paired w/ a protein) and air popped popcorn. I am also allowed things like almonds, which I am a little leery of since they are so high in calories and fat... I know if it good fats, but still. She said the main focus is of course protein, but she said that she wants me to have some balance in there. She also said whole wheat crackers w/ a protein would be great.

I am very excited to get back to "normal"

I think that is all for now






Wednesday, May 23, 2012
Today I had my 6 week follow up with my surgeon. I actually didn't meet with him, but I met with his PA, Mike. He is really nice, and I like him a lot. He advanced me to the final stage of my diet. He also noted that I am above the curve in weight loss, and he is very happy with my progress.

I want to note that my Chiropractor had to cancel on me, and it is horrible. My rib is so far out of place, that depending on how I sit, I can feel it when I breathe. Not fun! I need to reschedule, but the problem is, a 45 min drive each way. Bottom line is, I need to find a closer Chiropractor!

I really enjoyed the support group with my friend. It is amazing the difference in programs between two hospitals. Her program is nothing like mine at all. The people in her group are really nice. I really enjoyed my time with them, and I hope to go back next month to join them.

After group we went to bingo at the Knights of Columbus, which was an awesome time. I didn't win anything, but I had a good time with my friends. I can't wait to go back again next month.

I started my volunteer work at the library yesterday, and I think I am really going to like it. It is very fun. I got to work the front desk and check out books. There were not a lot of people who came in and out, but I think it is going to be a very rewarding experience for me. After I was done there, I went to the gym and did my cardio.

I have to work tonight, so I am going to go to the gym, then get ready at work. The OBGYN said I can re-start strength training today. They wanted me to wait a week because of my implant, but I am still wondering if it is the best thing. I still feel like it is poking me when I lift things. I guess I can try it, and if it hurts stop. That is the only way to know I suppose.

I think that is all for now



First Page
1
2
3
4
5
6
7
8
9
10
11
12
13
14
15
16
17
18
19
20
21
22
23
24
25
26
27
28
29
30
31
32
33
34
35
36
37
38
39
40
41
42
43
44
45
46
47
48
49
50
51
52
53
54
55
56
57
58
59
60
61 62 63 64 65 66 67 68 69 70 71 72 73 74 75 76 77 78 79 80 81 82 83 84 85 86 87 88 89 90 91 92 93 94 95 96 97 98 99 100 101 102 103 104 105 106 107 108 109 110 111 112 113 114 115 116 Last Page

Get An Email Alert Each Time CORTNEY-LEE Posts