| | |
| --- | --- |
| | CORTNEY-LEE's Recent Blog Entries |


Sunday, April 01, 2012
Today actually was pretty decent. I didn't really do all that much. There was a load of laundry that needed washed, so I did that. For dinner I made steak. I put mine on a salad (as prescribed by my Liver Shrink diet) and made my boyfriend a small salad and chicken flavored rice.

I made my work lunch for the next few days. Monday I am having a salad with sweet and spicy tuna. Tuesday I am having talapia with a salad.

I went through my fridge and cupboards last night and got rid of all the food that I can't have and my boyfriend won't eat. I thought that was the best thing to do.

Less than 10 days until surgery... wow




Saturday, March 31, 2012
I ordered a Laptop Lunch kit and it came today! I have wanted one FOREVER, but have always been too "cost effective" (ok... cheap) to buy one. With my upcoming surgery, and smaller portions being a must, I thought this would be a great way to help me with portions, and look pretty darn cute doing it!!




I ordered an extra set of containers to go with it, so I could try different configurations.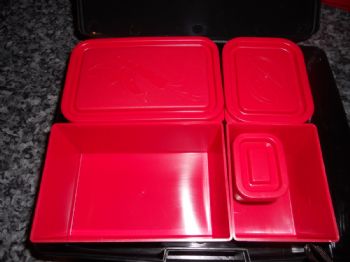 These small containers are going to be great to help keep portions in check




an insulated sleeve, along with an ice pack, will let me keep my lunch at my desk, instead of being forced to use the gross fridge in the breakroom




a large variety of containers and sizes will ensure that I will be able to take a wide variety of foods with me.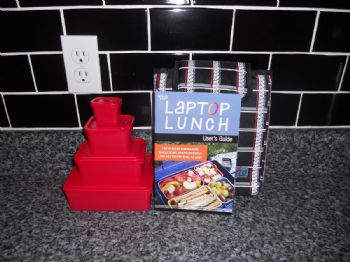 A wonderful investment!





Saturday, March 31, 2012
I got on the scales today and I have lost 6 pounds since Tuesday. Seeing that, makes me realize that this is really worth it. After struggling for months and months and only gaining weight, I am finally starting to see those numbers come down.

Now, the diet that I am currently on is not sustainable long term. It isn't supposed to be. It is a doctor supervised, pre-operative diet designed to shrink my liver. For the 2 weeks that I have to be on it though, I am expecting some good results.

My official weigh day will not be until Tuesday, so we will see what the results are then.

I finished the 3rd book in The Hunger Games series, and I was really disappointed. I won't say why in case someone reads this and is still reading, hasn't read or wants to read the books. I just didn't like the ending.

I don't have any plans for the weekend. My boyfriend will be out and won't be home until Sunday,

I think that is all for now




Thursday, March 29, 2012
I am just not good at drinking water. I don't like to drink all of that fluid. I have a very difficult time drinking all of it. I don't like the "sloshy" feeling it leaves me with. I realize that is something I am really going to have to work on.

With the Liver Shrink Diet, I find that I am drinking a lot more hot liquids. Hot makes me not feel hungry. I am still not drinking anywhere close to what I am supposed to though.

Do you know what true love is? I will tell you...I woke up today and I was starving. I wanted to hold out as long as possible in drinking my morning shake. I have a long night ahead of me... anyway, my boyfriend came in after mowing the grass and was rummaging around in the fridge and cupboards for something to eat. I ended up making him scrambled eggs. Keep in mind that I was STARVING and I couldn't have eggs, but because I love him, I made them for him. He gave me hugs, and well... no kisses because I am sick, but he was very appreciative. Plus, he mowed an acre of grass and was cleaning the house while I am at work, sooo... it is the least I can do.

Have I mentioned how hungry I am? I am really hoping that it passes. It is really hard when you are hungry not to focus on food all of the time. Sadly, it has been a long time since I have actually felt hunger. Most of the time I eat because the clock or my head or my surroundings tells me too. I am working on taking cues from my body. It is going to be very important in the next few weeks.

I think that is all for now





Wednesday, March 28, 2012
I woke up today to a thunderstorm. My house was shaking. What a way to wake up. It scared Leroy cat, and he wouldn't leave my side. Lucy was just watching the rain come down in sheets.

I didn't really do a heck of a lot before work. I did all of my cooking yesterday, so that was out of the way. I got the laundry done and the dishes.

I am trying to hold out as long as I can between meals and snacks. I am going to admit I am hungry, but am hoping that my body will adjust in the next few days.

I think that is all for now



First Page
1
2
3
4
5
6
7
8
9
10
11
12
13
14
15
16
17
18
19
20
21
22
23
24
25
26
27
28
29
30
31
32
33
34
35
36
37
38
39
40
41
42
43
44
45
46
47
48
49
50
51
52
53
54
55
56
57
58
59
60
61
62
63
64
65
66
67
68 69 70 71 72 73 74 75 76 77 78 79 80 81 82 83 84 85 86 87 88 89 90 91 92 93 94 95 96 97 98 99 100 101 102 103 104 105 106 107 108 109 110 111 112 113 114 115 116 Last Page

Get An Email Alert Each Time CORTNEY-LEE Posts