| | |
| --- | --- |
| | CONRADBURK's Recent Blog Entries |




Saturday, August 20, 2011
I am very curious. It goes with being a scientist. I often wonder what others are eating for breakfast. Here is what I had this morning for breakfast: fresh blueberries, sunflower seeds, and dried mission figs. I love those berries. They are so good!! Here is a photo I took a couple days ago of those scrumptious berries.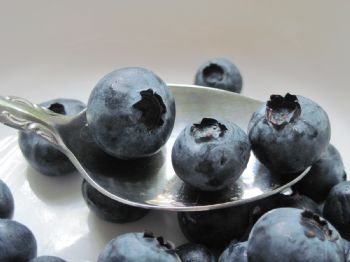 Delicious fresh blueberries

After I took this photo, I munched on the berries. They were yummy! As I said, I am a curious scientist, so I thought, "What is inside those berries?" I cut one in half with a razor blade and here is the photo. I was astonished to discover that the blueberry was not blue on the inside!! I just assumed it would be. Dumb old me. Apples are not red on the inside. Cucumbers are not green. Well you get the point.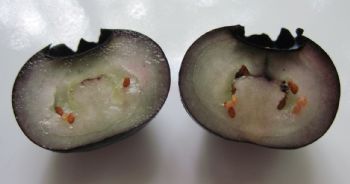 Inside a blueberry

I love those tiny blueberry seeds. They are so cute!! Some of the other blueberries were dark blue on the inside, but some were not.

I got curious a couple days ago about fruit yogurt and asked myself, "Are there any blueberries in blueberry yogurt?" I thought if I take a kitchen strainer and strain out the blueberries, I can see how many are in the yogurt. Well I did this with three different blueberry yogurts. Here is the result of what I found in the photo. As you can see, there are not many blueberries in blueberry yogurt. There were just five small, pathetic blueberries in one yogurt.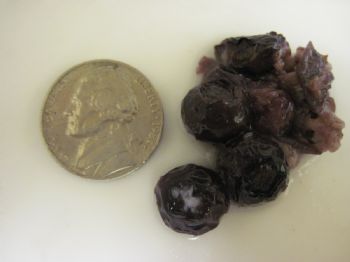 Blueberries recovered from a blueberry yogurt

Furthermore, these poor blueberries were abused by the processing of the yogurt. I am sorry to say that blueberry yogurt has almost no blueberries. There are not enough to give you any health benefits. Remember that a full serving of blueberries is half a cup, which is about 40 blueberries.

I would like leave you with the beautiful thought of how delicious and healthy the real fresh blueberries are. They are beautiful and tasty.

What is your favorite berry? Do you like blueberries, blackberries, raspberries, or cherries?










Thursday, August 18, 2011
I discovered something last night. I snacked on two cups of delicious Honeydew melon and 2 tablespoons of raw unsalted almonds. My body loved this combination! I felt so wonderful afterwards. I believe it was the combination of the natural fructose in the melon and the protein and healthy fats in the nuts. Whatever the reason, my body responded in a very positive way to this snack. I feel I am having a real breakthrough now in my healthy eating. The healthier I eat the better I feel!

The real key to eating healthy is to not buy anything unhealthy when you shop at the grocery store. That way when you need a snack, you will only have healthy alternatives at home. This is what I find works best. The battle for healthy eating is fought at the grocery store. Always shop from a list of healthy items. Don't compromise and buy stuff not on the list, but stay alert for any good healthy fruits or veggies that you didn't plan on getting. Indulge yourself with sweet fruits like cherries, strawberries, mangoes, papayas, red seedless grapes, watermelon even pineapple is good. The sweetness of the fruits will vary, so make sure they are fully ripe before eating and not overripe.

You see I have a passion for healthy fruits. They are wonderful, giving life to your body and joy to your heart. Eat them up!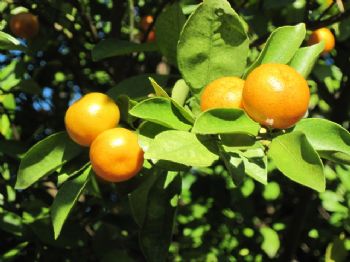 Florida oranges

I live in Florida. These oranges were just growing on my neighbor's tree! How about that!





Wednesday, August 17, 2011
I have a strong attraction for sweets and have abused my body in the past by eating whole boxes of chocolate chips cookies for dinner. I can hardly believe how stupid I was! Can you believe that they gave me a Ph.D. degree? Well that self abuse is over for good. Now I am eating well and tracking my food. I love fresh fruit, veggies and lean meat. All that yummy food! I don't even look at all that processed stuff as food anymore. It is really just a bunch of fat, salt and sugar chemicals--not real food for the body. But don't get me started on bashing processed foods. If you eat some processed foods it is okay for you, but I can't stand them. Yuck!

Anyway, I was good the past week with my food tracking and exercise, so I bought myself a reward, two pounds of sweet cherries. They are delicious! Here is a photo of one cut in half. As you can see, the flesh is a beautiful, dark red color from all those healthy anthocyanins. It is juicy and sweet. Get the darker red cherries, which are ripe and sweet.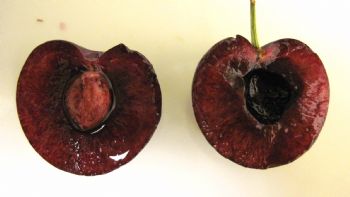 You can pit the cherries if you want to. I pitted some of these cherries using a paper clip. Which worked very well. You can see in this video how to do it:

www.youtube.com/watch?v=RQOMf6LQLes&
feature=related

Having pitted the a cup of cherries, I put them in my salad, which I had for lunch yesterday. Here is a photo of my salad with the pitted cherries. Delicious and nutritious. Hey, that rhymes! Maybe I am a poet!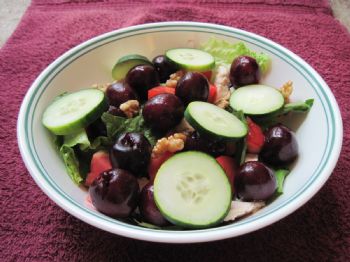 As you can see, I love digital photography and had fun photographing these cherries. Here is a closup of my salad. I like this photo with the fork just before I consumed the salad. It was delicious and the cherries added a most pleasing sweetness. I use a simple dressing with balsamic vinegar and extra virgin olive oil. Much superior to any processed salad dressing!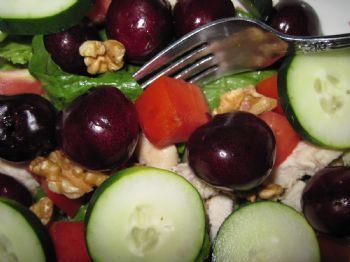 The idea behind this blog is that you can replace any unhealthy processed sweet (and there are thousands of them in your grocery store waiting to ambush you the next time you shop) with delicious, wholesome fresh fruits. I especially love cherries, blueberries, strawberries, papayas, mangoes, and red seedless grapes. My mouth is watering just thinking of all those delicious fruits.

Thought for the day: Life is a bowl of cherries. Eat it up!

What is your favorite fruit?






First Page
1
2
3
4
5
6
7
8
9
10
11
12
13
14
15
16
17
18
19
20
21
22
23
24
25
26
27 28 29 30 31 32 Last Page

Get An Email Alert Each Time CONRADBURK Posts