| | |
| --- | --- |
| | COMPUCATHY's Recent Blog Entries |


Thursday, July 14, 2011
Well, I've ended up with an unexpected 4-day weekend! Pretty cool! My boss is going out of town for the weekend and not coming back until Tuesday. We didn't find out until the last minute, so I couldn't really plan to go anywhere. But, I am looking forward to the extra free time and hoping to get a lot of cleaning and organizing done at home. That would be SO nice.

Me and DD are giving blood tomorrow morning. I am going to work for a couple of hours before that...then should be free for the rest of the weekend.

We had a little scare with our big dog today. She was having problems urinating. She would "go" a little...then take a few steps...then "go"...then take a few steps...etc. I made a doctor's appt for her. While I was at work and DH was with her, she finally really went...and there was a pea-size stone in the middle of it. She passed a bladder stone! We were told that dogs form stones in their bladder rather than their kidney. So now she has some special food to eat. It will be a bit challenging...getting her to eat it and not having my pug eating it. Hmmm.

I am SO enjoying my new hobby of beading. It is SO much fun! I love finding new beads and "findings" for the bracelets and necklaces and earrings. And it is so much fun to figure out new ways to put them together and design them. Then, I get to wear them! More fun! I got a BIG jar of beads at the thrift store for $4! It was $8, but DH got a 1/2-off discount. And it was full of a WIDE variety of beads and clasps, etc...and it even had a jewelers tool in it! ...one that I did not have. So cool. Tonight, I discovered that our Walmart has a great selection of beads and findings and EXCELLENT prices...I got some on clearance....really good buys.

AND I found material for the next smock tops that I want to make for DD and me for work. She loves pink...and I love designs and peace signs...so this material was perfect. AND I got some peace signs that I want to make earrings out of and they came with a flower/peace sign medallion that I can make a necklace out of. They will go great with this new smock.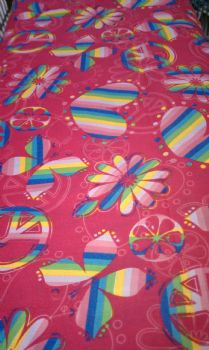 It's been a really good Spark week. My One-Year Sparkversary blog went "popular" and it's been really fun reading all the encouraging comments that were left. Wow! SP's are the best! I've done better with my freggies this week...and my water. And I'm doing better at getting my Y workouts in. So, things are headed in the right direction. Much as I'd love to stay up and spark and craft all night, I plan to get to bed at a decent hour and get my sleep, so I will be "healthy" and ready for my blood donation tomorrow. Hope you all are having a GREAT week! (One of my SP calendar tips this week was to start a hobby..."People who engage in captivating activities are more satisfied with life. Lose yourself (and your worries) by sewing, writing, cooking or dancing." I apparently have really taken this tip to heart! Love it!) Spark on!







Saturday, July 09, 2011
Here's me, today! (And a comparison picture of "old me.") I'm now at 176 lbs – 67 lbs down...56 to go. And it's all due to SP...eating in range...tracking my food...and being more active! Lifestyle changes work!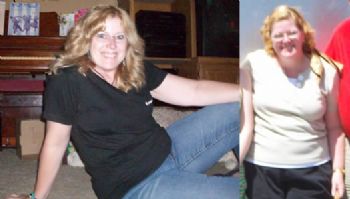 It's my one-year Sparkversary. I am SO excited! I have a theory that...anything you can do for one day, you can do for two days...anything you can do for one week, you can do for two weeks...anything you can do for one month, you can do for two months...sooooo...anything you can do for one year, you can do for two years! Now, I have done SparkPeople for one year...and I'm ready for year two. I've been through every holiday, birthdays, anniversaries, major life changes, exciting times, distressing times, financial ups and downs, even a couple of weddings in the last year...and through it all, I have Sparked on. Now, I feel like "I've done it before...and I can do it again" with the upcoming year and events of that year...and lose my remaining 56 lbs.



I've lost 46 total inches. Here's the breakdown:
Neck Was 15" Now 13" (-2)
Waist Was 43" Now 34.5" (-8.5)
Hips Was 52.5" Now 44" (-8.5)
Upper Arm Was 15" Now 12.5" (-2.5x2)
Thigh Was 33" Now 24" (-9x2)
Calf Was 18" Now 16" (-2x2)
I've gone from wearing 2x and 3x tops to wearing size L...and from wearing size 22w/24w/2x/3x pants to wearing size 14/16/L. I've gone from weighing 243 lbs to weighing 176 lbs.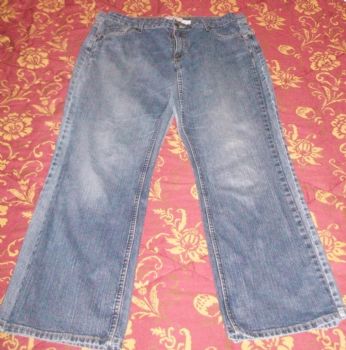 So, in looking back over the last year, what do I see? I see a woman who has transformed her body from 243 lbs...morbidly obese...to 176...overweight. I see a woman who has gone from wearing a size 3x...to a woman who is wearing a size L...14/16. I see a woman whose "junk in the trunk" has REALLY diminished. I see a woman who can fit easily in the bathtub and who can easily sit down into the bathtub and rise from the bathtub. I see a woman who can give herself a nice pedicure. I see a woman who embraces chances to move and walk and exhaust herself. I see a woman who helps with the yard work. I see a woman who is working to transform her house into her home. I see a woman who is finding a good balance between work and home. I see a woman who is managing to be alone in the world...without her parents. I see a woman who is making family a priority and giving to her husband and children...the best that she has. I see a woman who has cleaned out her closet of all her old/fat clothes. I see a woman who love clothes shopping again. I see a woman who enjoys sewing and beading and making jewelry and clothes. I see a woman who is willing to be open with her spark friends and encourage them and share her journey. I see a woman who has participated in 5K's (walking) with her daughter and her husband. I see a woman who has opted to change her desk at work to a standing desk so that she is not sitting for 8 hours a day. I see a woman who makes good choices at the grocery and brings home bags of groceries that fit easily within her eating budget. I see a woman who loves her dogs and takes excellent care of them and enjoys their company. I see a woman who is making the best of opposite schedules with her spouse...having lunch with him daily and spending all weekend with him. I see a woman who loves being a part of SparkPeople. I see a woman who is over halfway to goal. I see a woman who is ready for another year with SparkPeople...taking her closer to her final goal. I see a woman who is not afraid of chairs with side arms...she fits! I see a woman who loves going to the movies...she can fit in the theater seat and even has room to tuck her arms inside the seat, too. I see a woman who has found her place, her community, her friends at SP. I see a woman who is going to be a lifetime member of SP. I see a woman who is going to recommend SP to anyone who will listen or who asks. I see a woman who is happy and content. I see a woman who thinks she can do this...which is the "hardest" thing she's ever done...so she must be able to do anything. I see a woman who feels that the boundaries of life have been removed. I see myself...a new person...molded anew...mind renewed...spirit renewed...free to be all that I can be.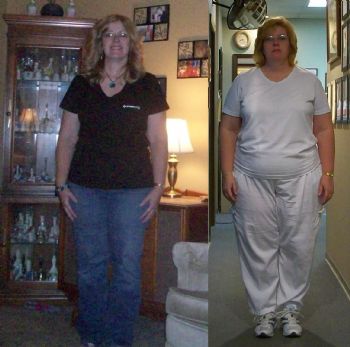 My goals for the coming year...
1. Lose the remaining 56 lbs (becoming a normal BMI!)
2. Become a water drinker (drinking 8 or more glasses of water a day)
3. Become a freggie eater (eating 4 or more servings per day)
4. Incorporate a new exercise routine that works with my schedule and that I can be consistent with that includes strength and cardio exercise
5. Complete the couch to 5K program – and RUN a 5K.
6. Work on my swimming strokes and Join Masters Swimming
7. Begin bike riding – and participate in a tri-athlon.

So, the plan for Year 2...continue to track everything 100%. Allow the diet cola's as desired. Pursue more water, freggies, and exercise. Reward myself for accomplishments in these and other areas. Be good to myself. Spark on...let the remaining weight drop off...it will happen...I have to stay on the SP train...it is headed to my destination. www.sparkpeople.com/mypage_public_jo
urnal_individual.asp?blog_id=3541455

Today, I am CELEBRATING! I stayed up until midnight to ring in the "new year." I am going to go on a celebratory walk this afternoon. And I am going to do a full gym workout this morning...BECAUSE I CAN! I'm going to go to the movies...and fit in my seat with room to spare! And I am going to finish going through all my clothes and bag up the unwanteds/too big clothes and get them donated. Thanks to SP, I can do so many things. I can move, move, move, and enjoy my life! Life is good! I love SP! Sparkin' on!







Friday, July 01, 2011
Today, I had my weigh in at the Y. Currently, they are doing weigh-ins every two weeks. I had lost 2 lbs since last time. That was nice. Sometimes, you feel like you're not losing any weight, but then you do something that is more stretched out...like these weigh ins...and you can see that progress is being made. That's nice.

It's a three-day weekend! Yay! I'm looking forward to a lot of good quality time with DH. That will be really nice. I think one day we will work on the house and a home "to do" list that we have to work on. And maybe one day we will go to a ballgame. And one day we will do a movie and shopping. Sounds good to me!

Today, DD and I wore our new smocks that I made for work. She said she really liked our new smocks. That made me feel so good. I had cut out the smocks and sewed them up going off of the design of another smock that we have. So I didn't actually have a pattern, but I was able to use the other smock as a rough template for the new smocks. It was a little challenging...but fun...and I think they turned out pretty good.

I walked down to DS's house tonight with the lawn mower and finished cutting his backyard. He is still at bootcamp. And his house is on the market. I prayed the whole time I was cutting that God would find a buyer for his home. That would be such a blessing for him.

On my way walking back, I saw the lady that runs the beauty shop up the street. I stopped and talked to her for awhile. She said that, at first, she didn't recognize me. She complimented me on my weight loss. She said she didn't think I could/should go down to 120...she said 140 should be low enough for me. We'll see. I know that another time when I lost weight, I still had thigh fat that I did not like/want when I was over 120. She said that I do not look like I weigh 176. That was nice.

I'm getting really antsy about getting my hair cut. I think it will probably be happening during this weekend...one way or the other. I'll probably end up cutting it.

Hope you all are having a great week and have a great weekend! Spark on!






Tuesday, June 28, 2011
I think my spark friends were right. I need to work on the new mental self image that I see in my head. My weight is currently maintaining...and that's okay with me for now. It gives me time to catch up on the inside with what's taken place on the outside.

I have my closet pretty well switched over to the new smaller sizes now. I think I want to look for a new pair of jeans or two...other than that, I'm set.

I bought some Spark things this week. I got the desk calendar (half off...since the year is half over)...and a stress ball (also keeping it on my desk...any way to handle stress other than eating is worth a try)...and I got a black t-shirt. I'm planning to wear the t-shirt on my Sparkversary and do a self photo shoot.

I have a new hair style picked out that I want to try. I have a couple pictures of it. I don't know whether to try to have someone cut it for me or do it myself. I cut my own hair for years and years and always liked the results. But it is so nice to have someone else do it, too...if they do it right. So we will see.

It is true...that when a door closes, a window opens. When I had my bracelet stolen, that was a door closing. But now, I have discovered I love making bracelets! I made a "spark" bracelet and love it (and even get compliments on it...nice). Yesterday, I made myself a new red/white/blue bracelet. I love beading and making bracelets! (window open!) I think this will be a new, fun hobby for me.

My creative juices have been flowing the last few days and I've really enjoyed it. I made a new smock for work, sewed pockets on 4 of my husband's new work t-shirts (they didn't have pockets and he wished they did...now they do), and I made the new bracelet. So much fun!

Hope you all are having a great week! I am continuing to work on the mental part of exercising. I have been to the gym twice in the last seven days...which is good...I have a goal of 3x/week. And I enjoyed both sessions. So, I am really trying to get some steadiness in this area. It's all a head game...that we can win...just have to keep doing it! Spark on!






Friday, June 24, 2011
I'm 66.5 lbs down...56.5 lbs to go. I've been going over and over that in my head...trying to wrap my head around it. Suddenly, I feel overwhelmed by the progress thus far. I don't know if it's because I've been cleaning out my clothes and switching things down a size, or what. But all of a sudden, this all feels very "real" and it seems like I could actually get to goal. I keep questioning myself...if I'm ready for that...am I up for that? Yes! I would love to be at goal. It IS where I want to go. It's what I've been working for. It's the reason I have been so determined and absolute on my eating. So what is this weird feeling that I'm fighting with?

I don't really have the answer. I just know that there's some strange wonderment all of a sudden overtaking me. I just keep trying to look it in the eye and say, yes, I've lost that much weight...I am okay...it's what I want to do...and I've got more to lose...I'm not stopping now.

I'm still fighting this dumb head cold. I've finally just kind of gotten so I'm ignoring it and doing my cardio and ST and going on about my business...and figuring it will be gone when it's gone. I'm tired of sitting and waiting for it to leave me.

I went to the thrift store last night...spent $30 and got a dozen new items for my wardrobe...a bunch of t-shirts and a couple skorts and a little purse. I got them all washed up and am ready to re-stock my empty closet. It will be nice to have some new things to choose from...that fit!

Today, I bought a few new beads. I'm going to make another bracelet. I'm really enjoying creating new bracelets! I think I've found a new hobby...and it's fun! And cheap. So, yay!

I had a great workout at the Y yesterday. I meant to go in the morning, but slept in and didn't go. But then, last night, when I was on my way home from the thrift store, I decided to pit stop at the Y and do the workout. So, I dropped in and worked out for 2 hours...got everything done...ST and cardio...woo hoo!

I also bought a new scale last week and compared it to my normal scale. It weighs almost the same...only a half-pound difference. I bought it because it's smaller and lighter weight. I wanted to have one that I could take traveling with me. We will be traveling to Missouri for DS's graduation from bootcamp in August and we will be traveling to Disney World in September. It will be really nice to weigh during times away. (Thanks for the tip, Turtlebear.)

Hope you all are doing well. I'm doing better with my challenge teams now that I'm getting some exercise in. I felt like a dead weight last week. One of the challenges from my one team was to give yourself a goodie and include a thank you note to self on the goodie. I enjoyed that challenge. I never thought of doing that before. It is good to be thankful to yourself for the good things that you do each day...something to think about.

Well, have a great weekend! Spark on! (I have a one-year Sparkversary coming up July 9th...maybe that's where all the introspection is coming from...hmmm.)




First Page
1
2
3
4
5
6
7
8
9
10
11
12
13
14
15
16
17
18
19
20
21
22
23
24
25
26
27
28
29
30
31
32
33
34
35
36
37
38
39
40
41
42
43
44
45
46
47
48
49
50 51 52 53 54 55 56 57 58 59 60 61 62 63 64 65 66 67 68 69 70 71 72 73 74 75 76 77 78 79 80 81 82 83 84 85 86 87 88 89 90 91 92 93 94 95 96 Last Page

Get An Email Alert Each Time COMPUCATHY Posts