| | |
| --- | --- |
| | COACHMOMMY's Recent Blog Entries |


Thursday, December 13, 2012
I stayed about the same with my weight. I've been ok with my eating. We've been sticking with the menu, so I've had some pretty healthy dinners. My breakfast & lunch is always healthy during the week and my weekends have been so busy, I don't really have time to over indulge (although I do manage to get in that late night snacking!).

Exercise has been almost non-existent this past week. The last time I ran was last Wednesday. Thursday was a marathon shopping night. I left right after work and "shopped until I dropped"! I was gone for 4.5 hours and hit 13 stores! I got a lot done. I'm counting this as exercise though because it was a lot of walking! I wasn't in a mall, I went to 3 differenct strip malls. So I parked in the middle of a parking lot and walked the length. My feet actually hurt when I got home! Friday & Saturday were spent cleaning, driving & wrapping! DD#1 had to work Friday & Saturday, DD#3 had play practice for 4.5 hours on Saturday and DD#2 had a basketball game at a HS an hour away. I don't even remember what I ate that day, but I know I skipped lunch!

We had an unplanned get together with my family on Sunday. My 2 sisters came over earlier in the day to finalize the plans for our extended family party on 12/16 (we're in charge for some reason!) and then I left to pick up DD#1's boyfriend and then go to a meeting at church for our live nativity on 12/23 (fortunately I was so busy, I missed the horrible Falcon's game and also lunch!). When I got back home, my niece was coming by with her new baby! So everyone came back to my house and we had a pizza party!

This week so far has been insane! DD#2 had a bad basketball game on Tuesday (she was really disappointed in herself - she missed a lot of scoring opportunities, but so did everyone else - she's really hard on herself) Anyway, they don't have practice tonight and she wants to run and practice shooting. Again, I have a shopping tripped planned (this time with DD#1), so DH will have to take her. She has early practice tomorrow, so she wants to run after school. I'm determined to go tomorrow!

DD#1 wants her boyfriend to go paintballing with her and some friends on Saturday and guess who has to pick him up?! I'm not sure what she's planning, but DD#2's has a home game @ 2, so maybe I can squeeze in some exercise!

Sunday is our extended family party (about 45 people), so I will be busy setting up, partying and cleaning up (we've reserved a clubhouse, so at least it's not at my house!). It will be a long day!

I'm determined to maintain, get in some running (and ST, but that's not working too well) the rest of the year. I'll hit the new year with a vengeance to get rid of the 6+ lbs. I'm still planning to do the 2 5k's in February even if I have to walk some of it! I only work 4 days next week and then I'm off for 12 days. I'll be busy, but I should get in some exercise!

I'm hanging in there!




Thursday, December 06, 2012
DD#2 didn't have basketball practice yesterday, so she wanted to run. The plan was DH was going to take her and a friend and I was going to take DD#1 to work and then go myself. DD#1 was working on a school project at the house with a friend and he said he would drop her off at work. So, DH, DD#2, friend and I went to the park to run. DD#2 wanted to do the "hilly loop" at the back of the park and then shoot some baskets in the indoor gym. I've been running on the greenway (very flat). The last time I was on was on the hilly trail, my sister and I walked it and it was a struggle.

We parked by the gym and walked briskly on the sidewalks around the parking lot to the trail. DD#2 & friend barely stretched, so they set off to run. I started before DH and was going to just run the best I could. I ran for 10 min (this was a real struggle, I forgot how hilly this trail is). I walked for about 3 mins. and then started to run again (down the biggest hill). I ran for about 7 mins. (hilly again), walked for 5 mins. and then ran the rest of the way - 10 mins. for about 35 mins. I did 2 loops which is almost 3 miles. While I was finishing up the second loop, I passed DD#2's friend! DD#2 had already finished at that point and was walking back to meet her friend. DH had just finished and walked back to meet me. I was really proud of my run! I think I might do this hilly trail at least once a week to get ready for my first 5K in February which will be a pretty hilly course!

Tonight I will be doing a Christmas shopping marathon! I have it all mapped out and am going right after work and plan to hit 9 stores (if I don't run out of time)! There will be quite a lot of walking involved, so that's my exercise today.

DD#2 has morning practice tomorrow, so she wants to run again after school, so we'll hit the trail again.

I'll squeeze in ST over the weekend and once again before Wednesday. I've added some ab exercises because I need to get rid of the belly! That's where the pants get tight first.

We had another healthy & tasting dinner last night (baked chicken), so that's 3 days in a row! DH is going to make the baked Ziti (healthy recipe I found), but I'll have to just pick something up on the run since I probably won't get home until after 9 pm.

Started my week out pretty good! (Wed-Wed).




Wednesday, December 05, 2012
I weighed this morning and I lost 1.6 lbs. So that's not too bad. I've been doing pretty well with the eating. It was a pain to make the menu on Sunday and stick to it, but we've had 2 days of healthy dinners and I've kept my snacking to a minimum! My breakfast & lunch during the week are always good and we have a tasty dinner planned for tonight!

On the exercise front this week (Wed-Wed), if I run tonight (that's my plan), I'll have 3 days running & 1 day ST. Decent week. I had planned to run yesterday, but ended up helping DH with the outdoor lights before taking DD#2 to practice and going to DD#3's band concert. We go way overboard with the outdoor lights, but we don't live in a subdivision, so no one can complain! Since the leaves are off the trees, the subdivision that backs up to our property gets a beautiful Christmas display!

DD#2 doesn't have Bball practice tonight, so she wants to run. She's actually going to go with DH & a friend right after school. I'm taking DD#1 to work and will go straight to the park. I'll only have about 35 mins. before it gets dark! If it's raining, I'll go to the indoor track.

The rest of the week is pretty busy. DH doesn't work tomorrow night, so I'm going Christmas shopping right after work. I ordered stuff on Amazon today and I hope to knock off most of the list tomorrow!

Friday DD#2 has morning practice and wants to run again. I hope to squeeze in some ST on Saturday morning before taking DD#1 to work and DD#3 to play rehearsal They have a 4.5 hour rehearsal on Saturday! My Dad is going to have to pick her up because I'll have to take DD#2 to her basketball game. Her game is at 3:00 (about 45 mins. away). We might stay and watch some of the other games after hers, so it will be a long day!

DD#1 wants to "hook up" with the boyfriend on Sunday. I would really like to go the the big mall that's by his house, but I have to be back for a meeting at church at 3:00 (we're doing a live nativity), so it's not worth it. I'll try to get in a run on Sunday morning before my 11-1 Falcons come on @ 1:00.

I've been a little freaked out with everything going on the next couple of weeks. My girls are out of school on 12/21 - 1/7 and I'll be on vacation 12/21 - 1/2 (12 days!). I should be able to get in a lot of exercise and hopefully keep the eating under control! I just got to get through the next 2 1/2 weeks!

Picture of DD#3 after the band concert.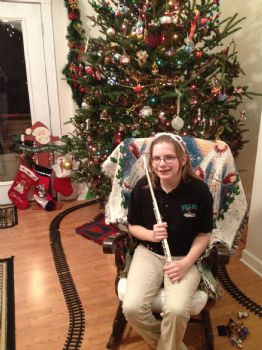 Monday, December 03, 2012
DH and I ran on Friday. I actually had a pretty good run. I was going to do the 10 min run/3 min walk (3 times). We only had about a 35-40 min. window, so I stretched out & ran 10 mins., walked 3, then ran 12 mins & walked 3 mins. I decided to just run the rest of the way and that was an additional 6 min. run. We had to do a quick stretch and then pick up DD#2 from basketball practice. Since DD#1 was at a party and DD#3 was at a "rock a thon" (Middle School band fund raiser), we got Subway for dinner. Friday was pretty good!

My goal on Saturday was to wake up and do my ST routine. I had to make eggs & pancakes for DD#2 (she had an 11 am game) and pancakes for DD#3 & friend. DD#2 lost again on Saturday (closer though), but she played a great game. She didn't start, but played about 3/4 of the game. I know she's my child, but I'm pretty objective about my children (don't always think they're perfect!), but I was a little frustrated she didn't start again. They keep starting the same 5. Again, she gets a lot of playing time, but you always want to "start". She was actually the high scorer of the game and she's a defensive player and rebounder! She scored 7 out of the 19 points. This team has got to come up with some offense. As mentioned before, the 6'4" girl is on the varsity team!

Anyway, after the game, I had to pick up DD#1's boyfriend (we have a halfway meeting point). When we got back home, it was already 2 pm and I had a huge Christmas explosion all over the house. I spent the rest of the afternoon sorting through totes and decorating. I did a bad job last year when I packed away Christmas - I couldn't find anything. I watched the SEC Championship while decorating the den! (Georgia lost ). I pretty much worked on the decorating until about 7:30 pm and then had to drop of the boyfriend - so no exercise Saturday!

Sunday morning DD#2 had confirmation class. When we got home from class, we decorated the tree and I still had more decorations to put out! I ended up getting a major headache and had to lay down for about an hour. By then it was time to take DD#3 to church (she's an alter server so has to be there early). We had Subway again for dinner!

DH was a little mad that we ate out twice over the weekend. We're trying to keep a budget. We worked out a menu last night and he went to the grocery store this morning. So I'll eat pretty healthy this week.

As usual, every night this week there's something going on. Tonight is going to be insane! All 3 have to be dropped off & picked up (DH is working). Plus I have tonight's dinner to get in the oven (DH is going to do some prep before he leaves). So, there's no running tonight. Fortunately, this is the only night he works, so I might be able to squeeze in a run tomorrow before DD#2's basketball practice (she has the late schedule this week) and DD#3's winter band concert. Practice starts at 6:00 and DD#3 has to be at the school at 6:00. The good news is the Middle School is using the High School's auditorium, so they're at the same place!

The reason I'm a little overwhelmed is in addition to the crazy schedule, there's the added stress of Christmas! I'm pretty much finished decorating. Still need to clean up a bit, but I haven't even thought about shopping! The girls don't get out until 12/21, so the next 3 weeks will be crazy with school, etc.! Plus the 2 high schoolers have mid-terms!

I know there's things I can do, and I will! I really want to keep up with my running since I feel like I'm gaining some momentum. I'm not going to get out of control with the eating! I just had to get this off my chest.

Now I think I'll eat lunch! Subway again (I have the other half of my sandwich)!





Friday, November 30, 2012
Tuesday night we got our Christmas tree. DD#2's Bball practice ended early, so DH said he would pick her up which allowed me to do my 20 min. ST routine. We all picked up DD#3 from play rehearsal and went straight to Home Depot to get our tree. Our tradition the past 3 or 4 years has been to get the tree and then go to Steak & Shake for dinner (right next to HD). I know, not the best place to go, but I went ahead and splurged and got the burger, fries & milkshake!

I ran right after work on Wednesday. DD#2 had a late Bball game (7:30). The Freshman team is not doing too well. They've lost the first 2 games. 7 out of the 11 girls on the Freshman team played together on their 8th Grade team at Middle School, but they don't have their 6'4" (at 14) player anymore. She's actually on the Varsity team. She was always good for 20+ points a game. She would just stand under the basket and the girls would feed her the ball! They need to come up with a new offensive weapon! The 2 teams that beat them both played Freshman girls that are on their Varsity roster (I'm a website stalker). Makes for a good Freshman team, but doesn't give the other girls as much playing time.

I digress, I did pretty well on the run Wednesday. I ran/walked 7min/ 3 twice and on my 3rd 7 min. run, I ran over 10 mins. I was pretty far from the car, so I had to walk for about 6 more mins. It was about 40+ mins total. I'm going to try to run right after work again today. DD#1 doesn't have to work and DD#2's Bball practice is over @ 5:30, so I have about an hour window! I'm going to go for 10 min. run/3 mins. walk (3 times). If I can do that, I'm going for a mile straight! I'll be back to 5K form in no time!

Speaking of 5K's, one of my end of the year goals is to sign up for 2 5K's to complete by February. I found 2 in my area in February (9th & 23rd). I actually did both of these this year and I really like the routes - the first one is hilly and the second one is on the greenway, so it's flat. I'm going to sign up by next week, so that will be one goal completed! That also give me over 2 months to get ready!

If I run tonight and do my ST tomorrow, I'll have met my goals for the week! DD#2 has a Bball game @ 11 am, so I'm going to do the ST before the game. When we get home, I have to pick up DD#1's boyfriend, watch the SEC championship (go Dawgs) and decorate the tree.

Sunday will be busy too. DD#2 has confirmation class in the morning (and I'm a small group leader), DD#3 is an alter server for 5 pm Mass. That give me about 4 hours in the afternoon and I think I'll just relax (maybe hike somewhere). My beloved 11-1 Falcons beat the New Orleans Saints last night so I don't "have" to watch football (but I probably will)!

Pretty good week. The eating is still not great, but I'm not snacking/overeating at night, so it's all good! We'll see on Wednesday how the scale reacts.





First Page
1
2
3
4
5
6
7
8
9
10
11
12
13
14
15
16
17
18
19
20
21
22
23
24
25
26
27
28
29 30 31 32 33 34 35 36 37 38 39 40 41 42 43 44 45 46 47 48 49 50 51 52 53 54 55 56 57 58 59 60 61 Last Page

Get An Email Alert Each Time COACHMOMMY Posts