| | |
| --- | --- |
| | COACHMOMMY's Recent Blog Entries |




Wednesday, October 03, 2012
I picked up DD#2 yesterday from weight training (for basketball) and she gets in the car and says "that was hard and I'm sore!". DD#2 has been playing volleyball the past 8 weeks and has missed out on some of the things the basketball program has been doing (not allowed to participate in basketball until volleyball is over). Most of the girls have been doing the weight training for about 6 weeks now and have been able to work up to the weights/circuits they were doing yesterday. DD#2 didn't want to say anything to the weight training coach, so she just did what was already set up. She was able to do it, but she is really feeling the pain today! She has conditioning this afternoon, so she should be ok with that since she's been keeping up with the running.

So, since my main October goal is to do strength training, I was feeling a little guilty last night - 3 days in and no ST! I was waiting to hear back from my sister because she wanted to walk last night. She ended up painting a shelf my husband built for her daughter (pregnant with first child and a shower on Sunday), so didn't want to stop to walk. Of course I was about to blow off exercise completely, but figured if DD#2 could keep up with the weight training, I could at least do a little ST. So I dusted off a routine I had downloaded a couple of weeks ago and did that last night. It was about 20 mins. and I thought is was kind of lame, but I'm feeling it today! DH wants to run tonight, so I'll do that and this ST routine again tomorrow!

Now to my comment on teens loosing weight - both DD# 1 & 2 have lost weight this summer. Of course, DD#2 has been doing extreme exercise since June, so she's lost about 15 lbs. She weighs less now at 14 than she did at 12 and is probably 3 inches taller. She wasn't considered "overweight" at 12, but is now very lean (and tall). I think DD#1 is a little jealous, but she has to realize that DD#2 is not just "lucky" and is skinny, she's been really "busting it" with sports.

DD#1 has also lost about 10 lbs. over the summer. I think part of it's just getting a shape and loosing some "baby" fat, but she is also pretty conscious of what she eats. Unfortunately none of her hobbies/activities include any kind of exercise. I wish we could get her motivated!

Regardless, I'd like to think that part of this is because DH and I have worked really hard the past couple of years on a healthy lifestyle. We'll never be a petite family, but I feel good that my girls are getting some healthy habits to take with them into "adulthood". They still have snacks and sweets and the occasional fast food, but we incorporate mostly healthy grains, lean meats and fruits & vegetables into their diet. They rarely have sodas or juices - mostly water. All 3 of them take a lunch to school (although I don't think they're taking enough), so they're eating pretty healthy there too.

So, back to me and my goals! I'll weigh myself tomorrow to keep on "track" and keep working on my October goals! Cardio tonight, ST tomorrow and we'll see what the weekend brings.

DD#2's last week of volleyball - look at her jump (#1)!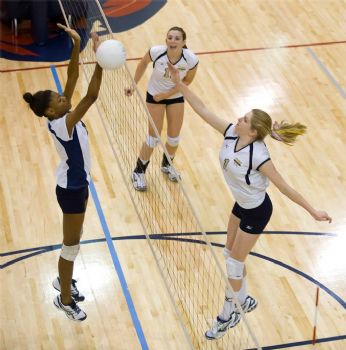 Monday, October 01, 2012
I didn't eat well and I got no exercise this weekend (unless you count stressing over volleyball!). I ran on Thursday with DH. I again struggled to get in 2 miles. It was hot & humid again, so we ran on one of the flat trails.

Friday & Saturday DD#2 had a volleyball tournament. One team dropped out, so they ended up only playing 1 game Friday night (but they had to play 3 matches). They did really well and won on Friday. I'm amazed at how far DD#2 has come with volleyball - she did great and her serve ended up winning the game (she only started serving a couple of weeks ago and does an under hand serve. It's so high and has a "hang time", I think the girls loose site of it and it's hard to return! They had to play 3 games on Saturday (10, 11 & 12). I think they just ran out of steam, but they ended up 4th out of 12 teams.

DD#2 wanted Chickfilet on the way home, so I got a grilled sandwich, but also the waffle fries (haven't had those in months)!

When we got home about 2:00, both DD#2 and #3 wanted to go shopping (it's supposed to get cooler this weekend and they needed jeans). DD#2 is over 5'9", so it's hard to find jeans long enough. We ended up scoring at Target (after going to 3 stores)! Again, I was so tired when I got home, I ate cereal for dinner and any other junk I could get my hands on.

Sunday wasn't much better. I had to pick up DD#2 at a friend's house at 9:00 am and DD#3 had a girl spending the night. DH wanted me to pick up donuts and he was going to make eggs & bacon before going to work @ 12. I ended up getting donuts & muffins at Publix. I had eggs, some bacon and a zucchini muffin (has to be healthy because it has a vegetable in in?!) While watching football later, I had 2 more muffins (but no lunch!). My Falcons won in a nail biter and I'm sure I snacked some more, but I don't even remember. Fortunately there wasn't much in the house to eat! I had a turkey sandwich for dinner Sunday because I spent the day watching football & sorting through clothes & doing laundry.

I feel bloated & yucky today with no energy. It's rainy & yucky. I ate a good breakfast, but didn't have anything for lunch, so I'll probably get Subway.

I'm determined to start my October goals today, so I'm going to do a new ST workout I downloaded since it's supposed to rain all day. Tomorrow DH & I are going to run.

So, I didn't end too well with September, but October is a new month and new goals!




Thursday, September 27, 2012
I weighed this morning and gained about .2, so that's not too bad. I still have 4 days to loose 3 lbs. to reach my September goal of a 6 lbs. loss! Probably not going to happen!

I still want to loose about 4-5 more lbs. to get back to my "wiggle room". I know I'm a little vague with my weight loss goals, but I mainly want to have a good handle on things before the "holiday season" hits. As I mentioned yesterday, that starts about mid-October and goes through New Years Day. In fact, I have a baby shower to look forward to on 10/7 for my niece to "kick" things off. Then there's Halloween parties & candy, Thanksgiving and the never ending Christmas temptations. I did really well 2 years ago when I was "hot & heavy" into Weight Watchers and loosing weight, I lost about 3 lbs. from November - January! Last year I gained a couple and added a few more at the beginning of this year and have been working on loosing the same pesky 6+ lbs. for 9 months!

So, my October goals will be:

Weight Loss - loose4 lbs. (puts me back below WW goal)
Exercise - 3 days cardio/2 ST

As usual, I did ok with the cardio this week, but did no ST. I ran Friday & Tuesday and last night I did a pretty strenuous 45 min. walk with my sister and dog. My dog is 11 years old, but gets really excited to walk, so she keeps a very fast pace - it's like she has a destination in mind and has to beat everyone on the trail. My sister is short and had a hard time keeping up with me and Zoe (dog)! I was planning to run last night after dropping DD#3 off at church, but when I got home yesterday and saw all the laundry & house cleaning piling up, I was going to just drop DD#1 & #3 off at their respective locations (DH was with DD#2 at volleyball) and do housework. My sister called and convinced me to walk, so I'm glad she did. I even managed to squeeze in some vacuuming & laundry when I got home.

Tonight DH and I will run. DD#2 is getting ride home from volleyball practice, so we have time to get in a good run before picking up DD#3 from play rehearsal.

This weekend will again be busy with a volleyball tournament (last weekend!). DD#2 has 2 games on Friday and at least 2 on Saturday morning - could be more depending on how they do. Since last Saturday's tournament, they have a record of 7 wins and 2 losses. They are going out with a winning note! Hopefully I'll get to squeeze in a little exercise this weekend. I really need to (and I know I've said this numerous times) do some kind of strength training I enjoy or at least will do on a consistent basis. I've downloaded some workouts and just need to put on some music and do them. I can find 15-20 mins. a couple of times a week to do this.

So, I'm going to amend my previous October goal a little to make ST a priority and work up to 20 mins. of ST, 3 days a week by the end of the month!



First Page
1
2
3
4
5
6
7
8
9
10
11
12
13
14
15
16
17
18
19
20
21
22
23
24
25
26
27
28
29
30
31 32 33 34 35 36 37 38 39 40 41 42 43 44 45 46 47 48 49 50 51 52 53 54 55 56 57 58 59 60 61 Last Page

Get An Email Alert Each Time COACHMOMMY Posts