| | |
| --- | --- |
| | COACHMOMMY's Recent Blog Entries |


Friday, September 21, 2012
I didn't loose any this week. I had a couple of evenings of snacking. The Falcons played Monday night and I found myself eating Cheesitz(sp) around 10:30! They tasted very salty to me, so I guess I've gotten used to not eating processed crap!

Monday night was as crazy as I anticipated. All 3 girls had something going on that night and DH had to work. I even missed the MS band parent meeting - apparently you can't be in 4 places at 1 time, only 3! I dropped DD#1 off at work @ 4:45, went straight to the high school for DD#2's volleyball game and then had to leave there @ 6:00 to take DD#3 to Girl Scouts (her first meeting with a new troop so I wanted to meet the leader). Fortunately my sister and dad went to the volleyball game. I was planning on going back to the HS, but DD#2 lost the last game, so they were done early and my sister brought her home. I then had to pick DD#3 up at 8:00 and DD#1 up at 9:30! Crazy, Crazy! I wish I could walk to all of these places, I would get plenty of exercise!

Tuesday was a little more sane. DH worked a "side job" that day (his day off from regular job), but was home by 3:00. We were planning to run when I got home from work. There was torrential rain all morning, early afternoon, but it stopped by about 3:00. I was going to run the indoor track, but decided to join him on the hilly trail (the one I struggled walking on Saturday). Wouldn't you know I saw my old running coach warming up to run! She had her C25K class at 6:00, so she had to get in a "quick" run before class (she was still running when we left!). I really struggled with this run, but was able to run the loop (1.6) and with walking before & after, I got in about 2.6 miles. I actually felt pretty good!

Wednesday was another crazy day with again all 3 having to be somewhere, but at least DH didn't work that night. Wednesday night I snacked on Ritz Bitz (again processed & salty), so when I weighed Thursday morning, I stayed the same! I probably have some water retention and clearly I still have the "carb" cravings! I'm not totally out of control and end up not eating much because they taste so salty!

So in 3 weeks, I've lost 4 lbs. Not bad, but it means I need to loose 2 more for my 6 lbs goal for September. That was a little aggressive for me, but certainly still achievable if I lay off the "crap" (pardon my language, but that's the best adjective!).

DD#2 doesn't have volleyball practice tonight, so she wants to run. 2 of her friends are meeting us at the park, so I think DH and I will run the hilly trail and she can run the indoor track. I might convince her to run the outdoor track and do some "sprints". If we do that, DH and I can run the greenway. I really prefer the outdoor running!

She has another volleyball tournament tomorrow and I'm assigned cookies (or something sweet) for after the games. She wants to take miniature cupcakes! I'll again pack me some food, so I can stay away from temptations. This tournament is only about 15 mins. away and might be over by 2:30. They'll play 3 games, but the last game is a "single elimination", so if they loose that one they're done (really tough competition at this tournament).

Sunday DD#3 has a Girl Scout picnic and each girl was assigned a country. She got "Switzerland" and wants to bring cheese & chocolate! I'll again make sure I take something for me to eat and plenty of water!

Have a good weekend all and Happy Fall!




Monday, September 17, 2012
I had a pretty good weekend. It was definitely full of challenges both on the exercise and eating front. As I mentioned DD#2 didn't have volleyball practice on Thursday, so we went to the indoor track to run. She ended up running 3.1 miles in under 28 mins., so that was pretty good for her since she's only been running about 2 miles. I think I may have done more than my usual 2 ish miles. I don't like counting the laps in the indoor gym because I loose count and then get frustrated! So I just do a timed run. I ran for 20 mins. straight, walked 2 laps and then ran another 3 laps, so I'm pretty happy with my run.

Thankfully DH didn't work Friday night because we had to take DD#1 to work, pick up DD#2 from volleyball and then take and pick her up from the football game (selling donuts). Since we had a lot going on, we made frozen pizza. Publix has a great line of organic pizza and their spinach/feta & vegetable pizzas are wonderful. Both are on a thin whole wheat crust loaded with veggies! I try not to go over board, so I had 2 small pieces of each (it's a very small slice) and a small salad.

Saturday morning I had to take DD#2 to a volleyball tournament about 45 mins. away. We stopped at Chickfilet for breakfast (I had the bagel with an egg only). Since we were going to be at the tournament all day, we were assigned something to bring. I was assigned a veggie tray (even though DD#2 hates all raw veggies!), so I knew I would have that to eat, so I packed plenty of water, a cheese stick and a turkey sandwich on a sandwich thin. DH grilled out Saturday night, so I had that to look forward to when we finally got home about 4:30 pm. My sister came over later that evening and we walked for about 30 mins. She had her bulldog with her and he can't walk very long because of his "breathing" problems (I think she babies him too much!) It was a nice evening and we walked the hilly trail and I was struggling on a couple of the hills. I told DH that when it gets cooler, I'm going to go back out on that trail! It's also getting dark sooner and we ended up walking a little in the dark (about 7:50ish)

Sunday is my football day! The Falcons play tonight and the Steelers didn't play until 4:15, so my sister wanted to do something "exercisy" again. We ended up going to the mountain preserve in our county that has some great trails. They changed up the trails a couple of months ago and we took one of the longer routes. We thought that hike would never end. We ended up hiking over an hour and most of it was hilly! A lot of people use these trails for running, but I would be scared to do that because there's a lot of rocks and stumps. I probably tripped 5 times! It was a good workout and we were sweating!

I did snack more than I should have yesterday watching football, but it wasn't too bad. I didn't get out of control. I had leftover stuff from Saturday's grill out for dinner, so that was good.

I've already got my 3 days of cardio in for the week (Thurs. - Thurs.). I have an insane day today (DH has to work tonight and all 3 kids have to be somewhere!), but I should be able to so something tomorrow.

BTW - DD#3 is "on the list" for the middle school play she auditioned for on Thursday. They haven't assigned parts yet, but one of the mother's at the volleyball tournament told me that if they were on the list, that means they got some kind of part and doesn't include any "backstage" work. So, we're very proud of her because a lot of kids tried out. Hopefully it won't add too much to our already full calendar. Apparently they break rehearsals up by scenes, so they don't have to be there every day. We'll see! Just another challenge!




Thursday, September 13, 2012
I had my "official" weekly weigh in this morning and I did gain .6. I wasn't too disappointed since I lost 4.2 last week. As I mentioned, I still have 2 weeks to go to loose 2.6 lbs., so I'm still on track.

I've incorporated back in 1 fruit & 1 whole grain a day. I've gotten a better handle on the carb snacking and will continue on with this plan for at least another week and then maybe work back in another fruit & grain. I'm getting about 5-7 servings of vegetables a day!

I ran on Tuesday and am planning to run today after work. DD#2 doesn't have volleyball practice, so she wants to run. She's keeping me motivated! We're going to try to convince DD#1 to go with us. She downloaded the "zombie run" app. on her I-phone, but hasn't been motivated to use it yet. She has no excuses today! DD#2 also wants to work on some core strength training and weights. She really enjoyed the weight training over the summer with the basketball program. She'll start that back up in 2 weeks with basketball, but wants to do something before that. We need to find something that will "interest" all of us and we can do it together. DD#1&2 hate my strength training DVD too, so we need to find something else! Here's a picture of DD#2 @ volleyball (#1)- she looks like she knows what she's doing!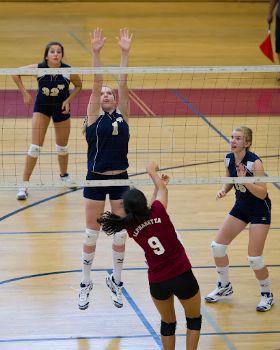 DD#3 is auditioning today for the Middle School play. Word on the street is they don't offer too many main parts to 6th Graders, but even if she works "behind the scenes" we're looking at more activities and more taxi driving from mom & dad!






Wednesday, September 12, 2012
I haven't weighed since Saturday and didn't want to see if my "slip ups" caused a gain. I peaked at the scale this morning and I'm up about a pound (after loosing 4.2 last week). Official weigh in is tomorrow, so I'm not recording this yet! I went a week without "bad" carbs and any sweets/junk. I did have an apple and wheat bread on Saturday and slipped up by eating 1/2 bags of rice cakes Sunday night (while watching the Steelers loose).

I also know I need to plan out food. I was running around (as usual) on Monday and by the time I got home, I ended up having "snacky" things for dinner, like a cheese stick, some almonds and cut-up veggies and an apple. Nothing really big, but I was hungry and snacked on some more almonds and dark chocolate covered cherries (Publix sells these out of the "natural food" section and DD#3 loves them - they are good). So, so much for no "sweets"!

Yesterday when I picked up DD#2 from volleyball practice, she wanted to go to the indoor track and run. It was a short practice and she said they didn't do any conditioning. Since she usually complains when we suggest running, I was happy to take her. Plus, I had already "excused" myself out of any exercise! She ended up only running about 1.5 miles (she was hungry and tired) and I ran about 2. Again it was a struggle, but I'm going to keep at it! She also wanted to shoot some baskets (again without me even suggesting it), so we stayed an extra 15 mins. doing that - I rebounded, so more exercise!

DD#1 & 3 wanted to go to Hobby Lobby (I had already told them I would take them), so I had to go there as soon as we got home. Fortunately I had made a baked ziti as soon as I got home from work (don't remember where I got the recipe, but you use turkey & whole wheat pasta), so I had that ready to eat when I finally got home for the evening (at 8 pm).

All in all I feel pretty good. I'm still pretty much in control of the eating (no major snack attacks!) and I'm really working on getting in the exercise.

If I do have a slight gain tomorrow, I won't be too upset because I had such a big loss last week. I'm still on target for the 6 lbs. loss by the end of September.





Monday, September 10, 2012
I'm a huge NFL fan - the Atlanta Falcons being my favorite team and the Pittsburgh Steelers a close second (fortunately they're in different divisions and rarely play each other - my dream is a Falcon/Steeler Super Bowl!).

I digress - this was the first week of "real" football! I watched a couple of college games on Saturday while cleaning, etc. I'm not that big on college football, but am a Georgia Bulldog fan. I was busy finally getting a Saturday to clean (the grass already cut) and driving kids around, so my eating was pretty good on Saturday. I did incorporate some good carbs back in and had an apple for a snack.

Saturday afternoon, DH, DD#2 and I ran at the indoor track (it was hot & humid Saturday with a chance of thunderstorms). I really struggled with 2 miles and everything was hurting. I rode bikes 3 days last week and I think that might have bothered my knees a little because they were hurting during the run. DD#2 was really proud because she did 2.5 miles. DH ran 1.5 miles outside on the hills and then came back in to cool off. He checked out a basketball and made DD#2 shoot for about 20 mins. She wasn't too happy because she was tired from a late Friday - volleyball practice, selling donuts at the football game for basketball, a sleepover, and just running 2.5 miles. She complained a few minutes, but actually looked pretty good. She's a little concerned because the basketball program started up with fall training/league and she can't participate (except for fundraising!) until volleyball is over (in 2 1/2 weeks). I helped rebound and then we had to leave because the gym was closing. Since it was already after 6:00, we stopped by Subway for dinner (DD#3 was calling that she was hungry!). I went ahead and got my turkey sub on wheat - loaded with vegetables. So I had another "good carb" that evening.

Sunday was a beautiful morning - it was 60 degrees and no humidity! We had a meeting at church for DD#2's confirmation class, I had to pick up DD#1 from a sleepover and then it was time for football!

So, I didn't exercise yesterday, but I had a good breakfast & lunch and no game snacking (until later!). I had to take DD#1 to work @ 4 (the Falcons were way ahead, so I didn't mind missing the last couple of minutes of the game) and then DD#2 & 3 and I went to church (DH had to work until 7).

DD#2 stayed for youth group and DD#3 and I went to Publix. We picked up chicken for dinner (I swear I'm going to start sprouting feathers & clucking!) and I had a great dinner. The Steelers were playing at night and I was trying to stay awake and getting nervous about the score (they ended up loosing), so I had the urge to snack. I ended up eating 1/2 bag of rice cakes!

So, I still have to try to curb those late night (anything after 9 is late for me!) snacking cravings!

All in all it wasn't too bad. I didn't weigh this morning to see see if there was any damage (I weighed on Saturday and was maintaining my 4.2 lb. loss).

I've got another insanely busy week ahead. I loaded up with healthy stuff last night at the grocery store, so now I just need to squeeze in some exercise this week!



First Page
1
2
3
4
5
6
7
8
9
10
11
12
13
14
15
16
17
18
19
20
21
22
23
24
25
26
27
28
29
30
31
32 33 34 35 36 37 38 39 40 41 42 43 44 45 46 47 48 49 50 51 52 53 54 55 56 57 58 59 60 61 Last Page

Get An Email Alert Each Time COACHMOMMY Posts