| | |
| --- | --- |
| | COACHMOMMY's Recent Blog Entries |


Friday, August 03, 2012
TGIF! This has been one long week! I think I jinked everything on Monday by saying I didn't have to "run" anyone around. It began Monday and hasn't stopped. My kids go back to school next Thursday, so it's been a whirlwind of activities. Needless to say, I haven't gotten in any exercise this week.

I've had opportunities (although small), just no motivation. On Monday I had to pick up DD#1-3 home from friends' houses and the movies. I had every intention of going to the track and run, but no.

Tuesday I took DD#2 to the batting cages and then we were going to work on her fielding. We had to end up going to another park for that because all the fields were full at the batting cage park. We worked on her fielding for about 40 mins., so I got a workout with that.

Wednesday DH took DD#2 to softball tryouts, I took DD#1 to work and we were both going to DD#3's hip hop "performance". As soon as we were leaving the house a huge storm came through. There was hail, wind, lightening and a massive down pour. DH had to stay at the softball field to see if they were even going to have tryouts. It rained so hard for about an hour, they ended up canceling it for the night. DH rushed back for us to go together to the hip hop "performance" (eating his Subway in the car) and DD#3 informed us that they were going to work on their routine at the beginning of the class and then we would watch them the last 15 mins. This would have been nice to know before that because DH wouldn't have had to rush and I could have ran for 30 mins. on the indoor track. Anyway, when that was over, I just wanted to go home and eat dinner! It was still raining, so that ended any outdoor activity.

Yesterday I had to take DD#3 to a birthday party right after work, take DD#2 to softball tryouts, drop of a prescription (get gas before I ran out - my least favorite thing to do), pick up summer reading books that all 3 have waited until the last minute to get, buy cat food, pick up DD#3 from party and then go to the softball tryouts to pick up DD#2 and a quick info. meeting (too bad driving isn't an exercise! When we got home, DD#1 was coming home from the mall with friends and wanted them to come over and hang out an make smores (because when it's 90 degrees, of course you want a fire). Fortunately I hate smores, so I didn't have any! But again, no exercise.

Today DD#1 has to work and DD#2 has another night of softball tryouts. She was so tired last night (3 hours in 90+ heat). They've been having "open fields" the past 3 weeks, but last night was the first mandatory night. There looked to be about 36 girls. They only have a JV & Varsity team and I'm not sure how many they carry on the team or how many Freshman they'll take. I'm a little anxious about her making the team, I'm trying not to show it (not doing a good job). She's pretty laid back about it, but I know she'll be disappointed. They have tonight and tomorrow morning and then they'll make the cuts and put it on the website by Monday. The first practice is Tuesday and the first game is Friday!

Plus this weekend I'm having about 40 people over my house on Sunday for my nieces graduation and my birthday!

I mentioned before that this is just a prelude to the school year. I know I'm just listing my excuses, but it helps me get it off my chest (but not off my plate!). The good news is we're kind of used to this chaos and a couple of years ago when I was loosing my weight, we made great strides in healthy eating habits. We rarely go to fast good (usually just Subway) and we try to have things at the house for "fast" meals on the insanely busy nights.

So good luck to all the parents that face these insane schedules (and even the non-parents, I know your lives can be hectic too!)

Remember all the tools that work!




Monday, July 30, 2012
I didn't do any "exercise" and my eating was atrocious! I started out Friday by taking DD#1 to work and going straight to WalMart for stuff for DD#2's retreat. I still had plenty of time to go to the indoor track and run, but I just didn't feel like it! Cut some grass (N. Ga. is in a drought, but nobody told our grass!), did some laundry needed for retreat, ate dinner, watched TV and went to bed when DD#1 got home from work.

I got up about 7:30 to take DD#2 & friend to retreat (we stopped by Chick-filet and I got the wheat bagel). When I got home it was already 11:00 am and DD#1 had friends coming over for our "waterslide" that DH made in the pasture.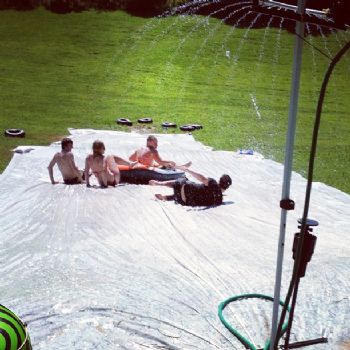 I've attached the picture (please insert "redneck" comments here). While they were slipping & sliding, I cut more grass and weeded a couple of flower beds. DH got home about 3:00 and we went shopping for a new mattress (bought one and it's wonderful - didn't realize how bad the old one was!). We grilled out, so it was healthy, but I ate too much. DH took DD#1 & #3 and her friend for frozen yogurt and brought some home for me!

DH bought some donuts & fruit for DD#1 & #3 and friend that spent the night. I had plenty of healthy options, but I picked a donut (oh yeah and fruit too!). I spent yesterday cleaning house, cutting more grass - I am so sick of looking at grass and taking DD#3 shopping and DD#1 to work.

So although I was very active, I just didn't get in the exercise and was a little off with the eating. This summer has just been a prelude to what school will be like. All 3 girls have tough schedules this year. DD#1 has 3-AP classes (and she struggles with organization, studying, etc.) and a job. DD#2 has all honor classes and an accelerated math class (she is also trying out for softball & basketball) and DD#3 is also taking all honor classes in middle school and is going to be in the band! This doesn't include church activities/classes, other non-school activities and their social life! Oh yes, and both DH and I work full-time (and his schedule varies each week!).

OK, I'm done with my panic attack! I'm so thankful I have all my tools in place and last year was hectic too, but I managed to squeeze in the exercise (and mostly eating right!).

I actually don't have to run anyone around tonight (yet!), so I'm going to get in that run on the indoor track. Plus I ate my healthy breakfast and packed my healthy lunch!





Friday, July 27, 2012
Had to take DD#2 to her High School open house yesterday. After about an hour of walking around the hot HS, I was kind of wiped out when we got back home. I still had to get in my 30+ mins. of exercise and was either going to ride my bike or play a little softball.

My sister came by (I was napping on the couch) about 7:45 and we had to go to my office for me to notarize something for her (about 5 mins. away). She brought her bulldog with her, so that kind of limited what we could do for a little exercise. We went to the park with DD#2 &3 and 2 dogs about 8:30 to walk. DD#3, sister and dogs only walked about 15 mins. and the bulldog was huffing & puffing - they headed back to a shady area for water. Even after 8:30 and the sun going down, it was hot! It was very humid and the air was like a wet blanket - there was no air circulating. DD#2 and I finished the loop and got in about a 30 min. walk. We were both sweating!

I had to stay up late (11:15 and that's late for me!) to wait up for DD#1 to get back from a concert. It was an all day deal and she was hot and sunburned (and her legs were filthy). She said despite how she looked and felt, it was "the best day ever"! She said she was feeling a little nauseous and dehydrated (even though she said she drank a lot of water). Sent her to shower with some gatorade and I went to bed.

Had to get up this morning at 6:00 to get DD#2 ready for basketball and then take her. I got back home with just enough time to finish getting dressed, eat breakfast, make my lunch and get to work. It's only a little after 11:00 and I'm already tired & hungry!

It's another hot day. I'll probably take DD#1 to work and go run at the indoor track. I also have to take DD#2 to the store to get some stuff ready for her weekend church retreat. I then have to carpool her to the retreat (about 45 mins. away) tomorrow morning. Fortunately they don't have to be there until 10, so I don't have to get up too early!

The house really needs a good cleaning, but I feel a lazy day tomorrow! I just found out my house got volunteered to host my niece's college graduation party on Sunday, 8/5 (my birthday!). My niece is 27 and took a couple of years off to help her husband finish up college and now she finally graduates on Tuesday (way to go!). She is also 5 months pregnant! My house is a good place for a party because it's open and we're very "casual". We also have a lot of land around the house. My sister was looking at some places at the lake, pool, etc., but no one wanted to spend a lot of money. It will probably be another hot day next week, so we really can't do much outside. I'm planning to do some extra yard work this weekend because lately all we've been doing is cutting the grass (which takes a long time).

So it will be a busy weekend. Looks like I'll get plenty of exercise - just need (as usual) to watch the weekend snack attacks!




Thursday, July 26, 2012
I lost a little more this week .4, so I'm down almost 3 lbs. in 4 weeks of "tracking". I've got about 4 lbs. to get back to my WW goal.

We took DD#2 to the batting cages on Tuesday. DH ran on the trail at the park, but it was so hot! After the cages, we went to one of the fields and worked on her fielding. I got a pretty good work out. I threw with her, hit her some balls and chased balls while DH was hitting to her. We were out there for 45 mins. and she was not happy! We really did work her pretty hard. They have 2 hrs. practices, but she's not the only one there, so it's not as hard. (We are a little hard on her and she gets mad because she said we're harder on he than the other 2, but it just feels that way to her because she's the only one doing competitive sports).

Last night DH & I took DD#3 to Hip Hop and he ran some outside. It was 97+ again and humid - don't know how he does it. He's doing about 1.5 miles outside and then comes in and does another mile and walks. He said he likes the hills and the heat! I ran on the indoor track. While I was running there was an older guy (I don't like to say old, because I'm 51!) walking at a pretty brisk pace. After I ran my 2.5 miles, I started to walk. I was passing the "old" guy and he asked me how far I had ran. He said he was walking 10 miles! He had already been there 2 hours and I don't know how long he still had to go. He was still plugging along when we left. If I had to guess, I'd say he was in his 70's+, so that's awesome!

Not sure what I'll do tonight. DD#2 has "open house" at the high school, so I'm thinking I might ride my bike later in the evening.





Tuesday, July 24, 2012
I seem to always focus on the negative when it comes to my weight loss & maintenance journey. Instead on focusing on my weight gain and when I miss an exercise day, I need to give myself a little credit.

I lost 46 lbs. and have mostly managed to maintain for over a year. I'm about 4 lbs. above my goal, but that's ok - I'm working on it. - so good job!

I set a goal to exercise for 30+ mins. every day since the first of June. I think I've missed 3 days out of 44 - again good job!

Yes, I'm still not tracking my food on a consistent basis, but I've gotten better and I always (and I mean always) get in 5+ servings of vegetables/fruit a day and drink 8+ glasses of water - way to go me!

My "official" weigh-in is tomorrow and hopefully I won't have a gain. The weekend was a little rough (as usual), but no Klondike bars this past weekend (see previous blog cursing the weekend).

Last Wednesday, DD#1 & 2 and my sister and I hiked one of the hilly trails in the area. They changed around the trail heads, so we got a good 45 min. hike. It was nice because it was shady and not so hot. Thursday I played softball with DD#2 (she learned some new throwing drills) and I ran on Friday. It rained heavy all day Saturday, so I was a slug (one of my 3 missed days)! On Sunday the grass was high again, so I spent most of the day cutting grass. Later that evening, DD#2 and I went to the batting cages and then we practiced softball for about 45 mins. (DD#3 & friend played at the playground). We did go to Dairy Queen after that, but at least I only had a small cone.

Last night I ran at the indoor track and tonight it's back to softball (although DH wants to run, so I might do both). DD#2 has 2 more "open fields" and then try-outs are next Wednesday-Saturday, so she wants to get in as much practice as she can. Her "ticket" for making the team will be her offense (she's a very good hitter, just not used to the speed of the high school pitchers, hence the batting cages) and her strong arm. She's a little concerned because she's trying out for the outfield and usually plays shortstop or catcher, but those are heavily competitive positions. She's worked really hard and if she doesn't make it this year, she can try again next year - although that won't be much consolation (she's a rising 9th grader and softball at her school only has JV & Varsity as opposed to basketball which has a 9th grade team).

So good luck to me at my weigh in tomorrow and good job to me for all the healthy things I do!



First Page
1
2
3
4
5
6
7
8
9
10
11
12
13
14
15
16
17
18
19
20
21
22
23
24
25
26
27
28
29
30
31
32
33
34
35 36 37 38 39 40 41 42 43 44 45 46 47 48 49 50 51 52 53 54 55 56 57 58 59 60 61 Last Page

Get An Email Alert Each Time COACHMOMMY Posts