Monday, April 23, 2012
On saturday, everyone that I spoke with was talking about the storm. I was starting to feel as if I were a cast member of HBO Game Of Thrones. www.hbo.com/#/game-of-thrones

[Note: for those that have not seen the show, every episode the phrase "Winter is Coming" is repeated multiple times.]

Anyway, I woke up early and was in the garden by 7:30AM determined to get something done before the predestined time of doom at 4PM. I pulled weeds, mulched, fixed the stacked rock border to the flower beds, replaced the section of broken fence and donated 30 lbs of finished compost to the local Lutheran Church for their fundraising auction. Seemed like a good thing to do because I had no place to put it and they were happy to receive it.



[image from MS clipart collection]

Living in a townhouse with a yard the size of two postage stamps well .... you see what I mean. however, composting is a good thing to do so, I continue to do it.

Anyway, about 4:30PM under a dark sky, my husband inquires if I would like to go to a local (and very good, I might add) restaurant for dinner. Crawling out from under the red maple with a handful of Vinca - I make the executive decision that dinner is a good idea since it seems that being so motivated, I had nothing but sparky water all day. well that is not totally true ... I remember having a piece of peanut butter toast first thing in the morning.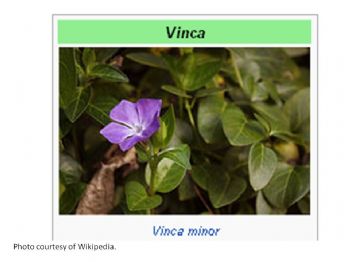 Awwww ... Vinca is such a cute little plant, you say. HA! It is a demon plant! Beguiling us with its cuteness and then it attacks!

According to wikipedia "Although attractive, both Vinca major and Vinca minor may be mildly invasive in some regions where they are introduced species because of the rapid spreading resulting in choking out native plant species and altering habitats." en.wikipedia.org/wiki/Vinca

Mildly invasive .... again I yell ... HA! ... anything that can choke out English ivy is NOT mildly invasive.

The previous house owners either A) had not a clue what they were buying or B) decided to have a big laugh on the next homeowner (aka My Husband). I have been battling this monster for 10 years.

Oh, I digress ... back to the storm .... we went to dinner and had a most wonderful meal at Chappies Bar and Grill in Halethorpe MD - SW Baltimore County. My large Cesar salad and side of steamed broccoli with garlic sauce did not last long. No sirree! Meanwhile, the sky continued to darken and a handful of drops fell but no rain until after we went to bed that night whereas Western MD had snow.

Oh well, I worked hard and my body ached on Sunday. The gentle rain we received all day made it easy to just relax.

[EDIT: See that damn plant can even kill cancer cells .... Mildly invasive ... HA!]