Wednesday, March 07, 2012
Last week when I finally had enough guts to make the jump from Stage 1 to Stage 2 (it only took me 8 months!), one of the goals that jumped out at me was to set up a system for storing left-over dishes. I'm really not a left over person, so I never really gave this much thought. But over the last week, I have learned just how easy my lunches can be by reheating a portion of dinner from the night before. I have given this so much thought over the last week (that's me, research, think, research, think, plan, and finally plan some more - a little bit of OCD). In the past I had a whole cabinet full of some nice genuine Tupperware. But, through the years, my supply has dwindled. My husband recently admitted to me that half the time he takes the left overs to work, he forgets about them, they stay there in the fridge too long uneaten and then he just throws the container away because he couldn't bear to open the container to see what it smelled like!! Really?!!! So, I decided it was best to invest in a stash of the reusable/disposable plasticware that wouldn't break the bank when I needed to restock the supply. Today, I went to Target to pick up a couple packages of these containers in sizes that would be most beneficial to us - the individual portion sizes. The packages sat on top of the counter until after lunch because I just couldn't fit them into the "don't open the door too fast because everything will fall" Tupperware Cabinet.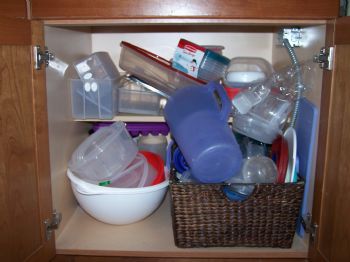 After lunch, I took it upon myself to organize this cabinet. Anything that was cracked, didn't have a top, or I haven't used in the past year went to Tucker for the sandbox. It's funny how the smallest things make 4 year olds so happy. My trash has kept Tucker busy in the sand box for about 45 minutes now and allowed me to finish up my cabinet cleaning project.


Do you think my husband and kids will notice the difference and will work with me to keep it organized? I give it 3 days max!



-Christine