| | |
| --- | --- |
| | CLAIREINPARIS's Recent Blog Entries |



Wednesday, July 30, 2014
I love Normandy. The part of Normandy I go to most often, the 'Vexin normand', feels almost like home as I have done so many hikes and visits there. If you are after green and picturesque (which I am most of the time!), it is wonderful.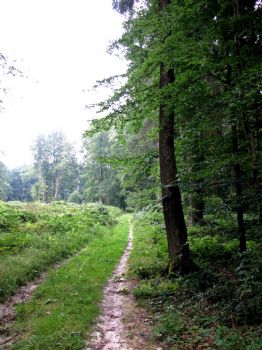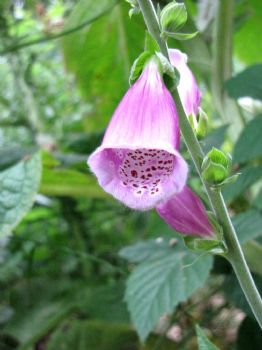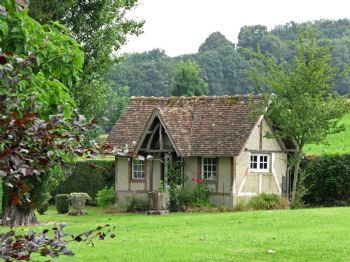 Rosay-sur-Lieurre, the first village I crossed this morning, had a castle and a manor.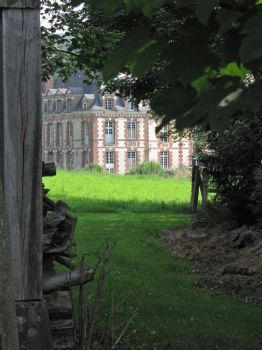 It was so charming, nestled by the river!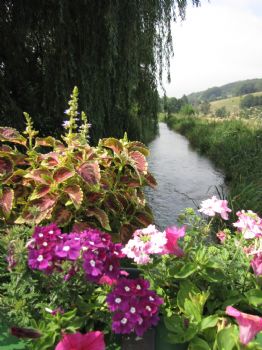 From there, I crossed the countryside…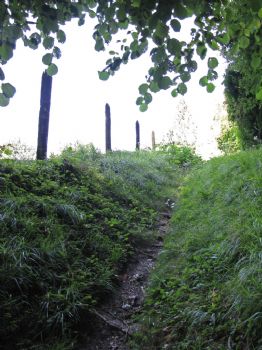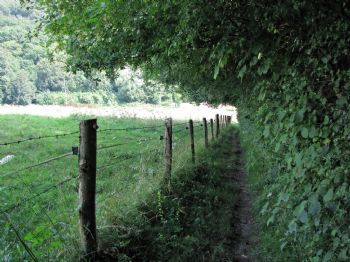 … and made a new friend! The poor horse was quite lonely.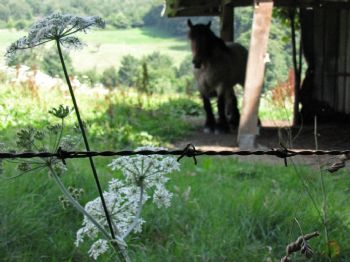 Walking through the fields, I enjoyed one last view on Rosay-sur-Lieurre's castle…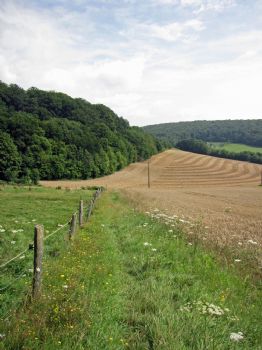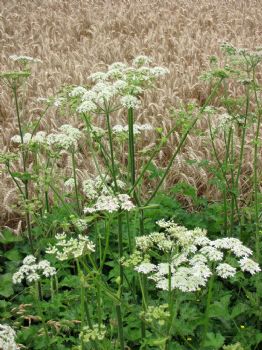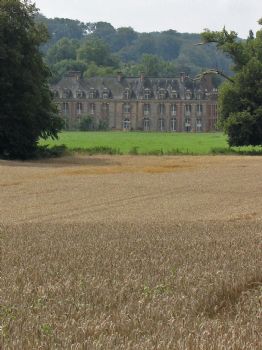 … until I reached the Roule's hamlet. There were only a few houses but I loved them all! Here are a few of them: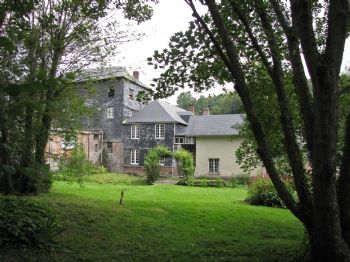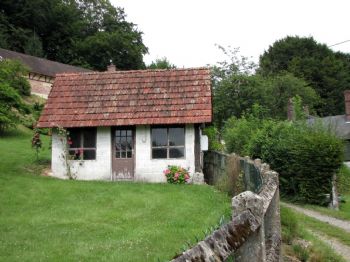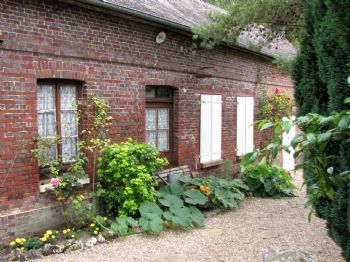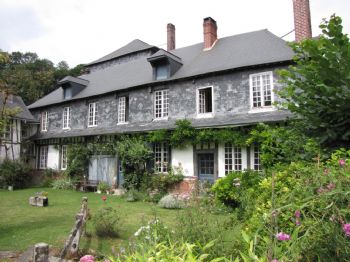 I so love these wild sweet peas! They are everywhere at the moment.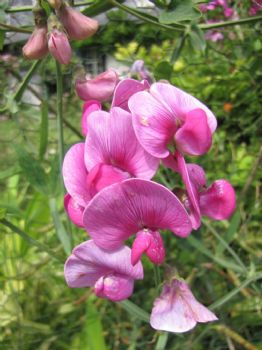 Then it was time to walk through the forest again. The woods in the area (Lyons' woods) are well known because of their gorgeous beeches. People speak of a 'cathedral' of trees, and I understand what they mean: it is quite impressive indeed.




There are other species such as pines as well.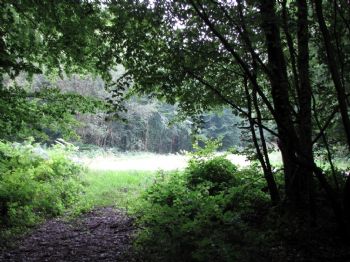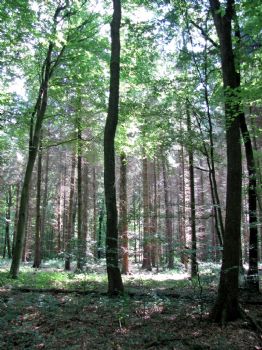 And of course lots of flowers…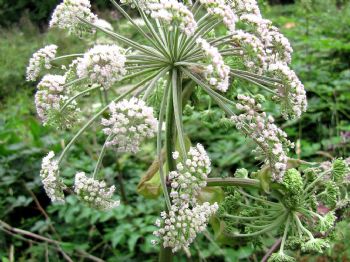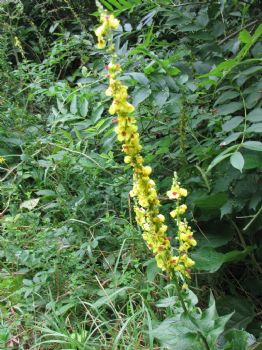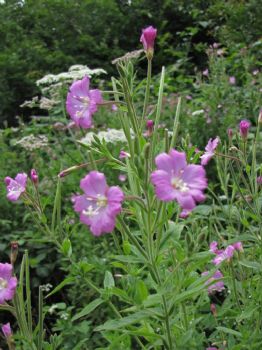 … and even the first few blackberries!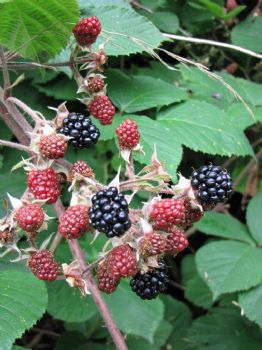 I really enjoyed the part of the hike that followed, between the forest and the meadows, with also a pretty little horse farm right next to the path. I had my sandwich break nearby, in the shade of the woods looking at the meadows!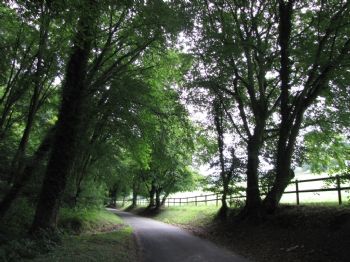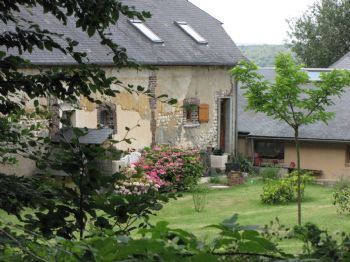 Some more walking through the woods…




… and I reached Touffreville where I had started. As I came out of the woods, I noticed a little monument on the side, in honour of two British soldiers whose plane had crashed here in July 1944.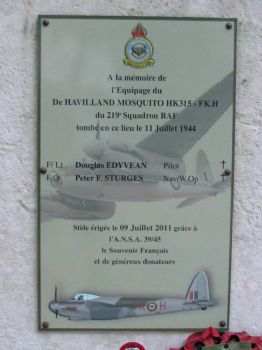 I am so glad we have visible signs of all these sacrifices, and not just the cemeteries. Soon there won't be anybody left alive to tell us what they saw, what it meant to be freed. I hope all these monuments throughout France will help us never to forget. (Am I the only one who cries on the anniversary of D-Day, 6th June, each year? I always remember my parents and grandparents telling me what they were doing when they heard the Allied had arrived in Normandy and how relieved and happy they were, even though they knew that the war wasn't over yet…)

These two young men died near Touffreville's church, in the meadow next to it. Such a peaceful place today.




What a gift it was to be able to take the day off today to go on this wonderful hike! It made me forget all about the awful heat of the previous one, and made me hope for many more in the coming weeks (we have had a very wet July so far, with lots of thunderstorms too… not ideal weather for hiking!).

Thank you so much for reading!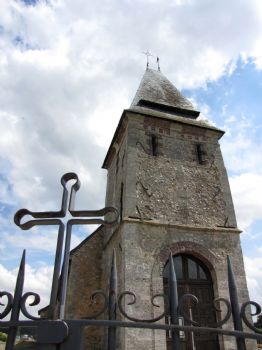 Saturday, July 19, 2014
My excuse is that I hadn't been on a hike for about 6 weeks! When I saw the weather forecast for the weekend (rain again, and thunderstorms), I decided to take Friday afternoon off and head to the Beauvais area (North of Paris), despite the very humid heat (35C/95F).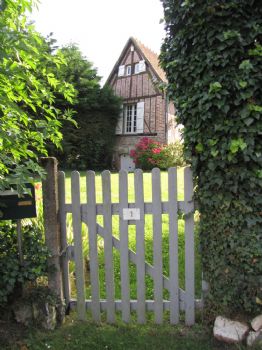 Well, it was a very stupid thing to do. Saint-Paul and the countryside around it were lovely, very green and welcoming (I must go back!)…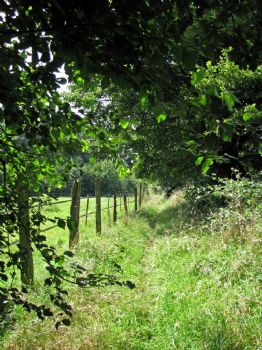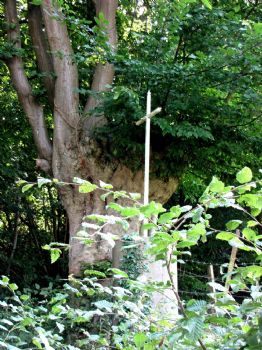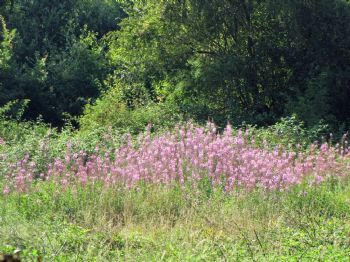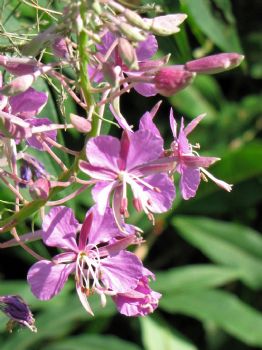 I loved Saint-Paul's old church too…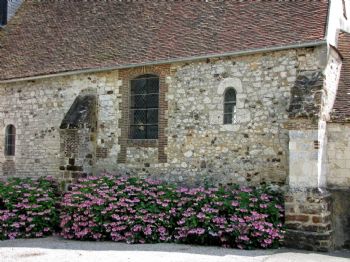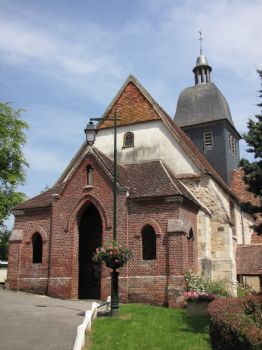 … but really from the start I realised it was going to be hard work.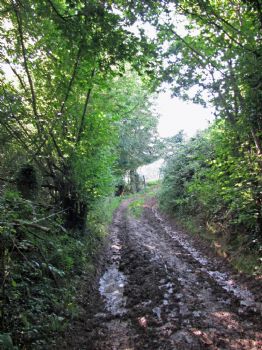 It was very humid and way too hot for me. We aren't used to the heat in Paris, in total it only gets in the 95s and 100s about one week per year, 10 days at the most. I had brought lots of water, and a good part of the hike was going to take place in the woods, but that wasn't enough. The humidity was terrible. I was walking through clouds of mosquitoes and flies (those cows!!!), and I suspect I swallowed one or two!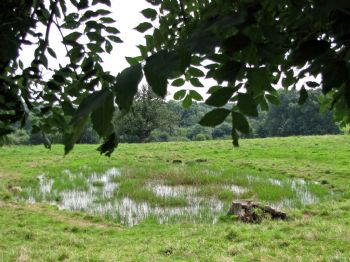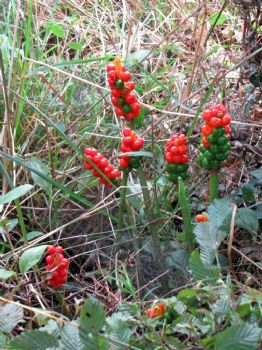 (This plant is called arum maculatum, I showed it to you earlier this Spring at the flowering stage. Its berries are very poisonous!)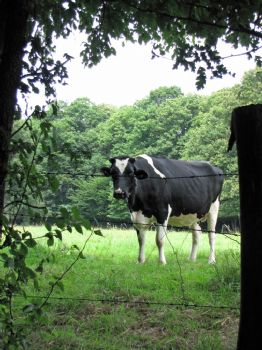 Also, my guide had described this hike as 'challenging', and in places it was, even by normal temperatures. I didn't take any pictures of these as I was focused on not falling, but some areas were very steep and extremely muddy. After 45 minutes, I was thinking of taking a break already. And I decided I was going to take all the time I needed, walking slowly, drinking as often as necessary… but still it was tough.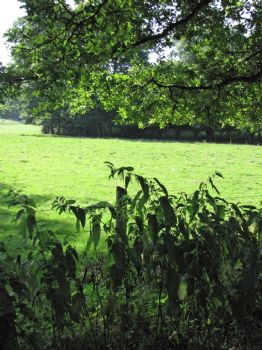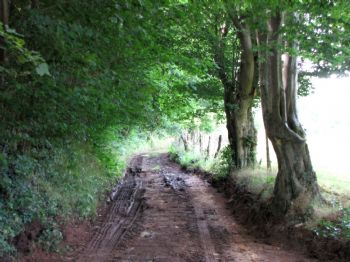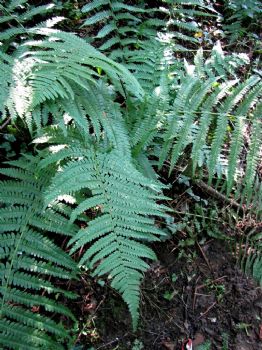 In the village of Saint-Germain, I sat in the shade before what was going to be the most difficult part of the hike according to my book. I had done a little over one third of the hike, but it had taken me twice the time it should have (over 2 hours instead of roughly 1)! I had already drunk almost 2 liters of water and my heart was beating like crazy. Time for a break, definitely!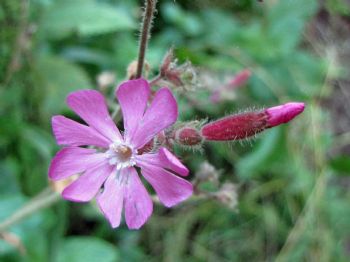 It took me a while to feel human again! I was soaked. And as I looked at the pictures I had just taken, I saw the last few ones were completely blurred…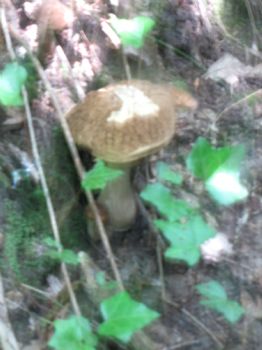 See what I mean? I think this helped me to see it was all getting a bit too much and I wasn't enjoying it! And I was not ready for 'the most challenging part' of the hike. So I studied my map to see how I could avoid the very steep and muddy area again, and went back to Saint-Paul, slowly.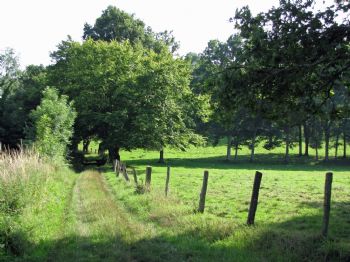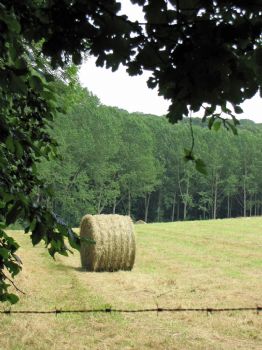 The return only took me one hour, and I was glad. I was tired.




When I turned into the last path, the Chemin de la fontaine qui bout (path of the boiling fountain… which I didn't see... it might not exist anymore!)…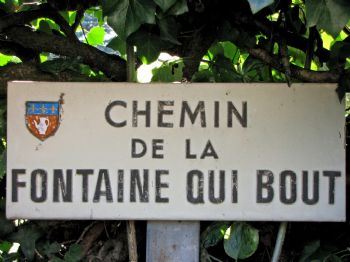 I knew Saint-Paul would soon be in view and I felt immensely relieved! And sure enough, a few minutes later, Saint-Paul's church appeared and I was back at my car.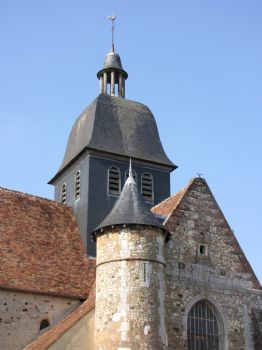 Phew! I took time to relax before driving home, but I was still shaky well into the evening. The problem wasn't dehydration: I had drunk lots of water. But I shouldn't have gone on a hike by such a hot and humid day. Some people can probably do it, but I can't. Lesson learnt!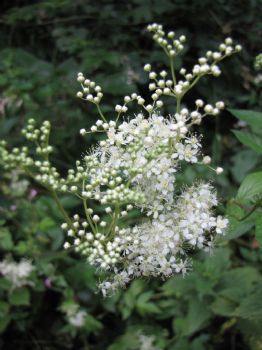 And now, let's start to think about my next hike!!! It looks like the weather might be good and cool on Wednesday afternoon, and I have lots of holiday left to take, so… maybe Wednesday afternoon, we'll see. You can tell I am already feeling better, can't you?



Thank you for reading!

P.S. If you like flowers, you might enjoy this blog I did when I visited a painter's garden in the same village, Saint-Paul, a couple of years ago:
www.sparkpeople.com/mypage_public_jo
urnal_individual.asp?blog_id=4500559






Thursday, July 03, 2014
It's time for another get to know your Spark friends… borrowed from _BABE_!!!
(I had to add some pictures to make it more fun... some are mine, some I found on the Internet.)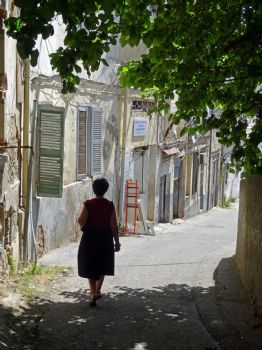 Your go to chewing gum flavour… I don't like chewing gum (oh dear, it isn't starting too well, is it?!!!).

Best time of the year… Early Spring as I just love to see Nature waking up, and autumn for the colours of course.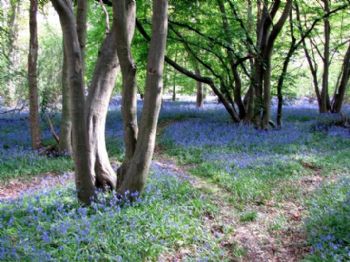 If you were a toe nail polish what color would you be…. Probably bright red, although I am also into dark blue at the moment.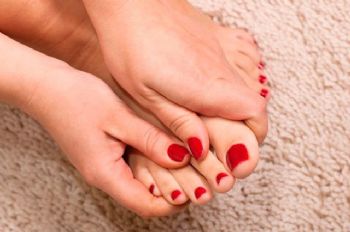 Favorite pie… The lemon and meringue pie from my grandmother.




First record you ever bought… I don't have a clue! That was a long time ago! ;-)




Current perfume you use… Aromatics Elixir by Clinique, but I will go back to something less strong. Coco Chanel was a favorite for years, and I love Pomegranate Noir by Jo Malone too. (I was amazed to find the picture below on the Internet... my mother has a bottle just like this which used to be my grandmother's!)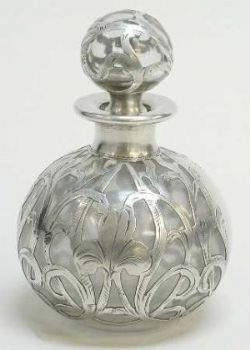 Do you have any trophies or awards… LOTS… on Sparkpeople! ;-) Apart from that, lots for playing the piano in my younger years!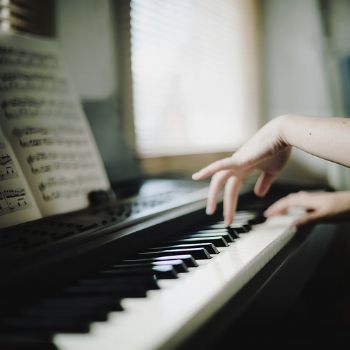 Worst day of your life… 15 August 2001. I am immensely glad as I look back to see that no 'bad day' came even close to it ever since!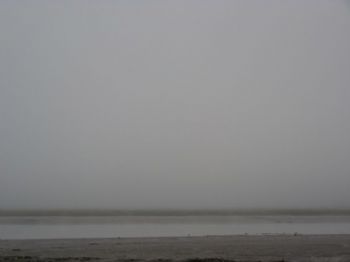 Do you cuss and swear... No.

Celebrity crush you would get a hall pass for… This might feel awfully boring but I don't have any celebrity crush!

What is the new reward if it isn't food anymore… Make-up… I like lipstick and nail varnish for 'little gifts' to myself.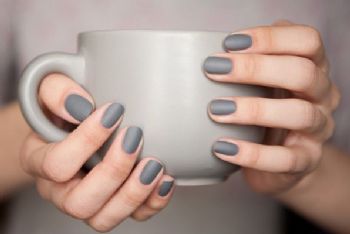 What makes you the Zodiac sign you are… I am not into Zodiac, but I hear that I am a typical Sagittarius as I love travelling so much and I am very independent.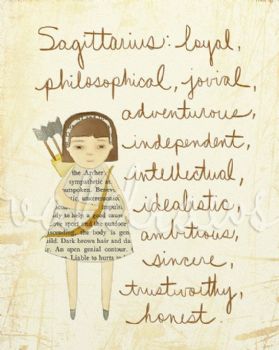 What is your goal weight.... 82 kilos, which is my maximum for a 'healthy BMI' (I am 6 ft). This is me at about that weight in 2007 with my friend Liz: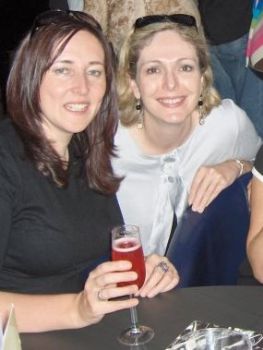 Do you think you are a giver or a taker… Both! In my job (I work for an international charity) one could think I am a giver… but I believe I receive much more than I give (do you see my smile on the picture below?!)! And with my friends I am both, too. Isn't it what friendship is about?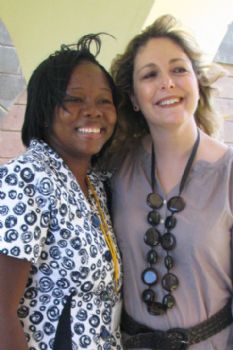 Beach house or Mountain cabin… A little house in the countryside I think! I see so many I love during my hikes (like here in Normandy)!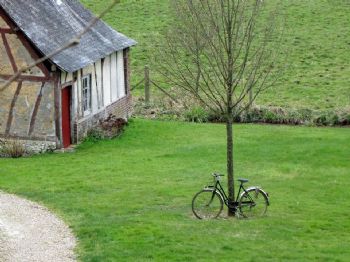 If you monogrammed your towels...... CB if I did it the French way or CMB if I did it the English-American way.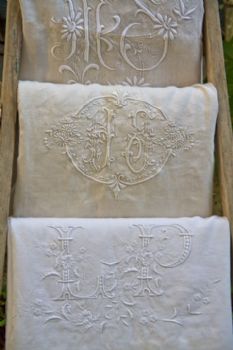 Someone offers you free plastic surgery, what do you do…. I might do something to my nose, but I would most probably say 'no thank you' as I hate surgery so much (why have it if you can avoid it?!).

I might be tempted to time travel back to…. Honestly, in many ways I think it is a privilege to live in the 21st century in the Western world, especially as a woman. Because I love fashion from that time, the 1950s would appeal to me though (you know, just to have a look, but I'd be happy to be back in 2014!).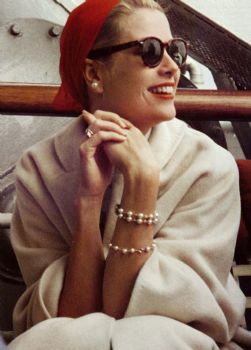 Nick name in high school.... I didn't have one… In primary school, I was called 'La Grande Girafe' on a couple of occasions because I was so tall already! Then when I saw giraffes in Africa I was struck by how elegant and beautiful these creatures are... so I was actually happy I had been called that way! :)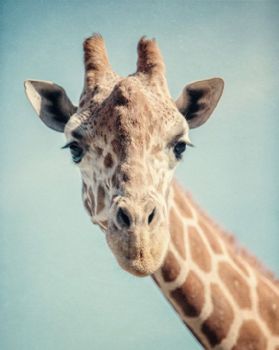 Now cut and paste this with your answers in the comments...or feel free to post your own blog!

In any case, have fun!!!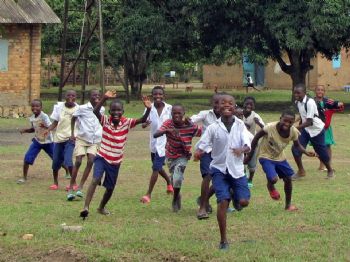 Monday, June 30, 2014
Hello dear Sparkfriends,

I am finally home! I always love that moment. These last 11 days in the Netherlands have been busy to say the least and it really is good to be home!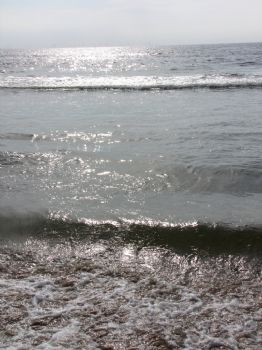 On Friday evening, to celebrate the fact that the most difficult meetings were over, I finally took the time to go for a walk on the beach near the hotel (to answer one of your questions, yes, it was the North Sea coast).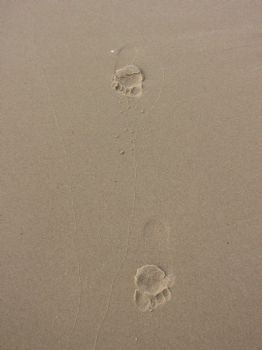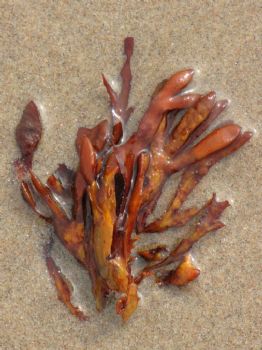 I walked in the water until I saw some jelly fish! There were actually many of them.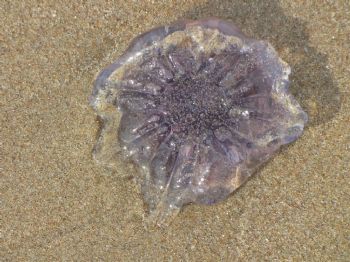 Then I decided I needed a break from the same hotel food, and ate some lovely salmon in a nice little restaurant.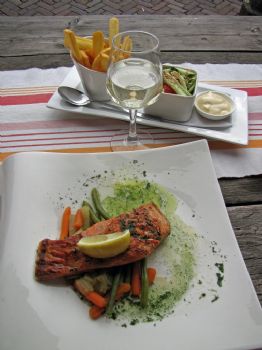 I was in a very good mood and thinking how nice it is to have a job where I can travel when I checked my text messages. My father was telling me that my mother had been taken to the hospital and might need some emergency surgery. This is one of the things I dread when I travel… I called him and I could hear my mother next to him in ER saying: "I am not feeling very well…" It broke my heart.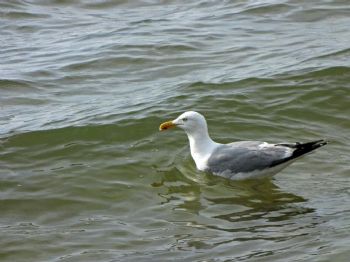 Thank you so much for all your encouragement and kind messages when I shared how I was feeling that evening. It helped so much! I didn't sleep much that night and it wasn't easy to follow the meetings the next morning. But at lunch time, my father said my mother didn't need the surgery and had been taken back to the nursing home. PHEW. I was able to follow the meetings a bit better then!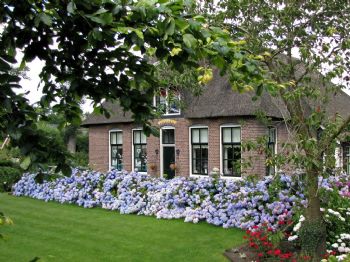 After one last meeting on Sunday morning, I was able to visit a couple of very nice villages in the afternoon.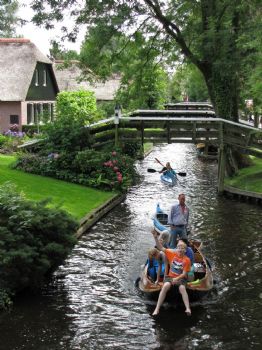 The first one, Giethoorn, is seen as a little Venice according to the people I was with. It is true that canals are absolutely everywhere, and all the houses are built by the water.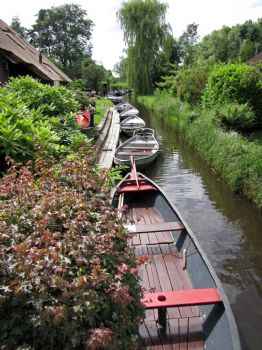 Hello!

Do you like my new red suede shoes?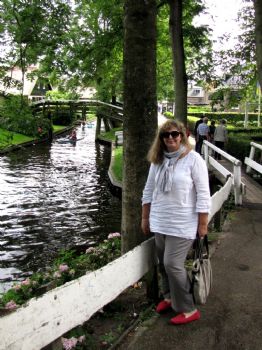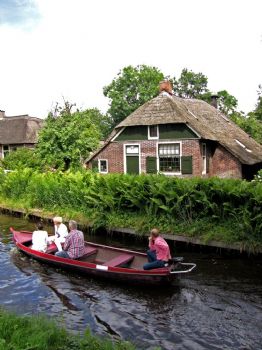 The houses, which were built in bricks, were mostly from the 19th and the first part of the 20th century I think. All the gardens were delightful!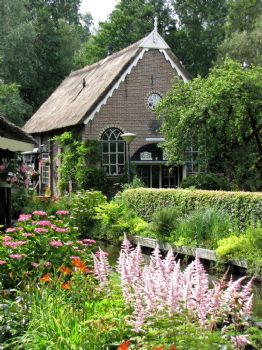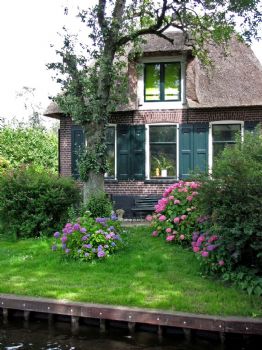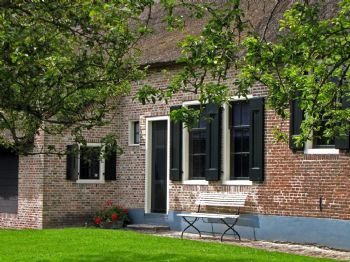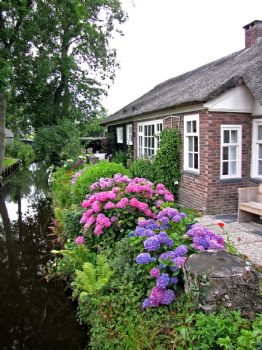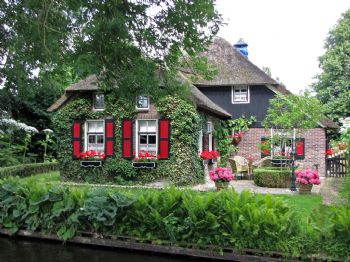 It felt great to be a tourist for a few hours! We visited a pottery…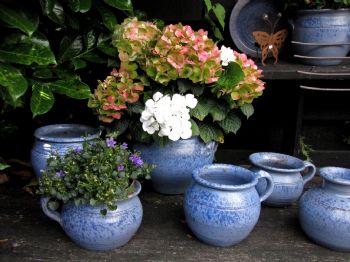 … and then had a drink by the lake, watching the boats.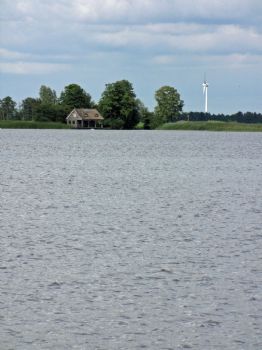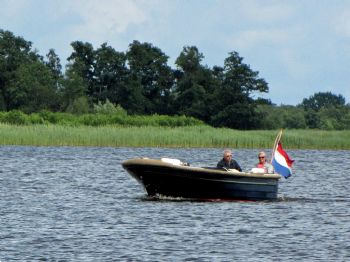 We were back on time for the football/soccer match between the Netherlands and Mexico! Netherlands won and I decided to go for another walk around the village where I was staying to see if people were out and celebrating.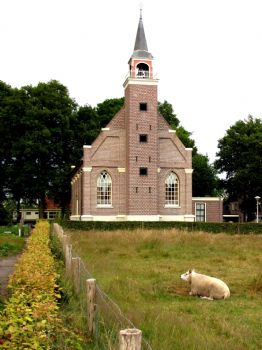 Apart from some youth who were listening to some music and drinking beer, the village was very quiet, but I enjoyed my walk.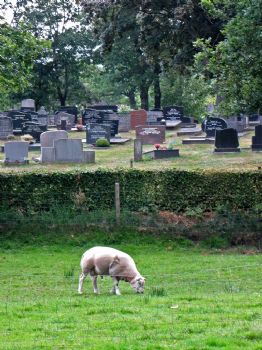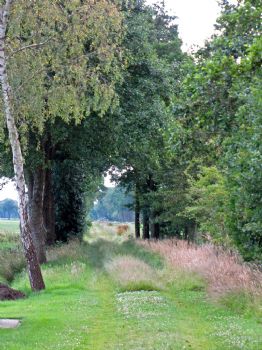 Some of you have asked me how things are going in the new nursing home we moved my mother to, about three weeks ago. Well, I am VERY glad to say things are going well there. The difference with the previous nursing home is like night and day! The staff is competent, patient, and always kind to her and to other residents. My father actually enjoys his daily visits there! Now that my mother is back at the nursing home after the hospital scare, she is recovering and much less agitated and sad than she used to be in the previous nursing home.
The lesson for me is that it was well worth moving her, despite the fact that my father was scared of the trauma another move would cause her (changes are bad for Alzheimer patients). Since she moved, he has never stopped saying how glad he is we took that decision! A BIG thank you again for all your support through these terrible months when I was lost, terribly worried, and didn't know what to do.




And now, please excuse me, I must unpack and get ready for a busy day at work tomorrow! Many thanks for reading the end of my 'adventures' in the Netherlands!






Monday, June 23, 2014
Hello dear Sparkfriends,

I don't know about you, but I had a wonderful Sunday! I am in the Netherlands for countless meetings (or so it feels… I am not a 'meeting' kind of person!) for over 10 days. Yesterday was my one day off, and my Dutch friend, Cora, picked me up at the hotel on the morning so that we could spend the day together, enjoying some catching up, sightseeing, walking, cycling...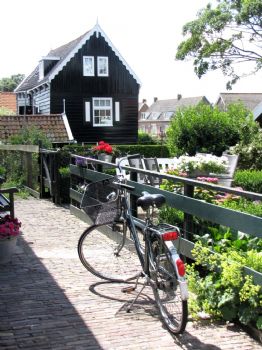 Cora and I have known each other for almost 28 years and I am so glad we managed to keep in touch! We see each other every few years. Here we are on the boat taking us from Volendam to Marken yesterday: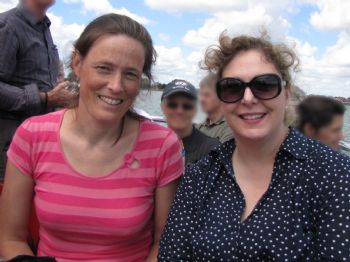 So we travelled to a little village called Volendam, which used to be by the sea, and is now by a lake as the sea has been 'locked'. Here is what I mean: at the North, you can see there is a dam, on which a road has been built, making this area which used to be the sea a lake.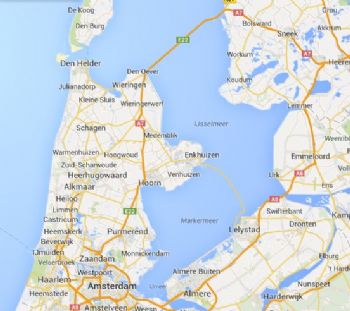 It was a pretty village, made even prettier by lots of flowers everywhere!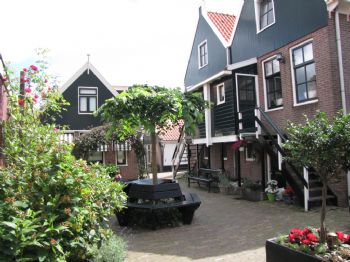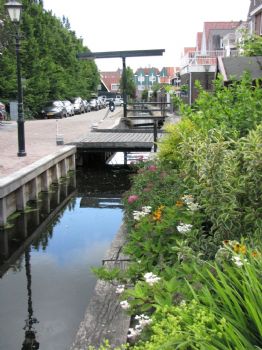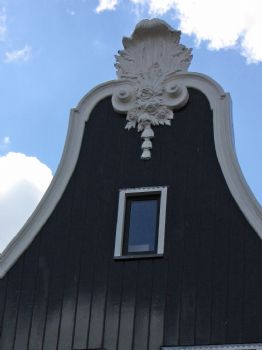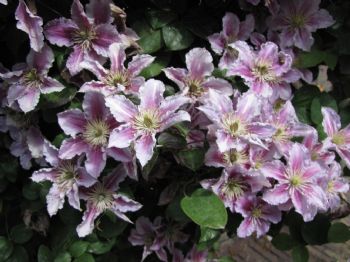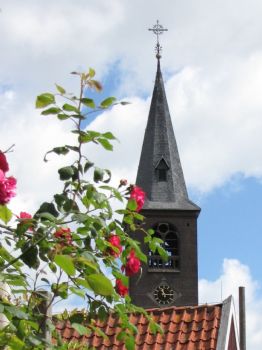 Then we took the boat to the nearby island of Marken, with the bikes that Cora had brought from home for us to use. This is the view of Volendam's harbor as we left it: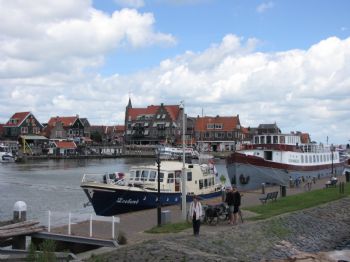 I hadn't been on a boat for a while and really enjoyed the short crossing!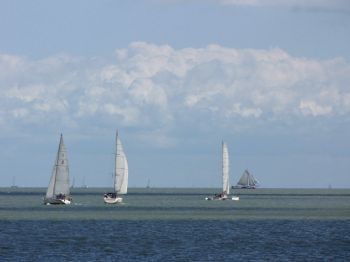 Marken was so incredibly pretty! A former fishermen village like Volendam, it is touristy but with a lovely, peaceful atmosphere.




Like everywhere I have been in the Netherlands, it was very green and canals were never far away (as well as the lake of course).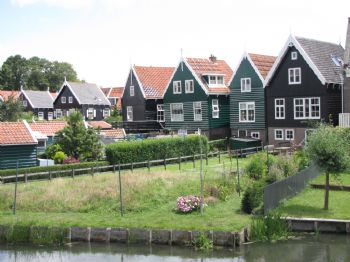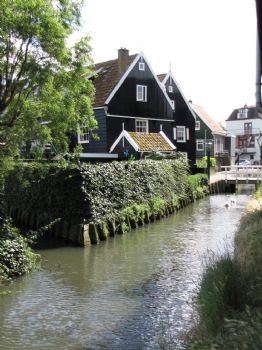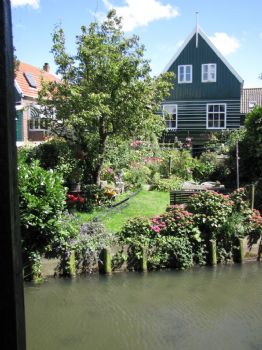 Now I am feeling slightly ashamed of myself, but the 'cycling' part of our day didn't take place! We were supposed to cycle back to Volendam by a dam. This would have been a 20 kilometers distance.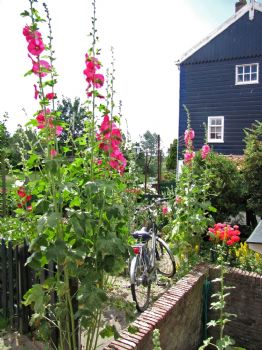 But… Cora's bicycle was slightly too tall for me, and, not having cycled for several years, I really didn't feel safe! On several occasions I almost fell from the bike, and almost collided with a poor pedestrian who wondered what was happening to him! Crazy French drivers (cyclists!) I tell you!!! :)




So we walked around the island instead, and returned by boat again afterwards. It was still lovely, with all the dark wooden houses to look at!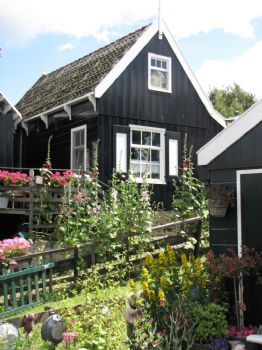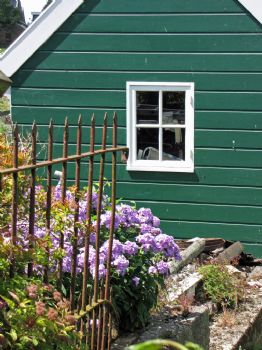 I enjoyed the little details that made the houses special, like a painting with birds, or the name of the owner, or baskets with flowers…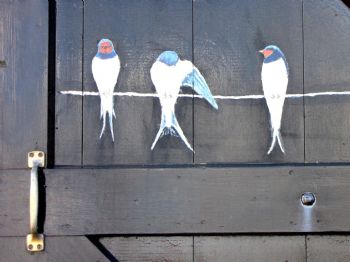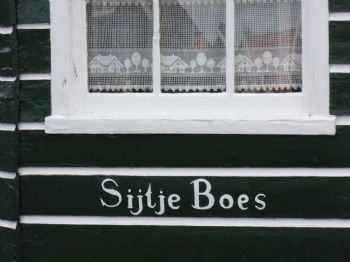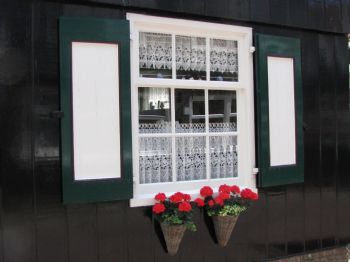 Marken is a small village, so it was surrounded both by the lake and lots of fields and pastures. My kind of place! : ) We had our picnic lunch facing a pasture, far away from the tourists.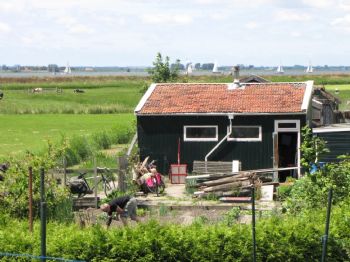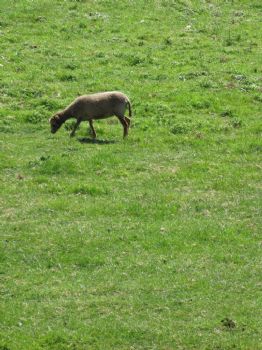 Then we visited the small clogs museum.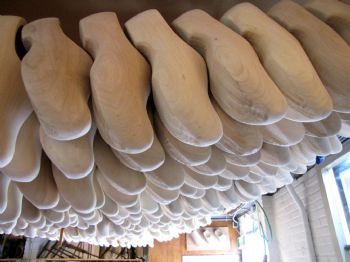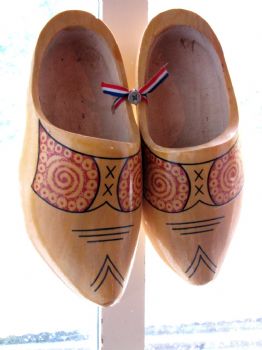 Look at these gorgeous carved clogs! Apparently they were made for weddings.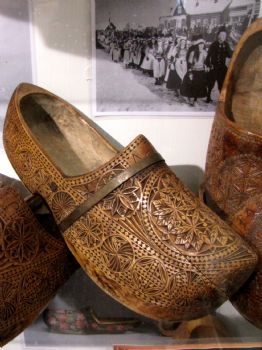 After another failed attempt at cycling -- this is when I almost collided with the poor man on the side of the path, who said (kind soul!) "Please don't fall!" --, we caught the boat back to Volendam, and then drove to Cora's home to have dinner with her family. That was the highlight of the day, as I hadn't seen them for a couple of years and her daughters had grown so much!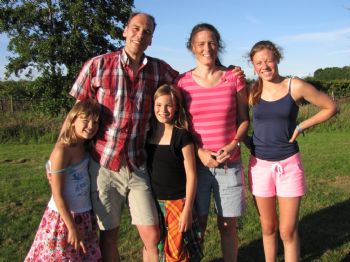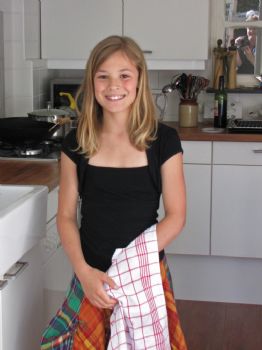 We had dinner outside in the garden, which for me, living in an apartment, is just bliss!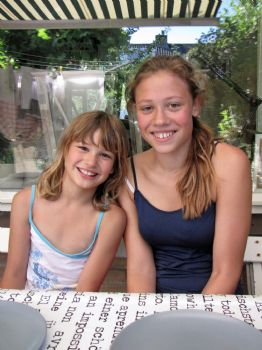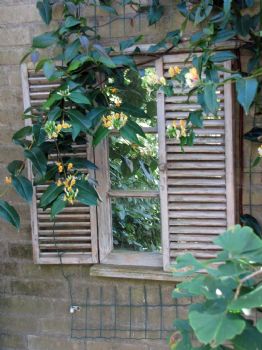 Before Cora took me back to the hotel and a full week of meetings, we had a little walk in their neighborhood. See by yourself how lovely it is…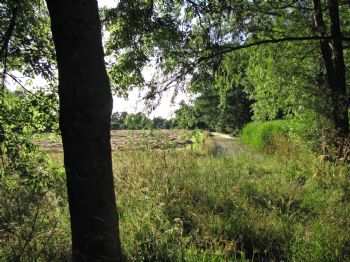 You know me… I was all 'Awwwwwwww' when I saw this duck and its ducklings!!!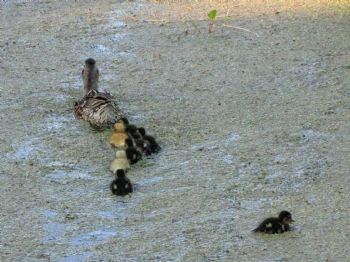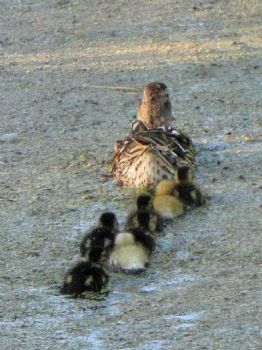 Thank you so much Cora for a great Dutch Sunday!
And thank you dear Sparkfriends for 'sharing' our day! I hope you enjoyed it. I am now posting this in between meetings and very much hoping I can have a few hours to explore the Netherlands again before I leave. I have visited this country a number of times in the past, and always enjoy it tremendously.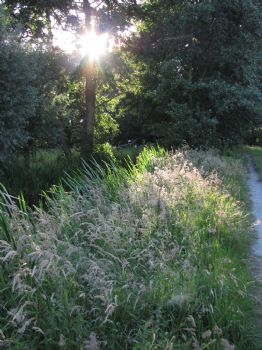 Thank you for reading! Have an awesome week!




1 2 3 4 5 6 7 8 9 10 11 12 13 14 15 16 17 18 19 20 21 22 23 24 25 26 27 28 29 30 31 32 33 34 35 36 37 38 39 40 41 42 43 Last Page

Get An Email Alert Each Time CLAIREINPARIS Posts