| | |
| --- | --- |
| | CLAIREINPARIS's Recent Blog Entries |



Saturday, September 13, 2014
I am really glad so many of you have been enjoying my blogs about Rome! I am now back in Paris but still remembering with delight the few hours I had to walk around the Eternal City.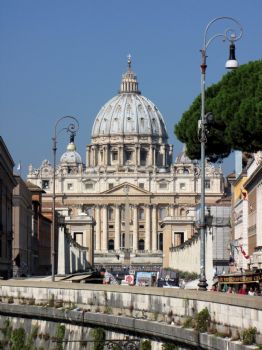 I haven't shown you many 'touristy' places as such, because I had seen these during my previous visits to Rome – and they are rarely the places I find the most atmospheric! But I did see some of the main attractions of Rome, although many were covered with scaffoldings. Ugh. A bit sad.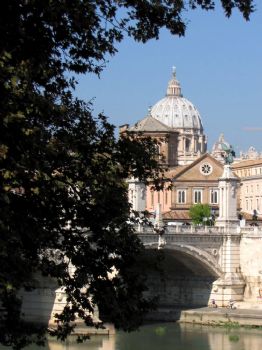 Ah well, Saint Peter wasn't, it was gorgeous. And this is where I left some of my colleagues who were going to visit the Vatican. I headed to the Castel Sant'Angelo (the big round castle below), and crossed the Ponte Sant'Angelo bridge with all the wonderful angels. They all hold a symbol of the crucifixion of Jesus, such as a cross, a crown of thorns, a whip, etc.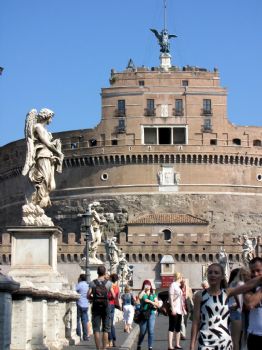 (It was a gorgeous day. You'll see it looks very grey on some of the pictures, and that is because some were taken a couple of days before, when it was raining!)
I headed to Piazza Navona, which I had last seen almost 30 years ago, under the snow and completely empty. Well, it was crowded to say the least!!! Very touristy, but still gorgeous.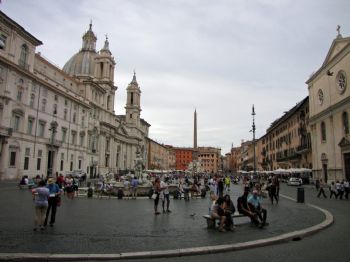 It is well known for its oval shape (it used to be a Roman stadium, built in 86 BC) and its 3 Renaissance fountains.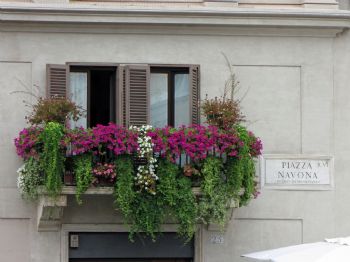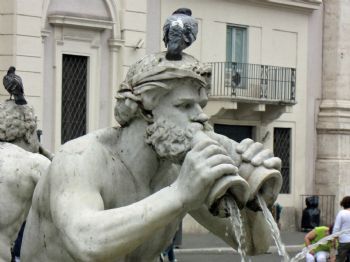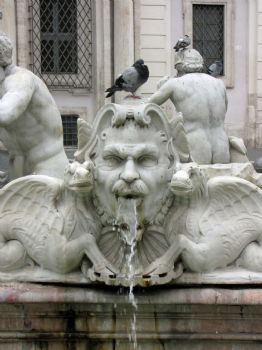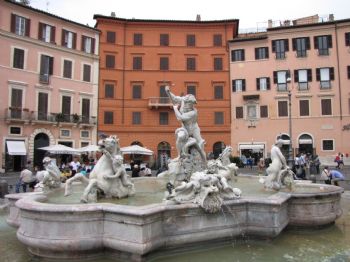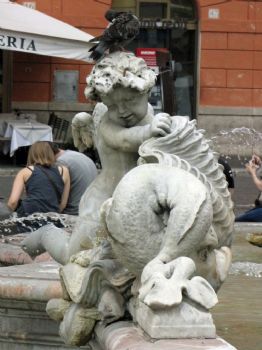 From Piazza Navona, the Pantheon was very close (well, let's be honest, everything is close in Rome… no need to use the underground nor the bus if you don't have an appointment in the next 30 minutes!). The Pantheon was built 1,800 years ago. Its name refers to the building's original function as a temple for all the gods.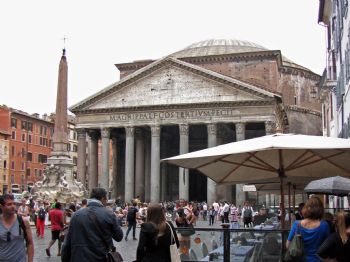 This is one of the things that make Rome truly unique: because the ancient temples were transformed into churches, like the Pantheon, they weren't destroyed. So you can still admire them today!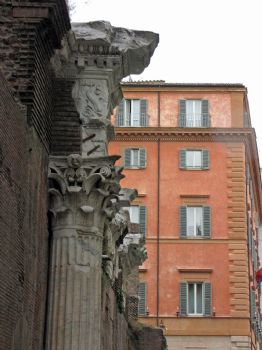 You know, Rome is amazing. And this comes from a Parisian! :) There is so much to look at… Every building seems interesting, every street has something special. It is incredible.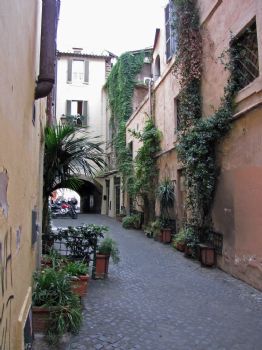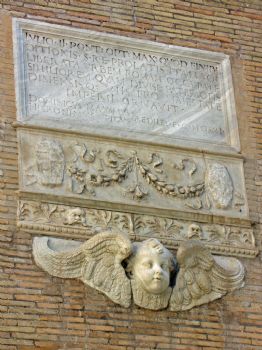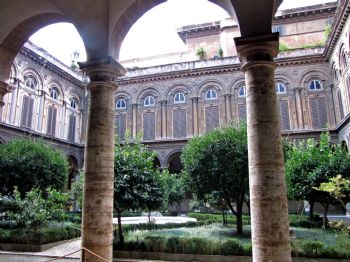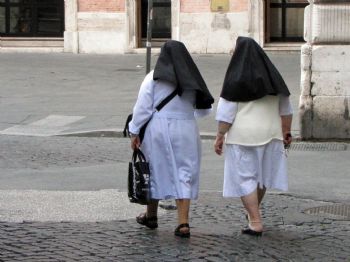 I wanted to see Fontena di Trevi (Trevi Fountain) on the way, but there was nothing to look at… covered with scaffoldings! Argh. So instead let me show you this lovely nearby Virgin Mary and Baby Jesus painting, framed with wooden angels.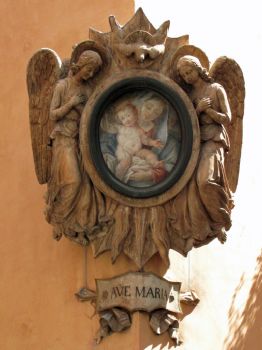 What do you think? :)

I was disappointed when I reached Piazza di Spagna as well (the Spanish Steps), because the church was also covered with scaffoldings! : ( And what wasn't covered with scaffoldings was covered with tourists, haha.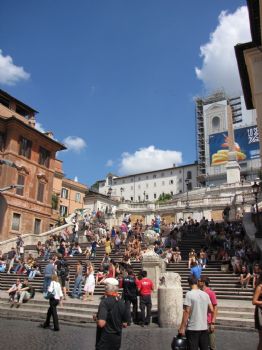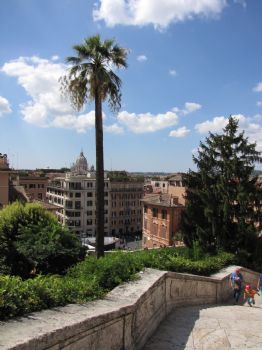 It was about time I reached my destination: the villa Borghese gardens. I needed some peace and quiet. Next time I'll visit Rome, I'll aim to spend much more time in the villa Borghese gardens. It is such a beautiful place! And I would have liked to visit its museums too, especially the Modern Art one, but there was no time: late afternoon, I had to meet my colleagues near the Coliseum.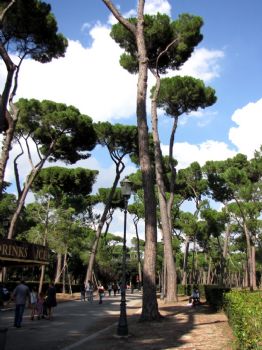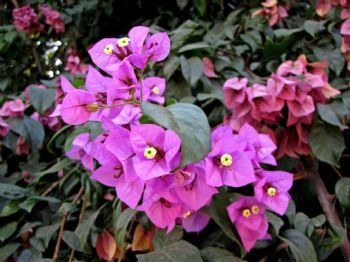 I walked and walked and finally found what I had been looking for: the lake and the precious little Aesculapius Temple.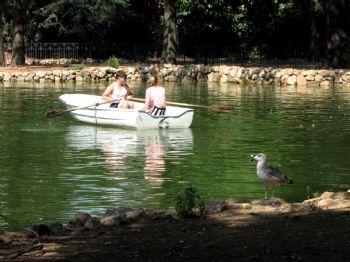 In the nearby little café, I bought a tiramisu and pistachio ice-cream. Hmmm!!! I didn't have much time to enjoy the gardens afterwards though, I had to walk fast to the Coliseum if I didn't want the coach to leave without me!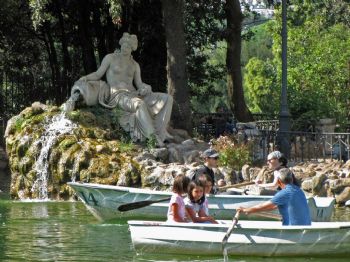 Just a quick stop on Piazza Venezia…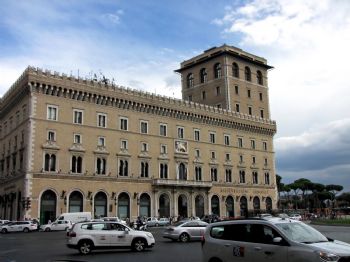 And I finally reached the Forum. No time to visit it again this time, but believe me it isn't to be missed! I visited it twice in the past and want to see it again in the future. Just imagine… an ancient city coming back to life under your feet!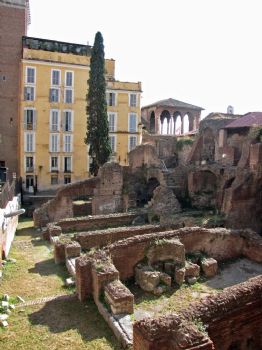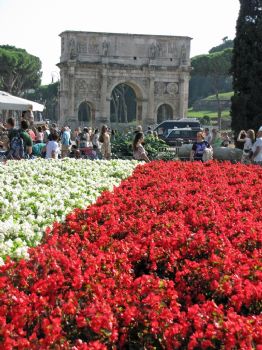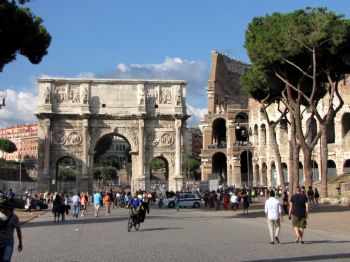 And then finally, the Coliseum! It was completed in 80 AD and is the biggest amphitheater in the world: it could hold between 50,000 and 80,000 spectators and was used for gladiatorial contests and public spectacles such as mock sea battles, animal hunts, executions, re-enactments of famous battles, and dramas based on Classical mythology.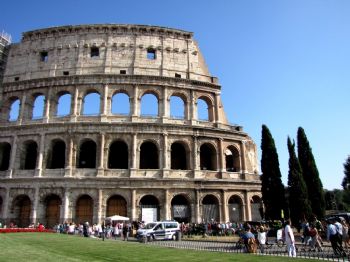 And here ends the last one of my blogs on Rome! I have been so encouraged by all your comments, thank you so much again! On Wednesday, I am off to visit some of our projects in the Gulf, and so I hope I'll be able to post a few pictures of Bahrain, Kuwait or Dubai.

But for now, ciao! Have a wonderful Sunday dear Sparkfriends!




Rome - Part 1:
www.sparkpeople.com/mypage_public_jo
urnal_individual.asp?blog_id=5772722

Rome - Part 2:
www.sparkpeople.com/mypage_public_jo
urnal_individual.asp?blog_id=5775280







Sunday, September 07, 2014
In my previous blog about Rome, I mentioned the little street where I stayed (I am still in Italy but now outside Rome attending meetings): via dei Chiavari. The picture below is of a little square right next to it, called 'Largo dei Librari'.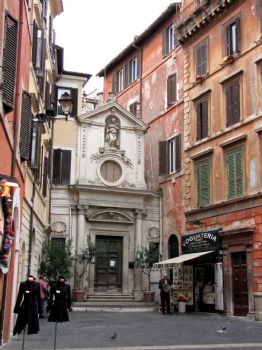 I liked it, and it was surprisingly quiet in a very busy area (at least quiet at day time!). This is in the Campo dei Fiori area, for those of you who know Rome a little.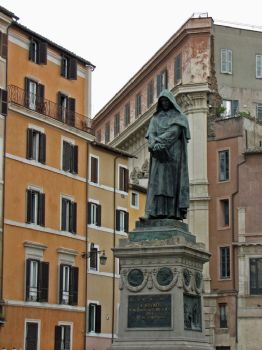 Campo dei Fiori is a square (which used to be a field of flowers centuries ago, hence its name!). At its centre is the statue of philosopher Giordano Bruno, who was burnt on this square (long story! you can find all about it on the Internet!).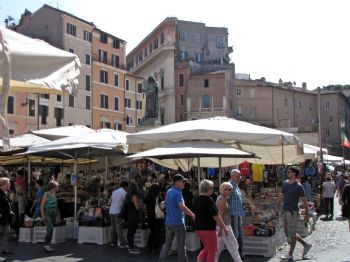 Now, every morning, it is the location of one of Rome's well known market. It was a bit too touristy for my taste, but there were still some lovely fresh products.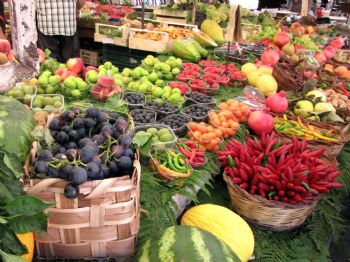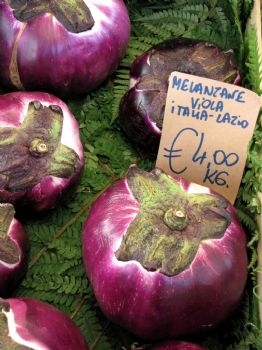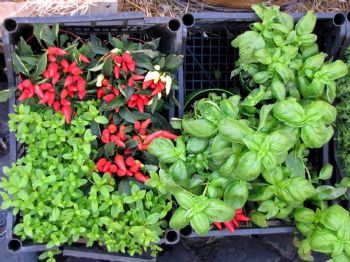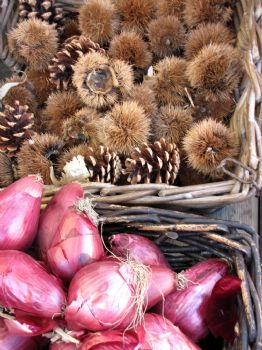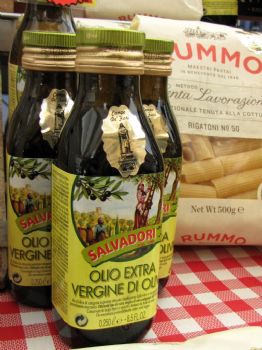 I really liked all the area around Campo dei Fiori actually, all the little streets and shops…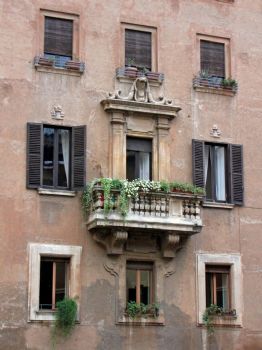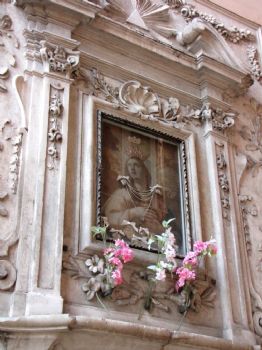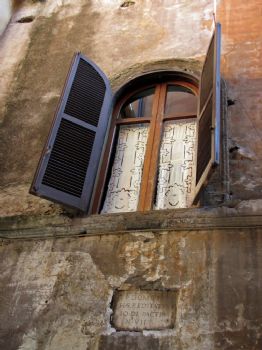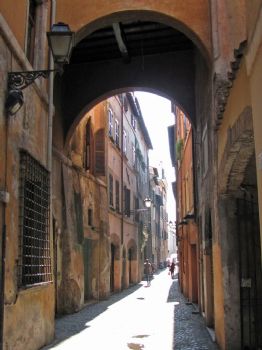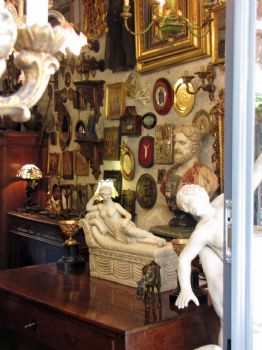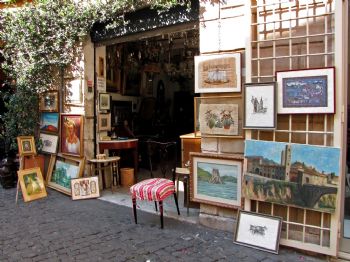 As I was walking around the area, looking at my map and stopping to take pictures, I suddenly saw the French embassy, the Farnese Palace, ahead of me, and a stream of memories came rushing. My mother and I stayed in a little hotel (or hostel? not sure how you would call it!) that was run by nuns on Piazza Farnese, many years ago.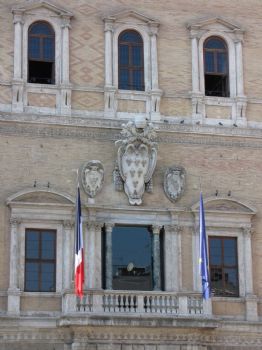 I was a teenager back then and it was one of the very rare occasions when it snowed in Rome. It was magical. I had completely forgotten we stayed on Piazza Farnese until I saw the embassy and remembered it was very near. I didn't remember which building it was though.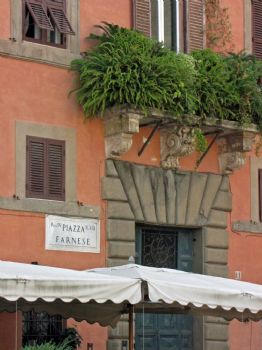 Piazza Farnese is only a few minutes' walk from the Jewish Ghetto (established in 1555, and controlled until 1870), an area of Rome I had never visited and wanted to see, away from the crowds. It was a bit touristy, but not too much, and very pleasant, with its medieval buildings.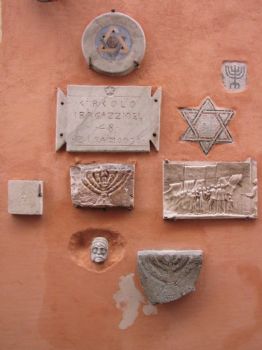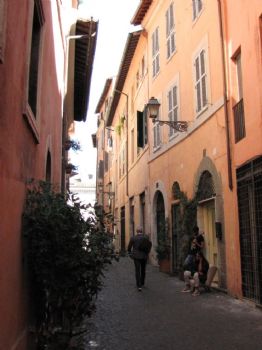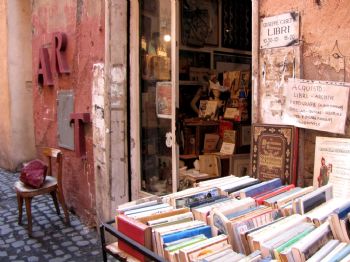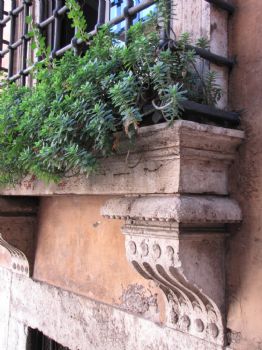 Difficult to think that it used to be one of the poorest quarters of the city (here a 19th century view of the Ghetto I found on the Internet).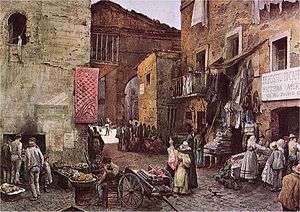 Like all parts of Rome, the Jewish Ghetto has lots of Ancient buildings as well. Here you can see a small part of the Teatro di Marcello (Theatre of Marcellus, inaugurated in 12 BC!) on the left, with the Synagogue in the background.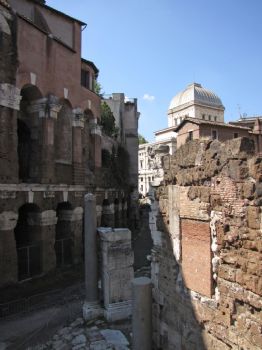 More of Teatro di Marcello…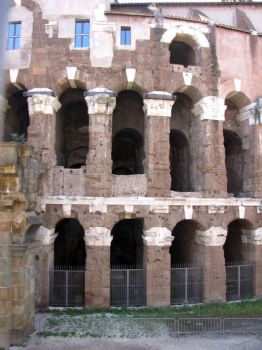 Sadly, the Porticus of Octavia, which I really wanted to see, was covered with scaffolding. Here is the only part I could see!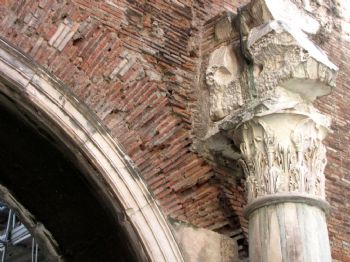 Ah well, I'll have to go to Rome again soon I guess! :) At least I was glad to see the Turtle Fountain again. I think it is my favourite in Rome!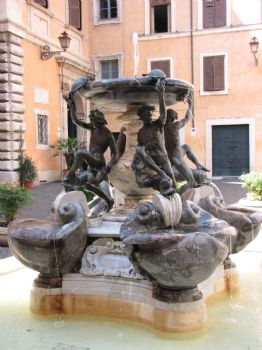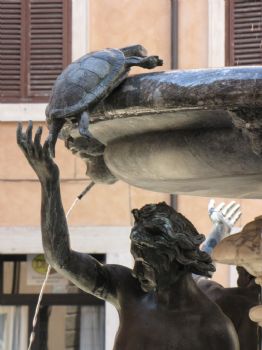 Nearby, I didn't want to miss the amazing courtyard of Palazzo Mattei. It is a strange place, covered with statues. I loved it because it is so unusual and there is so much to look at!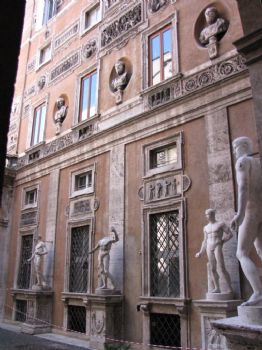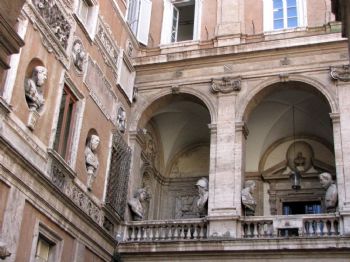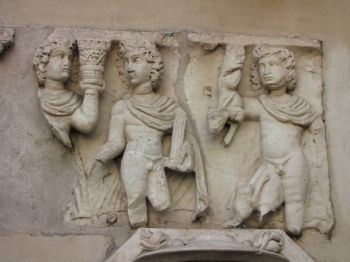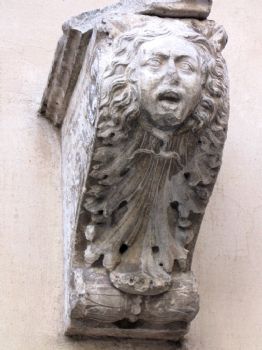 And here ends my visit to the Jewish Ghetto and my second blog about Rome!

Thank you so much for following through the Eternal City's little streets! I am struggling with difficult meetings and very poor Internet connection here in Italy, but will post my last blog about Rome later this week!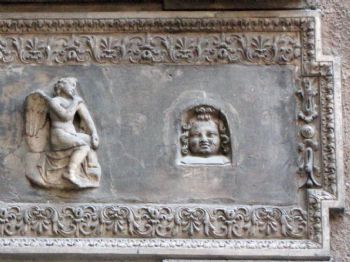 Ciao!





Rome - Part 1:
www.sparkpeople.com/mypage_public_jo
urnal_individual.asp?blog_id=5772722

Rome - Part 3:
www.sparkpeople.com/mypage_public_jo
urnal_individual.asp?blog_id=5779239






Wednesday, September 03, 2014
I arrived in Rome yesterday afternoon. I left my luggage at the hotel and headed straight to the Trastevere, South West of Rome, across the river Tiber. It is one of the most well known and loved areas of Rome nowadays, but it was hardly ever visited not so long ago!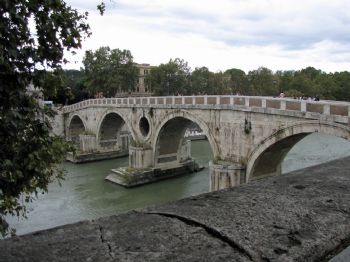 So, after a quick detour to a nearby 'gelateria' where I enjoyed a wonderful ginger and sage/raspberry ice-cream, I crossed the 15th century-Ponte Sisto…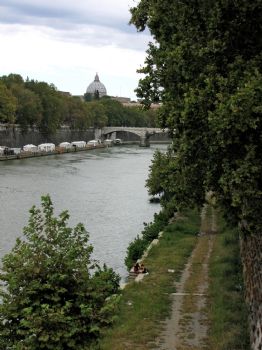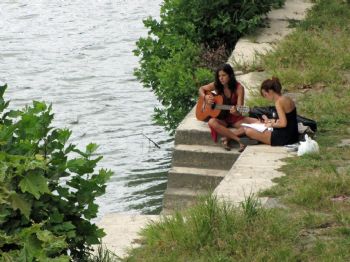 … and headed straight to the top of the Gianicolo hill above the Trastevere, to see the view on Rome.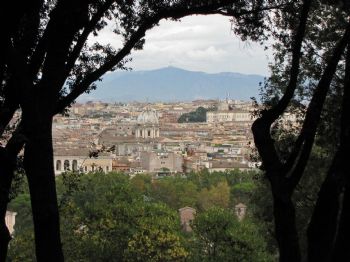 I thought it would make a good 'introduction': although I came to Rome twice in the past, that was a long time ago!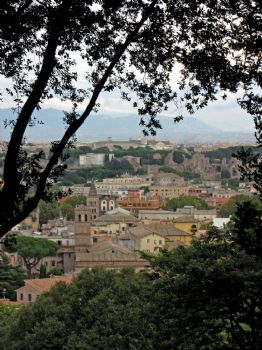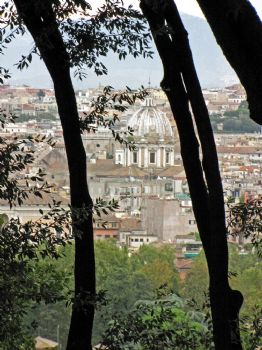 I wasn't the only one to have had that idea, but it wasn't madly crowded either. It is fun to see the diversity of tourists in a big city like Rome!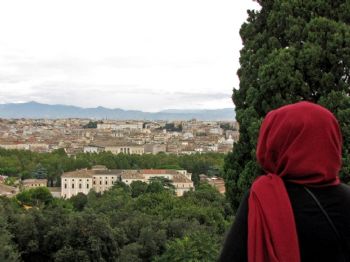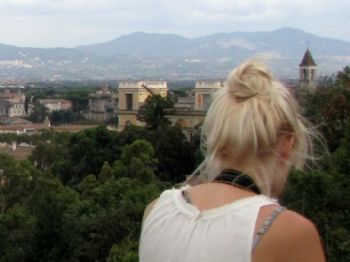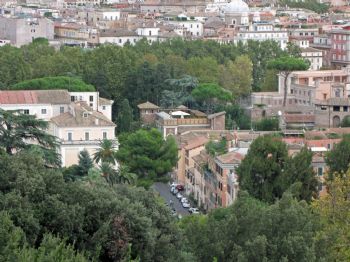 This picture below shoes the area where I am staying, near Campo di Fiori (this is the area with the colourful buildings, just above the trees at the bottom).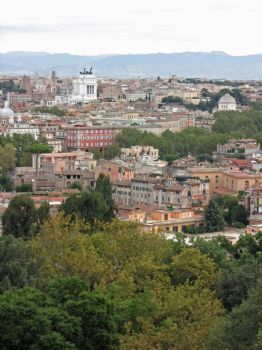 Then I walked down Via Garibaldi…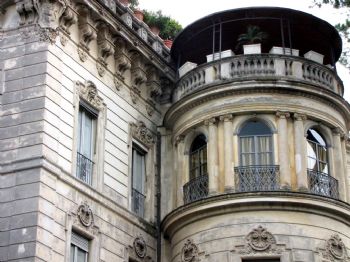 … and headed to the Trastevere's little streets and piazzas. I am pretty sure I hadn't been before, or if I had I didn't see much of it. This medieval area of the city is quite charming.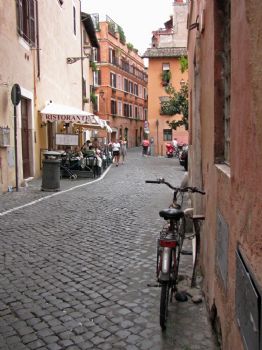 Logically, I ended up on the Trastevere's most well known piazza: Piazza Santa Maria in Trastevere.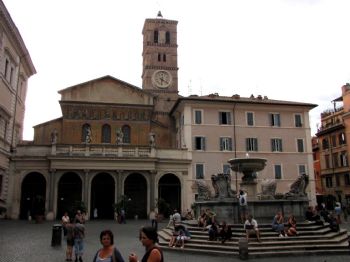 Its church is breath-taking, and apparently it was the first church where mass was ever celebrated, around 221-227 (although it was rebuilt a couple of times since). Look at the mosaics on the façade!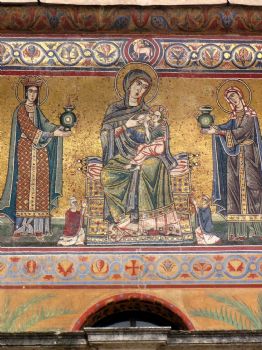 And inside!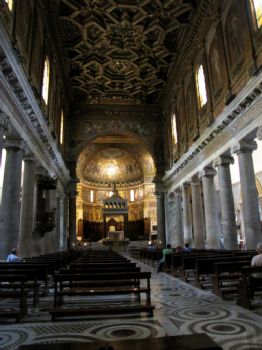 I told you it was breath-taking!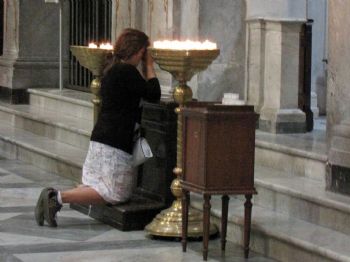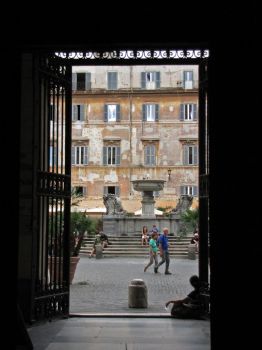 On the way out, I stopped to look at some pretty 'signs' the church's porch was covered with (ex voti? I am not sure, it was all written in Latin and my Latin is very rusty!).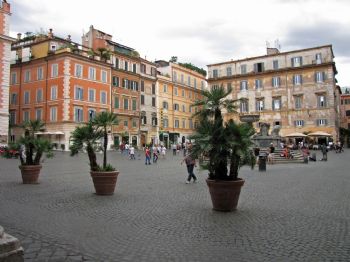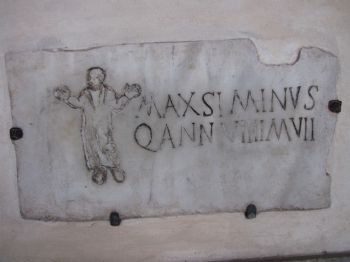 And suddenly, I was starving! I had had breakfast at 9am at the airport, then the ice-cream, but now I wanted a proper meal! It was about 5.45pm. I didn't go very far and stayed in Trastevere. I found just what I wanted…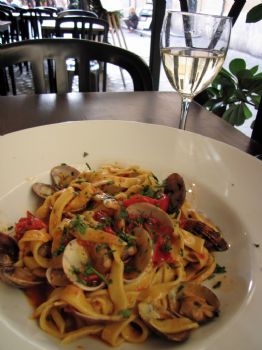 … pasta with clams, fresh tomatoes and parsley, with a fruity Italian wine. Life is good. The view from where I was sitting was nice too.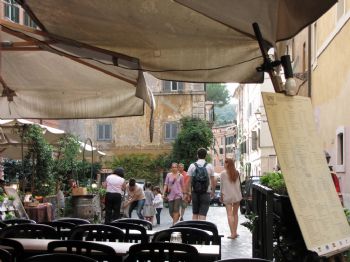 After some more walking in the Trastevere...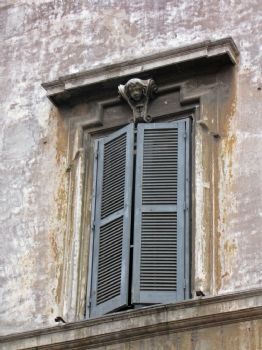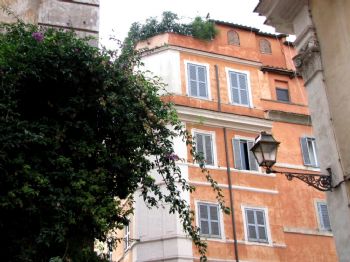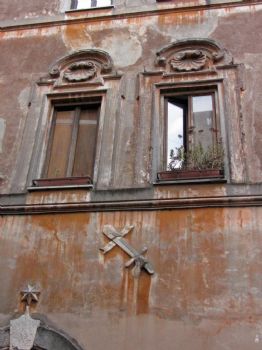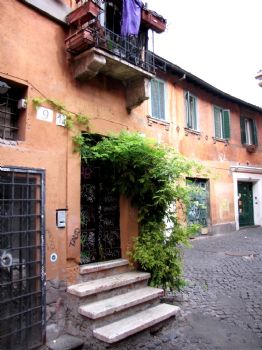 ... I crossed the bridge back to the other side of the River…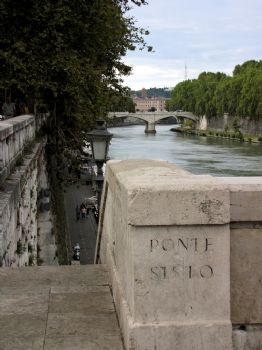 … and decided to stop at the lovely pasticceria right next to my hotel on via dei Chiavari for some dessert.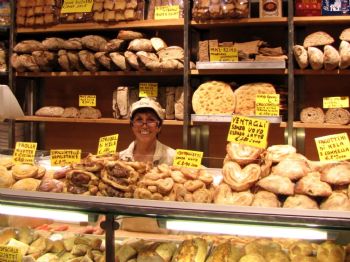 The cakes and pastries are so different from French ones, I was surprised! I chose a ricotta and cherries little pie, which was a good choice.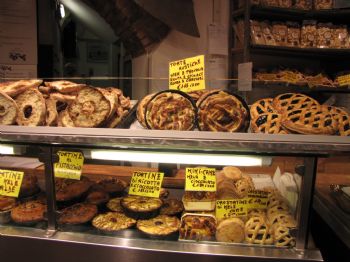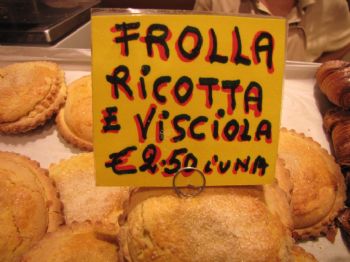 And I climbed on my hotel's roof (many roofs are like terraces in Rome) to enjoy both the view and my little pie!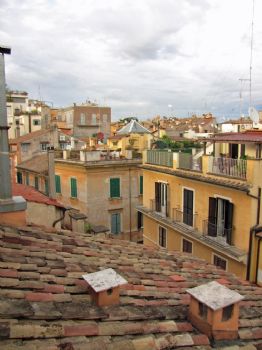 Ahhhhhh… Bliss…




But wait, it became even better, when it reached the perfect 'golden hour', and the nearby Sant'Andrea della Valle Church seemed to be just glowing... What a privilege!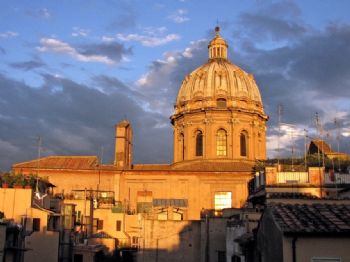 Honestly being able to travel to such beautiful places is worth all the lllllong meetings in the world! :) I hope you enjoyed this first blog about the Eternal City. If I am not too busy, I'll try and post another one tomorrow evening to show you what I saw this afternoon. There will probably be a couple more blogs as I am staying in Italy for over a week!!!

Thank you so much for coming with me all the way to Rome!



Rome - Part 2:
www.sparkpeople.com/mypage_public_jo
urnal_individual.asp?blog_id=5775280

Rome - Part 3:
www.sparkpeople.com/mypage_public_jo
urnal_individual.asp?blog_id=5779239






Saturday, August 30, 2014
Gerberoy is on the list of France's Most Beautiful Villages. And rightly so in my opinion…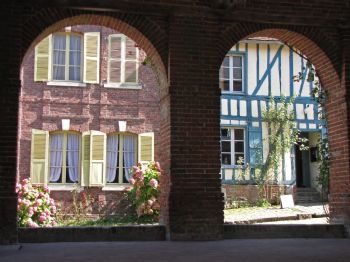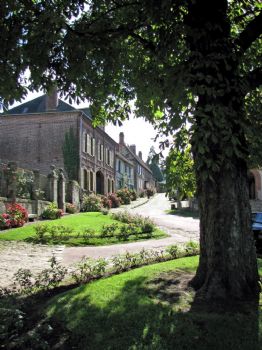 Even without the roses that Gerberoy is well-known for and which had been mostly destroyed by the awfully wet summer we have been having!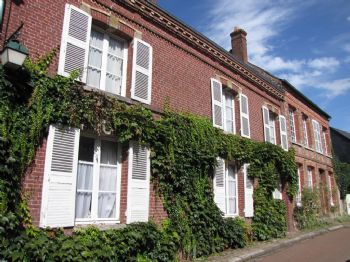 This medieval village is simply charming, and if you have been reading my blogs for a while, you have already heard plenty about it! But not this year! I thought it was about time I went for a visit. : ) I did this 3-hour hike 1.5 year ago in the snow and for me it remains one of my most unforgettable ones! Here is the blog about it if you are interested:
www.sparkpeople.com/mypage_public_jo
urnal_individual.asp?blog_id=5214514

It was great also by this sunny late summer afternoon.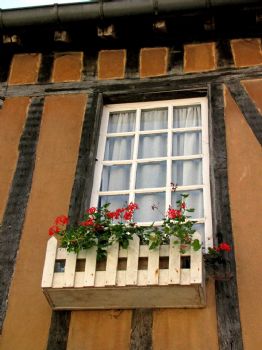 I started in Songeons, a village North of Gerberoy...




... and made my way through the countryside. The area, called the 'Pays de Bray', is in my view the perfect countryside! Let me show you where it is on the map, compared to Paris.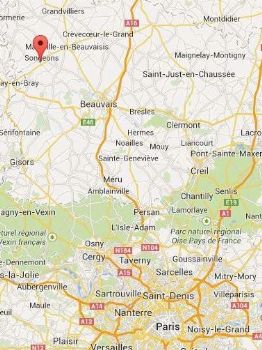 It is hilly, very green, with shady little paths and all kinds of fields…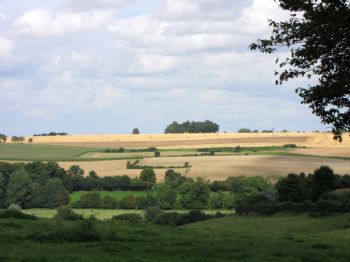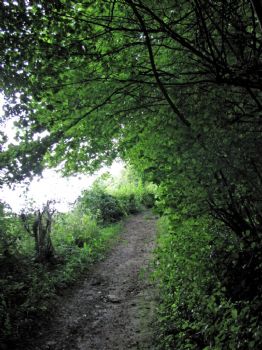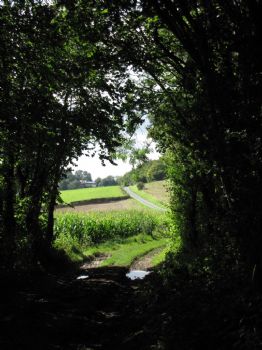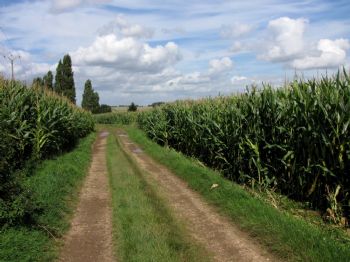 There were benches by the side of the path in a few places. Very nice to spend time enjoying the view!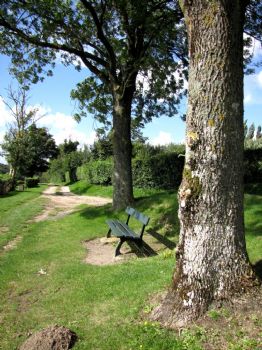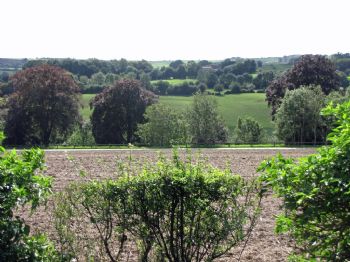 As always, I didn't meet many people (not even in Gerberoy, which was rather quiet after what I understood had been a crazy day with a reunion of Mercedes cars lovers… very glad I avoided the crowds!)…




… but saw plenty of cows (even cute little calves!) and horses too.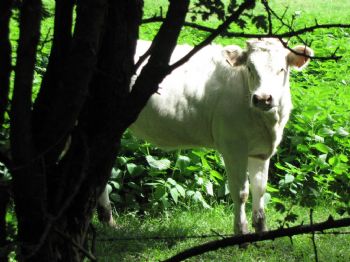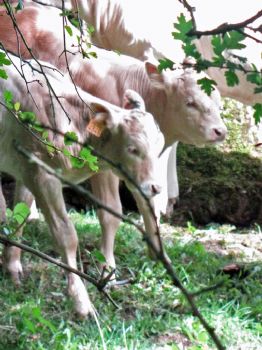 Oh and some sheep as I entered Gerberoy! I love how the church seems to be coming from underneath!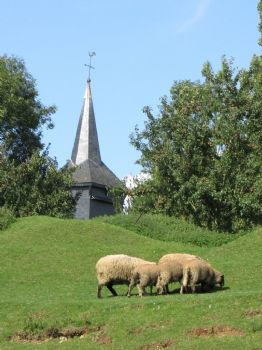 But the first sign of Gerberoy, as in many French villages, had been the cross on the side of the road.




And then I passed the little pond with the waterlilies and gold fish…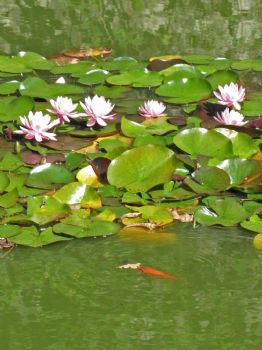 … and entered Gerberoy…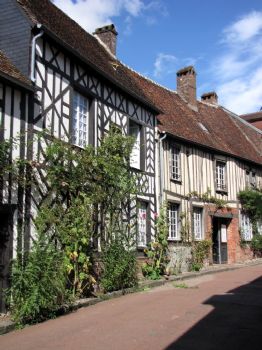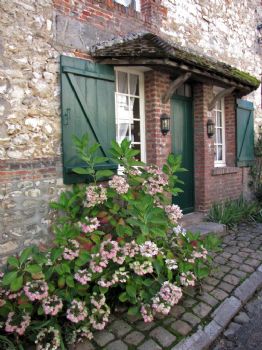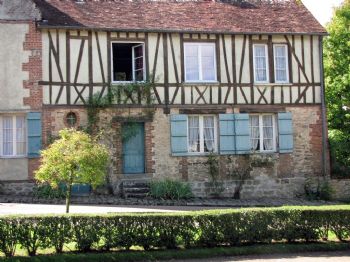 The blue shutters house, probably the most famous, was as pretty as ever, despite the almost complete lack of roses…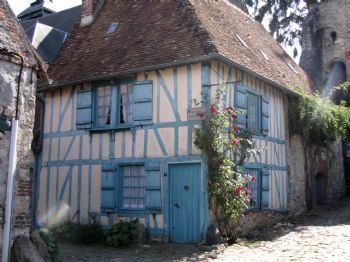 Good bye for now Gerberoy, I'll try and come back in a few months!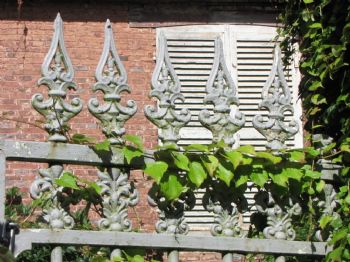 After a short part in the countryside, stopping on the way to eat blackberries and hazelnuts (hmmmm delicious!!!)…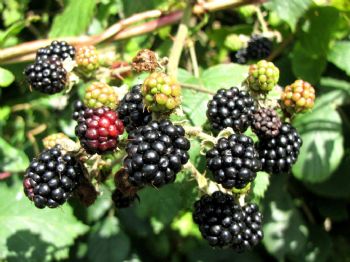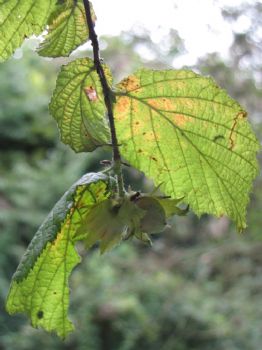 … and admiring the wild cherries (which I didn't taste as they are usually bitter here)…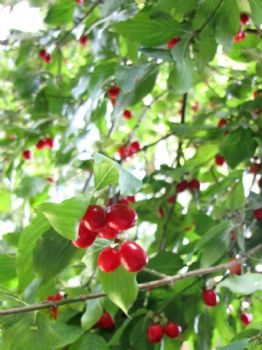 ... the last part of the hike was through the woods…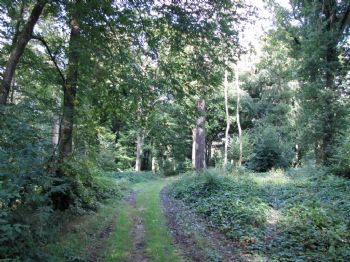 I remembered this plant (below) from previous walks in the area, but I think I never managed to find its name. If you know it, please share! :)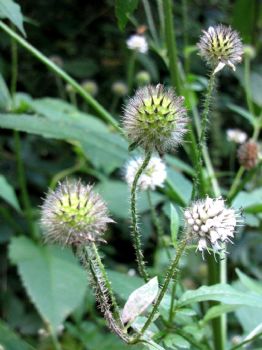 Then there was this colourful moth… I don't think I had ever seen any like this!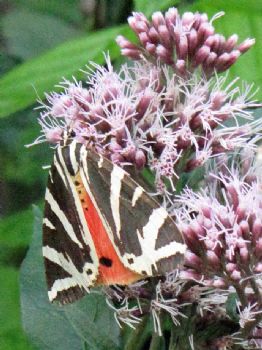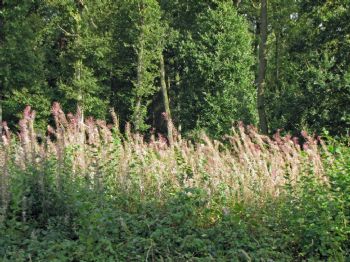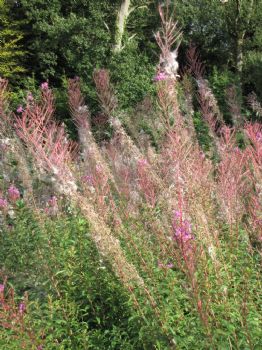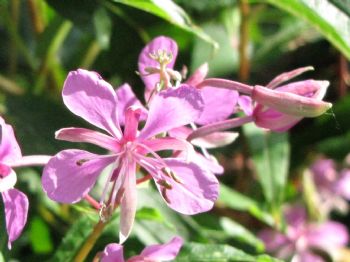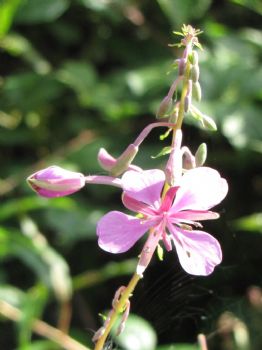 I hope you enjoyed sharing my hike! I'll try and fit another one in on Sunday, but not sure yet… I have lots to do to go back to work on Monday as I am off to Rome, Italy, on Tuesday morning for over a week! Packing again! (Although I went twice in the past, I am really excited to go back, despite the endless meetings that will fill most of my days there!)




Have a beautiful weekend! Thank you for reading!






Friday, August 22, 2014
For most of my hikes, I drive about one hour away, and it really feels like I am on a mini-vacation. Well, not this morning, I only drove about 10 minutes to reach my starting point... I very much hiked on my doorstep! Or I should say on my mother's doorstep as I was very near her nursing home at some point.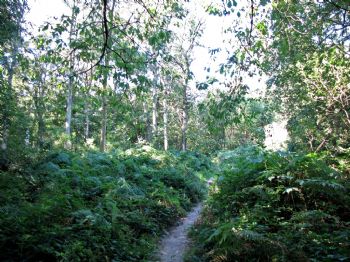 Most of today's hike was through the woods, the gorgeous Montmorency Forest North of Paris. As I said, this is home to me, yet I really don't know this forest much. I live between two forests, Montmorency and Ecouen, and Ecouen, much smaller, I know very well. If you have seen my 'routine walk' blog, that was in Ecouen.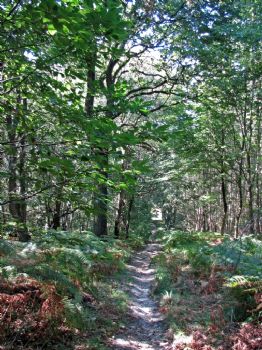 Anyway, back to Montmorency Forest. It is quite big (by Parisian suburbs' standards!). So I saw only a small part of it today, near Bouffémont, and the Château de la Chasse, where the kings used to stay when they came hunting (it means Hunting Castle). It is built by a lake, which I thought was quite enchanting today.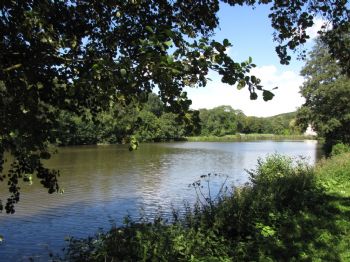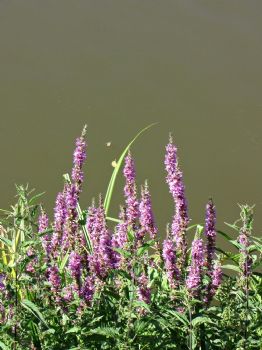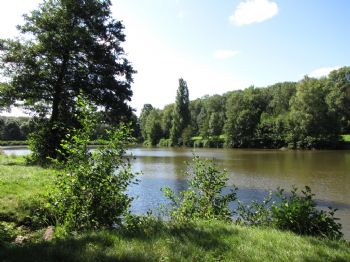 Now let me tell you the Château de la Chasse looks very strange because the towers of this 12th-century castle were cut (centuries ago), and it just looks a bit wrong in my opinion. But in a lovely way. A bit unbalanced, but fun (and hey, this isn't a Disney castle we are talking about but a proper medieval castle, so Claire, show a bit of respect please!). LOL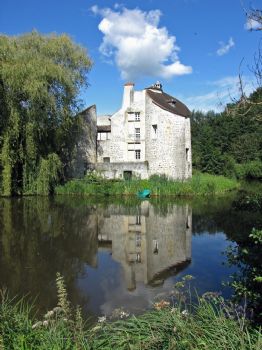 And the middle part of the castle, between the two towers, looks just like a normal French house! Very strange. There is no way it looked like this in medieval times of course… But again, it is quite charming!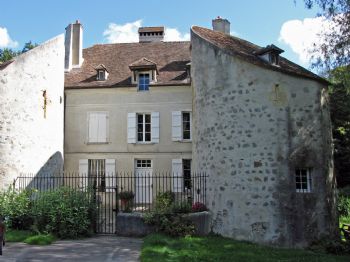 And I am not the only one to feel that way. I have only been once in my life to Château de la Chasse before, even though it is very close to home, and that was to post a blog about it a couple of years ago! Otherwise I never go there, because at weekends it feels like the motorway at rush hour, only with pedestrians and cyclists instead of cars. It is mad. But I only saw about 15 people there today, plus two groups of young children. So that was OK, even for a loner like me!!!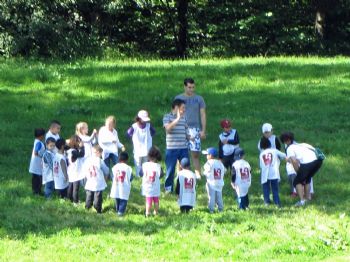 The castle was the middle of the hike and felt a bit like the purpose of it, so I was wondering whether I would find the hike interesting again after I left it behind.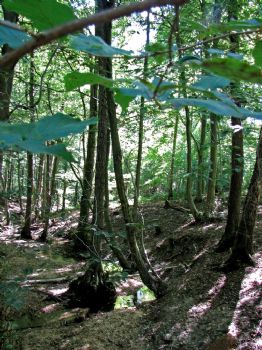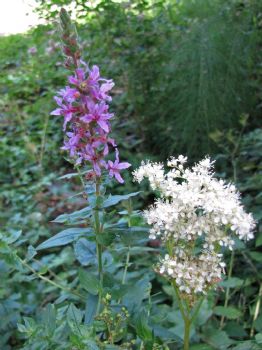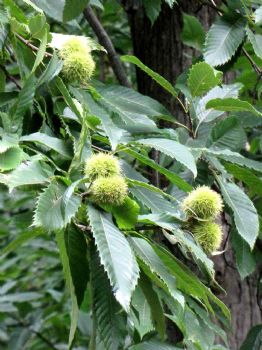 Well, Montmorency Forest keeps one busy!!! Not only there is always something to look at (beautiful trees, among other things), but the steep paths keep you on your toes too!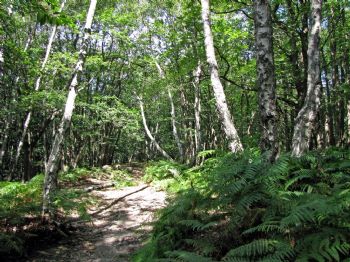 First I stopped at Fountain Saint Radegonde. Its water was supposed to cure sterility and was a very popular destination in the 16th century. It used to be next to the Priory of Notre-Dame-de-Bois-Saint-Père, which doesn't exist anymore. It is only the woods around the fountain now.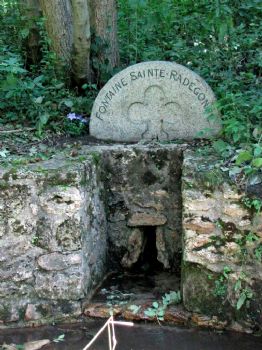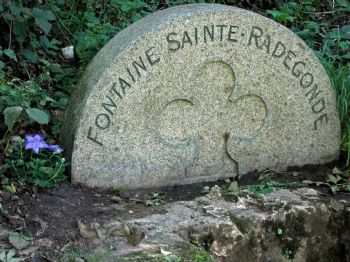 In the second part of my hike I also crossed an area with lots of heather… I so love heather… so romantic!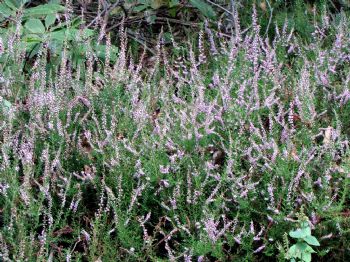 I forgot to mention the spiders! Well, this hike could have been called 'Hiking with spiders' because I have never walked through so many webs I think!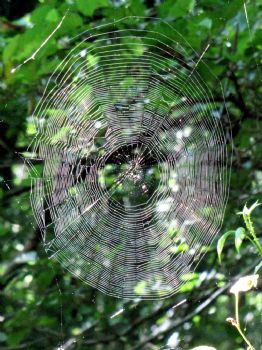 After a long difficult muddy path…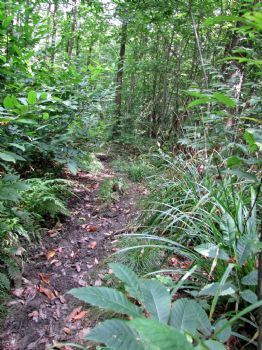 … I reached Bouffémont's cemetery. I don't like French cemeteries, they usually look sad and don't have much greenery. Bouffémont's cemetery was different as it was right by the woods, and with lots of beautiful trees in it too.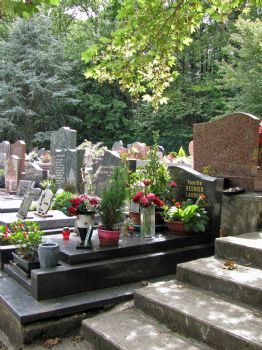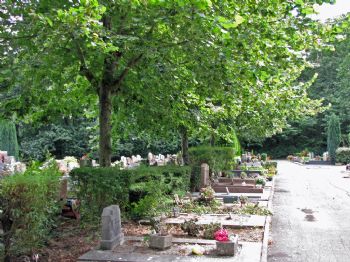 I was almost back at my starting point, but the last part of the hike wasn't the less demanding one… my goodness, my knees and ankles are reminding me of this every minute tonight! But it was soooo worth it, a beautiful 3.5 hour-hike!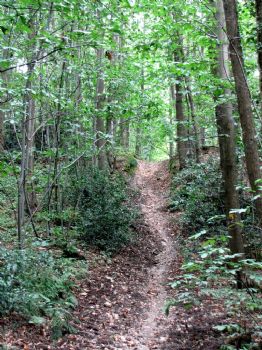 After some lunch at home I drove to my mother's nursing home to spend time with her this afternoon (aren't vacations just great?!). We had a good, peaceful time in the garden. Thank you all for asking about her lately. She has settled really well into this nursing home, which is like night and day compared to the previous, dreadful one. And look at the view when I am with her in the Alzheimer's Unit little garden (I was told by the director that they would improve the garden by the way, it is… a bit bare to say the least!)…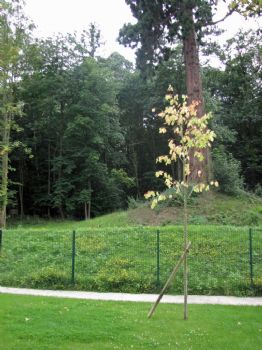 At times there are deers coming out of the forest… It is so good to be so close to nature… Now I think I'll remember today's hike each time I am in that garden with my mother and imagine all the wonderful paths behind these trees!

Thank you for reading! Have a fantastic weekend!



1 2 3 4 5 6 7 8 9 10 11 12 13 14 15 16 17 18 19 20 21 22 23 24 25 26 27 28 29 30 31 32 33 34 35 36 37 38 39 40 41 42 43 44 45 Last Page

Get An Email Alert Each Time CLAIREINPARIS Posts