| | |
| --- | --- |
| | CLAIREINPARIS's Recent Blog Entries |



Sunday, March 09, 2014
Hello dear Sparkfriends,

We are having the most gorgeous weekend in the Paris area (and all over France actually)! So yesterday was another wonderful, sunny hike. It was even warm! 18C (about 64F).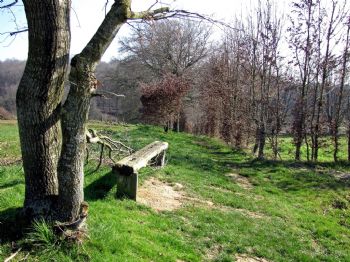 I had originally kept that hike near Beauvais for the summer, and it was probably wise. Actually, I'll write on my hiking book: "A refaire par temps SEC." (Redo by DRY weather.)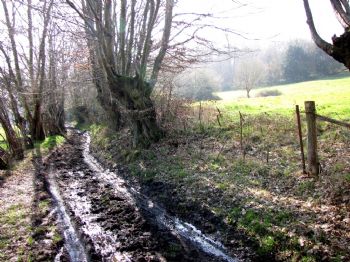 Most of the time, I just laughed at the terrible mud! But once or twice I didn't feel like laughing, when the mud got inside my boots because it was so deep. Yuk. I even said it out loud at some point: "Yuk yuk yuk!!!" Somehow saying it in English in the middle of the French countryside felt more acceptable, not so childish! ;-)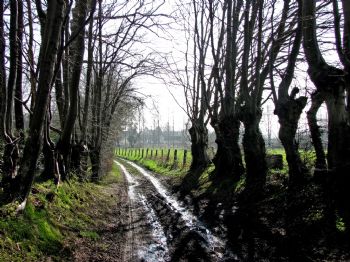 But apart from the mud it was fantastic. And all my body is aching today so it was definitely great exercise (mostly from trying to avoid falling!).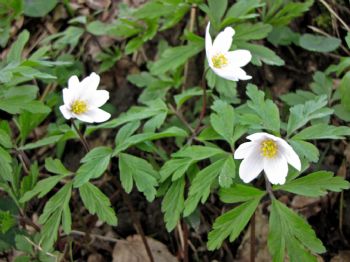 It was full of flowers again, both in the countryside and in the gardens. Lots to enjoy!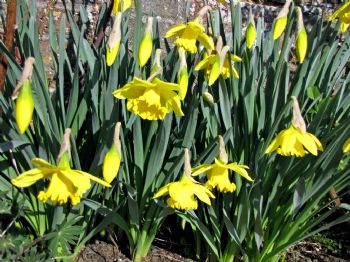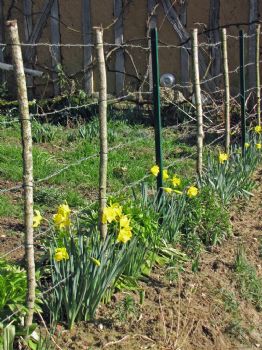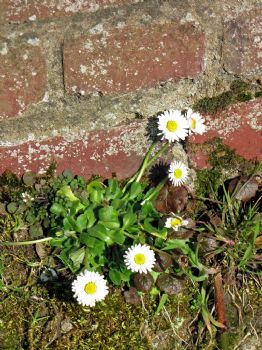 These violas were especially delightful, looking like a green carpet with blue dots…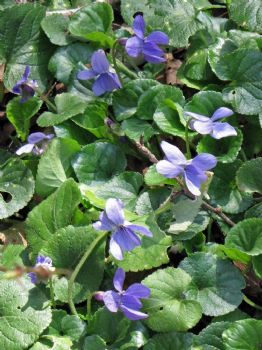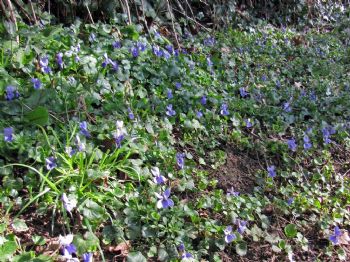 There were some brooms too, which I haven't often seen during my hikes around here. I don't know how long they last… Do you know whether they bloom all through spring and summer?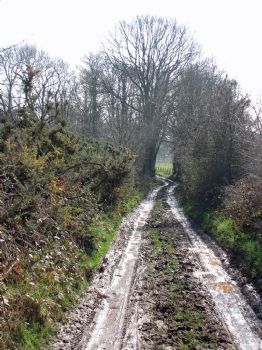 About three quarters of the hike was through the woods, or between the woods and the meadows.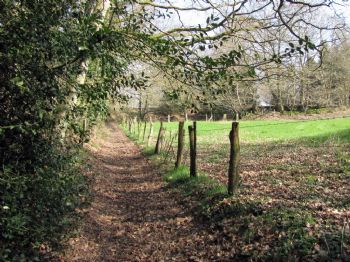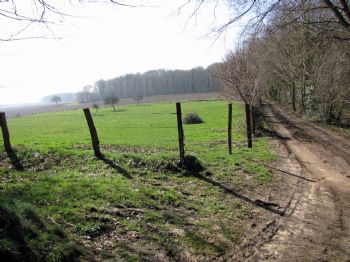 This is partly why I had originally kept it for a hot summer day. But I enjoyed seeing the new little leaves as well as the new ferns that covered the sides of the path in places…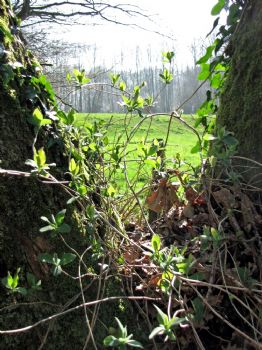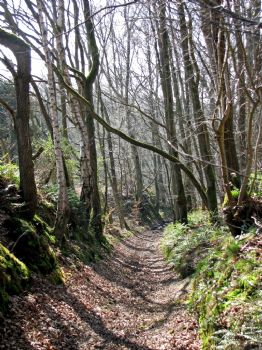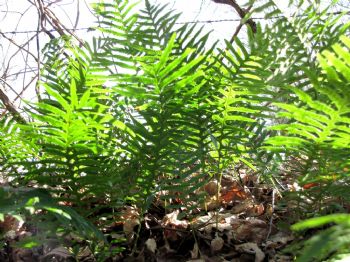 At some point, as I was happily walking down a hill, I saw something a bit strange at the bottom of it, right in the middle of the path… never seen anything quite like that…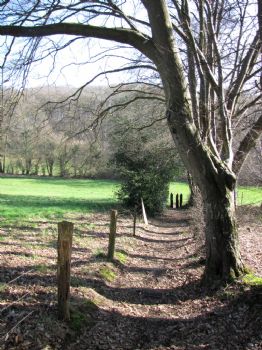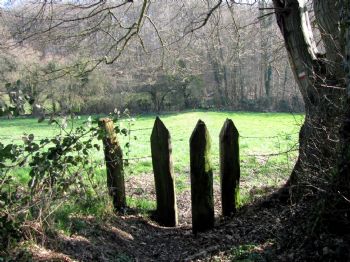 I understood this was to stop motorbikes getting on the path and ruining it all, yet would it stop me too?! The space didn't look very big. They could as well have put a sign up: "No fat hiker allowed here"! But at the end I went through it fine.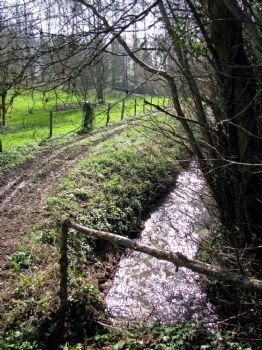 Although I crossed a couple of villages and hamlets…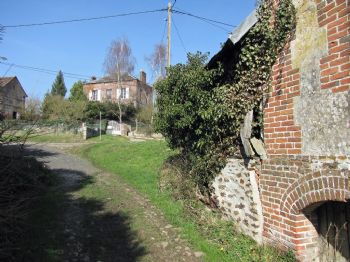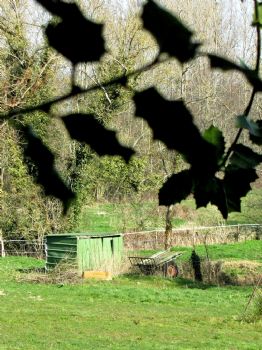 … as usual, I didn't see many people. I guess only a crazy Parisian would have been hiking on these paths this weekend, crying 'yuk yuk yuk' as she tried to get her feet back from the mud!!! The locals were wiser, working in their gardens or taking their children for a pony ride.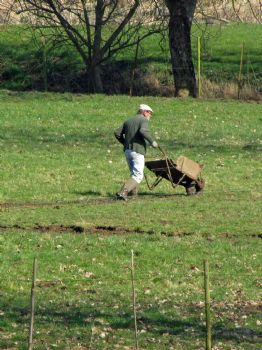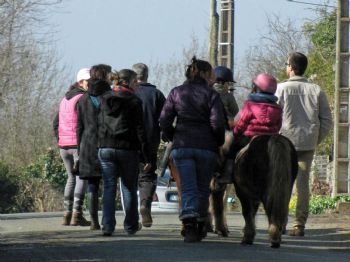 (Sorry the picture isn't good, I didn't dare and take the picture until they were quite far away!)

What I saw a lot of was horses!!! There seemed to be a few in each single meadow!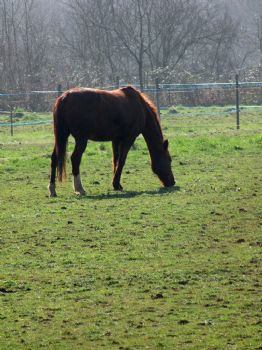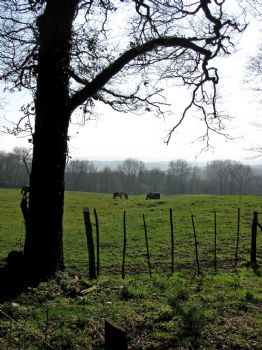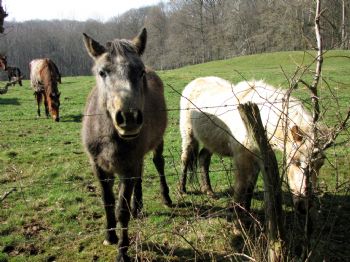 These ones surprised me as I had thought I was deep in the middle of the forest!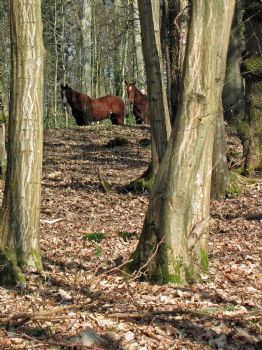 And that was it! When I got back to La Chapelle-aux-pots, I felt almost sad it was over… but very glad to be out of the mud! :)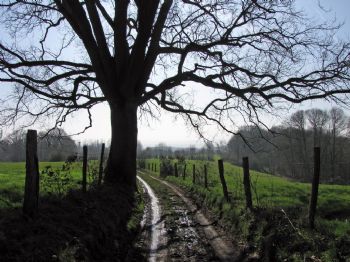 I hope you enjoyed sharing my hike! My Internet connection is still not back, so I am grateful for cafés with Internet access (although I only use them once a week, to upload my blogs! I am rediscovering how wonderful it feels to read rather than work or surf the Internet on evenings… still I know I'll be doing it again as soon as my Internet is back, and I'll be very glad to be Sparking more again!).

Thank you SO MUCH for all your wonderful comments on my blog last week. It was definitely one of the most popular so far (over 200 comments… wow!).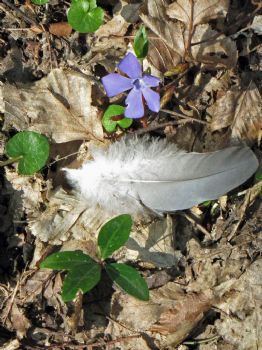 Sunday, March 02, 2014
Hello dear Sparkfriends,

As I think about my hike today, I feel a bit… hmmm… what is the word I am looking for? Disappointed? Yes, maybe a little. A bit stupid too! I missed the path I was supposed to turn into and went completely the wrong way!!! Then it was so late that I had to turn and go back to my car.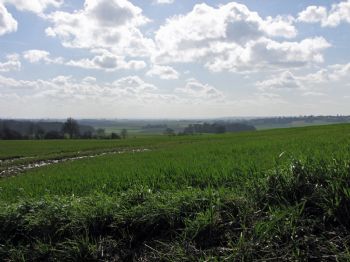 So let's just say things didn't go according to plan!!! It makes me smile that it can still happen today. It happened often when I first started hiking, but hadn't happened for quite a while.




But really it doesn't matter… The sun was shining bright, the area was beautiful, there were lots of flowers to look at… This was good enough for me!!!




Spring is early in the Paris area this year. Last year, it was about 2 weeks late (it felt like it would never arrive!), I think this year it is about 2 weeks early, and I don't complain! I just hope we won't have any late snow coming our way in the next few weeks.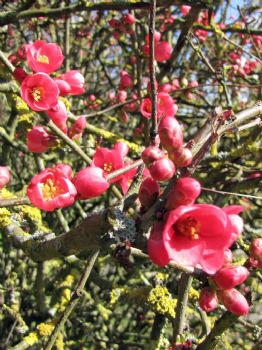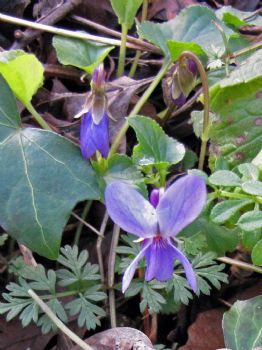 The beginning of the hike was through the countryside, mostly on little paths but also for a few minutes on the road… I don't like that much, but it was OK as there were very few cars.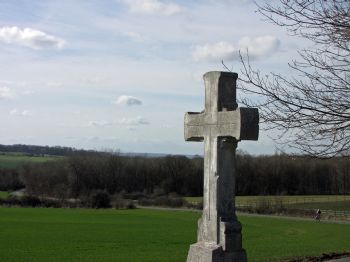 This is exactly where I got things wrong… I turned into the forest after taking this picture of the countryside…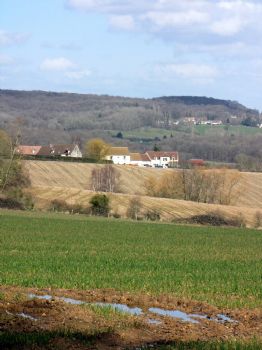 … when I should have continued a little further. So I walked South-West when I should have walked North. Haha, pretty bad!!!




So I crossed the woods and ended up in a village, when I was looking for a road I was supposed to cross in the middle of the forest! I knew something hadn't gone exactly according to plan then! :)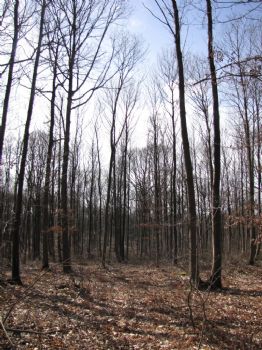 When I realized I was 'lost' (well, not where I was supposed to be at least, but I knew where I was, thank goodness!)… I decided it was time to stop for lunch! So I sat on a bench and ate my salmon and Philadelphia sandwich in the middle of the little daisies and primroses…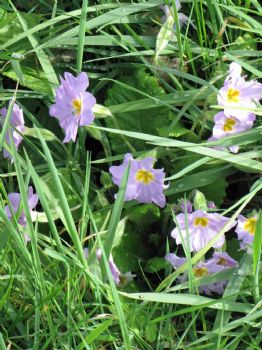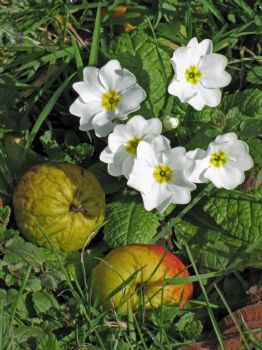 Not too bad, I thought! :) Then I wondered what to do. My sciatica is definitely not over, and I had already walked for 2 hours. So I decided the best thing to do was to walk back through the woods and then take a short cut to Bréançon's church, where I had parked…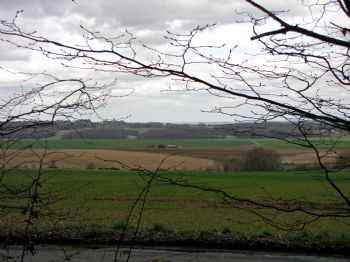 … So almost 3 hours after the beginning of my hike I was back. It wasn't at all what I had planned to see today, but it was still a beautiful hike, with the lovely early signs of spring (WOOHOO)! In a few weeks' time, I'll probably go back to do the 'proper' hike I should have done!




I am sorry I am not on SP much these days. After my busy trip to Warsaw (I didn't see anything from Poland apart from the airport and the conference center!!!), I am back home but with no Internet access for a couple of weeks. I am writing this blog from a café after visiting my mom at the nursing home. I can't wait to have Internet access at home again!!!

Many thanks for reading! I hope you are all keeping well! Have a beautiful week!

P.S. I just read an email from my dear Sparkfriend WILDASTER from Minnesota. She writes: "There is still almost an inch of ice on most of the roads around here, the main highways and main roads are better but our street is totally iced over."
Thinking of you all who are still in the heart of winter and sending BIG HUGS!!!






Monday, February 17, 2014
Hello dear Sparkfriends,

It is my last morning in Tunisia (North Africa), and I am so grateful for the couple of days I have spent here. I'll have to come back for my work in the future and I am glad. Tunis is a beautiful city and I met so many welcoming people! Yesterday, as I had hoped, I got a couple of hours to explore Tunis, especially the old part of Tunis, called the Medina.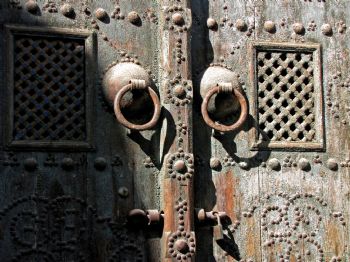 Let's open the door and see what I discovered…




… the Great Mosque, first built in 732…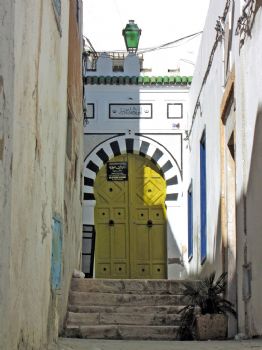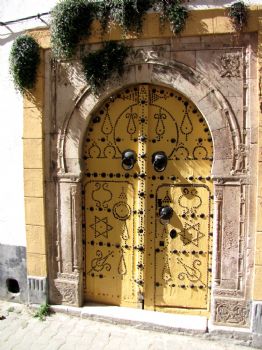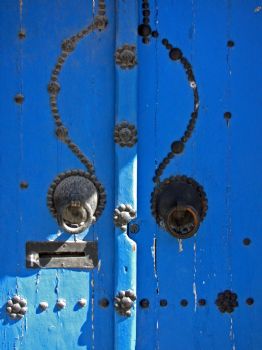 … many many colorful doors…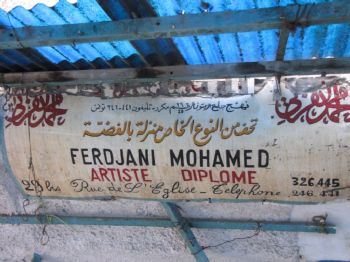 … beautiful signs (written Arabic is so elegant, isn't it? It always looks like a work of art to me!)…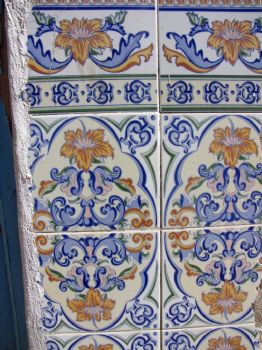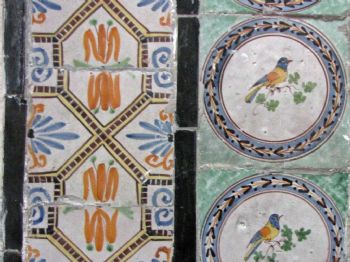 … old tiles of all kinds…

By now maybe those of you who read my blogs about Algeria last May, and especially Algiers' Casbah, see some similarities:
www.sparkpeople.com/mypage_public_jo
urnal_individual.asp?blog_id=5361402

Like Algiers' Casbah, Tunis' Medina is the oldest part of the city, the most atmospheric and with a definite medieval feel. Look at the depth of all the old medieval walls that used to protect the city: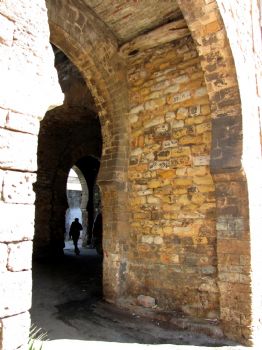 The Medina is full of old palaces and mosques…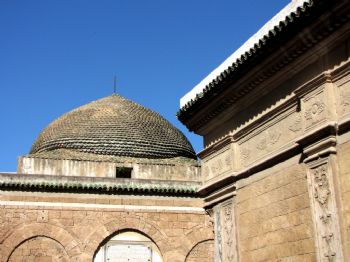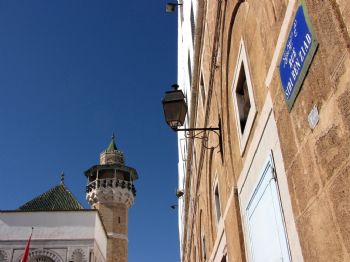 but I didn't have a lot of time so, with the colleague and newly found friends who kindly took me around, we only walked, never stopping for long...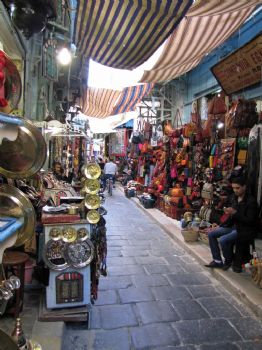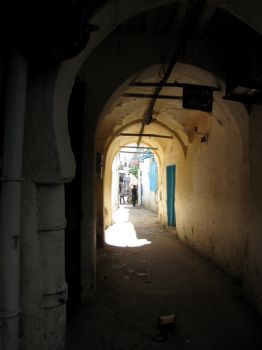 just looking at all the splendors on the way...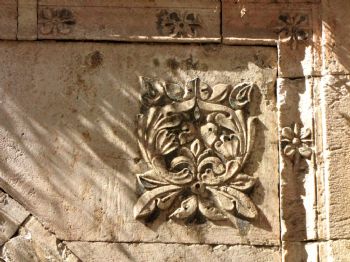 But the extraordinary and wonderful aspect of this visit to the old Medina was how warm and welcoming its inhabitants all were! I couldn't believe it! Every single person I asked whether I could take a picture of them accepted. I don't usually dare to ask much (as you can notice in my blogs!), but this time I really felt like it was OK to ask, and so I took lots of pictures of the people we met. I hope you'll enjoy them…

This man said: "But are you sure you want to take a picture of me? I am just an old man you know!"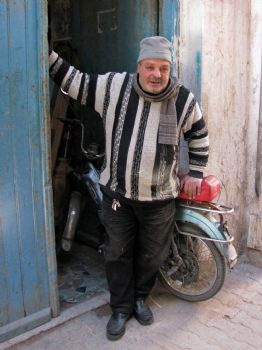 Several of you commented how surprising it was that people were wearing warm clothes, even though it was so warm, and thought that it was because it was cooler on the morning... Well, no, it was really hot and I was very comfortable in my light summer dress! But I was told that people in Tunisia wear winter clothes in winter, no matter what the temperature is, and summer clothes in summer!




From the street, the door to this courtyard was open so I could see these two lovely ladies. The one with the black scarf said: "You mean you want to take a picture of me dressed like THIS?" I said yes, she looked great! And what a smile!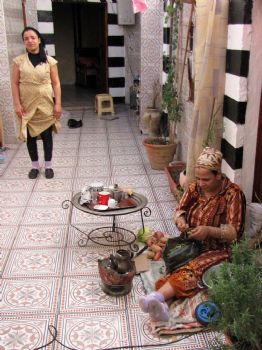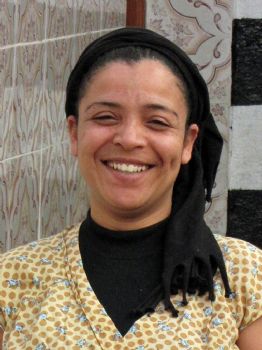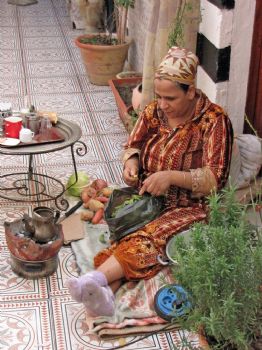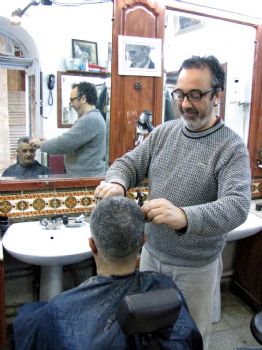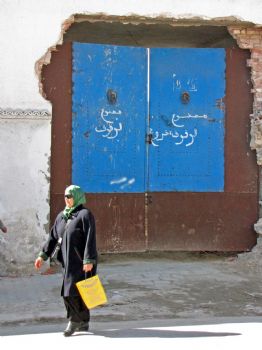 But then it was time to leave the Medina and move to the newer part of Tunis (built in the 19th century).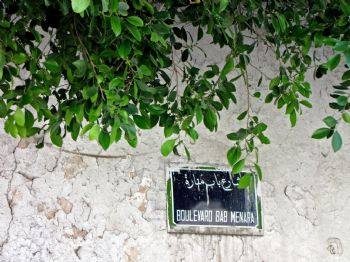 I won't show you a lot of it. Actually I thought many of the buildings looked like the 19th century part of Algiers, all from the same period, all white and blue.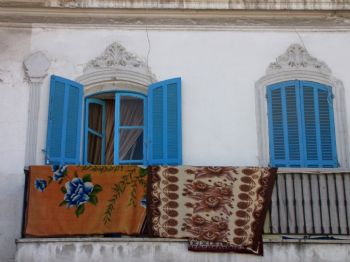 Next time I'll visit Tunis I'll try and spend a bit of time walking around that part of the city and I'll post a blog about it. Promise! :)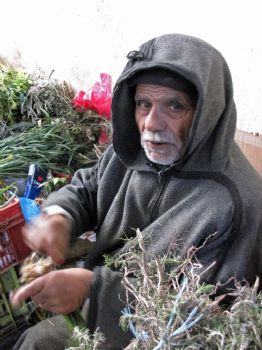 This time, I must say I really wanted to spend time at the market rather than take only a few pictures of the more modern part of the city. I hope you'll enjoy my market pictures enough to understand my point of view!!!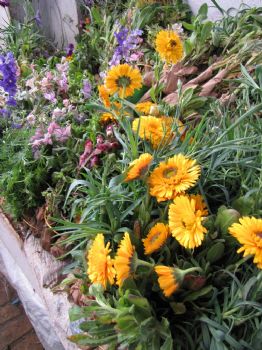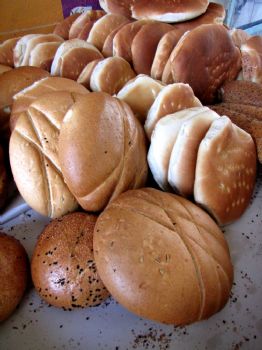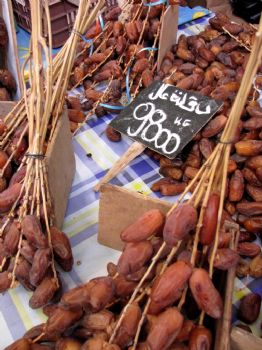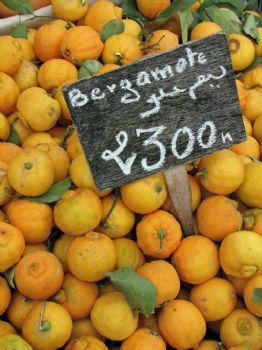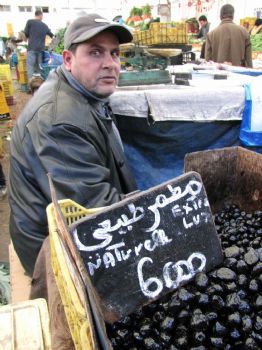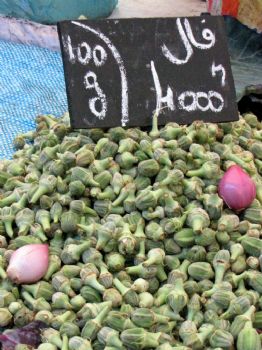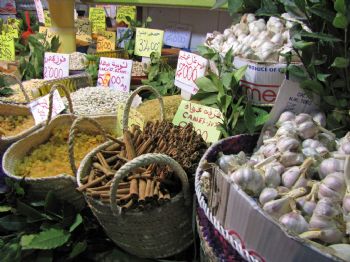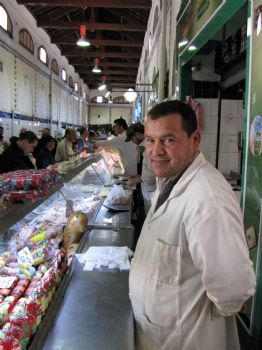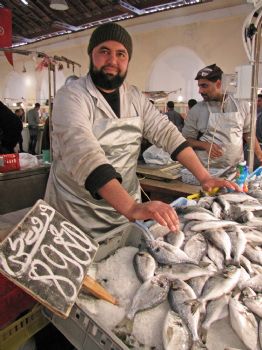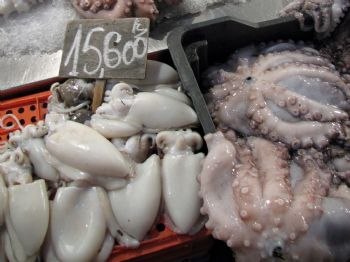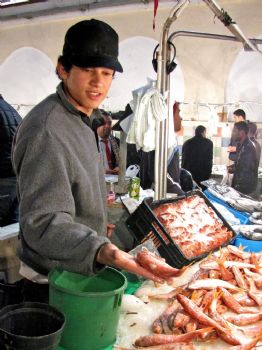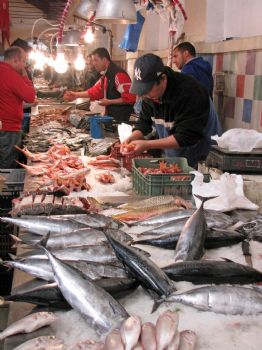 Not surprisingly, after all these beautiful fresh products (and especially these amazing fish!), I really wanted to eat fish. Luckily for me there was some fish couscous where we had lunch (a very simple restaurant where my meal cost about $5-6 and where everything was delicious)!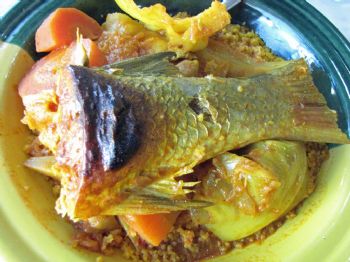 Later, as the sun was starting to get less warm (I forgot to say it was about 27C/80F during the day... bliss!!!), I walked up the hill above the area where I am staying, in the suburb of Tunis...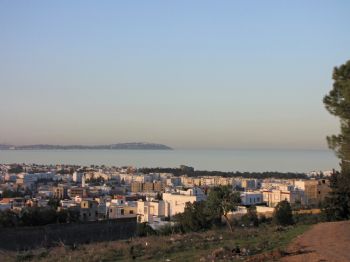 ... to watch the sunset from an olive trees grove...




I'll end with this... Thank you so much for coming with me on this trip to beautiful Tunis!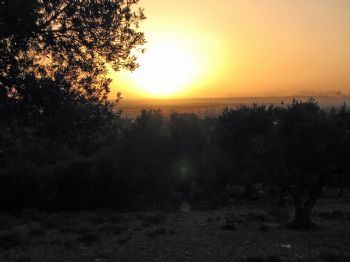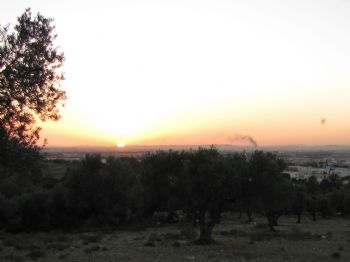 Sunday, February 09, 2014
Hello dear Sparkfriends,

The weather forecast for today wasn't great, and my sciatica being still painful, I decided to be wise: I went for a walk around an area of Paris, in the 15th arrondissement, rather than a hike in the countryside.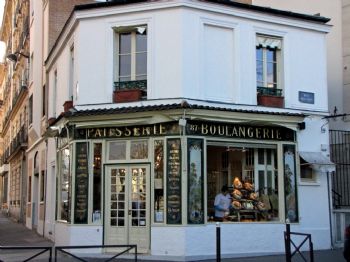 As I walked in the area, I passed by a few really nice old-fashioned shops, like the Poîlane bakery above, and what used to be a bakery I believe and is now an artsy shop (I am glad they kept the old décor!)…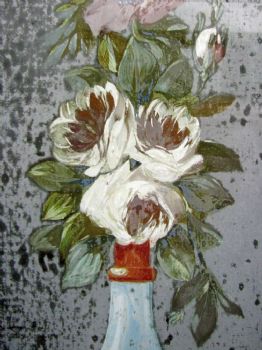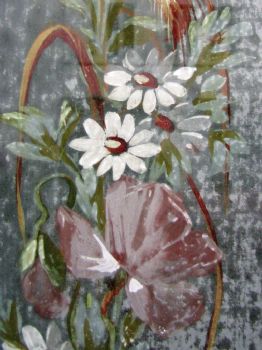 The aim of my walk was the Georges Brassens park.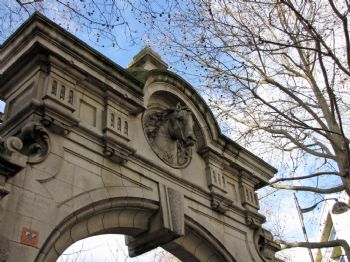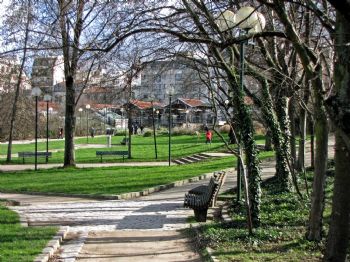 Georges Brassens (1921-1981) was a great French poet and singer.




He is very much part of my childhood, and 'L'auvergnat' is one of my favorite songs. Here it is with the English translation of the lyrics.
brassenswithenglish.blogspot.fr/2008
/02/chanson-pour-lauvergnat_08.html

The park was built in the 1980s in what used to be a slaughter. Some of the buildings were kept. I am glad as they are interesting.




In the old 'halle aux chevaux' (above), i.e. the place where the horses were shown and bought, there is now every weekend a book market!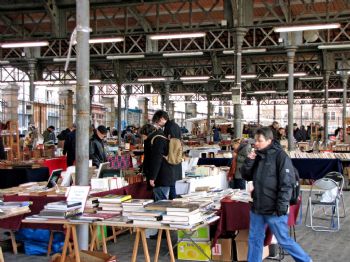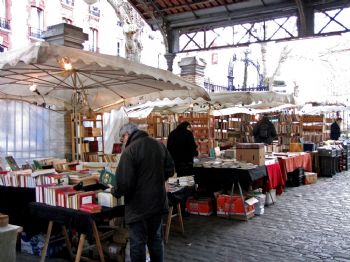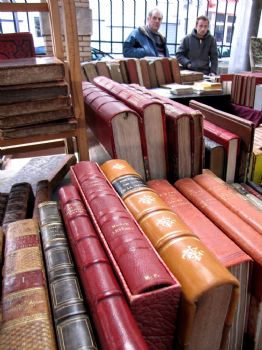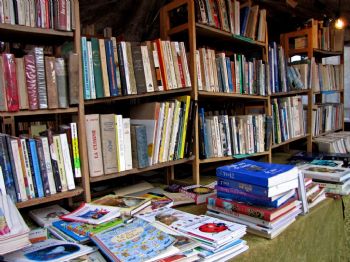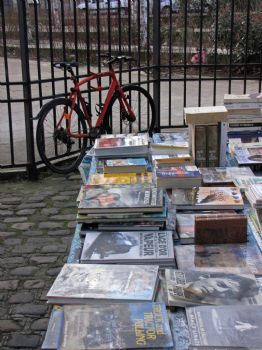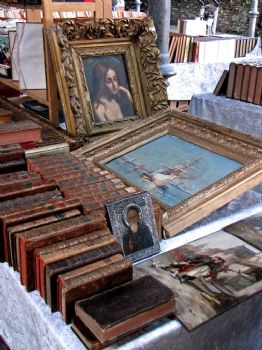 I had a great time looking at the books, with a special emotion at this last stand with many books from my childhood!

Then I walked around the park, stopping at the muppets' theater to take a picture on the way…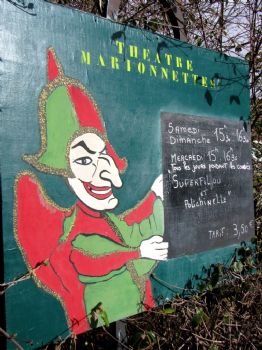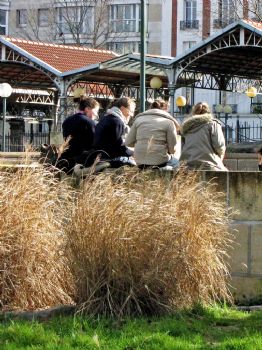 There were so many flowers, I couldn't believe it was early February!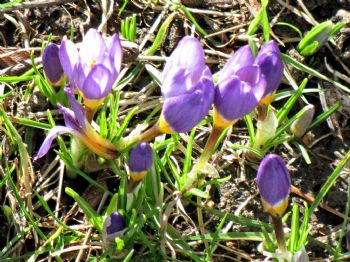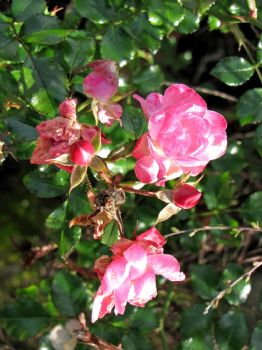 When I left the Georges Brassens park, I walked to the lovely nearby rue Santos-Dumont. Georges Brassens lived at number 42 for the last 12 years of his life.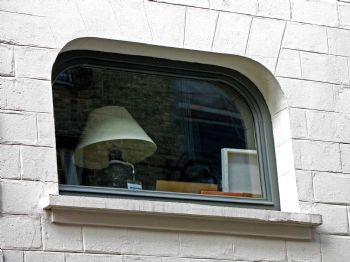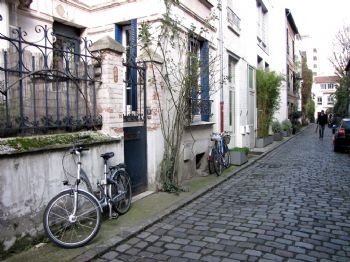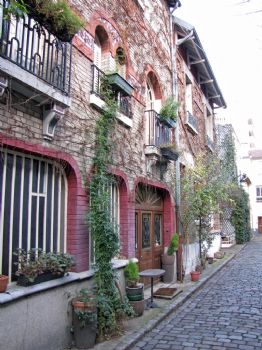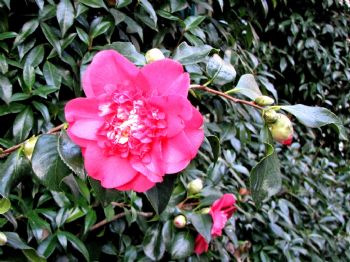 The last part of my walk took me to the market of rue de la Convention. Everything was so beautiful!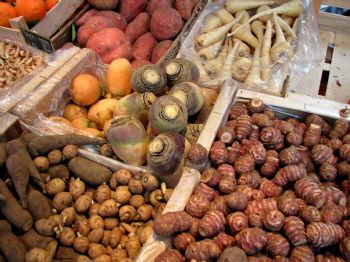 But the prices left me speechless… €4.70 for a kilo of apples? My goodness! They cost about half in the suburbs! Maybe these were organic, but still…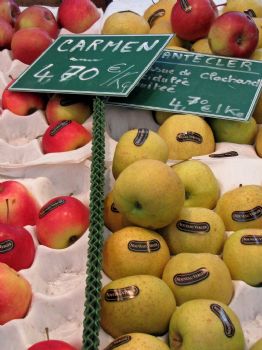 Let's end with the flowers, there were lots, all gorgeous! Woohoo, spring will soon be here!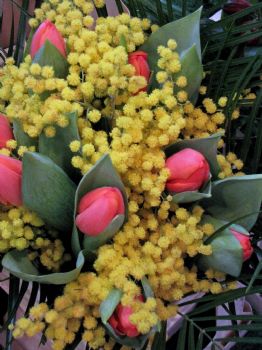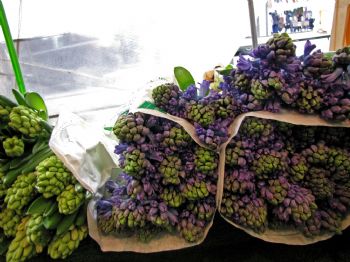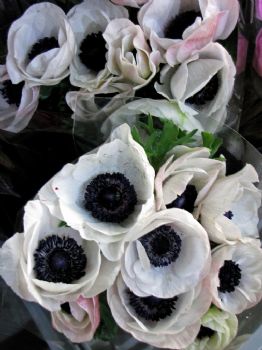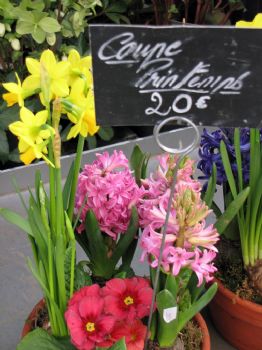 I am off to Tunisia for work on Friday. I'll be there for a few days and I hope I'll be able to take some pictures, as I have never been. So hopefully, my next blog will be from Tunis! Have a beautiful week!








Sunday, January 26, 2014
Thanks to MAZMIGNUNA, who commented on my previous blog about Malta (and who lives on the island, lucky woman!), I heard about Mdina, the old capital city of Malta.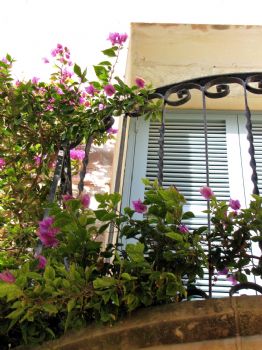 So when today my 3pm meeting was postponed after dinner, I jumped on the occasion and took the bus to Mdina. Buses here are really good and reliable, from what I could see, and very cheap too!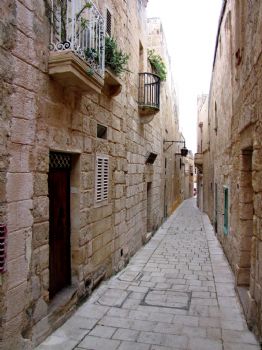 So… was Mdina worth a visit? Definitely! Was it different from Valletta? Completely!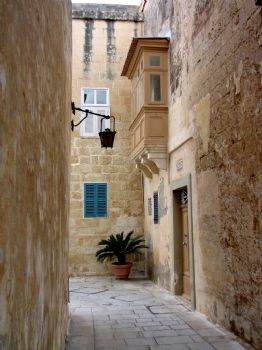 Valletta was mainly built in the 16th century, when Mdina was mainly built in the 9th and 10th centuries (although part of it had to be rebuilt after an earthquake in 1693). So the feel was completely different. Most of Mdina's streets are very narrow and very few cars are allowed into the city.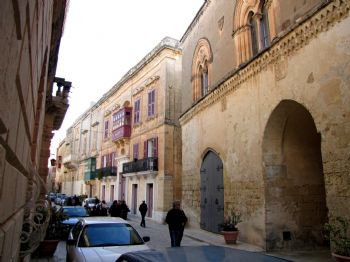 Mdina, which is built on top of a hill, is protected by thick fortifications. I enjoyed the view from the walls onto the countryside and the sea in the background…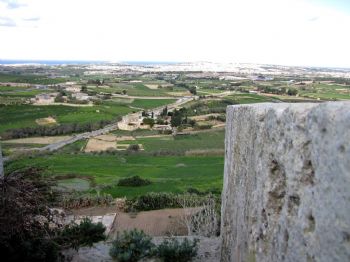 Near the walls, I met these three lovely Maltese ladies who seemed to be having such a good time chatting in the sun I asked them if I could take a picture of them! (They look cold, it was cooler today... 14C/57F... with very strong winds... a bit too cold for my cardigan, I should have taken my coat instead!)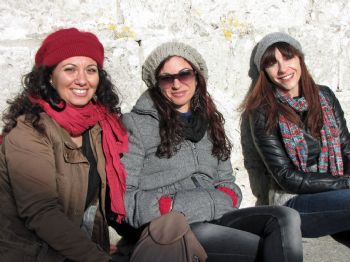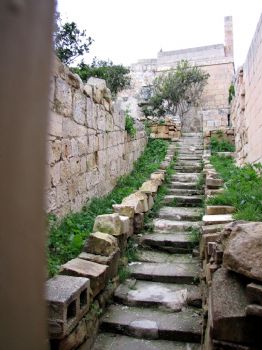 The city was very quiet, with hardly anything open (a couple of shops, a couple of museums… it was Sunday afternoon after all!), but there were tourists. So I can imagine it must get very busy in the summer! The main attraction was St Paul's Cathedral...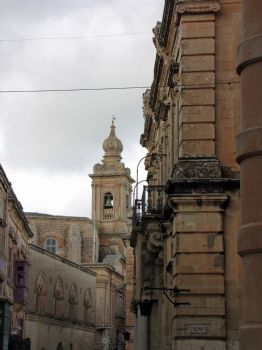 The building of the nearby museum, although closed, was beautiful to look at.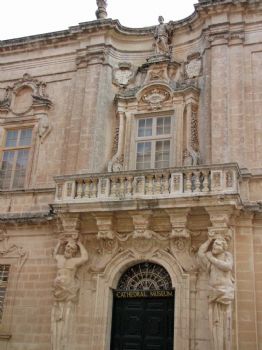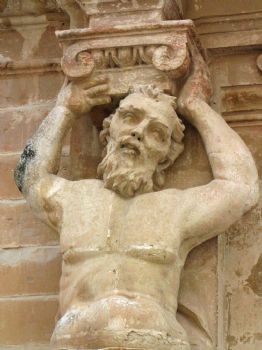 And the building across the square from the cathedral was probably my favorite, with its purple shutters that worked so well with the beautiful color of the limestones!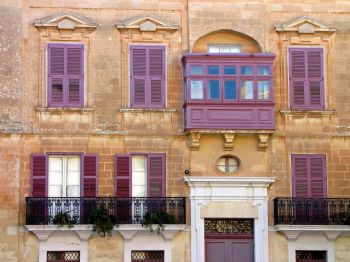 I went into Palazzo de Piro to see an exhibition of watercolors. It was very pleasant, especially as there were some views from Mdina...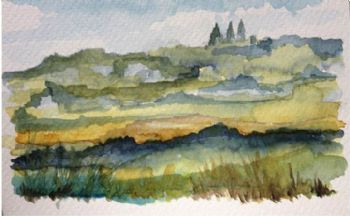 Here is the website of the painter if you want to have a look:
www.josephcasapinta.net




Hello!

(Sorry, I forgot to smile!!!)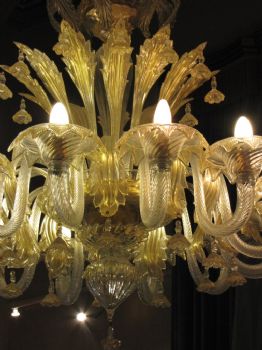 The palazzo had some gorgeous chandeliers… Malta's glass work reminds me a lot of Murano's!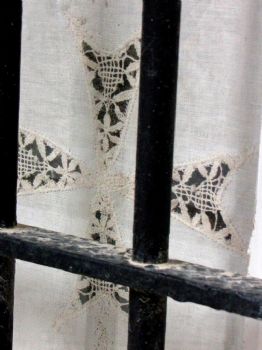 Just like in Valletta, Malta's Cross was everywhere in Mdina, even on lace curtains and doorknockers!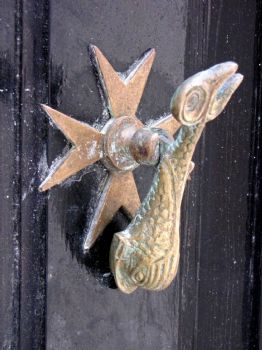 Let's wander in the streets looking at more buildings and other little details…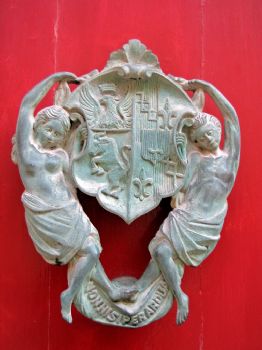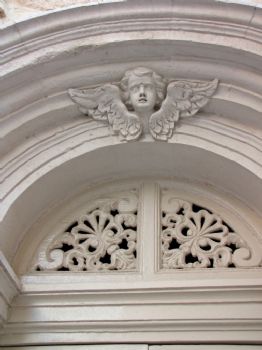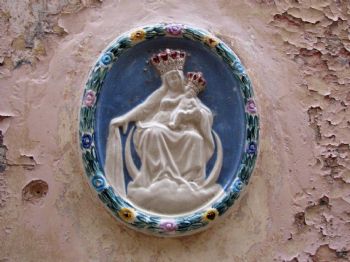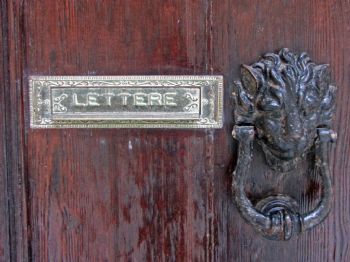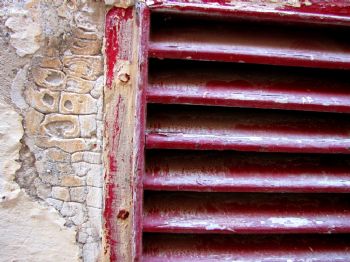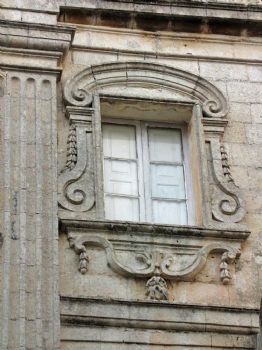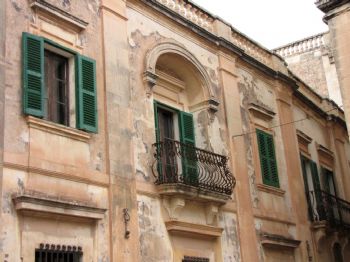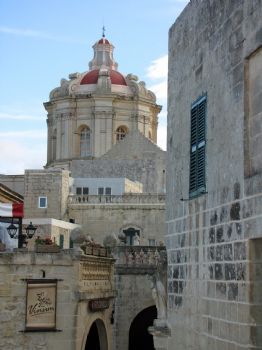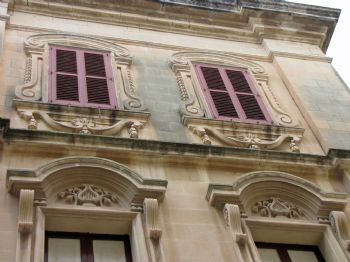 The building above, which was near the local Court (and possibly part of it), had many different women's heads on it, all different although similar… Here are just three…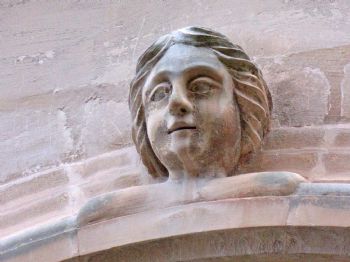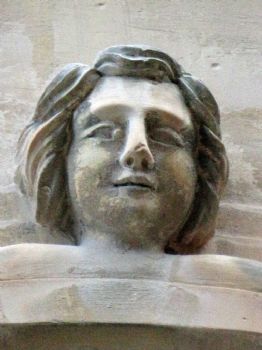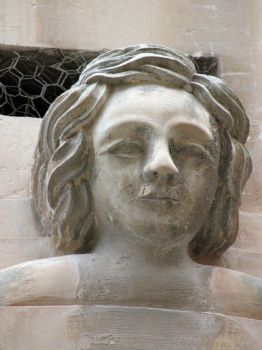 And that's all for today! So... let's go through the big city gate again...




... and say goodbye to Mdina for now...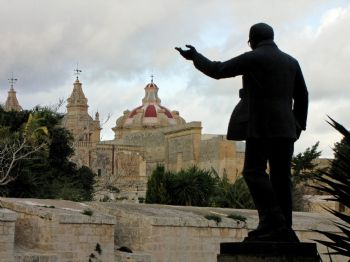 Many thanks for reading! I was happy to read that several of you had added Malta on their list of places to visit. I am really enjoying the island and, although it was much chillier today, I am not looking forward to going back North to France tomorrow!

But ok, I cannot complain, my next trip to a Mediterranean country is in less than 3 weeks' time.
Oh how I love my job!




1 2 3 4 5 6 7 8 9 10 11 12 13 14 15 16 17 18 19 20 21 22 23 24 25 26 27 28 29 30 31 32 33 34 35 36 37 38 39 40 Last Page

Get An Email Alert Each Time CLAIREINPARIS Posts