| | |
| --- | --- |
| | CINNAMARIE's Recent Blog Entries |


Thursday, December 13, 2012
I got home tonight from work and exercised (4 mile Leslie Sansone's Punch Up Your Walk workout)... then sat down to eat (Chicken and cabbage)... while I eat, I usually watch the Food Network! LOL Anyway, was telling my husband that at work today a friend of mine mentioned that old adage of living to eat or eating to live... and how she ate to live... I told her that seriously... I felt that truly I lived to eat! LOL I mean, I LOVE food, I even spend time online looking at recipes. I am usually always thinking of what kind of foods I'd like to try, etc... it's sort of ridiculous! LOL This is a SUPER tight Christmas for us and we are sort of keeping it way simple and just asking what we can get for under $20. I thought for a second and told my hubby that I still wanted that cookbook by Marcus Samuelson "The Soul of a New Cuisine: A Discovery of the Foods and the Flavors of Africa" and then searched for it on Amazon.com and found that I could get it for under $20 used. You'd think with all this weight loss that I'd have a different perspective on things lol Apparently, I don't.

Anyway, we never made it to the food network tonight... channel was on TLC and there was this show on about a 600 lb woman. Anyway, I got sucked into watching that... and there was this part where the doctor was mad at her because she wasn't doing what needed to be done to lose weight for a surgery and I turned to my hubby and said "I really feel for her"... I mean, it wasn't really that long ago when I was clueless on what to eat and felt LOST and that I just couldn't DO IT... I felt like a failure, like I couldn't lose anything or that in order to do that I'd have to starve myself... or eat horrible food or well, the list went on and none of it was nice thoughts... It all seemed WAY TOO DIFFICULT... like it was never going to ever happen for me. But then I found this plan (the 17 Day Diet)... and I swear, you'd think I worked for Dr Mike Moreno himself, but I swear I don't and I'm not getting a dime (although, I probably should! LOL)... but it's never been so easy as it is now. I'm enjoying the food. I'm not at all feeling deprived... I'm even having the energy to exercise... so, when I watched that show, I empathized with that woman, then I just wished I could have crawled through that tv screen and shared what I've been doing with her. Oh well, that's just how this plan makes me feel... and I wish that for everyone who once felt how I felt... I get it... I mean, I felt it for decades... when the lightbulb isn't switched on it's pretty dark and when it's that dark, you just can't SEE anything. Whether it be Weight Watchers or another plan... I wish for anyone reading this that I hope you find your "light bulb"... I found mine and it's the BEST feeling in the world! The world is BRIGHT now and what a joy that is!







Tuesday, December 11, 2012
I have ONE great shopping trip on Saturday and of course I'm going to blog about it and wouldn't you know it inspired a few people and next thing you know, my blog gets voted Popular Blog by Sparkpeople.com! Not only that, but I earned a Sparkpeople.com trophy for it, too... AND I think I had about 150 comments or something. Just crazy! Thank you so very much!

A couple of months ago, someone (not sure who) must have nominated me to Sparkpeople powers that be and I was sent some sort of questionnaire. I didn't fill it out yet (it was pretty extensive), but it was a success story sort of questionnaire. I guess I felt that my journey wasn't complete. I mean, I was successful so far, but I hadn't finished my journey. I still have a ways to go.

Even now, I have quite a bit left to lose. From day one of my journey, when I weighed in at 377 lbs (pretty sure I was over that weight at some time, but not when I officially started the 17 Day Diet which is what I'm contributing this weight loss to), I had set my goal at 165 lbs to 175 lbs... a 10 lb window. Bottom line, I was going to go straight to 165 and if that was too much, then climb back up but don't go higher than the 175. Now, I'm not sure if I need to lose more than the 165, but I really won't know that til I get there. I'm at 262 now. I'm so beyond thrilled that I have STUCK WITH IT this long!

I always knew that the main key to my success would be perserverence. One of my earlier, if not first blogs here was a talk to myself blog. I have the answers. I kinda feel that most of us do. Don't you sort of feel that you KNOW what to do? It's the DOING IT part of things that we usually mess up on.

I'm very proud of myself for listening to that talk. I just know that I'm going to get to my goal... and that I'll find some other goal to strive for when I do.

Tonight, I went to my son's Band Christmas Concert. It was a nice night... saw some friends I hadn't seen in months who noticed my weight loss... heck, I saw friends I hadn't seen in weeks that noticed my weight loss! LOL It was a great night. Here is a pic of my son and myself.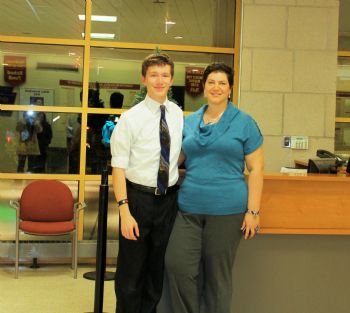 Saturday, December 08, 2012
I needed to buy new pants for work today and so I went to Lane Bryant. Now, yesterday at work, I had SQUEEZED into a size 22 pair of jeans... and this is the mystery of being a woman... I can do that and then the VERY next day go shopping and buy a pair of size 18/20 dress pants! I went to grab a size 18/20 top and it was BIG on me! I actually had to have the saleslady grab me a.... OMG... could it be??? Yes, a size 14/16 top! Well, I think us women will understand, but I haven't seen that SIZE ANYTHING since my early 20's (I'm 44 now) and so I bought 4 tops! I only went for pants. Oh yeah, bought 2 new bras, too! Smaller, as well! Can you believe it?????

I'm just thrilled! I just had to share in my excitement! I'm down to 113 lbs lost as of a couple of days ago. Now, I can say that I FINALLY have UNDER 100 lbs left to lose! Actually, I'm shooting for 165-175 as my goal. I'm 5'10" I made myself a mini goal to reach 120 lbs lost by Christmas and I think I'll do it!

Having such a great time getting dressed these days... here is my favorite outfit that I bought today... pants and sweater/top.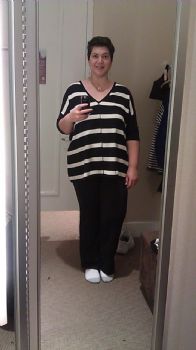 Sunday, December 02, 2012
I am currently down 106 lbs thanks to the 17 Day Diet. I am a walking billboard for the diet just about everywhere I go now. EVERYONE is noticing my weight loss. I currently have about 5 friends from work doing this diet and losing on it as well. They are OVERJOYED! I am OVERJOYED for them! I have shared this diet with so many people, that I've truly lost count! Just about EVERY single day, I get an email, a text, a facebook msg on what am I doing and that I look fantastic. It's become a HUGE part of my life. I have run into ALOT of people that feel that this isn't the diet for them, some who have tried and some who haven't. I've heard TONS of excuses.

Now, I have different thoughts about the "excuses" I've heard...

First and foremost... they just aren't ready. I get that... I have held on to 100-200 lbs over goal for about 2 decades! 20 years! When I was in my early 20's, I had lost 100 lbs, gotten down to 178 lbs and looked and felt great (I'm tall, 5'10")... anyway, I was healthy, I was active and I was a regular at the gym back then. I KNEW what to do to be healthy and keep that weight down.

Then I had a car accident. Car was totalled (gone was my transportation to the gym), aches and pains started happening... and well, I got out of my rhythm and old habits crept back and I started gaining and gaining and gaining... til I was OVER 200 lbs overweight. I ALWAYS knew that I was capable of losing the weight (heck, I did it once before). I knew I was strong enough. I knew what I was making mistakes with. I had people ask if I would do the surgery. I had doctors TELL me to do the surgery. I never wanted to go that route... you see, I never was on a diet that failed me. I was the one to fail the diet. I wasn't and couldn't be one of those people that said... I did EVERYTHING exactly as written and it just didn't work. So, therefore, it made no sense to ever go under the knife for me... I just had to get my head in the game. I hear people make excuses of why this diet isn't for them. I tell them, I understand. I do. I've been there.

Secondly, and this is the one I sort of REALLY feel for them... I hear that this diet it too hard to follow. They don't cook, they don't know how, they don't have the time to cook, etc. Now, for me, I'm sort of under this category (yet, have started getting more and more INTO it because of this plan)... anyway, back to the excuse. I do feel that this is a difficult diet to do if you really can't stand to be in the kitchen. I mean, there are certain things that really are a no-brainer. Yogurt, you buy in cups. Technically, you could buy the lipton diet green tea in bottles, you can buy a carrot or an apple and eat away. But when it comes to the lean meats? Well, it is a bit more difficult. I mean, you CAN eat tuna from a can... if you didn't want to cook at all... you COULD buy pre-hardboiled eggs from the store. But, beyond that, you might actually have to spend a bit of time in the kitchen. Lunch meats are processed, so not really recommended, although they are easy... There are some hillshire farm precooked chicken breasts in the store that you can just throw in the microwave... but it's not the easiest thing to just find something ready to eat for our proteins. However, it IS an excuse! I get it, but it's still an excuse. So, you MIGHT have to cook a bit... you MIGHT have to prep some vegetables, etc. Seriously? The weight isn't just going to fall off without ANY effort.

Thirdly, I love my carbs. I can't give up bread, pasta, potatoes, etc, etc, etc, blah, blah, blah... the list truly does go on and I think I've heard them all... BUT... we are eating carbs... have you been to the store? Do you read labels? EVERYTHING has carbs! It's sort of an eye-opener, really. Anyway, we eat LESS. In Cycles 2 and 3, you can eat carbs... IN MODERATION. But, your life didn't just end and you won't ever not have a piece of bread or a noodle ever again. However, this, too, is a part of the journey to get to your desired goal weight.

In my experience, I'm the one who needs to lose the equivalent to 1 heavy, or 2 thin people. SERIOUSLY... that's NUTS, but it's the way of it. But, MOST of the people in my path who want to lose weight, or NEED to lose weight, really only have 25-100 lbs to lose. And, most in my path, really only need to lose 20-50.

This diet works. Read the book. Say you have 25 lbs to lose... go to Cycle 1, Cycle 2, Cycle 3, back to whatever cycle you want... keep going... eat your bit of bread, your bit of pasta, your bit of potato and then... GUESS WHAT???

Cycle 4! Read the book, that's all I'm sayin'. Read it... know what you can do on Cycle 4... it's so ridiculously simple! GOOD LUCK!!!





Saturday, November 10, 2012
Hi guys! Again, my life is super busy these past weeks and into Thanksgiving... Seems that's the only day I see on the horizon with NOTHING that MUST be done... although, as it's only Ivan, Chris and myself, (no family here)... we'll probably go to the movies and an Indian meal... we all love Indian, as I think you all know by now... My son went vegetarian, so it's optimal for him and Ivan and I can load up on veggies there... so it'll save us from cooking and we'll probably spend the same amount of money...

On another note, I borrowed a Wii fitness dvd from a co-worker and tried it last night... Oh, sorry, it's a Zumba tape... anyway, wow... that's a workout... I am only on the Easy level and I only did 20 min, but it's way more intense than the walking I've been doing. I can't afford to get one for me yet, so I'm hoping she can be without it for at least 2 weeks, as I'd like to try it that long and see what it does for me. Maybe it'll help me bump up my walking to a light jog? Not sure.

Anyway, I've also been doing these toning exercises in the mornings... It's only 8 minutes of target toning and I know I've lost inches in my thighs, probably hips, too... I haven't measured, mainly because if I measure myself, I seem to always screw it up... and don't really have anyone here to measure me. I just notice that my "clingy" black pants no longer cling... like, at all! They totally hang and they are kind of meant to cling... so that's fun.

I drew up a projection spreadsheet at work... I had done this back in March when I started... I'm a goal oriented person and am always looking ahead, never behind... I plan things in the future ALL the time. Anyway, I projected a 2.5 lb week rate of loss and that puts me at my goal before next September.

However, since March, my rate of loss (average) has been 3.0606 lbs/week... and if I continue like that, then I'll reach my goal mid July next year. I can hardly believe it, but yet, I do. This has been the best time of my life based on gaining control of it, if you understand what I mean... I feel that even in my early 20's when I did lose 100 lbs (Yep, this is the 2nd time in my life I've lost that much)... whew... anyway, I was young, was hardly focused on that at all... And from the gaining it all back plus 100 more, I just never really took ownership of my body... which is sad, but it's in the past... I'm over it.

I'm just needing to focus on the fact that I get it now and I know that because of the 17 Day Diet, the support of sparkpeople.com, my husband's support and just my freakin' will and determination, I'm going to be the thinnest in my adult life next year! I am aiming for even a bit under what I was in my early 20's! So, that will be HUGE! HUGE, I tell ya! I'm excited... it's odd, maybe from the working out, but I feel thin NOW... and I've still got more than 100 to go! It's crazy.





First Page
1
2
3
4
5
6
7
8
9
10
11 12 13 14 Last Page

Get An Email Alert Each Time CINNAMARIE Posts