Thursday, September 13, 2012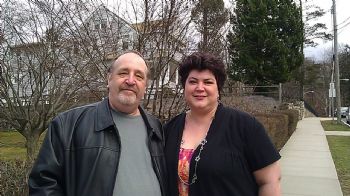 I have struggled with my weight my entire life! I've only known "thin" twice.

I started gaining weight in the 2nd grade... and just got bigger and bigger til I graduated high school at 280 lbs! Not a great place to be for an 18 yr old. My parents were large people... always had been. I had Aunt and Uncles who were big. It's pretty much all I knew. My parents never really knew how to be active or how to eat healthy. It's what I learned. My Aunt Carol was thin... this was my dad's sister. She never had any children of her own, so she and I always had a very special relationship. When I graduated high school, she asked me to move in with her.

I quickly discovered that it was her way of getting me learning a different way of living. I found out that was her sneaky plan quite quickly. If I wanted to go somewhere (I didn't have a car)... she told me to walk there. If I wanted to eat something, she told me to cook it. If I wanted to get something from the store... yep, you guessed it... walk. Thankfully, the store was about 2 blocks away and the college was about the same distance... she definitely wanted me in college, so I started walking everywhere. If she said "Let's talk", it meant we were going for a walk. We never sat at the kitchen table to talk... we always went walking and talking. There was a pool at the complex we lived in and I used to be in the swim team.... so she said she'd go with me... I got to the point of swimming 100 laps a night with her sitting there counting them out for me. It was never a drill sargeant type of thing, too... it was support. It was being there with me every step of the way. I lost 100 lbs that first year... and besides all the walking I did and the swimming, I seriously don't remember losing that weight... it just fell off.

She was married during this time and that marriage didn't last (go figure) LOL I think she spent more time with me than her husband (he wasn't right for her anyway lol) and she eventually moved out. At first, I joined a gym... felt that I needed that support somehow. Well, I got in a car accident... it kept me from the gym because I totalled my car and started having stiff neck/back issues. I lost my job... I eventually moved back home with mom and dad.

I eventually gained all 100 lbs back plus since then, 100 more.... I went back to how I had lived all my life... not much activity and a whole lot of food and tv! (I still love tv and food!)

I got married and had a child, moved to the East Coast away from all the family I knew and loved. I was ALONE. I married because I was pregnant and that's what you did when raised a good Catholic girl (well, I good Catholic girl wouldn't have gotten pregnant in the first place).. but that's another story! LOL This man I married wasn't even a friend. It was a horrible marriage. The only thing I had any control over was that I had a son that I did not want to grow up with weight issues. I made sure that even though I still ate poorly, I stopped the bread and butter for every meal (no lie). I made sure he knew what fruits and veggies were! I never bought soda, chips or candy/cookies/cakes... EVER! It wasn't for "the home". Didn't mean I didn't eat it... I did bake from time to time... I did eat out and buy it while out, but never brought it home.

The best lesson I learned FROM my son is that when I asked if he wanted "more" of something, he'd tell me "No, mommy, I'm full". "But what about desert?", "No, mommy, I'm full"... WOW. Really? Could this 3 yr old know the secret to weightloss??? Really? I mean, what a concept, right? Stop eating when full! I have to admit that I still struggle with this one... I just didn't grow up like that... it's a hard habit to break, seriously... I've been trying for over 40 yrs!

My son is 15, slim and active (not into sports, but he's got an active life)... I got divorced when he was 4... met my now husband and got married about a year later... we've been married 10 yrs this year and wow... it's just amazing when it's the right one, let me tell you. Anyway, since we've been married, he's gained about 80'ish lbs.

We tried diets... but he likes to eat ALOT and with things like WW, he hated counting and the foods he liked were always very high in points... he always felt hungry. I am a person who can pretty much follow any diet, no matter how bland.. but when he's sitting near me eating foods that I crave... well, it's been my mission to find us a plan that would work for him, thereby working for me.

I found it in March... I was at work and found a Woman's World magazine... read the featured diet and immediately felt like this was the one! I went home, got Ivan on board and officially started on March 19th... the diet is low on carbs, so I'll be honest... on the 17th and 18th, we had a goodbye to carb weekend. Him with his french fries and me with pasta.

to be continued...