| | |
| --- | --- |
| | CINDERRELIC's Recent Blog Entries |




Thursday, May 01, 2008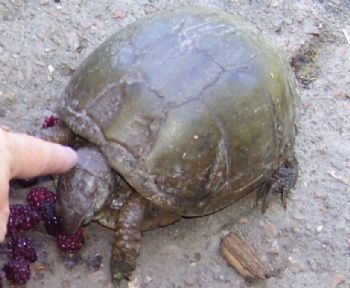 Pictured above is Muddy, a wild land turtle that comes to our porch for food every year. She has become so tame she will climb up and look in the screen door to see if anyone is around if nothing is out for her. As you can see she is not afraid of us at all and not even being rubbed on her head wll distract her from her goal, which is her favorite healthy food, blackberries.

Weight Loss Lessons Learned from Aesop

I have been at a one pound weight loss for some time until I fell off the wagon one week and gained 2. Now I am back on track with my one pound.

At first I was concerned because at one point I had had a 2 pound loss a week, but it didn't take long to figure out if I am going forward and not backward, that is a good thing! Yes, I think a one pound weight loss is great when it is consistent and persistent.

I learned from my courses in college in psychology that social or individual change is not possible without a overall change in attitude. It is easy to change a response for the short term, but unless that response is heart felt and a result of a true change in attitude it will not last and the goal will be forgotten.

Successful weight loss is like running a marathon as opposed to a short sprint. To finish in a marathon you cannot give in to the desire to run in short bursts of speed, but rather run with the attitude and long term objective of diligently putting forth a steady effort and staying consistently focused on your goals.

I think Aesop had it right in his rendition of the "Tortoise and the Hare." The hare made great, even awesome sporadic efforts, in running the race, only to get winded, take breaks, and get distracted in his/her goals. The tortoise, on the other hand, won the race inch by inch through persistence and focus. I want to be that tortoise!







Tuesday, April 22, 2008


I really believe all of us need to tell our doctors about Spark People. I am sure most doctors would accept this site if they knew about it, because it teaches the same strategies the doctors try to tell their patients about when we ask how to lose weight. In reality SP is a doctor's friend.

My doctor noticed my weight loss. I told him about the SP program and that it was free. I told him about the nutrition and fitness trackers, the teams that we can join where we share information with others who have our medical conditions or special interests, the support system both for encouragement when we lose weight or support if we should have a temporary set back, the coaches who are available to us when we have questions, the low calorie recipes and calorie finder for meals we can buy in our local grocery stores, and the articles about medical conditions, weight loss, and more. I even told him about the points, trophies, spark goodies, and spark mail.

He was not only for it but said he would tell his other patients about it because so many of his patients could not afford a paid weight loss program. He took down the website url to look at and pass it along and told me to keep doing what I was doing.

When I returned it was the week after having 2 b-day parties, company, my mom in the hospital and having to eat hospital food and eat out of vending machines. I had a 2 pound weight gain and I was afraid I had failed SP, my doctor, and mostly myself.

Surprise! Both he and his nurse told me that those things happened sometimes and that my weight gain could have been a much higher under the circumstances had I not had a good support system. They were happy to know that I had not given up and I was still with SP and going to stay on the diet plan. They say the support provided here at SP is an excellent way to keep people on track with their diets even when circumstances catch up to them and temporarily derail them.

I hope to show a nice weight loss again when I go back to his office and weigh in. Both my doctor and his nurse are also inspiring me and encouraging me to continue with SP's weight loss program and are glad that SP his here for free to those who need it and especially there for referral to those who cannot afford to pay for commercial plan.

I have a great health and wellness team in my doctor and nurse and Sparkpeople.com!







Tuesday, April 01, 2008


If you are having problems losing weight and you think you are doing all the right things here are some things to check. First, I would not get too worried at this point. Congratulate yourself for your sincere effort. Praying can be nothing but a positive, but praying alone isn't going to cut it. God expects us to do our part as well. You can't expect God to make you an example of physical fitness and health, if you are not going to commit yourself to practicing good nutrition and fitness habits necessary to achieve your goal.

If you are doing your part, and I am sure most of us are really trying here, then perhaps the information you are using is flawed somewhere. This is also assuming that before dieting you have had a complete physical and there are no medical problems that need to be addressed in your weight loss program. (You should take this precaution before you subscribe or join any gym or weight loss program.)

If medications or a medical condition is interfering with your weight loss, you need to know about it. Check any meds you are taking to see if weight gain is a side effect. If so, you can ask your doctor if there are alternatives which don't cause weight gain. If you have a thyroid problem, the doctor can prescribe what you need to regulate it. If you are pre diabetic, you need to know. These tests are not unrealistic and in many states they can be done at your county health unit or once a year at a county health fair in your area for minimal cost.

If you opt for gyms, or professional trainers make sure they are not going to require you to purchase extras such as special dinners, supplements, etc. in addition to the price quoted. If you find yourself involved with a plan like this you may wish to opt out at your first opportunity if you feel the cost is becoming prohibitive. While some products might be helpful they may not be necessary and you should not have to buy into additional products in your weight loss.

Concerning calories, all calories are not alike. In preparing meals consider nutrition. Are you balancing proteins, fats, and carbs? What kind of calories are you eating? Are you following the glycemic index to select those foods with a low glycemic number? You can use the following sites to check and see. www.womentowomen.com/insulinresistan
ce/gly www.glycemicindex.com/

If you are not achieving an average weight loss of one to two pounds a week, there are some other areas where you might find the solutions to a lack of progress. While you may be counting your calories, what kind of exercises are you doing? Did you find them on SP or did a personal trainer advise some for you? Are you doing those exercises as recommended? How long are you exercising? At what intensity are you exercising or what intensity level has been recommended for you? All exercise is not the same. Intensity of exercise makes a difference. Perhaps you need to step up the intensity.

If everything is fine in the intensity and the focus of your exercise, another area (which I discovered the hard way) where the fat burning process can be increased is in mixing up the exercise routine. The body gets used to routines and makes the adjustments needed to keep everything status quo if we will let this happen. I had to gain 2 pounds to discover this and correct it.

My doctor says that I must exercise for a minimum of 30 minutes non stop for any weight loss benefits. Less time is good for cardio but not for losing weight. I started with 20 minutes and am working toward a consistent 45 minutes at least 3 times a week. You can expend more calories if you do this daily.

He also advises overall body exercises. Is your exercise aimed at just one part of your body? Maybe you are not giving your body an overall workout. Exercises that target only one area of your body are not likely to make the difference that whole body workouts do. I have read that there are four major problem areas which need to be addressed: the upper thigh area, the upper arm area, the waist area and the stomach area. There are different takes on this depending on what you read.

Covering the basics of 1) knowing your medical condition or limitations and adjusting for them, 2) informing yourself on good nutrition practices (learning to balance your proteins, fats, and carbs, and eating smaller amounts more frequently, etc.), 3) exercising correctly (frequency, amount of time per session, number of days per week, intensity, and variety) can all be major factors in the amount of weight loss you achieve.

In addition to the mechanics of weight loss there are also emotional and every day life factors that enter in. Are you stressed, overworked, having a temporary illness, having to eat out too much, too much celebrating, too much company who want to eat fat food and lots of it, family who don't like the good and right food choices and whine when you don't fix the wrong ones?

For all of the above situations I have found my SP teams support and message boards essential to my motivation and progress.

I hope that some of this information I have accumulated is helpful. If you use some of the information here in my blog and the information provided on SP in your healthy eating plan, please do include prayer along with these guidelines. Through God we find strength to do the things we could never do on our own.

I can do all things through Christ which strengtheneth me. Php 4:13



First Page
1
2
3
4
5
6 7 Last Page

Get An Email Alert Each Time CINDERRELIC Posts