| | |
| --- | --- |
| | CHUBRUB3's Recent Blog Entries |


Monday, September 24, 2012
I AM SCARED...

BUT I AM GOING TO FACE MY FEARS,

AND DO IT ANYWAY!

This Sunday is my first 5K Run in support of CIBC Run for the Cure (Breast Cancer).

Wish me luck.



Hugs,
Angela





Friday, September 14, 2012
I have lost the WORLDS LARGEST BALL OF TAPE!

I got this from a friend and want to know 'What have you lost?'

Looking forward to your answers!
Hugs,
Angela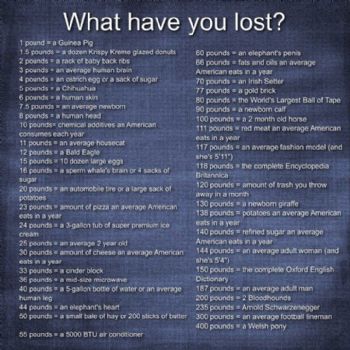 Monday, September 10, 2012
Ok first off, I have never been able to buy dress boots of any style or hieght because of my fat legs; big feet; and to top it off a high arch.

Well today I found the perfect boots!

One they fit!

Two I think they are gorgeous! Black leather; buttons up the side; High boot just below the knee.

I asked my son to take a picture for me. They are not the best photos, because I am laughing so hard my gut is showing, but who cares! Also this is probably not the outfit I would wear them with. I would probably use leggings or a different skirt.

The reason I am laughing so hard is my son's reluctance to take the picture.

You see he thinks his Mom bought hooker boots!

I am laughing so hard!

Ok so are they? or aren't they?

Hugs!
Angela

ps.. Doesn't matter! I still love them!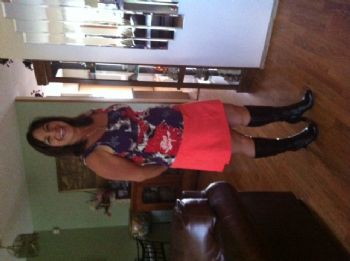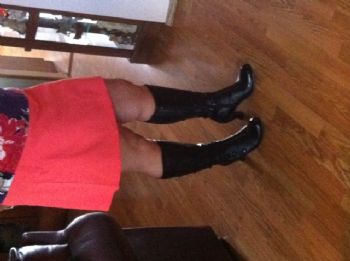 Sunday, August 19, 2012
The Summer has flown by my friends, as I am sure you have found as well.

September is arriving at a rapid pace and for those of us fortunate to have had time off, must start to regain our routines. To regain control if you have lost it over the past few weeks.

We can do this! WE are doing this!

I relaxed some of my strict guidelines while vacationing…yes I did have some ice cream to cool down. Now while I usually made lower calorie choices, I did indulge.

BUT I stayed within or very close to my calorie goals.

I worked out! Yes I did even while vacationing in Arizona and Vegas, for that I am very proud of myself.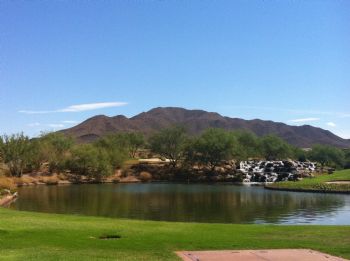 On holiday with my Girlfriends (GF), we did boot camp 2.5 hours' worth almost every day. On the days we didn't do this we walked, and I can't tell you how far we walked but it was huge. In the heat I think this was even harder than the boot camp! Yikes!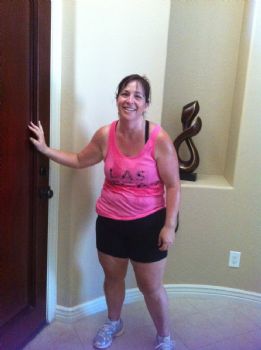 Yes I drank a ton of water!

I did suffer heat stroke on one of our days of hiking. We jogged and walked for 3 hours with a 20 minute break at the Starbucks on the way (that was what enticed me to go in the first place). By the time we got back I was a dripping mass of exhaustion. We jumped in the pool as fast as we could and spend the remainder of the day in the sunshine. By evening I was feeling pretty darn rotten; headache; naseau; dizziness, just not fun.
So thankful one of my friends realized what it was and I upped my salt intake – soon was feeling chipper again.

We had a blast together 4 best buddies on holiday; working out; shopping; lazing by the pool; eating healthy; and of course enjoying our margaritas' and each other.

After all that I can even say I liked my legs in a skirt! Looked more like loaves of french bread in a dress though LOL!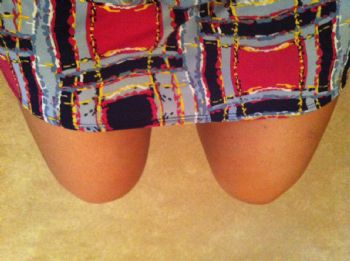 Travelled to Vegas too! OMG!! We had a Penthouse Suite at the Bellagio Hotel on the 29th floor overlooking the Fountains! SWEET!!!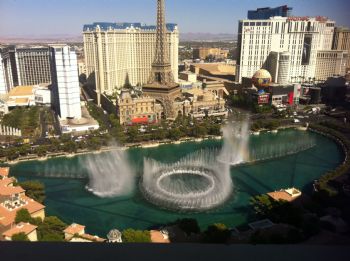 I have never stayed anywhere so fine! Did you know that the VIP guests have their own check-in with Butler and goodies at all times??? Neither did I! We even used Valet parking!

You have to understand that I am a simple farm girl, truly. That is how I was raised, yes, over the years I am becoming more of a Diva, only because I am learning to love myself and take care of me too. The surroundings and our experiences where heavenly, if I have one wish, it would be for you to experience something like this at least once in your life.

We dined at Wolf Gang Puck's in Caesar's Palace; Olive's at the Bellagio; and let's face it this time the diet went out the window as we hit the bars. I counted all my food intake and recorded it ALL while away, I did not count my drinks on the advice of my Dietician/Nutritionist. I do not normally drink, but when I am with this group of friends we do have a couple.

The shopping was phenomenal! For a Canadian Girl you lucky US citizens have smoking deals! Love, Love, love my new wardrobe!

It was good to get home to my boys; I had missed them a lot. This little getaway makes us all appreciate each other that little bit more.




We did have a vacation together as well, visiting my brother and his family in Victoria, BC on Vancouver Island. We love it there so much, and hope to move there one day. Had lots of love and laughs with my family, precious times!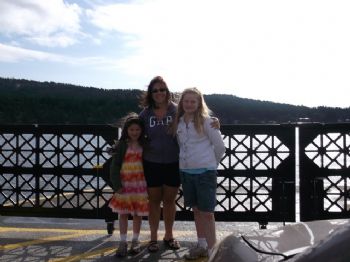 Since things are getting back to normal, I have been painting walls in the basement and doing minor home renovations. Getting to the things you never seem to have time for.

Been back to the gym and upping the ante. Did TRX training with a friend who is deeply involved in weight lifting, she has even had me doing the bench presses with the big barbells, all that you envision more men doing than ladies.

Started my kickboxing today and I sure can feel my workout(s). All is good, I can still walk! LOL!

Will add some pictures of my holiday and a new full body shot; at the request of one of my groups I belong to.




Overall the summer was great, lost a couple of pounds and inches. Nothing great, but it will come and it is all in the right direction. No gains! Yeah!

Hope each of you enjoyed your summer and continue to enjoy what is left.
Falling back into routine with the Fall.

Hugs,
Angela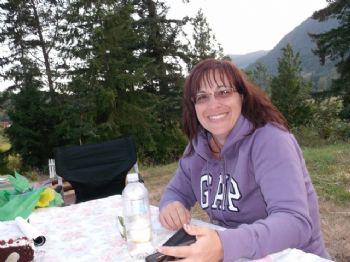 Tuesday, August 07, 2012
Never Quit Pledge
Tuesday, August 07, 2012

Today, I promise I will not quit.

I pledge that no matter, how many ups and downs I pass through, I will continue on my journey.

I pledge to make a NEW START today, and forgive myself for my past, and to stop being so critical of myself.

I pledge to take control of myself, to stop making excuses, and stop blaming other people or situations.

I pledge to treat myself as I would my best friend, because that is who I am.

I pledge to stay in the race and to be a WINNER!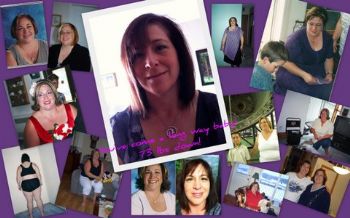 signed: Leisa (Sunflowergal40)
04/26/12

Signed: Chris (chriskenandkids)
04/26/12

Signed: Linda (scoutmom715)
04/27/12

Signed: Nancy (tedybear2838)

(from Linda S. Jayne (Geminisue)

Signed: Vicki aka VICKI-B--56


Signed; Pixie (Pixie-Licious)

Signed: Gloria (GloriaB73)

signed Fran

Signed Sarah (Millie 5522)

Signed Shelby (theshelbster)

Signed Beckie (BIRKIE528)

Signed Debaune (Doobie893)

Signed by Wallahalla on Friday, June 29, 2012

Signed by Karen (MAMAWALMART) on June 29,2012

Signed by Sibille (musolf6) Friday June 29,2012

Signed Shirley (Lookingup2012) Friday, June 29, 2012 who needs to do this because she quit SP three times in 3 years.

Signed Susan (catladyx8) Friday June 29, 2012

Signed John (Johntj1) Saturday June 30, 2012

Signed Deb (jewelle217) Saturday, June 30, 2012

Signed Kathy (Kalantha) Saturday, June 30, 2012

Signed elizabeth (MEADSBAY) Saturday June 30, 2012

Signed Caz (NEW-CAZ) Saturday June 30, 2012

Signed Julie (Shawfan) Saturday, June 30, 2012

Signed Michele (BeFit012) Saturday June 30, 2012

Signed Cheryl (Clavinova) Saturday, June 30,2012

Signed Sarah (NOTGIVINGUP49) Wednesday, July 11, 2012

Signed Bobbi (SLIMMER_197) Saturday, July 28, 2012

Signed Cherie (BIGSKYCHERIE) Tuesday, July 31, 2012

Signed Janet (EATVEGAN) Tuesday, July 31, 2012

SIGNED ( ESILBO) AUGUST 1, 2012

Signed Jenn (Plynsn316) AUGUST 2, 2012

Signed MaryAnn (MARYANNGI) AUGUST 2, 2012

Signed Diane (DianeDoesSmiles) August 8/2/2012

Signed Helen (Helen_Bru) August 3/2012

Signed Maria (winfield28) August 5, 2012

Signed: elizabeth (meadsbay) Aug 5, 2012

Signed: Debbie (debbieanne1124) Aug. 5, 2012

Signed: Marg (MdGardengirl) Aug. 7, 2012

Signed: Paula (Littleteapot17) Aug. 7, 2012

Signed: Angela (CHUBRUB3) Aug. 7, 2012

Will you blog and post the Never Quit Pledge, today/soon?

To do so, copy and paste and put on ur page under blog. :)



First Page
1
2
3
4
5
6
7 8 9 10 11 12 13 14 15 16 17 18 19 20 21 22 23 24 25 26 Last Page

Get An Email Alert Each Time CHUBRUB3 Posts