| | |
| --- | --- |
| | CHANETC's Recent Blog Entries |


Tuesday, September 09, 2008
The Way of the Peaceful Warrior
"Nothing is constant. Even with the best of changes, we still have ups and downs, moments of fatigue, bouts of illness. Push onward!"
- Dan Millman

The Laws of Success
"The Law of Choice: Your life is the sum total of all your choices up to this present minute. Since you are always free to choose what you think about, you are in complete control of your life and everything that happens to you. "
- Brian Tracy

Words of Wisdom
"Remember happiness doesn't depend upon who you are or what you have, it depends solely on what you think."
- Dale Carnegie

The Power of Appreciation
"Positive practice: Keep a gratitude journal. This is a very simple, powerful practice that can have life-altering results. The goal is to write down five or more things each day that you are grateful for - about yourself, others, or life itself."
- Mike Robbins







Monday, September 08, 2008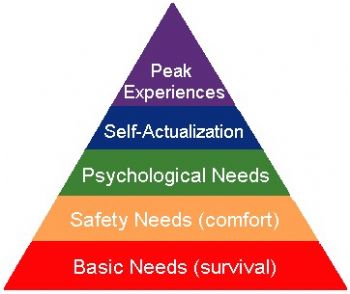 Krishnamurti was one of the most influential philosophers for me. His advice through his books saved me from succumbing to the cults and misguided politics of the 60's and 70's. I encountered most of them living in Los Angeles at the time. His advice would be to try a different approach: Instead of trying to stop a negative thought as it enters your mind,just observe it, don't condemn it, but observe it, watch it. We have positive and negative thoughts, the brain is a marvelous tool, but it can only deal with the past. If you focus on remaining in the Present, not the past or the future and only observe what is happening now, you take a lot of the emotional charge off of the thought. It just is. It is not important or unimportant, it just is. Being in the now saves us from our memories and our fears of the future. By meditating on the now, we raise our soul to a higher level, learn the lessons of this now, and accelerate our spiritual evolution. This is not easy and it is not often tried, but you just have to observe your mind as it is just one aspect of the reality that surrounds us. We allow ourselves to be drawn into other people's drama, but we don't have to, we can just observe that too. If we treat our emotions and our thoughts as opportunities to exercise this spiritual evolutionary muscle, we can welcome the opportunity like reframing walking up and down stairs as a great opportunity to exercise and become healthier, not something that we dread. If we great each moment with great expectation for all of the opportunities that it brings us for growth, then we have reframed that reality too. So like the "Lovin' Spoonful" used to sing, "it's not often easy, and it's not often tried, you just have to make up your mind" not to choose, but just to observe and be in the Now.





Monday, September 08, 2008

Wisdom of the Peaceful Warrior
"The choices we make and the actions we take when motivation fades and doubts arise — these are the true tests of character."
Dan Millman

Universal Laws of Success
"The Law of Attraction: You continually attract into your life the people, ideas, and circumstances that harmonize with your dominant thoughts, either positive or negative. You can be, have, and do more because you can change your dominant thoughts."
Brian Tracy

Focus on the Good Stuff - Power of Appreciation
"The great thing about gratitude is that you already know how to feel and be grateful. It's easy, fun, and rewarding. The challenge lies in figuring out how best to remind yourself and to come up with specific practices that you and those around you can participate in regularly."
Mike Robbins





Friday, August 29, 2008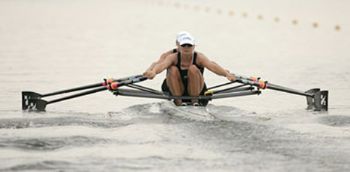 In a photo finish, the Evers-Swindell sisters representing New Zealand in the women's double won by a millimeter. Their bow was a mere millimeter ahead of the German's bow at the finish winning by .01 second, which in rowing—when boats are traveling at 20+ miles per hour over the course of 2,000 meters—is a margin that is unheard of. Whatever the cost, they were going to maintain their title as the fastest double in the world.

As Churchill said at a famous commencement speech,'Never, never, never give up!"

While we can guarantee the outcomes of all of our races or goals in life, if we do everything that we can to prepare and give our all, the outcome will take care of itself, if we "never give up".









Friday, August 29, 2008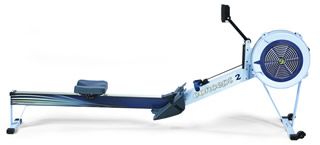 I went back on the rowing machine today, after 7 days off. I had slipped off the edge of a chair and landed on my butt on the floor and my back had scrapped the edge of the chair on the way down and I was really sore. I continued to work that day and even went to the gym later; rowing was impossible, but I bicycled. The next day I could hardly move. Getting out of a chair or sitting down caused me sever pain. I could only sleep on my back and lying down was painful too. It felt like my back muscles were bruised and I wanted them to not feel sore before I exercised again. I had to take muscle relaxants and a pain killer to sleep for a couple of days; I could sleep, but I would wake up groggy and sore as it wore off. Finally, on Tuesday night, I stopped taking the pain killers and while sore, I was able to sleep lightly. On Wednesday I was feeling better, moving was still painful, but less so. I decided to get some stretching exercise by washing my cars and while this was tiring, it was able to complete it, even if I wasn't able really do a great job on my rims. Today, I felt even better and I went back to the gym for the first time and decided to row. I chose a moderate pace and kept to it and rowed for an hour. My legs were tired, but my back wasn't any hurting any more than before. It was still slow and slightly painful to swivel my legs into the car, but tolerable. Tomorrow, I'm going to do strength training on machines and I wonder how I will do on the Cable Twist machine, but I will do it, even if I have to drop my weight down a bit to make it possible to do a se of 10. I will row afterwards and bicycle for cross training, it is good to be able to get back to the gym!





First Page
1
2
3
4
5
6
7
8
9
10
11
12
13
14
15
16
17
18
19
20
21
22
23
24
25
26
27 28 29 30 31 32 33 34 Last Page

Get An Email Alert Each Time CHANETC Posts