Tuesday, February 22, 2011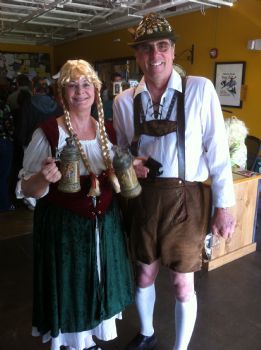 The picture is just for fun. The weight is not. I've heard a lot of people say they couldn't walk a flight of stairs without getting winded, and I thought I'd never let that happen to me. But I did. It was alarming to be gasping for breath at the slightest exertion, and I was getting so much belly it was hard to bend over enough to put my socks on without holding my breath. So I decided I needed to start again, but I was feeling truly unmotivated from all my past failures and daunted by the hard work successful weight loss would entail.

Some more background: About 3 weeks or so ago, I finally acceded to my trainer's appeal to join her spring weight loss contest (my trainer is a single mom from church who has a fully equipped gym in her home from her days as a professional bodybuilder). I was at my wits' end with the weight gain, and she weighed me in at 224.5. I knew a couple of those pounds would be fluid, since I had eaten a lot of salt, so naturally those pounds were lost easily. Still, I tried to cut down a little on the food, though I didn't add any exercise beyond my once weekly yoga class and my once weekly session with the trainer.

Then I saw something about SparkPeople and followed the link. Not a clue where I saw it, but I'm glad I did. I'm among the group that has tried it all: fad diets, Weight Watchers, TOPS, Overeaters Anonymous, you name it, I've tried it, and I figured I had nothing to lose by trying one more time, so I signed up with a starting weight of 220.

At this point, I'm in my second week, so I don't have a lot of experience to write about, but I have journaled a bit about past attempts and recognized some pitfalls that contributed to my failing to lose weight and/or keep it off:
• Trying to do too much at once (i.e., reaching for too many goals, trying to make too many changes)
• Making changes that were too drastic (too much exercise and too few calories at first, or making Draconian changes in my diet that took away my reason for living :-))
• Injury from trying to do too much exercise at once
• Rewarding myself with food (just a little cheat) on reaching intermediate goals
• Depression. Not sure where this came from, but I'd get to some point and then it would seem to be not worth pursuing the goal, so I'd start eating even more and eating high-calorie foods and yo-yo back to my former weight or more.
• Feeling that it was impossible to lose weight after menopause
• Feeling I didn't deserve to succeed and look good
• Boring tracking took up too much time

I also reflected on what I'm trying to do differently this time:
• Not trying to make drastic diet changes. I'm allowing for wine dinners and parties, but so far logging food has helped me cut back on the days I will be eating/drinking a lot at night. If I go over my max calories, it's okay. No need to beat myself up about it or throw up my hands and say, "What's the use?"
• Going slower with the exercise. Not committing to a belly-fat blaster walk or a step DVD each day. Goals so far are to walk each day (pace not that important, just walk), cardio 3X/week (that had been missing totally from my life), weights 2X/week (trainer session and one other time), and yoga 2X/week (one class and one DVD). The first week I exceeded those goals, but I know life (mostly work) gets in the way, so I want to keep the goals reasonable.

Finally, I like the idea of rewards, so I needed to think up some that weren't food. I don't have an idea of which goals to attach these rewards to yet, but I wanted to start a list:
• Day at Spa World
• Pedicure at a nice, sanitation-conscious salon
• Yoga-and-Wine class with yoga teacher Kelly (okay, maybe a little food)
• Extra massage (beyond normal ones with Natasha)
• Relaxing facial
• Trip to Kripalu (BIG one)
• Find a new acupuncturist in my area

Bottom line from the first week was going from 220 to 215.2...BUT I had been sick the two days before my weekly weigh-in, so I'm not going to crap all over myself if next week's weight is a little higher. My goal for this weigh-in was 218, so I'm hoping to be around 216 next week.