Sunday, April 29, 2012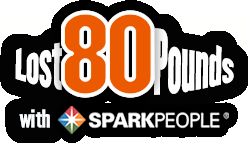 I stepped on the scale this morning to find a loss of 2.8 lbs. That is exactly what I wanted because not only would it put me at a total of 80 lbs lost to date, but also would put me at 25% of my body weight lost. I am officially into the 230's. I wonder how long it will take me to get into the 220's?

It is so funny. On Thursday, my trainer was looking at my food tracker and my bodybugg results for calories burned and told me, "You are on track to lose 2.8 lbs." My only thought was, "Yeah, too bad my body isn't a calculator and doesn't quite work that way." Well, ha ha to me because I lost exactly that much. I am excited. I have no idea when the last time I weighed in the 230s was.

I seriously need to kick butt for the next 10 weeks because I just bought a bathing suit online from Torrid and when it came in the mail and I tried it on, IT DIDN'T FIT. Everything else I buy from there lately is a size 2 but apparently in bathing suits, I need a size 3. I refuse to take it back because I do not want to spend 50-60 on a bathing suit I may not be able to fit in for long. I think I can drop the inches and weight needed to be able to wear that bathing suit at least on my cruise in July. I have 10 weeks. The top I can get on. So technically I could wear it now. My only problem or fear is getting it back off without having to cut it when it is wet. It was difficult getting off dry...wet would make it impossible. The shorts (they are made of the same material as bathing suits except they are shorts...think spandex like shorts). They definitely cannot be worn right now. They don't go all the way up and the leg parts make my legs look like fat sausages being squeezed out of a tube. Not pretty.

If push comes to shove and I need to buy another bathing suit for swimming season or even my cruise, I will of course, but first, I am going to kick butt and try to get down to where I need to be to fit into the bathing suit I just bought. It will be great motivation. I am going to hang it up on my wall so I see if everyday. While I really really don't want to take pictures in it at this point, I think I am going to. While I take pictures in those pink and grey pants, I think the bathing suit pictures now and then when they do fit will be great progress photos. So I might do that tonight. I probably won't post them until I have the pictures of the bathing suit fitting, but at least I have them for myself.

So I have 10 weeks until my cruise but only 8 weeks until I hit my 1 year mark of being active on SP again and trying to lose weight. 8 freaking weeks. I can't believe it. It doesn't feel that long and yes, I am very surprised I have made it this far; that I have lasted this long. But I have 8 weeks to lose 20 lbs to reach my goal of 100 lbs lost. It'll be a push. No bad weeks allowed other then the weeks it's that time of the month and I have no control over the bloating and weight gain or at least less weight loss, but I can still control my eating and exercise in order to reach my goal. I need to lose on average 2.5 lbs a week for the next 8 weeks to meet my goal. Though I still need to lose on average 2.8 lbs a week for the next 10 weeks to meet my goal of 210 lbs by my cruise. That one is more unlikely. But I am still going to aim for it. I try to look at it this way: Even if I don't meet my goal of 210 lbs by the cruise, by aiming for it, I should at least meet my goal of 100lbs lost by my 1 year mark.

I can do it.