| | |
| --- | --- |
| | CCINDICANE2's Recent Blog Entries |


Tuesday, May 01, 2012
First let me say, I remember reading a blog where someone posted about a trainer coming up to her and complimenting her on her hard work and I remember thinking, "She is probably just trying to get extra clients or something." Never in my life did I think anyone would approach me at the gym to comment on my weight loss. But it happened.

I went to the gym Sunday night after having a mental argument with myself about not wanting to go. I walked in, scanned in, and made my way to the ellipticals. As I setting my stuff up, about to put my earbuds in, a guy who actually followed me from the front desk (I could hear someone walking behind me) came around and said, "Can I say something without sounding _____?" I am not sure exactly what the blank was. I admit I really wasn't paying attention. I thought maybe he was going to ask me a question about the gym or something. I don't know. But I said, "Sure, go ahead." He then looked away (maybe he was nervous), and then back at me and said, "I've seen you here. Keep up the good work." I just laughed a nervous laugh and said thank you.

After he walked away, I started wondering where exactly he has seen me and has it been more recently or from the very beginning. Of course, I have a bunch of negative thoughts running through my mind like someone put him up to it (because of him looking away) or he is just trying to be nice. Maybe he is one of those people who think they have to help the less fortunate by giving words of encouragement (not that I am less fortunate, but some people think fat people are). Hell, I even though maybe he had me confused with someone else.

Anyway, all these negative thoughts were running through my mind (literally all under like 5-10 seconds), but I nipped them in the bud. I then told myself that I have worked hard and it would be strange for regulars at the gym not to notice. Hell, I have been surprised the front desk people haven't noticed or said anything. That should be a job requirement for them.

Anyway, I changed my negative thinking into a positive and accepted the compliment. Yes, it wasn't much of a compliment, but I have made great progress and lost a lot of weight. And it is nice for someone to notice, especially a complete stranger. Yes, family, friends co-workers, neighbors, people around you daily will notice the difference, but strangers? That blew my mind. It made me feel good. It's nice to be noticed.

Not to mention, but the guy was hot. Seriously. Beautiful with a very nice body. Too bad I didn't think to look for a wedding ring until after he walked away. lol. Don't worry though...I will be keeping my eye out for him.





Sunday, April 29, 2012
I wasn't sure if I was going to post my before pics of my bathing suit that doesn't fit on here or not, but decided after taking them, that I should. I was originally going to wait until I had after photos to go with them, but what the hell. If I am judge on SP, it would be a surprise. I have come to so far already and will go even further.

So, for those who haven't read my other blog, I bought a bathing suit from Torrid online. I bought a size 2 because that is what I have been buying from there recently. Of course, as should have been expected, the bathing suit does not fit. I can get the top on, but it is so freaking tight, I can't imagine trying to get it off when it is wet. The shorts are just ridiculous. I cannot even get them all the way up. The crotch "hangs" really low. You may not be able to see it in the close up photo , but you can see how the shorts make my legs look like fat sausages being squeezed out of a tube.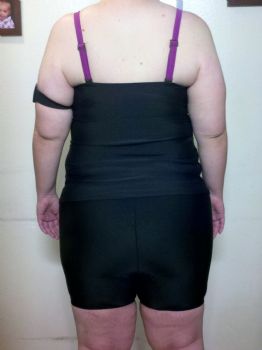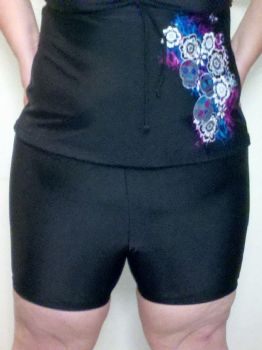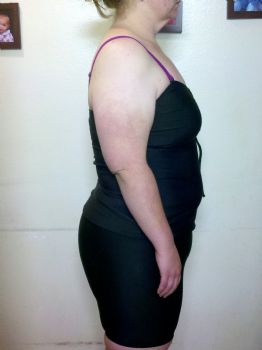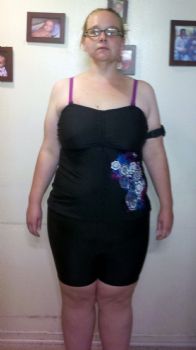 Sunday, April 29, 2012
Oops, I just told someone they could email me anytime and then I realized I never get the email notification. So I went to my sparkmail and found I had 100s of unread emails from the spark teams I was a part of (that I do not participate in) and also realized that I had it set up that team members could not email me. I wonder how many emails I have missed out on because of that? lol. Oops. I corrected it.




Sunday, April 29, 2012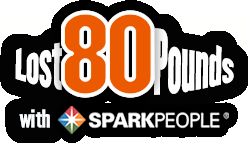 I stepped on the scale this morning to find a loss of 2.8 lbs. That is exactly what I wanted because not only would it put me at a total of 80 lbs lost to date, but also would put me at 25% of my body weight lost. I am officially into the 230's. I wonder how long it will take me to get into the 220's?

It is so funny. On Thursday, my trainer was looking at my food tracker and my bodybugg results for calories burned and told me, "You are on track to lose 2.8 lbs." My only thought was, "Yeah, too bad my body isn't a calculator and doesn't quite work that way." Well, ha ha to me because I lost exactly that much. I am excited. I have no idea when the last time I weighed in the 230s was.

I seriously need to kick butt for the next 10 weeks because I just bought a bathing suit online from Torrid and when it came in the mail and I tried it on, IT DIDN'T FIT. Everything else I buy from there lately is a size 2 but apparently in bathing suits, I need a size 3. I refuse to take it back because I do not want to spend 50-60 on a bathing suit I may not be able to fit in for long. I think I can drop the inches and weight needed to be able to wear that bathing suit at least on my cruise in July. I have 10 weeks. The top I can get on. So technically I could wear it now. My only problem or fear is getting it back off without having to cut it when it is wet. It was difficult getting off dry...wet would make it impossible. The shorts (they are made of the same material as bathing suits except they are shorts...think spandex like shorts). They definitely cannot be worn right now. They don't go all the way up and the leg parts make my legs look like fat sausages being squeezed out of a tube. Not pretty.

If push comes to shove and I need to buy another bathing suit for swimming season or even my cruise, I will of course, but first, I am going to kick butt and try to get down to where I need to be to fit into the bathing suit I just bought. It will be great motivation. I am going to hang it up on my wall so I see if everyday. While I really really don't want to take pictures in it at this point, I think I am going to. While I take pictures in those pink and grey pants, I think the bathing suit pictures now and then when they do fit will be great progress photos. So I might do that tonight. I probably won't post them until I have the pictures of the bathing suit fitting, but at least I have them for myself.

So I have 10 weeks until my cruise but only 8 weeks until I hit my 1 year mark of being active on SP again and trying to lose weight. 8 freaking weeks. I can't believe it. It doesn't feel that long and yes, I am very surprised I have made it this far; that I have lasted this long. But I have 8 weeks to lose 20 lbs to reach my goal of 100 lbs lost. It'll be a push. No bad weeks allowed other then the weeks it's that time of the month and I have no control over the bloating and weight gain or at least less weight loss, but I can still control my eating and exercise in order to reach my goal. I need to lose on average 2.5 lbs a week for the next 8 weeks to meet my goal. Though I still need to lose on average 2.8 lbs a week for the next 10 weeks to meet my goal of 210 lbs by my cruise. That one is more unlikely. But I am still going to aim for it. I try to look at it this way: Even if I don't meet my goal of 210 lbs by the cruise, by aiming for it, I should at least meet my goal of 100lbs lost by my 1 year mark.

I can do it.





Sunday, April 22, 2012
I got on the scale this morning to find a weight loss of 2.2 lbs. At first, I was disappointed because I totally kicked butt this week but then I realized it's that time of the month so my numbers could be a little screwy. We'll see next week.

But during that short pessimistic period after getting on the scale, this is what my brain said: "What is the point in going to the gym 5 days a week and eating below 1600 calories most days of the week if I am just going to lose the same amount of weight that I lose when I go to the gym 4 days a week and eat around 1800 calories a day?"

I nipped that in the bud real quick because 2.2 lbs is really good and even if I don't make my shorter term goals like losing 5 lbs by next week (that would also have included the weight loss I showed this morning which now leaves me to lose 2.8 lbs next week) and also to weigh 210 by 07/08/12, I am totally on track to lose 50 lbs by Halloween. So that is a positive. Gotta keep going.

My workout with my new trainer on Thursday was much better then our first workout. No anxiety attacks and a little more like my sessions with my previous trainer, although still very different. But it appears a little more tolerable. I gave him my print outs of my nutrition tracker so I am curious to see what he says about my eating. He is going to be in for a surprise with this weeks because yesterday was not good at all. My lunch had to be guesstimated so it put me well over 2000 calories consumed. Oh well. I am not a machine and not perfect. I was at a birthday party at the lake and really had no choice but to eat whatever they had. I only ate a little bit and didn't go overboard but since I didn't have my food scale with me, I had to guess.



First Page
1
2
3
4
5
6 7 8 9 10 11 12 13 14 15 16 17 18 19 20 21 22 23 24 25 26 27 28 Last Page

Get An Email Alert Each Time CCINDICANE2 Posts