| | |
| --- | --- |
| | CCINDICANE2's Recent Blog Entries |




Thursday, November 03, 2011


I am losing it. My motivation is slowly receding. I am in my 19th week and I have done great, but the motivation and willpower to continue on is slowly disappearing. I definitely do not want to quit, but I could easily stop tracking my calories and making myself exercise at any given time. I have not been as diligent on making sure I eat healthy in a couple of weeks. In fact, in the past 7 days alone, I have completely said "screw it" and eaten high calorie foods like 5 of those 7 days. My calories haven't been horrible, but definitely high in fat and simple carbs.

I am going to try to plan my meals in advance and stick to them. I don't need to be perfect and I know this, I just gotta make sure I make healthy choices. I am nearing the end of my competition with my friends and I know this is playing a big role in my motivation and willpower being so low. While we have planned to start a new competition, the reward just isn't worth it so I am thinking about backing out. So I don't have that to keep me going. I need to make a commitment to myself to continue on even when this competition ends. I need to find my own reasons to go on. That was my assignment for myself like 6 weeks ago but clearly I kind of let it go. Time to resume the assignment to get myself rejuvenated again. I've got 18 days left of this competition. 18 days left to find what will keep me going. 18 days to find my motivation.

Time to get to work!





Tuesday, November 01, 2011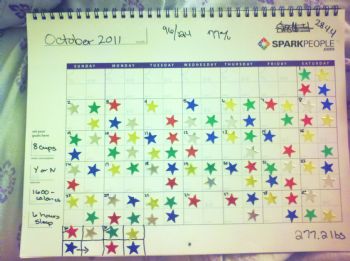 So as you can see in the picture, I did 77% good in October. August was 52% and September was 68%, so I am definitely making progress. I am getting better at choosing goals and meeting them, even though I am not perfect. But it is about progress, not perfection.

My goals for October was to drink 8 cups of water, exercise in some form, 6 hours sleep and eat less then 1600 calories. I drank at least 8 cups of water every single day, so I removed that from my November goals. I figure if I am able to do it every day, I might as well not use it as a goal because how will I show progress? I worked out in some form 24 days out of 31, so that is really good. Ever since I included walking around my apartments on the days I don't go to the gym, I have been meeting this goal more often, though I obviously have taken a few days off. I have eaten at or below 1600 calories 15 days out of 31. Not great but not too too bad considering the low point of my calorie range is like 1560. And I was in bed in enough time to get 6 hours sleep 25 days out of 31. That is really great.

So obviously I need to work on meeting my calories more often. The reason I chose 1600 calories despite what my calorie range says is because my "ideal weight" according to all the websites for my height is 135lbs. I don't think I will ever get that low but to be at the top of the Healthy weight BMI range, I need to weigh 149lbs, so I think it is a good weight range to stick with. My BMR for each for these weights is roughly just under 1500. So I tacked on an additional 100 calories and rounded up to make that my goal. I don't want to eat 1560-1910 calories a day and then reach maintenance and have to decrease my calories. I would rather stay around the number of calories I will need when I do lose the weight. So that is my goal. I kept it the same for November.

While I did great on my exercise, I am obviously going to keep that as my goal for November because otherwise I could easily just quit. I am trying to get my body to crave the activity and the only way to do that is get it used to being active. I just have to remember that when I need to go to the gym, I need to go to the gym and not substitute the gym for walking. Walking is great but I need something a little more endurance building a few times a week. I also need to make sure I strength train 3 times a week. I haven't figured out how to fit that in just yet into my progress tracking. Maybe I can figure out a way for December.

My goal for October was to get 6 hours sleep. I gotta start low to work my way up since otherwise I would only get roughly 5 hours sleep each night. On weekdays, I wake up at 7:30am which means I need to be asleep by 1:30am to achieve 6 hours sleep. I had found that I would lay down at 1:10am but not be asleep by 1:30 because I was watching the clock to see if I would make it. Kind of counterproductive. So midway through the month I changed my goal to being in bed within 6 hours of having to wake up. So I gave myself a sticker as long as I made it into bed, lights off, TV off, the works by 1:30am. I figure, the sooner I get to bed, the sooner I will fall asleep and as long as I know I already got the sticker, I wouldn't stay up to watch the clock. So for November, I changed it to 6.5hours sleep. So I have to be in the bed by 1:00am to get my sticker. After trying that out for the month, if I do good, I will bump it up to 7hours, if not, I will do 6.5 again. We shall see what happens.

Now since I am not rewarding for 8 cups of water since obviously that is not a problem for me, I have changed my goal to 10,000 steps a day. This may be a little tricky for me because I work 8 hours a day and on those days, I get off at 8pm and by that time, I only have like 2500 to 3000 steps. So all the extra steps will need to be done through the gym, walking around my apartments or walking in place while watching TV. To make my 10,000 yesterday, I had 1000 steps I walked in place before going to bed. It's boring as hell, but if I don't want to have to walk in place, then I am just going to have to figure out a way to get the steps in during the day.

So all in all, October was a pretty good month even though I technically only lost 7.2 lbs during the month. I am going to try for a larger weight loss in November.

Here is to another beginning!





Sunday, October 30, 2011
So I weighed in this morning to find that I lost 0.8lbs this week. Not great, but it's not a gain either. I think a lot of things played into it. The biggest thing being that I ate popcorn last night with too much butter and some added salt. Can anyone say "water retention?" But we will know if that was the culprit or not next weigh in. Usually when I show a "gain", I follow it up the next week with a large weight loss. Though I didn't actually show a gain this week, I expect a relatively large weight loss next week still. But only time will tell.

There were a few other things that could easily play into such a small weight loss such as I didn't make my average of 10,000 steps a day this week. My average came out to 9,116 a day. Close, but no cigar. I could have done it, but I also skipped the gym and walking two days this week. I didn't go any exercise on Wednesday because I went to the bar instead and last night, I just could not get myself up to going to the gym. I did get dressed to go, but then sat on the couch and watched re-runs of The King of Queens. It's a cute show and I never really watched it until last night and they had like 3-4 playing last night right after another. So I kept telling myself, "I'll go when this episode is over." Then the next would start and I would then tell myself "after this episode." Needless to say, once the last episode was over, it was like 1:25am and I decided not to go to the gym.

On top of "lack of exercise", my eating hasn't been all that great. I only went above my calorie range one day last week which was Thursday, but even then, I only went above my calorie range by 84 calories, which is virtually nothing. But my calorie range is so high only because the system believes I will work out everyday and I didn't 2 days this week.

Not to mention, I also haven't done any strength training this week...at all. I need to focus on that more. I really hate the idea that I may be losing muscle as opposed to fat, though I also know I will lose muscle along the way because as I lose the fat, I won't need as much muscle to survive. I won't have as much weight to carry around. So that is a must for the upcoming week. Strength train 3 days this week. It's not hard, but boring. But no matter what, I just gotta do it. And I will! Hold me accountable please!

We only have today and tomorrow left of October. I love the end of the month because I get to change my monthly goals. I won't post about it yet because on Wednesday or Tuesday night, I will have a blog specifically for my monthly progress and next months goals, but it feels so great to be able to change it up a little. Anyway, before giving too much of my next blog away, I will just say "stay tuned."

As for my competition with friends, we have 3 weeks left. I still want to reach the 50lbs gone mark or at the very least 15% of my body weight which would leave me at 48lbs lost by the end of the competition. That means I need to lose 8.6 lbs in the next 3 weeks. That is 2.86lbs each week. Since I didn't lose 2 lbs this week, I have to make up for it over the next couple of weeks and I think I can manage it. I am going to try. However, I am only 4.2lbs away from my next reward. Can't wait!

I believe my friends have completely given up. I haven't asked if they weighed in because they usually don't so I am just going to leave it as it has been.

Me: 12.99% (so mad I didn't make it to 13% and was so close)
Shayna: 6.25%
Vivien: 3.88%

Check back in 3 weeks to see the final numbers. As I may have said before, I wouldn't be surprised if Shayna is not weighing in because she really is losing weight and just trying to throw me off my game. We shall see!




First Page
1
2
3
4
5
6
7
8
9
10
11
12
13
14
15 16 17 18 19 20 21 22 23 24 25 26 27 28 29 Last Page

Get An Email Alert Each Time CCINDICANE2 Posts