| | |
| --- | --- |
| | CCINDICANE2's Recent Blog Entries |




Thursday, September 01, 2011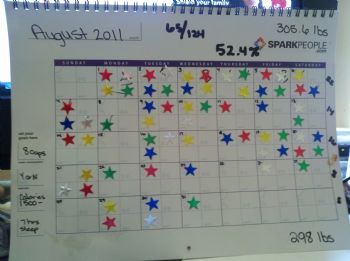 So I have various ways that I track my progress on this journey. Of course I use the reports on SP, but I also use an excel sheet to track my progress and beginning August 1st, I also am using my SP calendar. The calendar has 4 spots on each day to mark goals. To goals are pre-set for water consumption and exercise. The other two spots, I get to choose my own goals for that month. For August, I chose eating below 1500 calories and getting 7 hours of sleep each night. I bought those little foil stars to mark each goal daily that I meet. Since the month just ended, I went through and tallied up the number of stars I got this month. I achieved 65 stars out of 124 possible giving me a percentage of 52.4%.

All in all, it's really not that bad. It's a decent starting point. I am excited to see how much better I do in September. So far, the hardest goal to meet is the 7 hours of sleep so I am definitely going to be using that as one of my goals for September with a little change. Instead of 7 hours, I am going to lower the goal to 6 hours for this month and back up to 7 in October. How on earth will I ever reach 8 hours of sleep every night if I can't even get myself in bed in time to get 6-7 hours? Also, while eating 1500 calories or less a day really isn't all that difficult, I am going to increase the number of calories to 1600. That way, based on my BMR, as long as I eat 1600 or less a day, I will create a calorie deficit of a minimum of 3500 a week....equaling at least a pound a week. I am still sticking with 8 cups of water a day and exercising every day. I really have no excuse not to exercise every day because just because I may not be able to make it to the gym every day does not mean I cannot strength train at home.

So here we are beginning a new month, a new chance, and a new self. Let's get this party started!




Monday, August 29, 2011
I gained 0.8 lbs this week which really is nothing. It's a matter of ounces which could easily just be part of my weight fluctuations. Anyway, now this brings me to 20.6 lbs weight loss in 9 weeks. Still good.

I did absolutely horrible this week. For the past 7 days, today included, I ate way above my calorie range. I seriously splurged. I also did not go to the gym at all. But tomorrow I am starting again on sticking within my calorie range and going to the gym. I am not giving up. I just hit a bump in the road and maybe this is a break my body needed. I am going to bust my ass this week because I know doing so bad this past week could easily carry over into my next weigh in so if that isn't so good, I will not be discouraged.

Here are some things I need to remember from this past week. I will also state right here that this might be TMI...well, no might. It will be TMI. So skip this paragraph if you don't want to read about constipation and vomiting. Anyway, I've always had a big problem with constipation to the point of having to take laxatives every couple of weeks just to clean myself out. It is a must do in order to avoid severe discomfort. Well, I ate so bad and so much this past week that on Friday, I was extremely constipated. My back hurt, my stomach hurt, I was miserable. The pain finally subsided and I took some ex-lax to give myself some relief. So what did I learn? Eating too much and unhealthy like I always have causes me to be constipated. I eat so much that my body doesn't have time to digest it properly causing me to get backed up. You would think I learned, right? Nope. I took the ex-lax and got cleaned on Saturday. So today, I decided would be my last splurge day because I spending the day at the beach and it's tradition to eat at Denny's after the beach. Because of that, I knew I would be splurging at Denny's so I decided to eat my ultimate favorite hamburger in the world...the double cheeseburger from Denny's...and eat it all, plus my fries. I tried, but I didn't succeed. Good news is, I don't think I can eat one of those things completely ever again. I began filling sick to my stomach half way through so I stopped. Unfortunately, I could tell my body wasn't digesting it properly and I was feeling very uncomfortable and sick to my stomach so I went and made myself throw it up. It really doesn't taste as good coming up and as it does going down and I absolutely HATE throwing up. I seriously don't know how bulimics do it. It's just so disgusting. Anyway, I have a little relief in my stomach, enough to be able to go to sleep tonight (I hope!).

Anyway, I learned after all that that my body needs small meals. If I don't want to suffer constant constipation, I need to allow my body time to digest my food properly in between meals and the only way to do that is to eat smaller meals. No more splurging. If I decide to splurge in the future, I think I will splurge on having a steak burrito at Chipotle instead of getting the burrito bowl to save calories from the tortilla. Denny's double cheeseburgers I believe are completely off the table. No matter how delicious they are, they are unhealthy no matter how much you eat of them.

So tomorrow I begin staying in my calorie range. Small meals throughout the day. Healthy meals. I am going to do this. I can do this. I will do this.

As for my competition with my friends, here is where we stand:

Shayna: 6.60%
Me: 6.46%
Vivien: 2.94%

I don't have much to stay. I think we all fell off the wagon for a while. They can remain off because I am getting back on. Here I go!




Friday, August 26, 2011
I'm losing my motivation and willpower. I keep trying to remind myself of my competition with my friends and of a new goal that we just created yesterday, but I have sucked all week. Every day I eat more and more calories then the day before. Yesterday, I had 2800 calories, up from 2400 the day before. To be honest, I really didn't eat that badly yesterday, just too much, with the exception of about 10 mini donut holes and 16oz of pepsi. I got all of my servings of fruits and veggies yesterday which is rare for me.

I want to blame my overeating on being on my period and craving sweets but I just don't know if that is the real culprit. I did real good on Wednesday and then my mom was eating oatmeal and I could smell the sweetness. The reaction I had is similar to the reaction Edward explains to Bella in Twilight about when the vampires smell blood: A sort of frenzy occurs. That is how it happened. Suddenly I just had to eat something sweet. Looking back, I could have just eaten a 110 calorie skinny cow ice cream, but to be honest, I didn't even think about it. I went straight to the donuts, I think because I knew they were there. They had been sitting on my fridge since the weekend.

Now I know anyone reading this will think, "Just get rid of the bad stuff in the house." Unfortunately, I can't do that. I don't live alone so bad stuff will be brought into the house. It is up to me to not eat it. Plus, I bought the donuts as a back up measure on the days my son fights me to eat breakfast. I know it's unhealthy for breakfast and he doesn't eat them everyday...maybe once a week, but I feel it is just as unhealthy if he skips breakfast all together. We are just starting a new routine since he started kindergarten and it's going to take some time for him to adjust to eating breakfast so early in the morning. I want to make our mornings as stress free as possible so I caved and bought him the donuts.

Today I am going to list 10-15 reasons why I want my motivation and willpower back. Why I want to continue counting my calories and exercising. Why I want to lose all this excess weight. Why I want to be healthy. Maybe if I have a list to remind myself of all the reasons, I won't slide backwards as much in the future because I will have my go to list. I will post another blog with my list later tonight.

While I am here, I will also share my new motivation or what should be my motivation. My friend and I decided yesterday that as a reward for losing all our extra weight, we will go to New York for a week on vacation. The plan is in 2 years so we have this time to lose the weight. On top of that, we are planning a trip to Paris, France for our 30th birthdays so we have 4 years to save up. I am so excited. I can't even tell you. I am so tired of saying I'm going to do this and I want to do that or go there. I want to actually plan for it. So when I mentioned it casually to my friend, not really expecting any kind of real reaction or commitment, I was amazed that she was serious about planning it. So we have our plans in place and now we just gotta save to pay for them and lose the weight to actually earn New York.

Motivation please come back!



First Page
1
2
3
4
5
6
7
8
9
10
11
12
13
14
15
16
17
18
19
20 21 22 23 24 25 26 27 28 29 Last Page

Get An Email Alert Each Time CCINDICANE2 Posts