| | |
| --- | --- |
| | CATS_MEOW_0911's Recent Blog Entries |


Friday, July 08, 2011
Not the most interesting blog post, but I am ants-in-my-pants excited today! I biked to and from the boxing gym (about 10 miles total), and my knee feels fine! After almost a year of not being able to bike, I'm back, baby!

I've never gotten a definitive diagnosis of what is wrong with my right knee, but it appears that an old running injury is to blame. I tripped and fell straight on my kneecaps while I was running about 3 years ago, and my right knee has been problematic ever since. The best guess is that I have a torn meniscus, but there has never been any imaging performed (like an MRI) to confirm this. Over the past 6 months, my knee got even worse, puffing up like a balloon and becoming almost completely locked. I also think I had developed a Baker's cyst (a cyst in the joint space in the back of the knee), making it even more difficult to bend it. I've done what I could--naproxen, icing, elevating, bracing...but it has been a long road. I have been getting regular ultrasound therapy on my knee over the past 6 weeks and that has made a world of difference in helping it heal. Yes, it is a little stiff and sore, but I have arthritis, so I'm used to that. I feel like I am at a point where it will be safe to start cycling again and isn't going to exacerbate the injury.

Cycling will also help build up some strength in my long-neglected quads, since I can't really do lower-body weight work right now (I think that's still a ways off). I am very happy to be able to bike again, as it is my 100% most favorite exercise EVER. Giving up running had been hard, too, but I realized the ache to go cycling revealed my favorite sport. I'm back in the saddle!














Wednesday, July 06, 2011
I don't mean to take it out on you, but you make such a good punching bag. I know you had nothing to do with me getting in trouble with my mortgage company and having my loan go into default. I know you had nothing to do with the fact that I've been working nearly every single day for months trying to get caught up on my house payment. I mean, I know YOU weren't the one calling from my mortgage company today saying, "By the way, you still owe more than $1,000 in late fees you didn't know about before your loan will be out of default. Oops, did we forget to mention that? Our bad!" I know it isn't your fault that I can't get caught up on my bills despite working nearly every day. I don't mean to punch so hard when I think about almost never having a day off so I can get stuff done around the house, but it just comes out. That cross punch that made you go flying? I'm just working through how I'm going to pay off these student loans. That hook that left a dent in you? That's just some brainstorming about how I can get more done every day and keep up this house that I might be losing. It's not your fault, but I just can't help but punch as hard as I can. Hey, look at it this way, at least my knee is injured so I can't kick you right now. Aren't you grateful for that?




Yep, I gotta get to my boxing gym tomorrow morning to have a "little chat" with the heavy bag.









Tuesday, July 05, 2011
"Ever since happiness heard your name, it has been running through the streets trying to find you."
-Hafiz of Persia



I returned to the University of Minnesota in 2008 and was so excited to go back to college to finish my Bachelor's degree. Never mind that I would be juggling a full-time job with my full-time class schedule, I was stoked. Then, I actually got started, and it was fun at first. After all, I was finishing a college degree, so shouldn't I have been ecstatic at all times? In reality, going to school brought on a mixed bag of emotions. Some days I was exalted to get 100% on a hard test, practically skipping across campus. Sometimes I downright hated school, waking up near tears, wondering how I would get through the day. Some days, I would be in an excellent mood for no reason. The ups and downs were intertwined into my real life; school could not be a separate entity. It was hard as hell, but I finished. Almost as fast as it had started, I was holding a Bachelor's degree in my hand, wondering, "What just happened?"

I had never mustered more hell-bent determination than I had when I finished my Bachelor's degree. I was very happy to be finishing, but I was not always enthusiastic about it. Ultimately, I learned that I am very capable of achieving my goals. Nothing I have ever worked hard to get makes me ecstatic all of the time, yet I have always expected that weight loss would make me happy. For the longest time, I thought that my happiness was based on my body size. I fathomed my problems would melt away as the excess fat shrunk. I imagined that as I lost weight, my happiness would be raised by an amount equal to the pounds lost. In real life, weight loss brings on a mixed bag of emotions. I have experienced some of my greatest happiness while heavier, and felt super-fat at major weight loss milestones. Then, I would beat myself up for being unhappy when I should have been happy. I set myself up for failure with my expectations of how weight loss should make me feel.

I've been soul-searching as of late, and I've been wondering why it is I know for sure that "this time" will be different, and what has caused me to feel happy despite the ups and downs of the journey. I came to the realization, in the midst of a 3-month long plateau, that I know I will lose the weight for good. I don't guess, hypothesize, postulate, think, conjecture, suspect, or hope this weight loss attempt will be different--I know it. It is set in stone. Of course, that feeling made the doubts bubble up to the surface, so I have been trying to pinpoint how it is that I know that, and I finally figured it out: I'm not enthusiastic about weight loss. I've traded constantly seeking the thrill of shrinking numbers to trying to simply get to know myself better along the way. So far, I'm happy with the woman I am getting to know.

Don't get me wrong, I celebrate losses and will party when I hit milestones, but not having a constant stream of "RAH RAH RAH!" going through my head has been freeing. I don't feel let down if I have an off day of eating, or skip a workout, or don't lose for a week (or 3 months). What if I had dropped out of school for getting a single bad grade on an assignment? That would have been pretty extreme. If I got 82% on a test, I was happy. I may work harder next time to do better, but I still learned something. Yet, I always expected no less than 100% from my weight loss effort. I made every effort to "keep up my enthusiasm," which I equated to being happy and motivated.

I used to believe that enthusiasm and happiness were the same thing, but have since learned that they are on opposite ends of the spectrum. I've gone from being a 6-month-old Pit Bull puppy (I can't think of a more chipper being) to being an 8-year-old Labrador Retriever; I'm content, but I'm not running in circles to exhaustion. Constant enthusiasm that didn't live up to its expectations lead to disappointment, and that disappointment lead to falling down. Sometimes, then, I didn't get up, at least not for a long time. Constant enthusiasm is unsustainable; happiness is attainable. Enthusiasm is like a drop of water hitting a hot skillet...it's exciting when it fizzles (okay, perhaps I'm easily entertained), but quickly dissipates. Happiness is like the warmth of the pan--ultimately, that's what fries the tofu. Happiness is accepting my successes as well as my failures, and learning an equal amount from both.

Being enthusiastic about weight loss made me focus all of my energy on the task of losing weight. This time, I am not letting weight loss consume my days. Eating well and fitness are a part of my daily routine (most days), but I realized that I've been short-changing myself by not pursuing other dreams, like playing music and writing. Happiness has nestled itself into my soul, reminding me that I'm fine the way I am, and that I have a right to become whoever I want, right here, right now. The happiness is energizing, not exhausting, and feeds my motivation instead of sapping it.

But I have also decided to accept that on some days, I just may not give a damn. Some days, I may not give a damn to the point where I decide very consciously to skip my workout to watch People's Court instead (stop laughing, you know you love that show, too). I may decide to only track some of my food, or maybe none. I may decide to overeat, and still track every bite. The thing is, whatever happens, I'm not unhappy about it. Yeah, I might have the slight twang of, "Ooooh, Erin, you should have done X instead," but I shrug it off. Yeah, I probably shouldn't have eaten all of the Skinny Cow Chocolate Cones, but whaddya gonna do about it now? Real life involves off-days. They are normal; unpleasant sometimes, but not abnormal. I have learned that off-days are just that: just a day. I have the rest of my life afterward.



"I often lose motivation, but it's something I accept as normal."
- Bill Rodgers



I used to feel like I was "slipping" if I lost my enthusiasm, and then would start panicking about not being enthusiastic, and then--KABLOOEY!--I would give up (yes, KABLOOEY--that is the sound of my motivation falling face-first into a large pizza). The weight would start coming back, and it would be months or years before I would "start over" again. I would muster some more enthusiasm, get started, then crash and burn. Losing my enthusiasm meant that I'd lost my motivation, which was proof that I hadn't actually changed at all. So in the past, when I'd been looking for a way out, an excuse to eat whatever I want and do whatever I want, I could blame the fact that I had lost my "enthusiasm." I have since realized that enthusiasm and motivation are not the same thing. Enthusiasm may give a temporary boost to get me through the day. Motivation allows me to own my choices, and if I make a poor one, to refocus on my goals. Motivation is the voice in my head saying, "Eh, you could have made a better choice, but you'll get back at it. RIGHT?"

So where's that magical feeling? At what weight is it going to unveil itself? I have learned that happiness is weightless, and that I just needed to reach up and grab it. I've decided to approach weight loss not from a place of frustration, dissatisfaction, and sadness, but from a place of self-respect and happiness. Yes, I need to lose weight. I want to be ripped. But I don't have to wait for my happiness. I own it now, on the good days and the bad days.



"We may pass violets looking for roses. We may pass contentment looking for victory."
-Bern Williams






Monday, July 04, 2011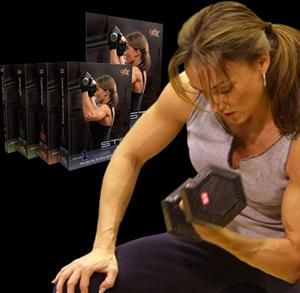 I am a workout video addict, and I have over 100 videos. My favorite and my go-to instructor, though, is Cathe Friedrich. She is experienced, motivating, and most importantly, not overly-chipper. Her no-nonsense approach to fitness has kept me going when I haven't felt like doing anything. I have all of her DVDs and use them frequently. Cathe does both aerobic workouts and strength training, and I have mainly used her strength training workouts.

A couple of years ago, Cathe came out with a revolutionary strength training series called Shock Training System (STS). I will be starting STS today. It consists of over 40 DVDs, and each workout has its own DVD. The program utilizes the concept of periodization, which essentially means that the program progresses with each workout. Because each workout is a little different from the previous one, the muscles are "shocked" into changing. Programs like P90X utilize this concept, too, but are set up a bit differently.

STS is also divided into 3 month-long mesocycles. A mesocycle is simply a specific phase in a periodized program that has a particular goal. Mesocycle 1 aims to build muscle endurance, Mesocycle 2 aims to increase muscle mass and definition, and Mesocycle 3 increases strength and power. Another example of a program that utilizes mesocycles would be Chalean Extreme.

STS can either be followed as a 3-month or 6-month rotation. Cathe has rotations set up on her website that can be plugged into her Workout Manager application (actually, the Workout Manager is great even if you aren't using Cathe's workouts; it's free!).

Another component of STS that may seem intimidating is that it is recommended to find out a 1 repetition maximum (1RM) for many of the exercises. A 1RM is simply the heaviest weight that can be lifted to perform 1 repetition of an exercise. This is used to figure out how much weight should be lifted for the exercises. I am not doing 1RM testing; I have a pretty good idea of how much I need to be lifting (plus, I'm lazy like that). The 1RM testing is not too bad to do, but it takes some planning prior to starting the program. The 1RM testing is technically optional, but I would say if someone is newer to strength training, it would be ideal to perform the 1RM testing. The 1RM values can be entered into the Workout Manager and the amount of weight that should be lifted will be calculated.

So here I go to embark on STS again! I did it when it came out and enjoyed it, but haven't used the workouts much since. I will only be doing the upper body workouts, as my injured right knee is not ready for challenging strength training. I love lifting, so this should be fun!




As with any exercise program, there are pros and cons to STS:



Pros:

*Unique and challenging program from very reputable instructor
*Can be customized to suit an individual's specific training goals
*Very specific as to how much weight should be lifted to achieve desired results
*Lots of uses for the DVDs; can be used as stand-alone workouts even when not following the program in its entirety
*It's Cathe!



Cons:

*Cost: at more than $250, most people balk at the cost. I still think it's a great value, but it's best to make sure the series actually gets used
*Need a lot of equipment at home: a full set of weights, a weight bench, a stability ball, and resistance band are required. A pull-up tower is recommended, but a band or a doorway pull-up bar could be used. There has been some talk of an iPod series being released, which would be nice because then the workouts could be done at the gym; not sure if that is going to happen.
*Not especially suitable for beginners: I think STS could be adapted to all levels if someone is already familiar with strength training, but an absolute beginner would not want to start out with STS.

Despite the cons, I would highly recommend STS for intermediate to advanced exercisers who are looking to take it to the next level, especially if someone already has a lot of equipment at home. There is also an STS Cardio Series to go along with the strength training, if desired, and is sold separately. If nothing else, it is worth checking out Cathe's other workouts!



Information about STS can be found at:
cathe.com/sts/

The Workout Manager App can be found here:
cathe.com/workout/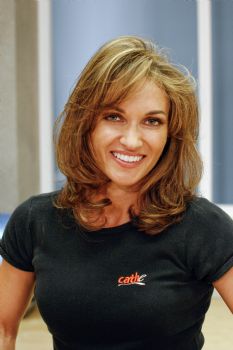 Sunday, July 03, 2011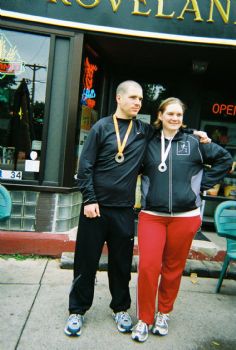 My brother John and I after Twin Cities Marathon, 2008. He did the marathon, I did the 10-Miler. It was his first marathon.





My brother would kill me if he knew I was writing this. John doesn't like being an inspiration, so no one can ever tell him to his face. Well, I can't tell him to his face, but I can tell you about how my brother inspires me.

My brother has an unusual disorder in which he has dozens of benign bone tumors on numerous bones throughout his body. The mouthful of a diagnosis is multiple benign osteochondromas. He has had the same team of orthopedists working with him since he was 2 years old, when the tumors were first noticed. His doctors were not sure the course these tumors would take, as they had never seen anything quite like it. It is still not known exactly why he developed the tumors. His doctors concluded that the tumors were benign and decided to watch them closely for evidence of changes.

There are 3 major concerns with the tumors: nerve damage, internal organ damage, and the possibility for cancer. It took years to find out that he actually was experiencing fairly severe pain from the tumors pressing on nerves, as he was so used to it that he stoically accepted the pain as a normal part of his life. He had a baseball-size tumor removed from his right scapula when he was 10 years old, because it was expanding into his thoracic cavity and may have eventually grown into his lungs. That tumor was not cancerous, but it had grown at a very rapid rate. He is now missing most of his right shoulder blade and has limited range of motion in the right arm, but he had no damage to his lungs.

After having seen the rapid growth of the tumor on John's scapula, his doctors became even more vigilant about watching for changes. The tumors did not stop John from becoming athletic, though. I started doing triathlons several years ago, and one day he said, "Oh yeah, you're doing a triathlon? Well, I'm going to do a MARATHON." I had never seen him be especially competitive against me, so I smiled a little and said I thought that was a great idea. We sometimes ran together, but his idea of "slow" made me feel like I was going to fall over. He is a fairly fast runner. A 21 minute 5K is "okay," and he has been averaging 3 hours and 45 minutes at his marathons, shaving some time off which each race. He has done several marathons now and has a goal to run Twin Cities Marathon every year.

Suffice to say, running saved my brother's life. He was training for Twin Cities Marathon 3 years ago, and he was having a sharp pain in his left side during his long runs. He finally went in to be evaluated, and they found a tumor on one of his lower ribs on the left side. The tumor on his rib looked suspicious, so he had extensive testing to determine if it could be cancer. His doctor thought the tumor might be a chondrosarcoma, a rare type of bone cancer as it is, let alone in a 27-year-old.

After several imaging tests, his doctors were almost positive that the tumor was a chondrosarcoma. The additional concern was that the tumor was starting to wrap around his left kidney, which was the cause of the discomfort when he was running. His orthopedist wanted to remove the tumor as soon as possible, within about a month. John asked about waiting until after Twin Cities Marathon, which was more than 6 months away. His doctor explained that although this was ultimately his decision, there was a much greater risk of losing his left kidney and for metastasis if he waited. John decided to do the surgery sooner rather than later.

He had his surgery in April, 2009, and was determined to run his second Twin Cities Marathon in October. The entire rib was amputated, and the pathology report showed that it was a chondrosarcoma. Fortunately, surgical removal was the only treatment needed. He returned to exercise as soon as he was able, and started training. Friends and family expressed concern for him pushing through pain to train. He said point blank, "I'm not going to stop running. If I can't run, then I may as well not even be here." Being told "You can't/shouldn't do that" just made him train harder. His doctor told him not to beat himself up if he didn't run as fast as he has in previous marathons. He shaved 18 minutes off of his previous time, achieving a PR for himself.

I just wish that his battle was over and that he could run care-free for the rest of his life; unfortunately, it seems the tumors continue to progress. My brother has a prominent tumor on his right leg, directly below his knee, that has been of particular concern because it is compressing on nerves, causing pain and numbness. Over the past year or so, his leg occasionally becomes temporarily paralyzed when he's running. Now his doctors are concerned that the tumor may be a chondrosarcoma. The problem with the location of the tumor is that it cannot simply be removed if it is cancerous. His lower leg would have to be amputated.

One would think that this would be enough to stop running, but no, he signed up for his fourth Twin Cities Marathon instead. Although I knew he wouldn't have it, I couldn't *not* say anything:


"But you might have a spontaneous fracture."

"Then I'll run until the f*****g thing falls off."


The look on his face told me that he was serious about that. Running is his life; I wish he could run away from this affliction altogether. It has been frustrating to watch him struggle with the pain and the questions of what will happen. In the meantime, he will continue to fuel his passion and I know that nothing anyone says will stop him. He will run until he is physically incapable of doing so. I still hope he decides not to do Twin Cities Marathon this year, but if he does decide to do it, I will be there to cheer him on.

Sometimes I feel like an jerk if I bemoan doing a workout when I'm not in the mood, knowing that my brother, who should be backing down, refuses to do so. My worry for his well-being is mixed with sheer awe of his determination. He is not in denial; I know he is well aware of what the potential consequences of continuing to run--let alone training for a marathon--may be. He may face an emergency amputation if he has a spontaneous fracture from the bone in his leg being too weak. It appears likely that the leg will eventually have to be amputated either way, whether because of the structural damage or because of becoming cancerous. Knowing my brother, though, a little leg amputation would not stop him from running in the future.

My brother has taught me that if you want something, then just go get it. I can either focus on my problems, or I can choose to focus on my passions. A couple of years ago when my brother and I were getting ready to go for a run, I was whining about whatever was bugging me that day as we were tying our shoes and getting ready. He rolled his eyes and with a firm pull on his laces, he shrugged and said, "Who gives a s**t about all of that? Let's just run."

And there it is. You want something? Forget about everything else and go get it.





"Sometimes being a brother is even better than being a superhero."
-Marc Brown



First Page
1
2
3
4
5
6
7
8
9
10
11
12
13
14
15
16
17
18
19
20
21
22
23
24
25
26
27
28
29
30
31
32 33 34 35 36 37 38 39 Last Page

Get An Email Alert Each Time CATS_MEOW_0911 Posts