| | |
| --- | --- |
| | CATS_MEOW_0911's Recent Blog Entries |



Sunday, July 03, 2011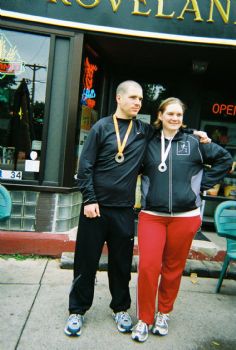 My brother John and I after Twin Cities Marathon, 2008. He did the marathon, I did the 10-Miler. It was his first marathon.





My brother would kill me if he knew I was writing this. John doesn't like being an inspiration, so no one can ever tell him to his face. Well, I can't tell him to his face, but I can tell you about how my brother inspires me.

My brother has an unusual disorder in which he has dozens of benign bone tumors on numerous bones throughout his body. The mouthful of a diagnosis is multiple benign osteochondromas. He has had the same team of orthopedists working with him since he was 2 years old, when the tumors were first noticed. His doctors were not sure the course these tumors would take, as they had never seen anything quite like it. It is still not known exactly why he developed the tumors. His doctors concluded that the tumors were benign and decided to watch them closely for evidence of changes.

There are 3 major concerns with the tumors: nerve damage, internal organ damage, and the possibility for cancer. It took years to find out that he actually was experiencing fairly severe pain from the tumors pressing on nerves, as he was so used to it that he stoically accepted the pain as a normal part of his life. He had a baseball-size tumor removed from his right scapula when he was 10 years old, because it was expanding into his thoracic cavity and may have eventually grown into his lungs. That tumor was not cancerous, but it had grown at a very rapid rate. He is now missing most of his right shoulder blade and has limited range of motion in the right arm, but he had no damage to his lungs.

After having seen the rapid growth of the tumor on John's scapula, his doctors became even more vigilant about watching for changes. The tumors did not stop John from becoming athletic, though. I started doing triathlons several years ago, and one day he said, "Oh yeah, you're doing a triathlon? Well, I'm going to do a MARATHON." I had never seen him be especially competitive against me, so I smiled a little and said I thought that was a great idea. We sometimes ran together, but his idea of "slow" made me feel like I was going to fall over. He is a fairly fast runner. A 21 minute 5K is "okay," and he has been averaging 3 hours and 45 minutes at his marathons, shaving some time off which each race. He has done several marathons now and has a goal to run Twin Cities Marathon every year.

Suffice to say, running saved my brother's life. He was training for Twin Cities Marathon 3 years ago, and he was having a sharp pain in his left side during his long runs. He finally went in to be evaluated, and they found a tumor on one of his lower ribs on the left side. The tumor on his rib looked suspicious, so he had extensive testing to determine if it could be cancer. His doctor thought the tumor might be a chondrosarcoma, a rare type of bone cancer as it is, let alone in a 27-year-old.

After several imaging tests, his doctors were almost positive that the tumor was a chondrosarcoma. The additional concern was that the tumor was starting to wrap around his left kidney, which was the cause of the discomfort when he was running. His orthopedist wanted to remove the tumor as soon as possible, within about a month. John asked about waiting until after Twin Cities Marathon, which was more than 6 months away. His doctor explained that although this was ultimately his decision, there was a much greater risk of losing his left kidney and for metastasis if he waited. John decided to do the surgery sooner rather than later.

He had his surgery in April, 2009, and was determined to run his second Twin Cities Marathon in October. The entire rib was amputated, and the pathology report showed that it was a chondrosarcoma. Fortunately, surgical removal was the only treatment needed. He returned to exercise as soon as he was able, and started training. Friends and family expressed concern for him pushing through pain to train. He said point blank, "I'm not going to stop running. If I can't run, then I may as well not even be here." Being told "You can't/shouldn't do that" just made him train harder. His doctor told him not to beat himself up if he didn't run as fast as he has in previous marathons. He shaved 18 minutes off of his previous time, achieving a PR for himself.

I just wish that his battle was over and that he could run care-free for the rest of his life; unfortunately, it seems the tumors continue to progress. My brother has a prominent tumor on his right leg, directly below his knee, that has been of particular concern because it is compressing on nerves, causing pain and numbness. Over the past year or so, his leg occasionally becomes temporarily paralyzed when he's running. Now his doctors are concerned that the tumor may be a chondrosarcoma. The problem with the location of the tumor is that it cannot simply be removed if it is cancerous. His lower leg would have to be amputated.

One would think that this would be enough to stop running, but no, he signed up for his fourth Twin Cities Marathon instead. Although I knew he wouldn't have it, I couldn't *not* say anything:


"But you might have a spontaneous fracture."

"Then I'll run until the f*****g thing falls off."


The look on his face told me that he was serious about that. Running is his life; I wish he could run away from this affliction altogether. It has been frustrating to watch him struggle with the pain and the questions of what will happen. In the meantime, he will continue to fuel his passion and I know that nothing anyone says will stop him. He will run until he is physically incapable of doing so. I still hope he decides not to do Twin Cities Marathon this year, but if he does decide to do it, I will be there to cheer him on.

Sometimes I feel like an jerk if I bemoan doing a workout when I'm not in the mood, knowing that my brother, who should be backing down, refuses to do so. My worry for his well-being is mixed with sheer awe of his determination. He is not in denial; I know he is well aware of what the potential consequences of continuing to run--let alone training for a marathon--may be. He may face an emergency amputation if he has a spontaneous fracture from the bone in his leg being too weak. It appears likely that the leg will eventually have to be amputated either way, whether because of the structural damage or because of becoming cancerous. Knowing my brother, though, a little leg amputation would not stop him from running in the future.

My brother has taught me that if you want something, then just go get it. I can either focus on my problems, or I can choose to focus on my passions. A couple of years ago when my brother and I were getting ready to go for a run, I was whining about whatever was bugging me that day as we were tying our shoes and getting ready. He rolled his eyes and with a firm pull on his laces, he shrugged and said, "Who gives a s**t about all of that? Let's just run."

And there it is. You want something? Forget about everything else and go get it.





"Sometimes being a brother is even better than being a superhero."
-Marc Brown





Saturday, July 02, 2011
"The vision of a champion is someone who is bent over, drenched in sweat, at the point of exhaustion when no one else is watching."
-Anson Dorrance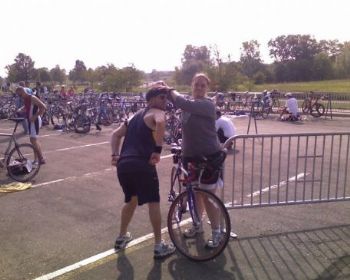 My brother and I after a duathlon in 2009. He ran, I biked.





A couple of months ago, one of my co-workers asked me how my boxing session was that day. I told him it was good, I did an hour of boxing followed by an hour of upper-body weights. He nodded and said condescendingly, "Hey, at least you're doing SOMEthing."

My response should have been, "Don't give that, 'Awww, how cute, the fat girl is trying' crap." There's been a very palpable difference between the way some people talk to me now about things like boxing, weight lifting, and exercise in general, compared to when I was leaner (albeit still overweight). There was no question when I was leaner that I was treated like an athlete. I was a triathlete, duathlete, runner, and kickboxer, and my entire schedule revolved around these activities. However, as the weight crept on, people stopped asking me about training. Then I injured my knee about a year and a half ago, and I've been taken out of all high-impact activity since. I continued to do what I could for exercise--swimming, biking, weight lifting, boxing, dance, kettlebells, Pilates, yoga, and walking, but I was big-time stress eating because of school. The weight kept piling on, and then I went into hiding.

I am ashamed to admit it now, but I had been avoiding seeing anyone from my triathlon training team because I thought they would be embarrassed to be seen with me. It hit me a couple of weeks ago when one of my triathlon training buddies told me outright that it was stupid that I wasn't training because I think I'm too fat right now. It was crystal-clear: she views me as an athlete, and was sad to see me missing out over something like my weight. She actually seemed to be let down that I haven't been training, and said, "I don't really care about what YOU want, I need you at training!" Not only have I been letting myself down, I've let down my friends by not being there for them during training. I made the mistake of thinking that weight gain discounted me as an athlete. I've spent so much time over the past few years trying to prove myself as someone who enjoys exercise just for the sake of exercise that I forgot what it feels like to feel like an athlete.

I had a hard time connecting with most of the people in my kinesiology courses when I was finishing my Bachelor's degree over the past couple of years. They seemed to think that if you're fat, then you're fat and that's that; if you're lean and engage in a competitive sport, then you're an athlete. I felt like I was channeling Sloth from "The Goonies," following my classmates yelling, "Hey you guys!", trying to prove myself as an athlete. I felt like I had to justify myself as someone who likes to exercise, as I was going against the norm for someone who is overweight. I was treated like someone who was new to exercise.

I was extremely disappointed while I was in kinesiology classes to see some of the prejudices against overweight and obese people. Unfortunately, the perception of seeing an overweight person exercising often seems to make people think:


*They must be exercising just to try to lose weight.
*They're probably not enjoying themselves.
*They must be just starting out.


A lot of people also seem to think that when you're overweight, the only reason you are exercising MUST be to lose weight (I addressed this in my "The Fat Girl in Gym Class--Revisited" post). It's getting easier and easier for me to tell people apart and to know who I should be paying mind to: my boxing coach treats me like an athlete, and so do my old triathlon training buddies. My friends and I often do active things together, especially my real-life BFF SP user KVARNLOV. Getting together usually means going for a walk or doing something else active (at least I don't think that she feels like she's just taking her fat friend out for a walk). Being active is simply what we do--and I think we'd both go batty without doing something to get our blood pumping. We move for the sake of moving, and because we would both get nutty without movement.

The other major misconception is that every overweight person must be a beginner. Sometimes this is the case, sometimes not. It goes along with that line of thinking that thin = in shape and overweight = out of shape. Being in shape ultimately has to do with how much one exercises and how long they have been doing it consistently. Right now I feel pretty out of shape because my right knee injury has really held me back, but thin people get injured, too. But I have not stopped being physically active on a consistent basis for over 5 years. Yes, my eating habits caused me to gain weight, but I've never lost my passion for exercise. I am a fairly advanced exerciser, especially when it comes to boxing and weight lifting. A thin person would not be able to walk into my boxing gym and stand a chance sparring against me simply because they're thin. Being thin does not automatically mean someone is an athlete. Being an athlete is measured by your achievements, not your body size. I had a friend who used to say, "If you've given 110%, then you're an athlete." We can be an athlete at any size, fat or thin, whether we're losing or maintaining, or anyone who has always wanted to strive to push themselves to the limit.

Ultimately, though, there is one person and one person only who is solely responsible for whether or not I am an athlete. I can internalize the stupid comments from some people--and these are people who also happen to mean precisely zilch to me--or I can hang with KVARNLOV, my other wonderful and inspirational friends, my SparkFriends, my triathlon training team, and my boxing coach. I think the answer is pretty obvious.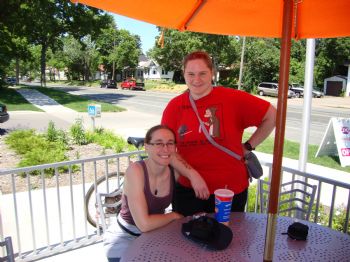 KVARNLOV and me (in red shirt), after a long walk




As of this moment, I am no longer a Fat Athlete. I'm an Athlete. Isn't a champion someone who never accepts "no" for an answer, who pushes themselves to the edge of their abilities, constantly seeking to push to the next level? Doesn't an athlete seek to improve and impress? If you want to see someone worth impressing, look in the mirror, preferably while your clothes are soaked in sweat and your face is beet red from a tough workout. You, my friend, are an Athlete, too.





"Be more concerned with your character than with your reputation. Your character is what you really are while your reputation is merely what others think you are."
-John Wooden





Friday, July 01, 2011
"The desire to write grows with writing."
-Desiderius Erasmus




I had been struggling with depression for months earlier in the year because of financial struggles, loss of identity, and who knows what else. I was in a deep hole and nothing was pulling me out. I should have turned to my old saving grace, writing, to help me through it (instead, I turned to eating). I've been writing stories and prose since I was 5, and writing has always been my escape. Now I hope not so much to escape through writing, but to share.

Writing was immensely therapeutic for me as a child, and my therapist at that time encouraged me to write to work through my trauma issues. But trying to write the standard journal or diary didn't seem to do the trick. Instead, I wrote stories. I filled notebooks with stories of being so many other characters. I had to become someone else to work through my depression and PTSD. I truly loved to write, and continued writing throughout college. I considered pursuing professional writing, but this seemed so "impractical." I did, however, take several writing classes, as I could not just give up my passion for writing. I took several creative writing classes, including poetry (I stunk), fiction writing (loved it!), and literary non-fiction (really really loved it!). I never liked the idea that my thoughts and feelings were being judged. In retrospect, I know it was not my thoughts and feelings that were being judged, but rather the way I was expressing them.




"Write down the thoughts of the moment. Those that come unsought for are commonly the most valuable."
-Francis Bacon




We tend to focus a lot on our bodies and pushing our bodies to the limit throughout the process of losing weight. As I've mentioned before, changing my thinking has been a major goal of this journey. Writing helps challenge the mind and bring the barriers we perceive to the forefront, slashing them with the stroke of a pen. I have returned to writing with gusto, and I believe that this introspection will help not only with my weight, but with all other areas of my life. Writing digs into the parts of my brain that I never think about, allowing me to explore the depths of my conscious mind. This concept has been utilized for a long time in writing.

In my creative writing courses, a common exercise would be to just write continuously for 5-10 minutes. Just take out a piece of paper, start writing, and don't think about what you're writing. Don't worry about grammar, punctuation, or any of those other technicalities. Just put it out there. This is called free association writing. Sound familiar? Indeed, it is not very different from laying on a couch in a therapist's office and doing it out loud, except the paper and pen won't set you back $150 an hour.

I often found that the words poured onto the paper, writing themselves before I even knew what was being said. Even if you aren't looking to write a blog, journal, or anything else in particular, this technique may help you work through a nagging issue, which simple speech or thought may not be able to express.

Most of my blogs have started from free association writing. I might have a page or 2 of random crap, but there will be one sentence that stands out, something I didn't even realize was in my head. I am way too anal to just sit down and post a blog without doing some editing (unless it's just one about my day, then I will), but I am posting this blog as a first draft, unedited. It's going to bug the crap out of the perfectionist in me who would normally never let anyone read anything that wasn't a 5th or 6th or 14th draft that had been pored over for hours. Okay, I'm doing it. I'm not going to edit it. It's bothering me already.




"Proofread carefully to see if you any words out."
-Author Unknown




I feel naked posting something that I haven't spent a lot of time looking over, but it will be good for me. Part of working through our problems is identifying what makes us feel vulnerable and snuggling with it every once in a while. Sometimes it's good to just sit down and spit it out. It doesn't always have to be that good; it's the mere act that is the accomplishment.

Even if you think it makes no sense, write it down.

Even if you think it stinks beyond all get out, write it down.

Go do it. Just write. Uncover what your soul wants to release, because there is no rough draft to life.




"I'm writing an unauthorized autobiography."
-Steven Wright









Thursday, June 30, 2011
"The significant problems we face cannot be solved by the same level of thinking that created them."
-Albert Einstein




Why the heck would I be blogging about weight maintenance? I am not anywhere near my goal weight, so I shouldn't have to worry about that right now, right? Weight maintenance is an afterthought, something that will take care of itself once I reach my goal weight. At that point, I should be so motivated by being thin that I will know what to do to prevent gaining the weight back. What's the saying, "Being thin is its own reward!"? Well, being thin is most certainly not its own reward, otherwise I wouldn't be here to lose weight again. There would be a much higher success rate of weight maintenance amongst all who lose weight if being thin were truly enough motivation in and of itself.

There is no glamor in maintaining weight. Now weight loss, that is sexy. A dash of willpower, a sprinkle of determination, and POOF, you're losing weight. The compliments abound, fueling your sheer determination to keep losing, to keep the comments coming. Can we really rely on that steel-cut determination every second of every day...forever? When the compliments dwindle down and you and everyone else are used to your new body...then what?

This time, I decided not to start losing weight until I had a plan for maintenance. You don't start a marathon without knowing where to find the start and finish lines, and you do a lot of preparation before race day. I've decided to take the same approach to weight loss. I spent months mentally preparing for weight loss and weight maintenance, preparing for the changes that were to come. I did not set a day to start losing weight--I let my soul tell me when it was ready. It took a lot of reflection on past weight loss to figure out how to make this time different.

It is fair to say that I had not been successful at weight maintenance before. I regained the 95 pounds I had lost on WeightWatchers several years ago; the weight crept back on over the past couple of years. Even though WeightWatchers really does give some good focus to weight maintenance, even during the weight loss process, I was not mentally prepared for the shock of being thin. When one of my uncles saw me for the first time since I had lost 95 pounds, he hugged me and said, "Much, MUCH better," as he patted me on the back. I should have said, "What the hell does that mean? I wasn't good during the previous 27 years?" How could he think that when I felt just as bad about myself as I did the day I walked into my first WeightWatchers meeting? My body had changed, but my mind was the same. I was certainly not much, MUCH better. That moment set off something inside of me, and I struggled to figure out why the "compliment" bothered me so much. Wasn't that why I lost weight? To be better than I was before?

I returned to school in 2008 to return to my psychology roots, and also wanted to study exercise science. I did a self-designed bachelor's degree combining psychology and kinesiology; essentially, I was studying exercise psychology. I wanted to study exercise motivation in weight loss and weight maintenance. Needless to say, there have not been many studies performed to assess exercise motivation in weight maintenance. Exercise psychology tends to focus either on elite athletes or overweight people, without much else in between. I was fortunate to work with some professors who thought I had good ideas, and they encouraged me to expand my horizons.

Most of the academic world that deals with health focuses on weight loss, seeming to forget that life often continues on after the weight is lost. Therein lies the problem of the forgotten group, the maintainers. Weight loss sells, and weight maintenance is just supposed to be something that will happen because you paid so dearly to get to that weight. The reality is, weight maintenance is hard. Damn hard. And weight maintenance has been neglected by the fields that should be addressing it, such as medicine, psychology, and public health. Weight maintenance seems to be brushed off as a passive process, when in fact, most people will proclaim that long-term maintenance is more difficult than losing. I think that having a plan for maintenance, and doing as much as possible to prepare to exist in a different body, are vital to long-term success.

Actively preparing to maintain weight loss is a part of my daily routine and is intertwined with the weight loss. In my eyes, they are the same journey, a continuation down the same road. Here are some of the things I work on to prepare for long-term maintenance:



*Take emotion out of the numbers.

Sure, some days I glance at the scale and growl, and sometimes I'm practically skipping to step on it, but I have worked very hard to detach my sense of self from the number on the scale. I have focused on taking emotion out of weight loss partially so that the scale doesn't trip me up, and because I can't rely on the constant thrill of losing to keep me going. We tend to get upset when the scale isn't doing what it is "supposed" to be doing. The scale isn't "supposed" to do anything. I step on it, it spits out a number, it has done its job. I have control over how that number makes me feel. It has helped me immensely to think of weekly weigh-ins as a mini-measurement, with my overall monthly net loss as the true measurement. I will continue weighing weekly once I am maintaining, but will only make adjustments to diet and exercise if the weight is creeping up over the course of an entire month (a "true gain").

It baffles and saddens me to see people feeling like they have failed because they are not staying within a pound or 2 of a particular weight they have in mind. I have found the scale to be so wacky that there can be up to a 7 pound difference from day to day. Not being bent on a specific number will help reduce stress, which in turn reduces the feeling of "failing," and reduces the chances of giving up.



*Find success in unlikely places.

AK_MILLER had congratulated me the other day on my 3-month plateau. Smart gal; she picked up that I wasn't beating myself up over cycling through the same 5 pounds for 3 months, but that I took it as a lesson in weight maintenance. A plateau usually brings on words of comfort, not celebration. I became frustrated enough with the up-and-down cycle that I finally "broke up" with the Same 5 Pounds and am ready to get back to weight loss, but I do not feel like I have "wasted" the past 3 months.

When I feel like everything is going wrong, I stop those thoughts and think hard about at least one thing that is going right. I mean, I woke up this morning, I'm still alive, so there has to be something positive buried in there. Even if there isn't a truly positive outcome to a situation, we always learn something. Embrace the experience, incorporate it into your being, and delve deep to find some meaning.



*Lift weights. Lift giant, heavy, un-girly weights.

Muscle mass is your friend. During the past 3 months of cycling up and down with the same 5 pounds, I still lost inches. Actually, I lost almost the same amount of inches as I had when I was losing 6-8 pounds a month. I can thank lifting heavy weights for this, and doing as much lower-body work as my right knee could tolerate.

This is where losing slowly comes in handy. Losing slowly allows for adjustments in muscle mass as body fat is lost. I will probably do at least 1 blog about all of the nerdrageous physiological reasons that strength training is vital to weight maintenance, and why strength training during weight loss primes the body to maintain weight loss.



*Track food--forever.

I know a lot of people aim to break free of having to track their food. But planning my food has been the key to my weight loss, and I know it will help with keepin' it real during maintenance. It takes five minutes out of my night to plan my food for the next day. I have taught myself that I can eat normally, so tracking should not be a big deal; not tracking would simply be me showing my denial of my eating patterns.



*Find at least one fitness-related hobby.

Having a fitness-related hobby helps fitness become a natural part of your daily life. Even if you think you won't enjoy a fitness-related hobby, give it a shot. From aerobics to Zumba, there are thousands of options and there's something right for everyone.



*Find at least one non-fitness-related hobby.

Health and fitness goals can be time-consuming, but I think a major part of having a rich life is having activities that bring out the best within ourselves. People tend to want to lose weight to make life better, so why not act on those, "Gee, someday I'd like to..." thoughts that drift through our minds?

What have you always wanted to try? Take the leap and go for it.



*Get new friends.

Being overweight is often accompanied by low self-esteem. I have tended to accept whomever shoved themselves in front of me, because hey, I should be so lucky that they're giving me the time of day, right?

Nah, not anymore.

I have been extremely fortunate in that most of my friends are awesome and supportive and they don't care what I weigh, but it took some work to get rid of people who were not good for me. I no longer allow toxic people into my life. I finally got to a point where I had enough self-respect to stop letting people treat me badly. If the friends you have don't love and respect you at whatever weight you happen to be, whether fat or thin, then they don't deserve you. They are shallow people. And it doesn't always have to be about weight--if they don't treat you right, they should be gone. Buh. Bye.



*Laugh. Seriously, laugh right now.

I love this quote from an unknown author: "The first thing you lose on a diet is your sense of humor." We allow ourselves to feel ecstatic when we lose, sad when we aren't losing, and anger when we have a gain. We tend to put on our game face, stopping only to smile when the scale shows a loss. During maintenance, are we doomed to feel mere relief when we step on the scale and have not gained, and angst if there is the slightest gain? Where's the humor?

I have a very crass and sarcastic sense of humor, and I couldn't exist without it. Finding the humor in an unfavorable situation is like seeing the sunshine through the crack in the wall in a dark room. You don't have to stay there; find something funny--damn funny--and break out into the sunny field.




I had to lose some fat in my head before I could get ready to lose--and keep off--the fat on my body. Weight maintenance takes very hard work, even before we're at our goal weight. The biggest thing I think we need to learn is that people are no "better" or "worse" because of their weight. We are who we are, at any weight, although the deep inward reflection that often accompanies weight loss may certainly make us radiate happiness.



"If you change the way you look at things, the things you look at change."
-Wayne Dyer







Tuesday, June 28, 2011
Wait...what?

Who knew? Why didn't someone tell me this sooner?

All right, so I was well aware of the fact that there were hobbies other than eating, but for most of my life, eating has been my favorite one. Well, maybe not my favorite, because your favorite hobby shouldn't cause you to break down in tears after your done; I'll say obsession instead. If I wasn't eating, I was thinking about food, planning my next binge. The second I felt the slightest pang of hunger, I began to panic. I thought about food all day long, all the time.

All. The. Time.

It isn't so much that I haven't been able to practice willpower before, but something has changed on a much more basic level over the few months. I have essentially been maintaining my weight within a 5-pound range over the past 3 months, and that's great, except for the fact that I'm not at my goal weight yet. I appreciated the experience of maintaining in that range because I was able to prove to myself that my appetite can be normal. On days when I wasn't as hungry, I ate less. On days when I wanted more food, I ate it.

I know, crazy talk.

When you are used to food consuming every thought, the very notion of thinking, "Eh, food...it's all right," feels extreme. I would spend my entire day at work thinking about what I would eat when I got home. My habit after coming home from work would be to plop on the couch and start eating frantically. Sometimes when it gets stressful at work, the thought still whispers through my brain, "Damn, I want to eat pizza...and chips...and M&Ms, and..."; I simply respond with, "No, Erin, you don't do that any more." Even sitting here typing about these things used to be enough to trigger a frenzy, but I'm getting ready to do Pilates...so, no thank you. I would be deluded to say I will never overeat or binge again, but now those thoughts may consume a few minutes on occasion, and not my every waking hour.

Now, I come home from work and either put in some SparkTime, do Pilates or yoga, or over the past couple of weeks, play my saxophone. These activities are not distractions; they are genuinely what I want to be doing. My body and mind actually crave things that are not food-related, and I feel like I've lost 100 pounds just by having the weight of food obsession lifted.

This lack of obsession has worked it's way into my daily life without me really realizing it. I met my dad, step mom, and brother for brunch this past Sunday. Normally, a buffet would set off a feeling of panic: "HOW am I going to eat all this food?" This time, I looked forward to seeing my family. When I got there, the first table I ventured to had the fruits and salad. I filled up a large plate with several fruits and a large serving of greens. My brother, nonchalantly mentioning the 12 mile run he did the day before, had a plate full of waffles, pastries, and pasta. He looked at my plate, shaking his head, "You came here and you're eating FRUIT?"

I shrugged. "I like fruit. I'm getting other stuff in a bit, but I really wanted this first." And it was true.

I proceeded to have an omelette, a small caramel roll, American fries, and a small waffle. Yes, I had a big meal, but I had planned for it. I enjoyed every bite in the moment, instead of thinking about what I was going to shovel in next. My brother and I shared a piece of chocolate cheesecake; I had two bites, and that is all my brain wanted. They tasted perfect, and my brain simply stopped me. No willpower, no arguing with myself.

Also, eating a large meal used to set off a day-long (or week, or month, or year) feeding frenzy. Now, when I have the occasional large meal, I feel satisfied. Odd, I used to feel almost MORE hungry after a large meal like that; the switch would be flipped, and there was no satiating the hunger.

I like my new relationship with food. Now I actually get not only full, but I feel satisfied. I believe I have finally learned the difference between the two. I still truly enjoy food, I still have treats (I have to have some chocolate every day), and I don't worry about being hungry. If I get hungry, I know I'll eat again; it took me an oddly long time to learn that. My food is now served without a side of neuroticism. And you know what? It tastes so much better.





"Are you eating it? Or is it eating you?"
-Larry Cohen





























First Page
1
2
3
4
5
6
7
8
9
10
11
12
13
14
15
16
17
18
19
20
21
22
23
24
25
26
27
28
29
30
31
32 33 34 35 36 37 38 Last Page

Get An Email Alert Each Time CATS_MEOW_0911 Posts