| | |
| --- | --- |
| | CATS_MEOW_0911's Recent Blog Entries |


Wednesday, July 20, 2011
Yesterday was just a plain bad day at work. I was exhausted before I even walked in the door, so putting on my empathy voice was a challenge. It was extremely busy and the phone calls were non-stop. We do not get breaks (and are actually penalized for being logged off the phone for "too long" to go heat up a meal or something, and we can NEVER be logged off the phone to actually eat a meal), and so I am glued to my chair talking to frantic (and often, frantic, crazy, and mean) pet owners for 8 hours. Yesterday I almost started crying at work. I'm like a little kid. When I get tired, I cry (and scream). I didn't cry at work, and instead opted to hit the candy drawer and eat several unplanned mini Kit-Kat bars and Reese's Peanut Butter Cups. I put a stop to the mindless unplanned eating, and altered my nutrition tracker so I didn't end up going over my calories for the day. I told myself I could cry and scream when I got in my car. And that's exactly what I did. Then I came home and did 20 minutes of Pilates; my body was craving some kind of soothing movement. When I was done, I laid on my mat sprawled out for at least 10 minutes, almost falling asleep.

I got 7 hours of sleep, but I woke up feeling spent. I debated whether I should work today or if I should skip it. No, I was not wrestling with, "Aww, I don't wanna" or "I don't feel like it"--I am genuinely exhausted. I was whining in a blog earlier this week about my 2+-week work stretch, and how my job is exhausting me. Combine that with a little TOM and 120 degree heat index, and you have nap time. My workout plan today was to do an STS upper body workout (Cathe Friedrich's Shock Training System), and then walk to the beach, swim, and walk home. I got tired just thinking about it. I decided that STS is the priority today and decided to go for it, knowing that I would probably be lifting lighter.

My workout today caused to me to come up with many new variations on the "F" word, and I alternated between being near tears and giggling (gosh, isn't TOM just grand?). I had to take longer breaks between sets and I was lifting 30-40% less than usual. I made it through all of those damn push-ups, though (there are at least 100 total in the workout I did), but just barely. And that walk to the beach? And swimming? Well, I'm sitting here writing instead. I actually really WANTED to do it, but it would not be good for me. As my old Muay Thai coach used to say, "Today is not my day."

Yes, we CAN be too exhausted to exercise. I think beginners confuse exhaustion for a lack of motivation. I know I made that mistake, and it ultimately made me feel like a "failure" and I quit. After working out with athletes for several years (and--AHEM--becoming one), I have drilled it in that not every workout is going to be spectacular. Sometimes working out is a plain ol' bad idea. Part of becoming an athlete has been learning when to push myself and when to back off. Working out when exhausted came be counteractive and detrimental, so I don't do it any more. I actually have a rule now that I will not do a workout if I have gotten less than 6 hours of sleep the night before. I listen to my body, and it has been good at telling me when I can go for 3 hours and when I need to sit in my recliner staring at the T.V.

Today was borderline, but I know myself very well now, and I was able to modify to get through it. I also know that any cardio activity would wear me down too much, so I'm not doing any today. I may do some Pilates or yoga when I get home tonight, depending on what my body wants. My brain is just along for the ride for the time being. Sometimes even the biggest pep talk can't make your muscles do something that they can't do. Without getting into a boring physiology lecture, let's just say that the muscles physically can't perform at the top of their game when we are exhausted. The term muscle force production essentially refers to the amount of work a muscle can do at any given time. Force production can be affected by stress, lack of sleep, hormones (yes, ladies, you are not imagining that muscle fatigue around TOM), poor eating...the more that is thrown into the mix, the worse off a workout will be. The nervous system is not as capable of activating the muscles when we're exhausted, and there aren't many great ways to overcome that kind of fatigue. This is true during both strength training and cardio activities. There were many factors playing into the exhaustion I'm feeling today, so my muscles were already "pre-fatigued" before I even picked up a barbell. So although I was lifting 30-40% lighter than I would if I were well-rested and not overworked, the work performed by my muscles evens out in the end.

Needless to say, trying to force ourselves through true exhaustion sets us up for failure on many counts. We may feel like a failure and give up. Our immune system may not respond correctly to the stress of exercise, and inflammation becomes chronic, and the cycle of exhaustion continues. Eventually, overtraining syndrome may set in (unless we quit completely before that point, that is). Sometimes when you're body and mind are telling you that you can't do it, they're actually correct. I'm glad I can cut myself some slack now--then again, I think it's funny that now an "off" day for me involves doing a 1-hour long strength training session.

Time to get ready for another night at work. If your pet gets into something tonight, please be nice to whoever you call.












Tuesday, July 19, 2011

Kaleigh the Rottweiler



I have been a foster parent for many animals over the years, and have had surprisingly little trouble placing animals in new homes. Sometimes I have worked with rescues, sometimes I've "happened upon" the animals and taken them in. I started working with a Rottweiler rescue a couple of years ago that pulls the dogs out of dire situations, such as Rottweilers in shelters that are going to be euthanized that day, or dogs that have been seized from dangerous situations. I have had Kaleigh the Rottweiler for over a year. She had been seized from a breeding operation in Missouri, and was transported to Rescued Paws here in Minnesota. After having her for about 8 months, I toyed with the idea of keeping her permanently, but I can't afford to keep a second large dog. I told the rescue that I wouldn't be able to keep her, and she went back up for adoption. Many months passed again, and once again no one was showing interest in Kaleigh.

One day while at work, one of the new staff members was mentioning how she wanted to adopt an adult Rottweiler. The woman is a veterinary student, so unlike a lot of the people I've dealt with, I thought she would know something about canine behavior. She looked at Kaleigh's profile and said she was very excited to meet her. She talked about how she had tried to adopt a Doberman Pinscher a few weeks ago, but that the dog was too aggressive with her guinea pigs and the dog was too neurotic. That's understandable, so I didn't have many reservations with that. She asked me a lot of questions, such as how Kaleigh gets along with other animals (fine, but some dominance around other dogs), how far she can run (I have no idea, I haven't been able to run since I've had her), how she does in her kennel (great, she loves it), etc. Kaleigh sometimes gets a little too excited when she's around new people, but is overall a great dog. She met Kaleigh, and wanted to take her in a few days to see how things would work out. Kaleigh was picked up a few days later.

Her biggest concern was that she has guinea pigs, and she wanted to make sure that any dog she adopts "gets along" with the guinea pigs. That's fine. I thought she meant not attacking their cage or something like that--lots of people have rodents and dogs in the same house, they just have to keep the rodents out of reach and put the dog somewhere else while the rodent is out. The more I thought about this woman, the more reservations I had. Within 18 hours of taking her, she sent an e-mail saying that Kaleigh had an accident in the house, and that she was showing mild interest in the guinea pigs, and that she hoped this "fascination" would wear off quickly. She seemed mystified why Kaleigh would have an accident. I told her that, ummm, many rescue dogs may have a couple of accidents when they are in a new environment, but that I did not expect her to continue to have accidents. She wrote me again the next day stating that Kaleigh was still somewhat interested in the guinea pigs, and would bark when they squealed. The cage is at eye-level, so it is very easy for Kaleigh to have access to them. She said that, "oddly enough," Kaleigh did not seem interested in them when she couldn't see them. She was concerned, too, that Kaleigh seemed interested in following the guinea pigs when they were running around inside of their clear plastic ball.

Other vet students at my work expressed their disappointment in her behavior to me, and said they thought I should get Kaleigh out of that environment. On one hand, she would talk about how she would roll over in bed and there would be Kaleigh, staring at her adoringly and wagging her nub of a tail. On the other hand, she expressed concerns over how Kaleigh was not adjusting fast enough. Other people had suggested that she simply put the guinea pigs' cage up higher and to kennel Kaleigh when the guinea pigs were out. She had said that she didn't want to do that. I decided to write her an e-mail saying I didn't think it would be a good match and that I needed to take Kaleigh back.

She beat me to the punch and wrote me an e-mail saying that it was just not going to work. She wanted a dog who would ignore her guinea pigs completely and she could not picture Kaleigh doing that (she had her for a full 4 days). She also expressed disappointment with Kaleigh's running abilities; she took Kaleigh for a 5-mile run and Kaleigh seemed very tired afterwards (even though she did complete the run). I said, well, yeah, she's never been running (I wanted to say, "Did you run 5 miles the first time you went running?"). I told her frankly that I thought she would have problems with any dog if she is unwilling to make any changes to the environment, and that she may want to reconsider if she actually wants a dog (let alone a rescue).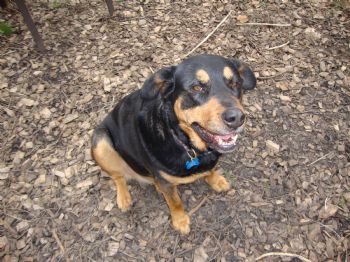 We are not the only ones who pay the price when it comes to high expectations. Others suffer, too. It is not that Kaleigh is suffering by living with me, but instead of having a new home, she was dumped within days because she wasn't deemed good enough. We cannot demand of others, animal or human, what cannot be delivered. As far as I'm concerned, it is not Kaleigh's loss. Kaleigh followed her everywhere and instantly accepted and trusted this human being who she did not know well at all. This is why we love animals; they take us as we are, a lesson many humans could stand to learn.

Just like the rest of us, Kaleigh cannot be something she's not. If that woman wants a guinea-pig-ignoring, running-5-miles-a-day from birth dog, then she will probably have to raise one herself. I am never going to try to convince anyone to adopt any particular animal, but it was very disappointing to see someone expect such perfection from a living being. I understand not wanting to adopt a particular animal because they have deep-seated behavioral problems, but when all it takes is minor changes to the environment, why not make room for a loving and beautiful animal? Kaleigh is about as far from neurotic as any foster animal I've had, and I hope she gets a good home soon. She is 100 pounds of gentle love. Kaleigh is laying at my feet right now, as she always is, happy for no apparent reason. I'm glad she is oblivious to the stupidity of humans and only sees the good. She deserves a hero--someone who loves the entirety of her being.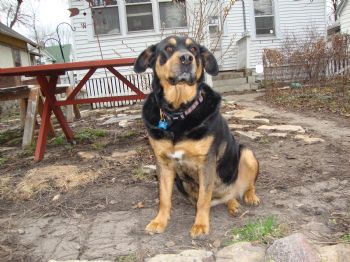 Kaleigh's Petfinder profile: www.petfinder.com/petdetail/19547619






Monday, July 18, 2011
That is because I already am a success story.

Over the past year or so, I learned I wasn't fed up with the fat on my body--I was fed up with myself and with toxic people in my life. Rather than start a weight loss plan fueled by self-hatred and sadness, I conscientiously worked on learning to like myself better by getting to know myself better. I needed to learn some basic self-respect. I was finally able to--guilt-free--cut toxic people from my life. I mistakenly poured my self-worth was into my body, and allowed toxic people to create a void in me that further convinced me that I would be a lot happier if I lost weight. I have realized that healthy living is so much more than weight, or even eating and exercise. I am a success story now because I finally love myself, after a lifetime of hating myself.

Losing weight is a bonus throughout this journey, but the long road of attaching my self-worth to my body is finally coming to a close. I think it is common for us to get "fed up" with our weight to the point of hatred, and then to start trying to lose weight. The weight needs to come off RIGHT NOW because we will be so much happier being thinner. Some of the pounds start to come off, and we feel like we're "finally" on the road to happiness. As I learned the hard way the first time I lost weight, this does not bring on the flood of happiness, self-love, and self-respect that I was expecting. My mind and body were separate entities, both being shaped by people in my life who I never should have allowed to get in. One of the biggest problems with having no self-respect is that I allowed toxic people to shape my life. They were bad when I was fat, and they were still bad when I had lost weight before. I needed to lose a couple thousand pounds--and it wasn't from my body. Whether it was a jab from a co-worker, a bully pointing and laughing, or a "friend" remarking how I should be living, they had to go.

Learning to dump the toxic people and overall living a fuller life meant building up some self-respect and confidence. After months of learning what my body and mind really wanted, I was finally able to say, "It's time," and started eating more healthfully and following the SparkDiet. Fortunately, I have used exercise as an outlet for several years, so I have had no problems adhering to an exercise plan. However, I have dropped the black-and-white thinking about exercise and have a much more balanced approach to exercise now. I have a more balanced approach to my life in general, which has been a challenging adjustment from living a life of extremes.

Don't get me wrong, I am NOT satisfied with my body right now. I feel slow and worn down, and I fully recognize how much more healthy I will become as I lose weight. I am sure I will also think I am more attractive. As exciting as all that will be, I have separated the entirety of my self-worth from my the state of my physical body. For most of my life, my entire identity had been tied to my body. I was constantly "dieting", and I finally asked myself WHY it is that I had poured so much of my self-worth into my body size, and at first the answer was, "Because...ummm, because...uh, 'cuz..." Funny how I had spent so much time and energy on hating myself because of my body size, and I couldn't even muster a valid reason why I felt that way in the first place. It was outside forces that manifested this hatred.

Not to be dramatic, but my childhood was shaped by trauma (can see the blogs about the car accident when I was a kid from the week of June 20th), and then by bullying. However, I know a good thing when I see it, too. My family was wonderfully supportive of me (always). Although I was bullied, I did (and do) also have close friends. KVARNLOV is one of my favorite people, and we have been friends since we were 13 years old. There are very few people in our lives with whom we can truly "be ourselves," but I always feel like I'm myself when I'm with her. I don't feel like I have to mold myself into something else in being her friend. The lesson I have learned from her is that I'm okay the way I am. I finally took that feeling I have when I'm around her and tried to apply it to the rest of my life. I needed to stop trying to be what other people think I should be. That required getting to know myself on a more basic level.

I've had a recurring dream over the past couple of years where I'm staring at my reflection in the mirror, and I feel like I don't recognize the person in the mirror. I start backing away, and instead of retreating, my reflection lurches forward toward me. I don't think the dream is meant to scare the crap out of me (although it is horror-movie scary--thanks a lot, subconscious!), but rather, it is my brain telling me that I need to get to know myself better. Ironically, these dreams started after I lost weight, when I thought I should have had total satisfaction with my body (and therefore, with my life). It's not that I was worthless, I just didn't know myself very well. It was easy for me to hate a body that I didn't know very well. Combine that with a mind that was disconnected to that body, and well, no wonder I was confused. How could I know how much I was worth when I didn't know myself?



"To free us from the expectations of others, to give us back to ourselves--there lies the great, singular power of self-respect."
-Joan Didion



Whereas before my approach to weight loss was to be fueled by the stupidity and cruelty of others, it now comes from having enough self-respect to take care of myself. Whereas before each step I took was powered by "I'll show all of them," now I take the step out of sheer enjoyment of movement. Whereas before I felt guilty for overeating because I was afraid of being judged (which, ironically, led to more overeating), I now usually eat healthfully because I don't need food to fill a void any more. That void is filled with good friends, walking, swimming, cycling, boxing, weight lifting, playing the saxophone, writing, and thinking up new things to try. Actually, I think the void is starting to overflow. That's fine, there' room for more now.

A major part of learning self-respect has been connecting my body to my mind. I have not only gotten to know my mind, but my body, too. Part of my problem when I lost weight a few years ago is that I had no body awareness. I still felt worthless and bad about my body. I was proud of some of my athletic accomplishments, but the fact that I had a different body just wasn't sinking in. It seems odd in retrospect how I could on one hand be so excited about being thin, yet be incapable of accepting it. My self-worth was so tightly bound to my body size that I had nothing else upon which to build a sense of self. I could see the numbers going down, and I could put my hands over my body, but it felt like touching a stranger. No wonder I couldn't maintain my weight loss--I couldn't recognize myself any more than I had before.

However, other people recognized the "new me." Co-workers were nicer to me. Guys hit on me. Strangers smiled at me. "Friends" told me how much "better" I looked. I did not revel in the attention; it downright pissed me off. I wanted to scream at them, "Why couldn't you show me some respect before?" I see it now that I am overweight again--the sneer as I walk down the street, the eye-widening from the person who hasn't seen me in a long time (because I cut them out of my life), the stares, the head-shaking, the avoidance of eye contact... that's fine, they can judge. It's their problem. I only have control over my reaction to them. I don't react to strangers at all, and as far as the bad people I used to let into my life...how do you say it? Buh? Bye? I'm really glad I had a friend who gave me a reality check, because I don't think I ever would have seen it.

One of my favorite people is Lisa, who is in my triathlon training group (she's really the "leader") and had helped me learn how to run. She also taught me that I don't have to allow toxic people in my life. One day while we were on a walk, I was talking about how I feel bad when people come to my house and make comments about what I "should" be doing to my house or yard, or how I "should" keep my house cleaner, or how I "should" be raising my animals. She looked at me and asked why I allow those people in my life, let alone in my house. I had always worked so hard to try to "fit in" and to impress others that it had never dawned on me that I don't have to do that. I had been living my life essentially thinking, "Gee, I would feel so much better about myself if I could just win over this jackass of a human being." I allowed these toxic people to control, manipulate, and shape me. I have been successful at cutting toxic people out of my life. I couldn't be a whole person when these people were in my life.

The other area where I know I've been very lucky is having a wonderful family. My family has never been mean to me because of my weight. My heart aches when I hear about people's own family being cruel to them because of their weight, and I know I was very fortunate to have parents and family members who did not berate me. It is probably the only reason I was able to develop any self-esteem. My mother is about the kindest person on the planet, and although she was always supportive if I expressed interest in weight loss, she never "put me on a diet" or told me I was bad because of my body. And as we watched my aunt yo-yo diet with an 800-calorie liquid diet, she always told me expressed concern for what she was doing to herself and explained that it was not a healthy approach. She always supported me being more active and eating healthfully, without ever judging me. My mother has genuine pride in me and I know that I am damn lucky to have her in my life. She never gave me the impression that my weight was an important consideration in how much I deserved to be loved, but I allowed other people to teach me that.

The problem I had was focusing too much on my weight while I was trying to lose weight. This time, I am focusing on myself as a whole person. On one hand, I am now capable of acknowledging dissatisfaction with my body, while at the same time taking a matter-of-fact approach to changing it. I treat myself like I would one of my good friends--if I wouldn't say it to one of their faces, I won't say it to myself. It took me a long time to recognize that I am okay the way I am right now, and that I am much, much more than just my weight. I have been shaped by my friends, my family, and by bullies...for better or for worse.

I am a success story now because I have finally learned to take the good with the bad, to recognize people who should not be in my life, and to recognize myself in my own skin. All the pounds and inches lost in the world can't measure how much better I feel about myself. Maybe I will have more self-confidence as I continue to lose, but all I know is that I have more confidence now than I ever have in my entire life. I'm done waiting. I'm not revealing Erin as the fat melts off; she has already burst forth, and I love her.

Are you waiting to tell your success story? Perhaps you are already living it.





"The most beautiful people we have known are those who have known defeat, known suffering, known struggle, known loss, and have found their way out of the depths. These people have an appreciation, a sensitivity, and an understanding of life that fills them with compassion, gentleness, and a deep, loving concern. Beautiful people do not just happen."
- Elizabeth Kubler Ross (thanks to SP user AMPERSANDWICH for sharing)





Saturday, July 16, 2011
And that's a "*tsk tsk* Naughty, naughty!" full-on British nanny style, with waggling finger and all.

I could probably simplify this blog to this sentence: Holy overeating, Batman! So...yeah. This was not the most spectacular week for eating. Well, not for eating correctly, at least. The upside? I've exercised a lot. Probably too much. I've burned at least 5,000 calories this week, most of it concentrated in the earlier part of the week. I don't think I ate adequately on those days, thus making me more prone to overeating over the past few days. I try not to have more than a 500 calorie deficit on any given day, so for instance, on Monday I should have eaten an extra 800 calories or so. But I didn't.

I've had a theme this week, and that is being overworked. I've been working almost every day to try to get ahead on my finances. The good news? I'm pretty much caught up as of this week. I still have a ton of debt, but for the first time in about a year, ALL of my bills are paid, and on time. The bad news? I have a stressful job doing poison control for animals. Talking to frantic pet owners all day on the phone is exhausting. And our call center is NOISY. It isn't so much the sound of people talking on the phone (although that is still loud), it's the conversations from across the room that make me feel like I'm going to go insane. Sometimes the noise triggers vertigo because I have inner ear issues, yet I need to try to calm people down on the other end of the phone while working in an environment that sounds like a loud bar. So that has been my other theme for the week, feeling like crap at work. Needless to say, I need more than 3 days off in a month. Fortunately, I can count down the days until I get a week off starting August 8th. No major plans, just going to have a staycation.

Anyways, I digress. The point of that was, my job is stressful and I haven't had enough days off to recover, so I've been doing some emotional eating this week. Additionally, TOM starts over the next few days, and I usually try to be conscientious of the carb cravings. But the other night, on a whim, I bought a whole loaf of french bread. And then I ate it.

The whole thing.

Oh no, it didn't stop there. I had some veggie corn dogs and a pint of Ben & Jerry's Half-Baked Frozen Yogurt that night, too. And the past couple of days, I've just been eating off-plan. I've tried to go back and track, but I'm so bad at remembering everything, which is why I usually track first, eat later. I HONESTLY cannot recall all the food I've shoveled in my piehole over the past couple of days, but I can sum up the number of calories:

DAYAM!

Okay, now that I've carefully calculated that out, it's time to get back to work. How about some things I've done right this week? I had once worked through Dr. Judith Beck's "Beck Diet Solution," and I took away a lot of good points from it. One thing she recommends is to record "Small Victories" every day. "Small Victories" are simply any little thing that is done right, no matter how insignificant they may seem. So I will list some "Small Victories" that I can think of from this week:

*I was at Walgreens last night and was tempted to buy a bunch of crap to come home and binge. I didn't do it.

*I exercised a lot.

*I went swimming for the first time in over a year, and I swam twice this week.

*I've been improving on my saxophone playing.

*I had the one horrible binge night, and I wanted to do it again, but I didn't.

*I didn't beat myself up over binging.

*I have stopped myself from a lot of mindless eating.

*Despite overeating, I still ate lots of fruits, veggies, and whole grains.

*I drank a lot of water and green tea.

*I did not murder any co-workers.

*I "only" gained 0.2 pounds (the overeating still could catch up with me, though).

So here I embark on a new week. I need to scale back the exercise just a little so I don't get overly-hungry, and I need to work enough treats into my food plan so I can stay on track. Perhaps next week the all-mighty scale will even reward me for my efforts, or at least I can be pleased with doing better. I know I'm capable of it.



"Lead me not into temptation; I can find the way myself."
-Rita Mae Brown






Friday, July 15, 2011
Following suit from SANDIEGOJOHN's post a couple of weeks ago about apologizing for "not Sparking enough," I wanted to address all the recent posts where people are apologizing for being "negative" when posting or blogging about struggles or challenges. I'm just going to say it: It is abnormal to be happy all of the time. It is abnormal to embark on a journey for healthier living without struggling sometimes. Posting about struggles is not "negative," it's normal. If you told me you spend every day skipping through the meadow in the sunshine while singing a song and carrying a basket of kittens, I would say I don't believe it for a second.

For instance, this week I have rocked the exercise, but I have been overeating almost every day. No excuse, I just wanna, and I have made inadequate efforts to stop myself from overeating. I'm not sorry about it, I just need to knock it off. Overeating has been my struggle this week, but I know I don't need to apologize for it, nor do I need to apologize for talking about it. Is it "negative" that I am overeating? Yes, technically it is going against what I am trying to achieve. But am I a negative person for talking about it, or would I be a negative person for asking for support? No, a friend would not say that.

I WANT to know when my SparkPeeps are struggling. I WANT to feel their frustration and try to help them through it to the best of my ability. I WANT to know the real person behind the username, both the happy and sad. Perhaps what people mean by "negative" is that they feel disappointed in themselves, and are afraid that SparkFriends will be disappointed, too. SparkFriends, you could never disappoint me with your struggles. I want you to laugh, I want you to cry, I want you to scream...I want you to feel. I think acknowledging and working through ALL of our emotions is a true sign of change.

This journey will not always be rainbows coming out of puppy butts, and there are some times when "WOO HOO!!!!!!!!" will come out "uh, woo hoo? I...guess?" Sometimes it takes more than a simple, "C'mon, you CAN DO IT!" to work through a struggle. Sometimes you have to stay down for a bit so that you can get back up.

GINGERRA1980 had a great post last week about posting about problems; I love Ginger because she tells it like it is, doesn't sugar-coat the truth, and is an awesome SparkPeep through the good and bad: www.sparkpeople.com/mypage_public_jo
urnal_individual.asp?blog_id=4354282

And there is ERLYWA's beautiful blog about falling down and staying down for a bit. It is wonderful: www.sparkpeople.com/mypage_public_jo
urnal_individual.asp?blog_id=4354821

No one ever needs to apologize for struggling. So bring it on, SparkPeeps! What's bugging you?



























First Page
1
2
3
4
5
6
7
8
9
10
11
12
13
14
15
16
17
18
19
20
21
22
23
24
25
26
27
28
29
30
31 32 33 34 35 36 37 38 39 40 Last Page

Get An Email Alert Each Time CATS_MEOW_0911 Posts