| | |
| --- | --- |
| | CATFISH_FAN's Recent Blog Entries |


Saturday, July 12, 2014
I gathered my first big broccoli harvest of the year, 7 1/4 lbs! This is more than I have grown in previous years, 10 heads of the 17 plants were ready at once. We washed them, chopped and blanched them, and now in the freezer for later, and had some with cheese for supper. The plants will continue to branch and produce smaller heads. I planted 17 and lost none to the dreaded cutworms this year, so we have a few more big heads coming. I love my broccoli!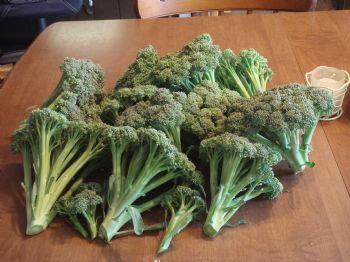 Sunday, June 08, 2014
I have been pretty active lately with fishing from the shore at the State Park, I don't own a boat so all my trips are when fishing is good near the land.

I went out May 21 and caught a limit (25) of bluegills, caught a bunch of creek chubs at the stream for catfish bait on May 24, took my nieces for bullheads at their pond May 25, and caught a limit (10) of big channel catfish on May 28 (with the bait from May 24). The next week I caught another 6 nice catfish before the rain storm pushed me off the lake (June 4). Today I was at the stream catching more chubs for catfish bait (26 fish), I hope to get out for catfish later this week or the next. I've had a great summer so far, looking forward to the rest of June!

Here are some pics from my fishing excursions.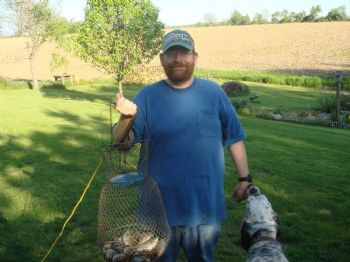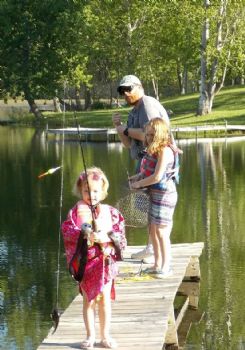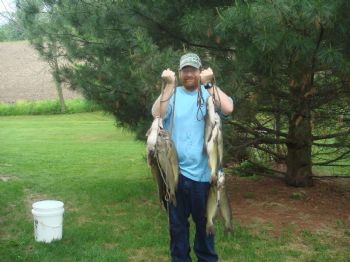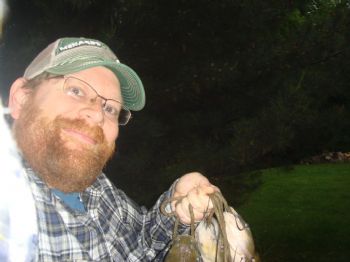 Monday, March 03, 2014
This past weekend I spent at my friend's home 3 hours away across the great state of Michigan with a couple of other old college buddies. Hard to believe it has been so long, we graduated in '96 and still get together every several years. I had a great time visiting with my friends Friday and Saturday nights, coming home Sunday.

Friday started with my mother's lung specialist appointment, I went and waited in the waiting room during the 20 minute appointment. Which took 90 minutes. I guess they take extra time when they are explaining that you might have lung cancer...



Saturday night while I was at my friend's house, still processing the Friday news, I overindulged on drinks (I'm not a drinker in general) and burned my thumb and forefinger on a hot pan. Not being in a proper state of mind, I didn't simply burn my fingers slightly, it is superficial second degree burns with blistering, oh I am so incredibly proud of myself...

I didn't even know the extent of the burn until I awoke Sunday morning.

So there are consequences. At least I didn't hurt anyone besides myself. It is a setback though. I'll heal, although it will take a couple of weeks.

Strange weekend. Hope to not repeat anything of that sort for a long time to come...





Saturday, February 15, 2014
No guy likes to get called to help family or friends move. My closest friend is moving from Michigan to Texas and needed help loading up his car with large items that aren't being moved by the shipping company. He had a skiing mishap and wiped out his knee, so he couldn't manage on his own. I spent much of today driving (my friend lives, or rather lived, 90 minutes away) and carrying large heavy items down stairs from his apartment to his Subaru Outback. That car can hold a lot of stuff!

I got in my workout for the day, 180 minutes tracked. How about you?





Friday, February 07, 2014
My fever isn't too high yet, but body aches and head aches, stomach aches, very tired, and kind of nauseated, these are not regular cold symptoms. The flu is going around here pretty hard and I didn't get my shot this year. I feel like going to bed, I think I will.



1 2 3 Last Page

Get An Email Alert Each Time CATFISH_FAN Posts