| | |
| --- | --- |
| | CASSIOEPIA's Recent Blog Entries |


Friday, July 18, 2008



So I'm going to try to keep myself motivated by writing in my journal daily. This has been a good week for me - in cardio,water and in calories. However, sleep has been an issue. It's always something, so I guess that's life. I just have to develop a system to work with me, and who I am.

I have revamped my Spark Goals, and I'm looking for a loss of one pound per week til the end of the year.




Thursday, July 10, 2008
I'm sorry if you've read this on the boards, but I wanted to have it here too, as I often look back.

Breaking news on the farm today.....

There was a mama bear and three cubs (really small, DH thought about 30-50 pounds). The dog had them tree'd in the farm yard, in a spruce right next to my BIL's house. When DH originally saw the bear, he thought there was only one, and was phoning a friend who hunts to get him to come and shoot it. But as he was on the phone, he noticed a couple of the cubs, and they decided to phone the DNR (Dept of Natural Resources).

DNR came out within an hour, and they decided to tranquilize the four bears. However, the officer wasn't quite sure of how to work the gun, and fired off a few rounds missing the bears. They stopped and did some target practice and got things figured out, but all that excitement shoo'd the bears further up the tree. To shoot the bears at the height they were at, the DNR went up on the roof of house.

Hubby said that the mother fell from about 60 feet high, and when she landed, she bounced up about 3-4 feet high. My son said that the sound of her hitting the ground was louder than the gun shot. They shoot the bear with the tranquilizer and then just wait for them to fall asleep and fall out of the tree.

The last cub they shot had gotten up to the highest part of the tree, the very top. It must have been scared to death. The tree was about 80 feet high, and the cub died after hitting the ground.

The DNR took the mama and the two remaining cubs back to the park compound to let them sleep it off. He said that they are pretty tough, and will likely make it, although there may be some injuries due to the height of the falls.

So some pretty good excitement at the farm today, and I missed out by being at work. DH said I should have said I was going out for a farm visit to broker a loan!!





Wednesday, July 02, 2008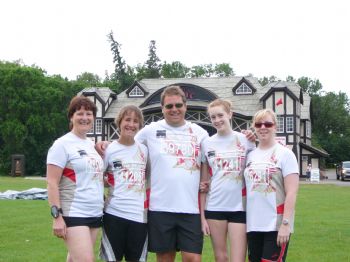 So it was back to Winnipeg for a repeat of last year's triumph for me. I had no idea last year that I was capable of running the 10k distance, but I was so glad I did it, and also that I had my brother to go with me. He walked right along beside me as I ran, and we finished together.

Fast forward one year. Back to the 'peg for the repeat, but this year had a very steamy, hot and muggy day for a run. I took several walk breaks this time through, but still managed to make it in three minutes less time than last year. But I tell you, this running in the heat and humidity is tough. I'll take -25 any day over +25 and muggy!

The triumph this year.... there was five of us running, run/walking, and walking. Last year only two of us took up the challenge of participating. This year, three more of our family joined us. That's an increase of 250%. And one more nephew has already said he wants to run with us next year.

Of the five, I finished last. Everyone expected me to finish first, because of completing a half marathon and also because I train. But I'm not this super runner woman that my family thinks I am! I talked about this with my Sister In Law as we were heading towards the finish. And she made my day by saying, "but look at how you've inspired all of us to get out here and do this - you are an inspiration."

So people, don't worry if you are slow or if you finish last. I am living a healthy lifestyle, and in doing so, I'm helping members of my family turn their lifestyles around as well. That was such an "aha" moment. I don't believe that she (my SIL) knows how much her comment means to me.

What a beautiful finish to a great day.

Oh, and times . . . . 1:18 and change





Tuesday, June 17, 2008
This morning I went for an "easy" run, and noticed the flowers along the way. The lilacs are blooming like crazy, and their scent is heavenly. The white daisies are starting to bloom in the ditch near the abondoned rail track. The trees are finally looking fully leaf'd out. What a gloriously beautiful place we live in.

And I had two miles planned for today, but the really great news is that I felt at the end of it that I wished it were longer. I felt like running *more* again! I haven't felt that way in weeks, so this is pretty special this morning.





Sunday, June 15, 2008
So it's not just blogging that I'm ignoring. I am not posting much, not entering my fitness stuff much, for sure not entering my nutrition information. I did a whole month of Spark Boot Camp, not missing one day (NOT ONE DAY). Lots of cardio, lots of strength training, and a little bit of scale going up. So depressing. I can't think of anything I'm doing differently than last spring, when at this time I weighed in at 155.

I have even been considering taking a spark holiday and just not worrying about it, but I know that's what got me into the first mess.

We renovated our main bathroom this week. Gave hubby something to do while it was raining! It looks so fresh and clean now. We still are missing the vanity, as we have to order a new one. He made the first one, and now wants to replace it. We haven't settled on a design yet, so no mirror. But the rest of the room looks awesome.

My garden is also looking great for this time of year. I think if the rain stays away, I'll hill my potatoes later today.

Tried phoning dad this morning for Father's Day, but he was already out the door (at 7:30 am) and over working on the golf course cutting the tee boxes. Always volunteering somewhere. What a guy! And a great role model.



First Page
1
2
3
4
5
6
7
8
9
10
11
12
13
14
15
16
17
18
19
20
21
22
23
24
25
26
27
28
29
30
31
32
33
34
35
36
37
38
39
40
41
42
43
44
45
46
47
48
49
50
51
52
53
54
55
56
57
58
59
60
61
62
63
64
65
66
67
68
69
70
71
72
73
74 75 76 77 78 79 80 81 82 83 84 85 86 87 88 89 90 91 92 93 94 95 96 97 98 99 100 101 102 103 104 105 106 107 108 109 110 111 112 113 114 115 116 117 118 119 120 121 122 Last Page

Get An Email Alert Each Time CASSIOEPIA Posts