| | |
| --- | --- |
| | CALLME3NI's Recent Blog Entries |




Monday, October 27, 2014
This past weekend, the medical school had their annual intramural tournament known as College Cup. I consider this "the most wonderful time of the year" as it allows people to showcase their skills in events such as Iron Chef, inner tube water polo, basketball, and even Scrabble. This year, I participated in several events, one of them being Twister as part of the "board games" category. I signed myself up for this because a) I don't play any of the team sports and can't swim, b) I'm tall and figured I could use that to my advantage. I wasn't that confident about my flexibility and strength, but I'd been doing Pop Pilates so I figured it'd be a fun challenge.

The first round that we played was tough. Picture 4 adults (2 teams of 2) on a regular (read: kid-sized) Twister mat, holding various positions and struggling to not fall down. It went on forever, and I almost gave out from sheer exhaustion (in the end, I eventually got knocked off the mat when someone else tried to move). Although I wasn't able to win that first round (got us to 3rd place of 4 overall), people commented that they could tell that I'd been doing yoga or something to help me hold the poses.

I spend so much time telling people that I don't have upper body strength, being frustrated that I don't FEEL like pilates is getting any easier for me. I've been focusing so much on how my body LOOKS, wishing that I had a flat stomach or legs without cellulite or whatever else. This weekend, my body surprised me. It still looks pretty average, but it got me further than I thought it would in this competition (kiddie game or not). The fact that it still hurts to take the stairs two days later makes me happy and reminds me that I am getting somewhere.

Also, I really hope I can play Twister again for College Cup next year. That was the most painful fun I think I've ever had.




Saturday, October 04, 2014
This post is a few days late, because I've been hella busy. Gonna keep this short, mostly because my first one got deleted before I could upload.

I've been tracking intermittently for the past few weeks, partly because of general busyness (had some night shifts recently) and partly because I wanted to focus more on hunger cues and less on numbers. I've fallen back into mindless snacking just the same (I call them "mini-binges"--I know that's horrible but that's what it feels like sometimes, it's just not thousands of calories at a time). I don't think tracking by itself will keep me from doing that, since it's an internal struggle I've dealt with since high school. I don't want to overanalyze and try to figure out why it keeps happening. I just want to do better.

Haven't gotten back into mindfulness meditation like I want to, but it might help with the aforementioned issue. There just aren't enough hours in the day, you know?

Still doing Blogilates. One workout per day like I've been doing for the past few months. With Cassey Ho's help via youtube, I hope to one day master a side split and a headstand. Working on both whenever I have the time (the latter in particular scares me).

I'm learning that self esteem is an active thing. You can't just say, "I'm going to stop hating my body and dwelling on my mistakes" and go about your business. You have to keep it in mind.

A quote I found on Tumblr recently: "It's not a big deal that you gained weight. Honestly, in the big picture, who cares? Did you live life the way you wanted to? Did you have fun? Did you find people you love? Did you learn lots of interesting things? That's probably what you're gonna care about when you're at your death bed, not about the fact that you 'gained weight' when you were 21."

I think that's everything. Pics below. Not going to comment on them and try to make comparisons to previous months because that's not useful.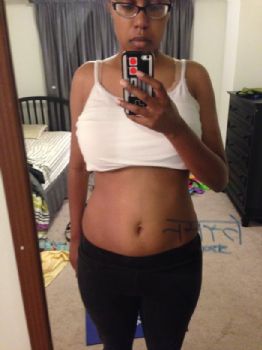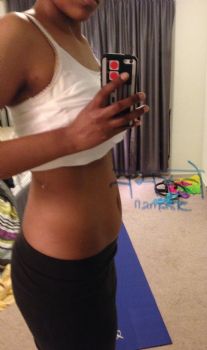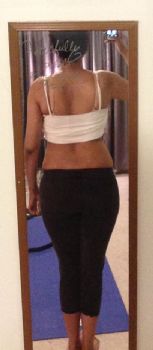 Monday, September 01, 2014
I was home over the past week on break. A while before, I'd decided to experiment with not tracking, to see if I could handle it. After 2 years of tracking (and feeling like a slave to it sometimes), I thought that I might have learned enough to take some time off of SP, maybe for just the week I was home, maybe longer if I found success with it.

The first few days weren't bad. There were a few moments of anxiety here and there, but for the most part I was fine. I did a bit of snacking that I probably didn't need to do, but otherwise I listened to my body, stopped eating when I was full, did my best to refrain from second helpings even when everyone else at the table ate more.

But then the Ethiopian food on day 7 made me nervous (even though I only ate half of it), so I tracked all my food that day to see where I was. I was within range, maybe even below--I don't recall. In any case, worried for nothing.

Things came to a head on day 9, when I made a recipe for Utah scones/Navajo fry bread that ended up being 530 calories apiece (includes the 320 calories worth of oil you deep fry each one in. I honestly didn't realize it was going to be that much until after I had one, but since I was deep-frying dough I should've guessed as much). I didn't go over on calories even with that and the chips I snacked on earlier that day (I was a bit high on fat though). So I tried to not care but I was messed up about it all evening.

I really wish I could eat like a normal person. During those days when I wasn't tracking, I felt like I had more time for other things because I wasn't sitting around putting in calories. But I guess I'm much too anxious for that. I may have to track calories for the rest of my life. It's upsetting but I need to accept that this is what I'll have to do. I just wonder if there's some sort of compromise, some middle-ground that will keep me from obsessing about tracking, or being so anxious when I don't track. Like, maybe I could track SOMETIMES…or something. If anyone has ideas…?

I also wish I didn't feel waves of body image issues rising up in me again. No matter how many times you've turned them out of the house, changed the locks, freaking moved to a new neighborhood, they always seem to find you.

That's all I want to say right now. That's enough. Especially since it's way past my bedtime and I start orientation for my OBGYN rotation at 7 tomorrow morning.

Pics below. My mom took them for me this time. My measurements have all gone up since last month; I checked this morning. I think it shows and I can't help being a bit sad about it. I almost didn't want to post these because I didn't want to look at them.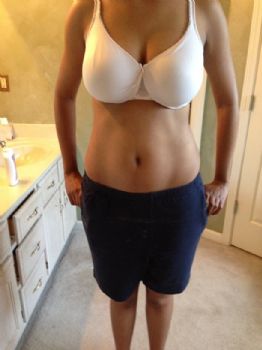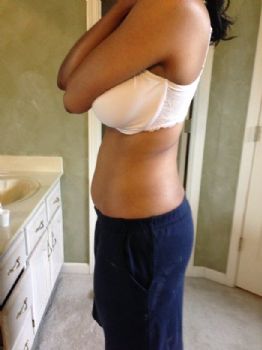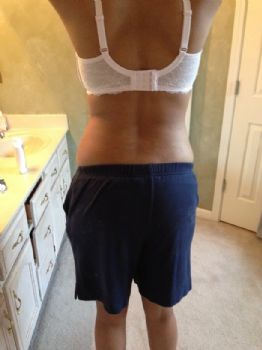 1 2 3 4 5 6 7 8 9 10 11 Last Page

Get An Email Alert Each Time CALLME3NI Posts