| | |
| --- | --- |
| | CALLIKIA's Recent Blog Entries |


Wednesday, May 16, 2012
Okay, confession time...it's not working.

LiveFit felt great, it really did...and then I had to give it up. Just like my cardio. I've had to give just about everything up lately and it friggin' BLOWS. And as much as I tell you I just want to lose fat, not "weight"...it's not ENTIRELY true, because I want to be in the 200s so much it makes me hurt. Like cutting-type emotions (chill, I'm not doing that, but I feel that way). It physically pains me to feel like I am UNABLE to do what everyone says I should be able to do. And if the dam doesn't break soon -- I WILL. I promise you that. I can only be strong for so long. I can only fight a losing battle and get so many scars and broken bones and bruises for NOTHING for so long.

So...everyone CLAIMS to have THE weight loss solution. And I've tried so many things I could probably write 15 books for you with different points of view. Half the time I don't know what I believe any more except that I must be broken because nothing I try has been working for me...not really.

Why am I no longer losing weight?

In 2004-2005, I went from 466 to 380 without too much trouble. And then it got really hard. And I pushed for the last 20 to say I had lost 100...and then I gave up fighting because it was so hard to fight against a wall that would not budge.

So in 2010 I joined SP and went from 416 to about 330 pretty well, thinking I had this thing licked! This was it! I was going to do it. And then it slowed to a crawl...and a few months ago, I hit a brick wall. I've tried going over it, around, through, over, etc, etc, etc...nada. I keep ending up here...between 300 and 310.

I've tried exercising more.
I've tried exercising less.
I've tried eating more.
I've tried eating less.
I've tried eating clean.
I've tried eating whatever the hell I wanted.
I've done cardio.
I've done lifting.
I've done lifting and cardio.
I've taken supplements and vitamins.
I've tried following SP guidelines, MFP, NROLFW, LiveFit nutrition guides/calorie suggestions...

Nothing. Nothing. Nothing. My friend Bob suggested I just put my routine up here and yinz could have some fun tweaking it and figuring out how to make me lose weight again. But, that's the problem. I've tried everything and right now I'm lost because the Stronglift I was doing just isn't enough. And I can do too many crunches for it to really be a challenge. And I thought it'd be awesome to plank again, but then I realized I can hold one for 2 minutes already, so... yeah.

So, instead, I'm going to tell you what I NEED and you make suggestions from that.

1) I can't be at the gym more than 4 times a week - Monday through Thursday.
2) I have VERY limited time at home, so prep needs to reflect that.
3) I have no access to a road bike other than Hubs' and no way to ride it because I live on a VERY busy state route and we can't afford a bike rack for the car right now.
4) I currently can't run, jump, hop, skip, or walk for long periods of time because of my PF.
5) I DO have a HRM that tells me my calories burned...not that it matters.
6) I have the ability to log and measure.
7) I am feeding a family of 4 so they have to be reasonable meals...I will not cook 2 meals so they have to be things everyone will eat (except my 10-year-old because he's sometimes impossible to please).
8) I cannot lift 300 pounds or hang 300 pounds using my arms...so don't suggest it. I'll injure a shoulder, I promise.
9) Injuries/concerns include: tilted pelvis (which causes hip and knee issues), osteoarthritis in my knees, faulty disk in my lower back and a calcified ligament in my neck -- as well as a HUGE belly apron that gets in the way A LOT.
10) I don't say "quit" very easily and I will fight hard and long before admitting defeat.
11) Because of that, if I say I can't do it, I can't do it.
12) I will not eat sweet potatoes. Sorry - they make me physcially ill. Along with that include citrus fruits and too many bananas and squash (except some zucchini and yellow squash SOMETIMES).
13) I love chicken and peppers - fish is good, but I have scary mercury concerns so no more than 1-2 times per week.
14) I also love rice and beans and use these as my whole grains most office with SOME wheat bread sometimes.


I don't know what else...that's all I got for now.
I've almost given up hope, y'all...





Wednesday, May 16, 2012
So I bit the bullet and took yesterday off to get some rest. Of course the day ended up being full of chaos and errands to run and all that jazz, but it wouldn't be my life without the craziness it seems.

I had set an appointment to see the Chiropractor at 10:15 am. Monday my lower back was bugging me ...a lot. So much so that even though I really wanted to go lift, I figured my lack of really being able to walk without pain meant it was best if I just held back and took the day off and saw what my Cute Chiro had to say before I got back to it. It was pretty difficult to skip the gym, but I know now that I'd rather delay the gratification of building muscle and burning fat and making progress rather than derail it all together by pushing through and injuring myself. (Look! She's learning!! *lol*)

Of course, luck of all lucks, they were packed yesterday and I had to wait 35 minutes AFTER my appointment time (and, of course, I had gotten there early...) to see the chiro. I'm glad I waited, though. He told me that it wasn't as bad as he expected, which means I've been keeping up with my end of the bargain and keeping myself aligned as best I can with my stretches and such. He told me he was a little worried about me taking on this second job (who isn't?!) because of my issues with my back/neck/pelvis, but I told him it was temporary and I was managing as best I could. He gave me a quick adjustment, told me that when I get back to running to be sure to put good arch support in my shoes, and then told me to ice myself down the next few days and call him when I feel I need him again. (Best part was that I left without paying a dime because they said I actually had a credit! *lol*)

So, all is well. I feel vindicated. I am not tweaking my back with my squats, which means if I continue to focus on my form each time I should be fine. Moreover, I'm doing all my stretches, which helps to keep my messed up body in the best shape it can possibly be. When I started going to the Chiro I honestly thought I'd probably have to go once a week. But it's been months without an adjustment and if I just keep working my stretches and such I should be able to manage the issues for another few months before popping back in his office again for a quick adjustment.

He did go over with me again that it's not likely I'll ever be "cured" of my problems. They're too severe. He has no idea what caused them, but they seem to be pretty permanent. So the best I can ever hope to do is keep myself in shape well enough to manage the issues I have and live as happy and productive a life as possible. It could be worse, trust me, but hearing it again made me a bit sad...not sure why. Still, it stresses why I must continue on the path I'm on. The less fat I carry around, the better my body will manage. And the better shape I'm in - maintaining my strength and flexibility, especially in my back - the less pain I'll have and the better chance I'll have to not end up in a back brace. It also stresses to me the importance of really working hard to get this stomach apron gone...because I know it's not helping these issues at all.

(Quick note: I've been toying with the idea of seeing a skin removal surgeon to see how much more I need to do before I ask for intervention - because I'm pretty sure that's going to be necessary at some point. I honestly wish I could get by without it, but more and more as time passes, I'm starting to see the lasting damage almost 30 years of being overweight has caused to my body. I'm willing to do all that I can, but I don't want to be twiddling my thumbs and busting my arse if there's no hope of it ever getting any better than this. Maybe a little light at the end of the tunnel talk will give me what I need to push forward and keep on the path. No clue where to start this process, but it's time for me to start looking at least.)

After I FINALLY got out of the chiro's office, I headed home, where Hubs told me we HAD to run up to his mother's house real quick (it's never a quick visit, just FYI *lol*). BTW - I still hadn't found time to eat yet...not such a good idea... But it was at least for a good reason. A state and/or county mowing vehicle came down our road last month and kicked a rock up into Hubs' back windshield causing it to crackle and then shatter. Awesome, right?! Thankfully, we reported the incident to them and they've agreed to pay for the damages. (Yay! I seriously thought we were just going to have to eat that expense...another reason I've been working my butt off lately.)

Finally, around 12pm, we headed off to do what we'd planned on doing for the day - going to the movies. We stopped and grabbed a quick lunch of Taco Bell (yea, I don't want to talk about it...) and then sped up toward the city to see The Avengers. (For those wondering, yes, it's pretty good. Love the wisecracks and silly moments a lot that cut through all the fight-bang-beat-up-more-fighting of the action.) And then Hubs and I got into a fight. *lol*

Hubs discovered at the movie theatre that he didn't have his credit card. We thought and traced it back to a restaurant we'd eaten at the night before (I'm doing real good on my diet right now, aren't I? *lol* Yea, not so much...but I keep trying...) and called them up to see if they had it. They told us they'd check the safe but it took 20 minutes to open it so we'd have to call back. I'm not sure how much Hubs was able to relax during the movie but once the first credit hit he popped out of his seat and said, "We've gotta make a call!" So we called, and they said they didn't have it...and then it all fell apart. It was silly of us. He felt stressed, I felt rushed on the only day off I'd had in forever, and well, we had it out before finally settling on not stressing each other out anymore and getting on with our lives.

We stopped by Old Navy and then I popped in Panera super fast for a couple bagels to take home (my new treat when we go to the city...it used to be donuts, so I'm getting better! *lol*).

And, because I feel the need to brag, can we talk just a little bit about women's intuition? Every once in a while I get this "feeling" that I can't describe. It happens a lot when we're driving at night. Sometimes I'll turn to Hubs and say, "Watch for deer!" and he knows it's because I've had one of those feelings. And 9 times out of 10, we see a deer. Sometimes I can even tell if it's going to be a real danger, or just a "close call" (i.e. a deer standing in the field next to the road as we pass). It's strange, and Hubs always remarks on the strangeness of it and I don't know that he even believes it...but *shrug*. What does it matter? Doesn't hurt anything to be careful, does it?

Well, as we were driving back home, I had this feeling I couldn't shake that told me we HAD to go back to the restaurant. I couldn't place why...if someone saw a card on the ground they would have picked it up and used it. Maybe that was a part of it...I could tell it hadn't been used yet..which mant, I hoped, no one actually had found it. Or whoever did find it was trying to do the right thing. Either way, I fought the feeling all the way home, but as we took our exit, I turned right instead of left and said, "I know you're going to think I'm stupid, but I just have to check, okay?" We checked the parking lot...nothing. We went inside and looked around the table and such...nothing. And Hubs turns to me and says, "What do you want to do?" I looked at him and whispered to him that I wanted him to ask them again because I wanted them to say to his face that there was no credit card there, just so I knew we'd done everything we could. But as soon as we walked up the register, the manager recognized us and said, "You were in here last night, weren't you? Lose a credit card?" and grinned and pulled it out from the locked drawer under the register. And I nearly kissed her and slapped Hubs on the arm and said, "See! I knew it!"

So, yeah...I ended the night with a win.

:)

And with the knowledge that (1) I've been eating out WAY too much lately and (2) I have GOT to do something to get rid of this stomach! (We also went so I could try on clothes, but nothing fits right because of the stomach not matching the rest of me...and it makes me sad.) So, I'm pushing myself to tighten the reigns, start eating right as much as humanly possible, and see if I can actually meet my goals. I keep hoping that with the fat loss I keep striving for, I'll eventually see some movement on the scale as well, but that's not happening, and I'm trying not the fret. The only reason I want it is because I'm about 10-15 pounds from a bunch of weight limits on things...so I'd really love to get under that and feel a little more "free" as it were to move about the world.

Anyhow, hope you all had a good Tuesday. I've got a big day today and I'll probably be in and out and running around like chicken sans head. But I MUST lift tonight...hold me to that! And I'm thinking of going for a swim tomorrow, just to test out my lungs and this new less fatty body in the water.





Monday, May 14, 2012
More and more as I struggle to adapt my 2-job lifestyle to this way of living (note the order there), I'm faced with difficult challenges when it comes to getting to the gym. Now I love my lifting programs and am currently trying to use them to really boost my lean muscle mass so I can get rid of all this extra fat I'm carrying around, so, yes, that requires me to keep some commitment to my gym. But whereas I used to spend 4-6 days a week in the hot, sweaty, smelly place (that I love!), now I find myself struggling to go more than twice.

And that's okay.

Twice a week is all I really need if I lift right and make it count each time I there. If I spend every second I'm there putting on my sexy face (see previous blog) and showing myself what's really possible when it comes to lifting.

Sure, three days a week would be most ideal to keep this going, but I can get away with two and make it work.

MAKE. IT. WORK.

Look, no lifestyle change is going to work for you if it doesn't work WITH you...with your schedule, your wants and needs and desires and dreams and goals. It has to fit into the priorities you've set for yourself. If you're training for a marathon, that might mean hours spent pounding the pavement or circling a track or hitting the trails. But if you're just trying to stay fit and active and healthy...well, don't limit yourself!

Exercise can literally be done ANYWHERE. I started exercising from my recliner using a rehab type pedal machine that I spent 40 bucks on through Amazon. The most I could do was 15 minutes, but I tried to do that as many days as I could. At that time, watching television and relaxing after a hard day was important to me...and that fit into both my abilities and my lifestyle.

And as my lifestyle has changed, so has my fitness routine.
I swim in the summer because I just wanted to be at the lake as much as possible.
I rowed when swimming got boring, and hiked whenever I didn't want to get wet.
I took long walks with my camera because I wanted to be lost in the world, lost in my own eye, and document what surrounded me.

I've hit the gym when I felt I needed to be there 6 days a week to prove my devotion.
I've taken boxing classes in the basement of a gym full of guys doing MMA moves upstairs.
I ran when I felt the need to fly and logged my minutes and miles on the hilly roads around my house, and at the track of the nearby high school.

Whatever kept me going.

In 2004, I didn't want to be seen outside.
I had no gym membership, nor money to add one to my arsenal, nor desire to even try and be seen there.
So I kicked it in my living room while the kids napped, rocking out to Tae Bo routines and Leslie Sansone's Walk Away the Pounds series.

When I needed serenity, peace and meditation - I did yoga.

When I needed to feel bouncy and jumpy and carefree - I Zumbaed.

As much as I've heard "I don't have time to exercise" or "I should join/go to the gym" in the past few weeks, I'm saddened that there are people in this world that don't understand that the opportunity for exercise and fitness goes wherever you go - day in and day out. Every. Single. Day.

Your body is all you need.

Well, that and the courage to try.

I've seen so many body-weight based exercise programs that I almost feel like a book should be collected - one of those "Choose Your Own Adventure" books, but you choose your workout according to your likes, dislikes, lifestyle, etc.

How about this one for the Harry Potter fans: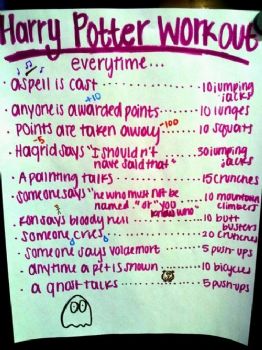 Even if Harry Potter isn't your bag (and why the hell not, I ask you?!!?! ;) ), there are plenty of these types of exercise games you can come up with on your own.

Game of Thrones - 10 pushups anytime someone takes a drink of wine, or asks for it, or throws it
Sex and the City - 15 burpees each time Charlotte wanting a baby is mentioned, or each time Samantha has sex

Get creative. Have fun with it. The only limits are the ones you place on yourself.

Fifteen minute break at work? Wall sit...see how long you can hold it.
Waiting in line at the store? Ab contractions - no one can see!
Stand on your tiptoes while brushing your hair in the morning.
Mow the lawn without the bag so you can rake up the debris later.
For crying out loud - GO OUTSIDE AND PLAY WITH YOUR KIDS/DOGS/SIGNIFICANT OTHER!

It doesn't have to be epic every single time, I promise. (Though, I do fully believe that you should try to be epic at least 3 times a week. See the sexy face blog. ;) I'm not trying to send mixed messages, I just want to make sure that even on your rest days you realize you can remain active...and when you can't get to the gym, you still have options.)

Stop making excuses.




In this day and age you don't even need to leave the house to make it work, so commenting that you don't have time to get to the gym...well, that's a mindless excuse now isn't it?! What are you really saying about yourself? That you aren't worth the 20 minutes of sexy face it takes to make some positive changes in your body and your life? I don't believe it.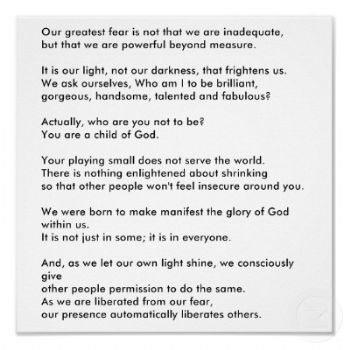 Last week I did 3 workouts in the gym - 2 on the same night. The rest of the time I spent doing bodyweight exercises, running around with the kids, challenging them and fighting for the prize money sitting on the kitchen counter (me and each of my 2 boys put $2 in a jar on the counter...the person who does the most pushups, crunches, burpees, mountain climbers, planks, etc. this month wins the dough...and I've got my eye on a new nail polish color or some blush...). Even when resting at home, I tried to get up every once in a while and do something active -- even if it was just 15 minutes of non-stop cleaning so as to keep my body moving. On Saturday I made up a circuit of burpees and pushups and crunches and turned on my HRM and told myself I couldn't stop until I'd been at it for at least 20 minutes. On breaks at work I pulled some yoga moves to stretch my body and keep the circulation flowing. When I wasn't working, working out, cleaning or doing laundry, I was cooking some healthy meals for the week, enlisting the help of my two boys when possible - it meant I had leftovers to pack this morning and I won't be scrambling to find some healthy choice in the drive-thrus that surround me here at work. Each time I completed a task, I smiled at myself and thanked myself for doing yet one more thing to ensure I stay active and healthy even as my life is ripped into chaotic shreds. I spoke positively to myself and let myself know how much it meant that I was using my time wisely since I have so little of it anymore. Even THAT was something to help me along the way - keeping my motivation flowing through positive thinking.

Look, it's as simple as this...
Make time for yourself...not excuses.
No gym membership ever made a person fit...it was what they did there (or outside of there) that mattered.

----
Photo Sources:
http://weheartit.com/entry/24088510
http://fridaycat13.blogspot.com/2012/02/
excuses-excuses.html
http://www.zazzle.com/our_greatest_fear_
poster-228774775610002560



Need more workout ideas? Try searching Pinterest or Google for "at home workouts" and just see what you come up with. Or try fitness and welness and healthy living magazines like Women's Health and Shape and Fitness. Most of them are online now so you don't even need a subscription or to run to the drug store for a copy to get some ideas for moves you can take with you wherever you go! Some of them even allow you to like them on Facebook and update with posts that continue to encourage you throughout each month and remind you of the goals you had when you turned the calendar and saw that big 1 staring you down. Get out there and make it happen!!





Friday, May 11, 2012
So it's no secret that I've parted ways/broken up with my scale. He hasn't shown me any love in months and, well, sometimes it's best to let someone (*thing*) go if he isn't providing what you need and is only causing pain and toxicity and stress in your life. In addition, I've had a falling out with cardio exercises. This was mostly unwillingly thrust upon me by my injuries, but I'm starting to see the value in letting my mind settle on new ways of thinking about the fitness game.

Notice I no longer think of this as a weight loss journey.
I no longer think of it as a diet game.

It's about getting healthy, losing unwanted body fat which only hinders my organs from running smoothly, and about getting into a sexy pair of jeans that aren't the darkest color I can find on the planet once this belly melts away into oblivion.

So I've been hitting the gym hard. Lifting weights. HEAVY weights.
I started with Jamie Eason's LiveFit program...but only made it to week 6 when I got a second job and could no longer find the time to be in the gym lifting for an hour and a half 6 times a week. (Sorry, JE! I still love you, girl!)
When I needed more bang for my buck, I readjusted my plan and have begun the Stronglift 5x5 program 2 times a week. Now, I know it's supposed to be done 3 times a week, but I only usually have 4 days in the city (where my gym is located) and you aren't supposed to do it 2 days in a row...so we're down to 2 days a week.
The other days, when I can't get to the gym, I do my own set of bodyweight exercises - usually in a circuit I've devised on my own which gets my HR pumping and provides the proper challenge my body needs. The circuit is 25 minutes long, and I try to do it at least once or twice in a row at least once or twice a week.
Some days I can't muster that much time and energy, and I simply pump out some crunches or planks or something while the TV is on commercial in what little downtime I have from working 2 jobs and taking care of my family of 4.

We do what we gotta do.

In addition, I've been reading New Rules of Lifting for Women on my iPhone during downtimes at work, which keeps my motivation going and has already taught me a few things and reinforced my ideas about ST/cardio/fat loss/clean eating, etc.

Through all of this, I think I've become a bit of a lifting snob.

I had hoped it wouldn't happen to me. I like to think that most people, if they're trying, are making a better effort than if they weren't at the gym and were plopped in front of the TV with a bag of crisps. (Look, I got all British on you guys for a second! ;) ) But when I walk by a skinny, pretty little thing, who could probably use some lifting to make her strong and totally fit in that tiny body of hers, and I notice that she's pumping through hip abductor workouts on the gym machine at break-neck speed and not even really paying attention to it and is smiling the whole time....well, I get sad. What a waste of time! If you spend an hour in the gym smiling and laughing and never once break an ugly face...you probably should've just stayed home. You aren't doing it right.

Here's my new motto: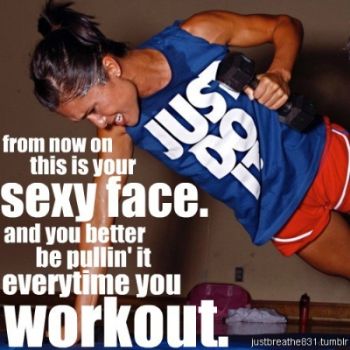 Ugly face is the new sexy face.
This is the face that says, "I'm pushing myself to my limit."
This is the face that means your breathing heavy, the sweat is pouring, your skin is flushed, your HR is raised, you're challenging your muscles to respond and they're reaching the point of breaking.
This is the face of someone that isn't wasting an hour in the gym doing little to nothing, but looking great doing it.
Honestly, I'd much rather see this hot sweaty mess, hear the grunting, and look at the ugly-sexy face any day of the week.
Because this face makes great things happen.

You don't get this: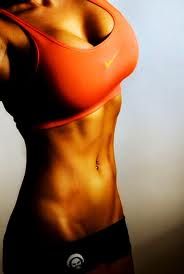 without a little sexy face now and again.

I don't care if you're doing cardio, or lifting heavy barbells, or sitting on a gym machine or whatever. You better pull this face at some point, or else what IS the point?

On the treadmill? Knock out a sprint right smack dab in the middle.
Feel yourself fly.
Feel your muscles react.
Hear your breathing get shallow and raw for a minute.
Hear the voices in your head say you can't...and then show them that you can.
Even if it's only for 5 seconds. Just try it.
I bet you pulled the sexy face, didn't you?
And your muscles will thank you later.
Because now they know they have more power than they thought they did.

Squatting a barbell? Find your max. Do a drop set. Mix it up a bit. Try something new. Challenge yourself to lift more. Pull at least one ugly faced rep...otherwise, you'll never know what you're capable of.

If you don't look like this after a workout...


...you probably aren't doing it right.

Remember...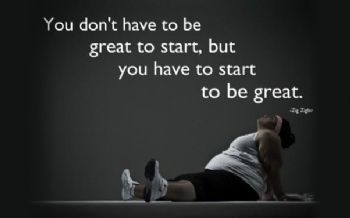 Now go put on your new sexy face!

--
Photo sources:
justbreathe831.tumblr.com/
stayfitbug.tumblr.com/
fitsanity.com/2011/10/greatness/
crossfitlakeland.com/blog/2009/01/27
/tuesday-january-27-2009/






Thursday, May 10, 2012
*jumps up on soapbox*
*grips mic tightly and pulls it close*

Ladies and gentlemen, I would like to take this moment to announce something to you all. I have decided, in my personal opinion, I think it's important...that we stop using the words "weight loss" and start using the words "fat loss". All the things the world told you about the scale being able to judge your ability, fitness level and, most of all, how "fat" you are has turned out to be untrue. It's time we stood up against the lies and deceit they've been feeding to us all these years -- along with other falsehoods like "you are what you eat" which led us to believe that "fat will make you fat" -- and started redefining words that actually mean something to us.

Stop living in a world that feeds you a constant flow of images of anorexic models and tells you that they are skinny and fit and you should aspire to be like them! Stop allowing the one number below your feet to define who you are and what you are capable of! Research! Do your homework! Realize that BMI charts don't mean anything and the scale, which BMI charts use to calculate both how "fat" we are and how soon we're going to die or contract deadly diseases, measures only how much we weigh, not how fat we are.

Would you consider 4 time Mr. Olympia Jay Cutler fat? BMI charts and scales do! They clock him in at 310 pounds in the off-season -- which is morbidly obese according to those BMI charts we've been taught to idolize. Mr. Olympia is NOT fat...and he's just one example of the many people - fit and athletic people - who prove by simply existing in this world that scales and BMI charts mean very little.

Rage against a system that has been fooling you for years, and start redefining your journey. Not as a journey of "weight loss" but one of "fat loss"! One in which you build lean muscle and banish unwanted and unhealthy fat from your body. From here on out, let us be lead by more important numbers - numbers that CAN define how FAT we are and what problems we might face if we are too fat. Let's focus on BODY FAT PERCENTAGE because it's the only thing that can really tell us how much fat we need to lose to make our bodies into the fit, healthy machines they are capable of being!

Say it with me -- FAT loss, not WEIGHT loss!"

*starts a chant with the crowd*
*smiles*
*is carried off on the shoulders of the crowd...or by Jay Cutler...cuz he could lift me no problem*





I ended up at the gym last night. I took my time getting there, but I figured it couldn't hurt to go ahead and get my stronglift routine in - I knew I could tell the Cute California Trainer Boy, aka Tanner, what I had already worked and he would ensure I didn't overwork those areas and do any damage to my body. So I did my Stronglifts -- squatting, I am quite proud to say, 140 pounds now! -- and then met with Tanner to start a group of isolation workouts for my biceps, shoulders, back, legs, and abs (OMG! I forgot to tell y'all that I impressed my kids day before yesterday with a 2 minute plank and then did 150 crunches...so when Tanner started picking on my abs I kept smiling but said through my gritted teeth, "My abs HATE you right now!"). It was a good workout...about an hour and a half's worth of slow moving heavy lifting and OMG I'm totally going to feel it later, no doubt! *lol*

After we worked out, Tanner I walked back up to the front where he had one of the female trainers weigh me and measure me. (She only accounts for having lost 1 inch...which just means she's not measuring me right...) And then, the only thing I really cared about, we did my body fat measurements. Now I know the way they do it is faulty and has a margin of error (I think as high as 4%!), but it's all I've got and we consistently measure with it every month, so even if it's off, it's probably off about the same amount each month (I hope!). I was shooting for losing an entire % point of body fat this past month, but I only got 1/2 that...which means I need to amp up the workouts (which I've been doing with my "Iso" Bodyweight ST challenge AND the Stronglift 5x5). Next month, I WANT my 1%...

Okay, secret time...I don't want just 1% next month. In my dream of dreams, I'd like to lose 2% because that will put me under 45% and make me very, very happy...

In the past two months I've only lost around 2 pounds according to their scales...and the inches barely budge each month either. (We only measure my waist, so...) BUT I've lost 1% of body fat which, I'm learning, to me is more important than anything the scale can tell me. It means I'm getting leaner. I'm building lean muscle and losing pesky body fat. And the more muscle I gain, the better I get at this lifting thing, the more fat I should burn. (I like to say, "Lean muscle eats ugly fat like you for breakfast! ...and lunch and dinner too!")

So, to me, going from 307 to 305 on their scale means nothing.
Going from 47.3% (or thereabouts...it might be .2 or .4) to 46.3% body fat is what matters!

And next month I'd LOVE to lose 1.4% of my body fat so I can be under 45%.

When I started this FAT LOSS JOURNEY, more than HALF of my body was fat. I think I was at or above 60% body fat when I started. And now I'm more LEAN and essential organs and water and bone than I am fat! That makes me proud!

The goal since day one has been to get down to 30% body fat. And that means I've got to lose another 16.3%! But that's down from 30% or more that I needed to lose when I started! I'm almost halfway to my goal...and I have the tools and knowledge now to burn that fat even faster.

So, that's the goal. 1.4% of body fat gone by mid-June. Right now I'm just going to keep using the methods I have been using and just amp them up a bit more. That means:

* Eating clean more often.
* Drinking all the water I need.
* Taking my supplements, and maybe upping them a bit now that my weights are going up.
* Keep heavy lifting 2-3 times a week.
* Do whatever else I can do to make sure I'm building muscle as often as possible.
* Making sure I eat every 3 hours or so.
* And resting when needed to let my muscles repair and rebuild stronger.
* Eating ENOUGH calories to keep building muscle. (More research needs done but everything is telling me I should eat anywhere from 2200-3000 calories...which seems really high, but if it means building lean muscle and banishing body fat, I'm all in.)

Any tips, advice or plans you want to share - bring 'em on!! I've got a REAL goal...one that is measureable and means something. I don't give two shiz about the scale this month...I'm living only for the number that MATTERS!

Let's GOOOOO fat loss journey!!

;)

BTW - Made a killer Stuffed Pepper Soup last night and then forgot my lunch serving of it at home today. *bangs head on desk* *insert sad face* I'll figure something out. Might need a trip to the market...



First Page
1
2
3
4
5
6
7
8
9
10
11
12
13
14
15
16
17
18
19
20
21
22
23 24 25 26 27 28 29 30 31 32 33 34 35 36 37 38 39 40 41 42 43 44 45 46 47 48 49 50 51 52 53 54 55 56 57 58 59 60 61 62 63 64 65 66 67 68 69 70 71 72 73 74 75 76 77 78 79 80 81 82 83 84 85 86 87 88 89 90 91 92 93 94 95 96 97 98 99 100 101 102 103 104 105 106 107 108 109 110 111 112 113 114 115 116 117 118 119 120 121 Last Page

Get An Email Alert Each Time CALLIKIA Posts